This is the 18th game of the season, let that sink in. We are almost at the 25% completion point of the NHL regular season. Further, the Penguins have nearly played 100% of that first 25% without a healthy roster. That trend continues tonight as they were dealt, with all due respect to the other players who have graced the injury list this season, their biggest blow when it was announced captain Sidney Crosby will not play tonight. The team is being vague about Crosby, a little too vague.
When Malkin went down Sullivan made the "out longer-term" assessment within 48 hours. Same for Bjugstad, Rust, and Letang. With Crosby, he is "still being evaluated" nearly 72 hours after the game, and that has left many feeling uneasy. Following an injury-riddled stint in the middle of his career, Crosby is currently on a streak of six consecutive seasons with 75+ games played per year.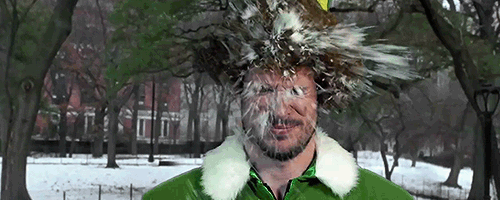 Nevertheless, the Penguins will be without their captain tonight as they take on the New York Rangers. The Rangers, less than two years removed from sending a letter to fans in February of 2018 informing them to expect a rebuild, have stayed true to their word. They were heavy players on the offseason bringing Artemi Panarin and Jacob Trouba to the Big Apple while also having a successful draft. The offseason moves have not translated to on-ice success yet, as the team has had moments of glory mixed with moments of giving up 4 on 0 rushes while playing at even strength. Speaking of even-strength numbers, the team has not been so good at protecting their goaltenders as referenced on hockeyviz.com
That type of defense has resulted in their goaltenders having a difficult time between the pipes this season, leading to some heated debates on who should start within the New York fanbase. Franchise goaltender Henrik Lundqvist has started 9 games, currently, with a 4-3-1 record, a 3.23 GAA and a .915 save percentage. King Lundy has split the season with Alexander Georgiev, who has started 6 games (played in 7) and has put up similar numbers at 3-3-1 with a 2.87 GAA and a .913 save percentage. As the Rangers goaltenders struggle to emerge with a clear favorite, their task tonight will not be any easier as we compare the Penguins offensive heat map to the Rangers defensive map above:
The Penguins, even without Crosby, stand a good chance of making the Rangers life a living hell tonight if they continue playing the way they have through the first 17 games of this season.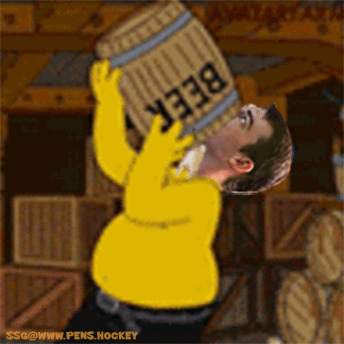 With Crosby out Jared McCann filled in on the top line yesterday at practice, resulting in some line shuffling below. Sam Laffy Taffy has been reinserted to the lineup on the third line. There hasn't been a formal update on Kris Letang at this point, so I don't expect much to come from that. The Rangers are without Zibenejad and Marc Staal, who will probably be trying to crosscheck Crosby in the press box.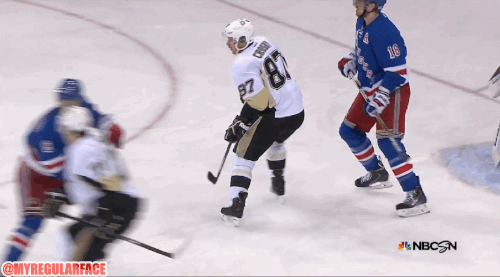 Even without their captain, the Penguins have an excellent chance at continuing their strong play because they are playing within Sullivan's system. It's a system that carried the team to success, a system that the team was forced to get away from due to the front office supplying players who couldn't physically play within the system. They are finally back to playing the system, and we are finally back to feeling like the Penguins are never out of a game. That being said, if there was ever a night for Matt Murray to have an absurd game it would be tonight. The game is on NBCSN, Pierre won't be there, let's go Pens.