The Penguins are in the city of Brotherly trash tonight for the 50th game of the season. In their 50th game, the Penguins are going for their 32nd win, a total they didn't reach until game 60 a year ago. Standing in their way of win 32 is the Philadelphia Flyers. The Flyers have had their usual up and down season that the franchise has come to recognize over the last decade or so. In Alain Vigneault's first season behind the bench, he has had to navigate a string of injuries that on Penguins fans can truly appreciate. Coming into this game the Flyers have 2 of their top 6 defenders, 2 starting forwards, and their starting goaltender all out. Dealing with these injuries all year long, Vigneault has managed to keep the Flyers in the hunt as they enter this game just 1 point behind the Hurricanes for the final wild-card spot.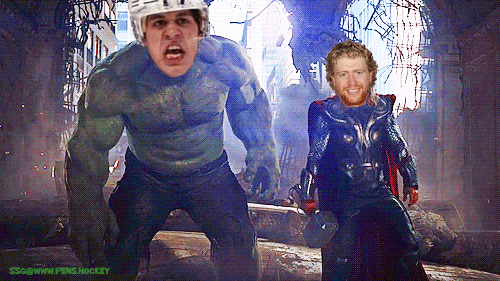 The Flyers have been clicking at about a 10 win per 18 game pace. They used a 4 game winning streak to reach their 10th win in game 17. It took another 19 games to reach win number 20 in game 36. Following that win, the Flyers have won 6 games in their last 13. I often use hockey-reference.com to break down where a team is above or below league averages in my gamedays and well… Philly is kind of league average in everything:
As they have been for over a decade, the Flyers are looking up at their better-half of the state rivals in the standings. The Penguins are probably entering this game still erect from the big Bruins victory Sunday, I know I still am. The Penguins come in 4 points behind the Washington Capitals for the top of the Metro and 6 points ahead of the Islanders for third. The team is firing on all cylinders as they walk into Philadelphia with some big dick energy.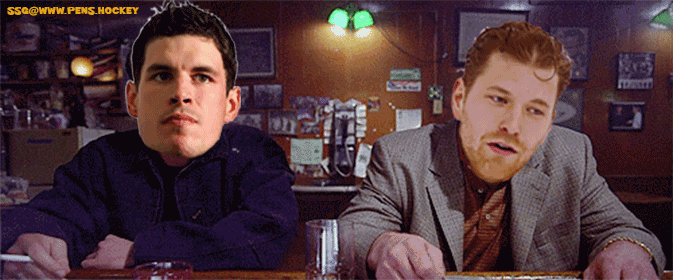 The Penguins lost Dominik Kahun to concussion protocol Sunday against the Bruins and recalled Joseph Blandisi. I made the lazy decision of putting Blandisi in Kahun's spot, though I suspect he will take over Agozzino's role as a third-line center. If I didn't know better I would assume Agozzino has only stuck around so long because other players like Blandisi and Lafferty are nearing their waiver exemption limits. Agozzino has been relatively invisible, playing just 4:09 in Sunday's game. It was the third game in a row, and 4th of the last 5 that saw Agozzino get fewer than 7 minutes.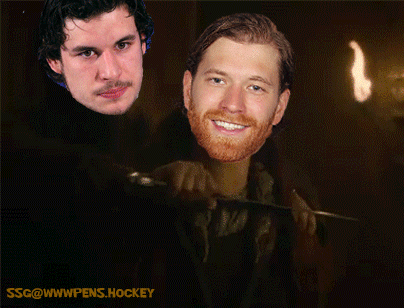 Justin Schultz joined the team for practice yesterday in full gear. The way the injured players have returned I highly doubt Schultz will play today considering they have a week off after this game. It also wouldn't surprise me to see Matt Murray back in the net as Sullivan starts to set the tone for the final 30 games.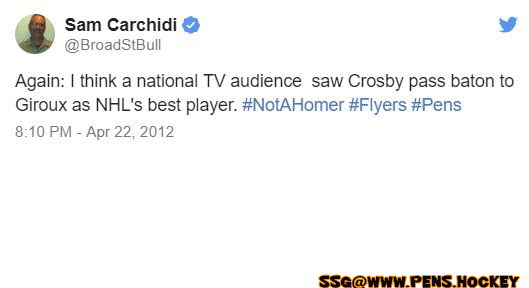 It's Tuesday night. It's the Flyers. Fuck the Flyers. Feel that rage. Embrace that rage. Also, embrace the bourbon. Let the boos reign down over Crosby. Bring it pheasants. This Penguins team is ready to roll.
It's that time of year folks! The third edition of the annual pens.hockey meet up game is here.
WHEN: Saturday, March 7th against the Washington Capitals
We currently have 20 tickets reserved in the lower bowl for this game. We are in talks with "our guy" to secure more if needed. To claim your spot please do the following:
Send an email to penshockeyblog@gmail.com with your name (real or blog) and the number of tickets you will need
Repeat step one if you do not get a response within 24 hours
Tickets are in the $130 range, we will be getting a final price quote today so check back later this afternoon to see if this line has been updated. Obviously, if we are going to need more than 20 tickets we need to put this request in sooner rather than later, so the last call for tickets will be this Thursday, you've been warned.
PS: If you are interested in attending the next days game as well include that in your email, we haven't talked to the ticket man about this but if enough are interested we (Ung) will see what we (Ung) can do.
HOTEL ACCOMMODATIONS
WE have a group reservation for: 9 King Bed rooms at the 10th Street Holiday Inn Express, 20 South Tenth Street, Pittsburgh, PA 15203, for (up to) 3 nights: March 6th, 7th and 8th, 2020.
GROUP CODE = Pens.Hockey – Meat Up
Hotel Front Desk: 412- 488- 1130.
The rate is $109.00/night plus tax. That works out to about $125/night with tax included. Parking in the protected lot is an additional $22/night.Click the link below and follow the simple on screen instructions to book your stay. 
TO MAKE YOUR RESERVATION: CLICK HERE
Current list: SSG, Finn, Rad(3), PenguinInHouston, GutsGoneBad, ElWray, CWFutureboy(2), Jovi00, Ulfie, Vlad, Jagrmeister (1 for Sunday if possible)