The Penguins were rewarded with a night of sleep in their own beds following their win over Philadelphia Friday night before boarding a plane yesterday to head to DC. Today at noon thirty, the Pens take on the Washington Capitals for the first meeting between the two of the season. The Capitals are currently leading the Metro division with 75 points, an even 6 above the Penguins nice 69.
The game today kicks off the 15th rendition of the Crosby-Ovechkin-Malkin show. 15 freaking years man. We could sit here and debate which player is better until we are blue in the face, but I don't have time for petty arguments. Instead, consider this. In their 15th seasons, Crosby, Ovechkin, and Malkin continue putting up over a point per game totals. After 15 years they are still dominant forces in a league that has switched from post-full season lockout full of clutching and grabbing to a league of speed and youngsters. Through it all, these three have remained players that opposing coaches develop plans to around.
How rare is this? Looking down a list of the NHLs all-time leading point-getters, and what they did in their 15th career season.
Wayne Gretzky: 33 years old, 130 points in 81 games
Jaromir Jagr: was traded in his 15th season from Washington to New York, he finished the year with 74 points in 77 games at age 31
Mark Messier: 33 years old, 84 points in 76 games
Gordie Howe: Age 32, 72 points in 64 games
Ron Francis: Age 32, 119 points in 77 games
Marcel Dionne: Age 34, 94 points in 80 games
Steve Yzerman: Age 32, 69 points in 75 games
Mario Lemieux: Age 37, following retirement and beating cancer, and he put up 91 points in 67 games
All of these players, with the exception of Jagr, benefitted from playing in the 80's to help pad their overall career numbers but make no mistake about it, they were all lethal 15 years into their career. The fact that we have had the privilege of watching three players of this caliber within our own conference for 15 years is incredible.
Lemieux is 8th all-time in scoring, at 1,723 career points. Crosby, Ovechkin and Malkin enter this game with 1244, 1265, and 1055, respectively.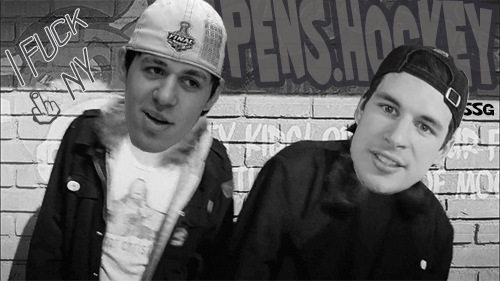 It's been a fun ride, and the best part is we are nowhere near the end. Today at noon thirty these two teams reignite their hatred, and there's a good chance this will be the most energizing sporting event on television today.
Brayden Holtby has looked a lot like Marc-Andre Fleury between the 2012-2014 playoffs, and as such Samsonov will likely start in goal today. As for the Pens, Sam Lafferty was recalled yesterday so I assume Anthony Angello played his first and final NHL game during this call-up. The only other change I would recommend is putting Jusso Riikola in over Chad Ruhwedel. Riikola is just as capable defensively and is left-handed, which I prefer over Ruhwedel on his off side.
It's another chapter in the rivalry. It's a taste of what's to come in March. A regulation win by the Penguins today not only puts them within 4 of the Metro lead, it also creates more separation between 2nd and 3rd. The game is at 12:30 on NBC. Drink your coffee now. Put some whiskey in your third cup. Get out of your pajamas, you bum. Get your mind right. Let's watch some hockey babay!