The Penguins face the Sabres tonight in the second of three non-Metro games of the month of March. Despite having the greatest general manager to ever work for the Penguins calling all the shots the team hasn't been able to compete in the week Atlantic Division. To put their record in Metro terms, they are 2 points ahead of New Jersey. As witnessed by Jack Eichel's 35 goals and 77 points, the Sabres are a talented group of players without a coach. Jeff Skinner, who before this season has only had one of his nine seasons with fewer than 20 goals, and four seasons with over 30, currently has 14 while on the third line. The Penguins got away with Phil Kessel on the third line because they were stacked. The Sabres have a man who scored his career-high 40 goals for them last season taking shifts with a rookie center and Wayne Simmonds.
Usually, when a team is struggling you turn to the defense and goaltending. In the case of the Sabres, their goaltenders are right on par with the Murray – Jarry tandem.
| | | | |
| --- | --- | --- | --- |
| Goalie | GAA | Sv % | Record |
| Linus Ullmark | 2.72 | .914 | 16-14-3 |
| Carter Hutton | 3.18 | .898 | 12-13-4 |
| Matt Murray | 2.85 | .899 | 18-10-5 |
| Tristan Jarry | 2.31 | .924 | 20-11-1 |
The league average save percentage is .905, the Penguins are currently at .906 and the Sabres are at .900. The league average for team wins is 33, the Penguins are at 38 and the Sabres are at 29. Buffalo has only allowed 7 more goals against than the league average. They've scored 11 fewer than the average. They have 5 players in double-digit goal totals and just 2 of those have cracked 20. The Penguins have 9 in double digits and 3 with 20. The Sabres have the goal scorers. They have good enough goaltending. They are simply failing behind the bench.
Nick Bjugstad took his second full team practice yesterday and by the end of the day, Sullivan upgraded him to a game-time decision. Considering this is the last game before a weekend Metro back-to-back you have to think that if Bjugstad is good to go Sullivan will want his first game back to be tonight instead of against Washington Saturday. Brandon Tanev should be back today as well. This lineup almost looks like a complete team and I cannot handle it. The Simon-Bjugstad-Hornqvist line was a force down the stretch last season, and I would expect a similar playing style with McCann there.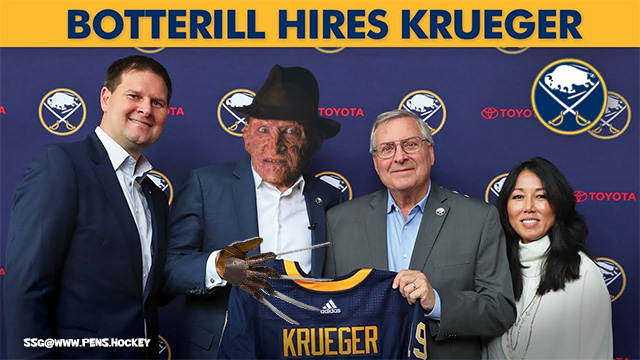 As for the Sabres, I mean fuck, first-ballot NHL hall of famer Dominik Kahun is on their team so what else is there to discuss? Kahun has a goal and an assist in his first 3 games with the Sabres. It was his first goal since January 7th for the Penguins, though some of you appear to think he was notching a hattrick a night. As for the rest of the Sabres lineup, you can see they have goal scoring capable players throughout their lineup. They just don't execute. That being said, this very team embarrassed the Penguins two weeks ago.
It's a Thursday night, which in my book is a Friday night. Do some good work today so tomorrow you don't have to. Come home, maybe get a quick workout in, and let's watch the best sport in the world. Thanks for reading fam, now let's do the thing.