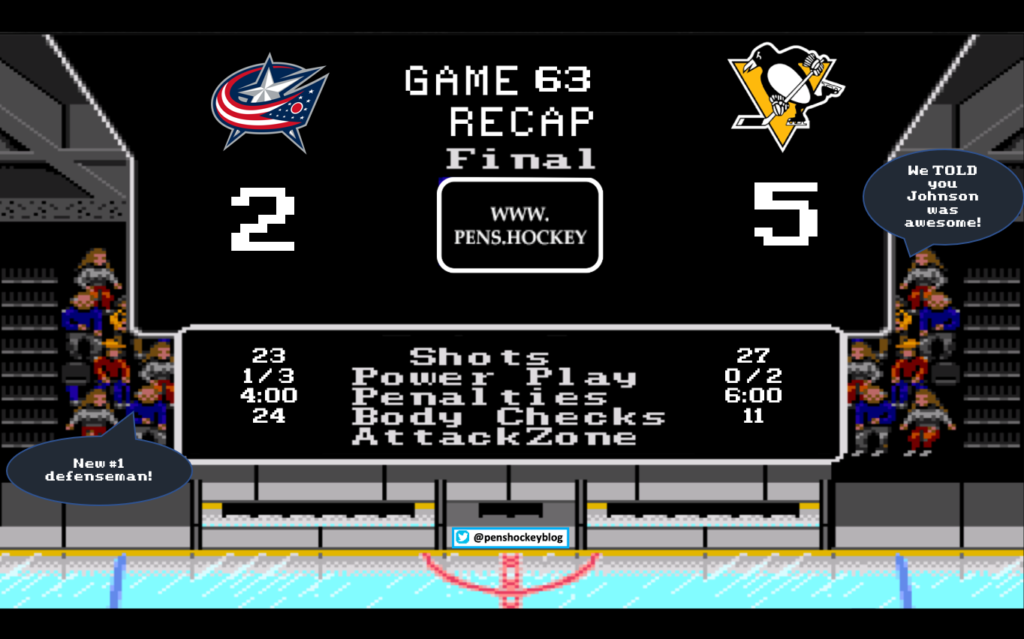 Last night was the most important game of the season. I hope you've done your sphincter-cizes because the next game is also the most important game of the season, wash-rinse-repeat until a playoff position is clinched. Not clenched like Pens Fandom collective b-holes, which will only unclench when the clinching completes.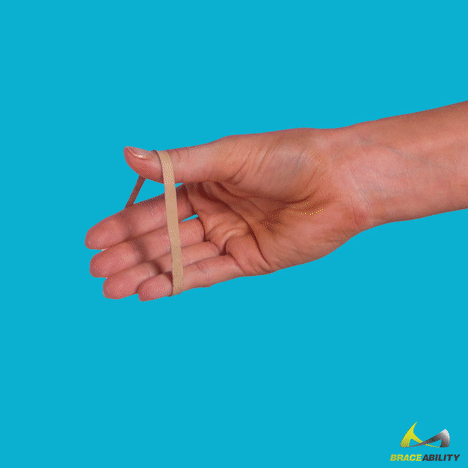 As you knew from our stellar game day post, both Dumoulin and Letang were out for this game, meaning Johnson and Schultz were #1 and #shoothimintothesun, wait, can't do that, we actually NEED JOHNSON right now, oh deer lord save us…
In fairness to Banana Pancakes, he really stepped up against the Philth, playing a career high (checks notes) LOT of minutes and I only wanted to commit sepuku ONCE which shocked me big time. Zack Trout getting into the game for his first of the year. He's a big dude and even slimmed down, with Bibs gushing excitedly about his toned physique. Bibs may be a cougar hunter, but he knows a good cut of man meat when he sees one.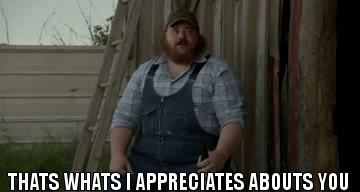 Both teams fast out of the gate, but the Penguins were a team possessed. Passes were crisp and they were skating with purpose. Covering up for each other and entering the zone intelligently. No dangling dinugues in sight, at least at this point… (admit it – you like the foreskinning as much as I do)
JJ did a thing – joined a rush with Sid's line and made a great zone entry then WENT BACK TO HIS PROPER POSITION WITHOUT EVEN CHASING ONE SINGLE HIT, holy shit. This was actually a theme for the night as the Penguins were only credited with 11 hits. 11 hits… more goals… win ga… nevermind, don't wanna spoil the ending!
About five minutes in, Geno tripped, no call. Yay, get ready for 'playoff officiating', wait, we've had that for weeks now. Nobody's surprised at this point.
Regardless, the Pens played on, and the new look 1st unit got hot and Horny.
Guentzel (29) from Crosby (50) and Hornqvist (13) – 13:45 – EV
I don't know how to do the fancy video stuff, and even if I did, I wouldn't do it for 'You People' anyway, so you get this, which completely misses Horny's fantastic individual effort at entering the zone, protecting the puck, and putting a one-handed back hand pass through Douche-ain's skates on the tape to Sid, who wastes NO TIME getting it in perfect position for Snek to put it home. That's slow motion up there, folks, and you STILL can't see the damn puck. Jake is one shy of 30, and could very well top 40. All he does is score.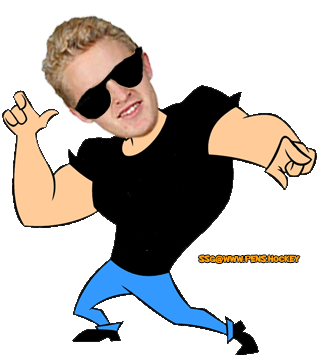 CBJ pushes back with a goal, with Murray flopping like fish… but WAIT A MINUTE!!! Kris Jenner was in the crease for some dumb reason and tripped up Murray – NO GOAL!!! The right call was made, astonishingly.
B-hole clench level: 1%
Pens follow up with a great rush and ZAR makes a move that almost breaks an ankle forcing CBJ's Most Excellent Scott Harrington to take a tripping penalty.
Subsequent PP was poopoo. Neither group really got a chance to get comfortable. Lots of 200 foot clears and CBJ picked up a little moment… nvm, McCann with a LAZERBEAM!!!
McCann (12) from Cullen (12) and Ruhwedel (1) – 18:22 – EV
Perfect road period, aside from the Boston Shitbag, Adam McQuaid goes after a completely unnecessary hit and hurting Rust. B-hole clench level: 5%, because Rust.
UPDATE: Rust was seen leaving the arena in a boot and on crutches. Wonderful.
No stats after one because apparently Pens PR was too busy making this:

Pens come out flying to start the second and BJugs gets setup with a glorious opportunity but couldn't convert. CJugs would have been able to hit that puck…
Geno says, 'that's OK, I got it' and shoots from the blueline and makes Bobrov look like the piker that he is.
Malkin (20) from Aston-Reese (9) and Kessel (43) – 1:15 – EV
Great play by Kessel to get the puck free. ZAR gets it over to the boards and Geno just turns and fires. Puck luck for the Pens as it glances off Jonseyboy in front, but still a great play by Geno to get it on the cage. B-hole clench level: 2% Ahhhhhhhhh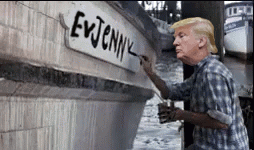 Couple minutes later, more zone pressure from the Pens when Horny puts his stick in Jones' face, like hard. SOOO hard. ALL over his visor. And with the zebra's arm still up in the air, Bjork's brother blows by an unsuspecting Crosby and laser's one top shelf over *GASP* The Glove Hand of Murray!!!!
BjorkBjorkBjork (12) from Dingaling (23) and Harrybone (15) – 4:55 – EV
Actually a fun goal call from the Cumblowus announcer. "Put it in the upper right-hand corner just like a postage stamp." In other news, do people even use stamps anymore?
High glove. Nice shot, but Murray went down faster than… other things that fall down too fast. B-hole clench level: 10%
Couple shifts later, Crosby line pressuring when Rudeweasel inadvertently makes the bread fall. Opened the oven too early or something. Regardless, Sin Bin time.
10 seconds in, the definition of puck luck. Some douche ripped it off Schultz's boot and it goes directly to Kylie? Kyrie? Kris? Kumbucket? Whatever, something Jenner. Goal. ALL momentum to CBJ. And they were feeling it.
Fatkidsson (35) from Panera (45) and Wereshitski (24) – 7:09 – PPG
Suddenly we have pond hockey and a bunch of excited Cumblowusians started chugging gads of garbage overpriced beer, next months trailer payment be dammed! B-hole clench level: 55% This could be a butt-tastrophe in the making, I think, as I flash back to he Phool in the Rain game on Shaturday.
3-2 and barely holding on in a big game on a night when everyone else chasing is winning THEIR games. Surely the Pens could catch a break tonight, right?
Well, they may have, because in addition to Rust's lower leg (he didn't come out for the second), Savard smooshed Ruhwedel awkwardly into the boards, and he immediately went to the locker room. So if you're keeping track at home, the game after we lose two guys, we lose two guys.
B-hole clench level: 75% – ready for the Preparation H…
Stats after tw…. YOU GET NO STATS!!! Also, the Pens ended the period taking a penalty, so fun times to start the 3rd…
Start 3rd on the PK and the Pens finally caught a break. Two of em. Foligno put a dent in the post after a perfect play from below the goal line.
Then the Pens thought they had possession and were looking to clear the zone when it bounced back and the Jackets had a 3-0. Thankfully, they're from Ohio and someone was on meth or something so they blew it.
Rest of the period… hold on to your butts. Pens spent more time in their zone than … someone else does something for too long, but in a funny way.
Jerkets kept pushing, Pens kept flailing around like nutbags, but somehow, it stayed out. Didn't stop my b-hole from puckering up tighter than a thing that gets hilariously tight. B-hole clench level: 91.2%
Somehow, the Pens just kept going. And then… McCann… well, he showed why he's important too. DAMN what a goal!
McCann (13) from Simon (16) and Schultz (7) – 13:27 – EV
Friendly reminder: McCann was a first round pick. That hand-eye coordination and wicked shot illustrate why. And also remember, he's only played in Vancouver and Florida before this. Which is a theme recently… B-hole clench level: 45% Ahhhhhhhhhh
Jackets pushed, shit happened, but again, it wasn't to be. Call it the Cumblowus Curse or whatever, but with 5 seconds left, a puck bounced around and Sid made sure to put the proper exclamation point on this particular DEUCE.
Crosby (27) from Johnson (12) – 19:55 – ENG
B-hole clench level: 0% – hope you all were near a bathroom.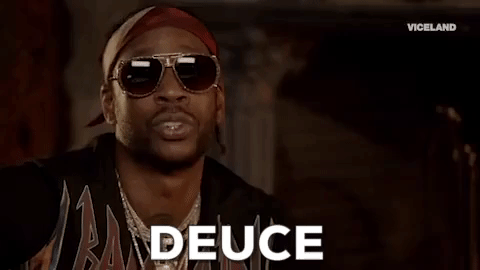 Thoughts:
Johnson was really good. Again. Yes, I'm serious.
Murray had a couple iffy ones but was also stellar.
Losing two guys a game is not sustainable.
Look for Ol Blue to fill in seemlessly for Rust. Yes, I'm serious.