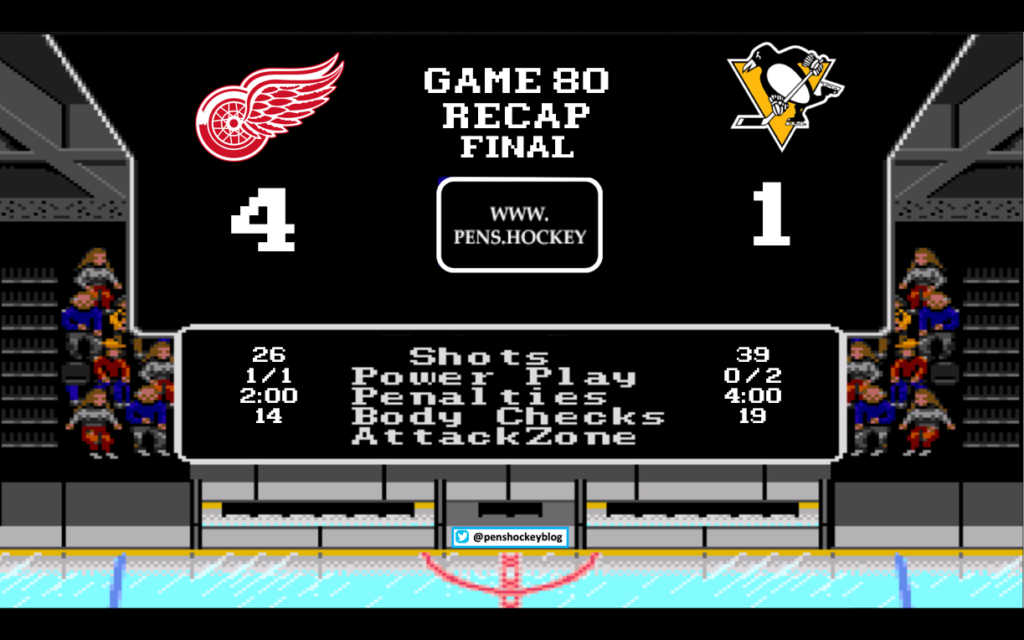 The Ides of March have already come to an end and the final tally to the debt that the Pens owe is 2. You could come to the number in many different ways, but as the day began OUR number could be acquired with a simple win. No ifs ands or buts, just win and WE'RE in. This would prove to be more of a problem since they marched into Detroit as a team that had been struck by the injury bug once again with Dumo out due to a rotten testicle.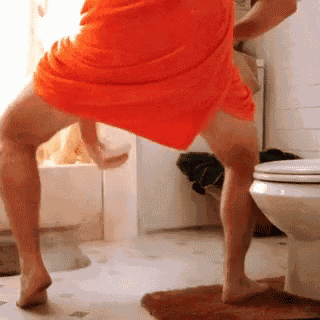 Other then that, the usual suspects were all out with our thoughts and prayers that they all suck it up and get back soon. Let's go to the tape, shall we.

From the first drop of the puck, the Pens just seemed to be going through the motions. About a 1:50 in McIlrath took a delay of game penalty when he tried throw the puck into the crowd like it was a rock of crack. B-Jugs would get the nod to play on the top powerplay unit in place of Horny, which almost payed off after the opening faceoff but Howard made a stop. After that there wasn't much to write home about as the Wings would get the kill. Detroit showed their speed afterwards and were taking the opportunities that the Pens were giving them through neutral ice. It wouldn't be long till Larkin got his first solid chance, but MMX stood strong.
The game took on a more physical tone and Trottman and Gudbranson started laying into people. Trottman made a good defensive play infront of the net which led to the Pens breaking down ice.
A scrum would ensue infront of Howard when he couldn't find the puck, multiple Pens would get some looks, but no touchy.. Blueger would go ahead and take a penalty for hooking right after, you ask why?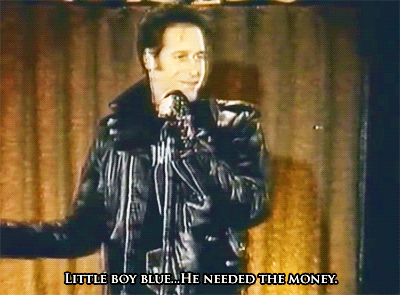 During the powerplay I'm sure there were alot of things that happened, but this will be the one thing that will always stick out in my mind when I think about sequence.
As time winded down in the period, the Pens lost a faceoff in the Detroit zone. The puck got pushed up ice and there was a battle behind Murrays net. The puck got pushed up along the boards and found SNEK who caught Crosby that found a streaking Kessel.
Way to go boys, Phil needed that one. As the seconds wound down, Horny shot one into Howards chest to end the Period. 1-1

Pens started the period with Gudbranson and Trottman throwing their weight around again with some solid hits, really following through with their checks.
J. Johnson draws a penalty for tripping, it was a really bad penalty for Larkin to take. The top powerplay came out and stayed on the ice for the entire 2 minutes. they had some good chances but you can really tell how badly missed Letang and Malkin have been on the powerplay since their injuries. Kessel got a HUGE breakaway opportunity but missed wide. SPOILER ALERT, That was a pivotal point in the game that there was no coming back from after that miss.
The 4th line would do their thing and make some nice moves with Johnson getting a decent shot off. Then the next thing you know, Bertuzzi scores his second with a backhand
After the goal, the Wings tilted the ice heavily in their favor. Bertuzzi nearly had a golden hatty opportunity but was called for being offsides. After a nice opportunity that Sid created, the Wings went back to work nearly capitalizing on every one of the Pens mistakes.
Sully decided to shuffle up the lines and they came back with some good offensive time but with little opportunities as Howard shut the door. Bertuzzi got another prime hatty attempt, but was shut down.
Period ends 2-1 Bad Guys
Sully shortens the bench for the 3rd period. Strong start for the top line, B-Jugs got a chance infront of Howard. Crosby would later get a pass to Simon who shot it off of Howards shoulder. Wings continued to pretend that they had something to play for. Kessel gets a somewhat breakaway but gets backchecked and the play got broken up.. Blueger puts a shot in Howards chest from the blue line.
The top line got some really good opportunities and I don't want to short-change their effort, but Howard just came up better. After, the B-Jugs, Horny Rust line would have some good chances, B-Jugs got a great shot off but was deflected wide.
Next thing you know, Petterson and Gudbranson get beat bad by Manthra who was streaking through.
A couple minutes later this happened after the Pens pulled Murray.
Game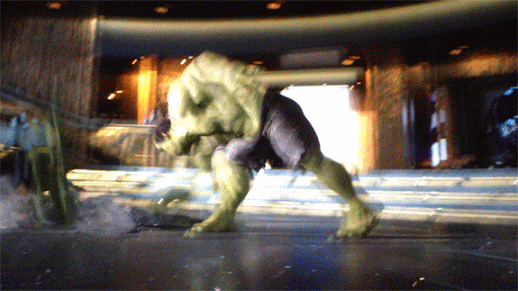 Thoughts:
Detroit is literally the hottest team in the NHL right now. I don't care which players are in or out for Thursday, but the Pens better get their shit together and be in playoff mode. Last nights game wasn't a trap game, it was a game that was simply lost to a hungrier team. That's very sad to say that a team who is out of playoff contention wanted a game more then a team who is fighting for a playoff spot/positioning. The Penguins have to start winning the battles along the boards. Detroit was pinching in key moments to create breakaways and were just straight up out playing us,