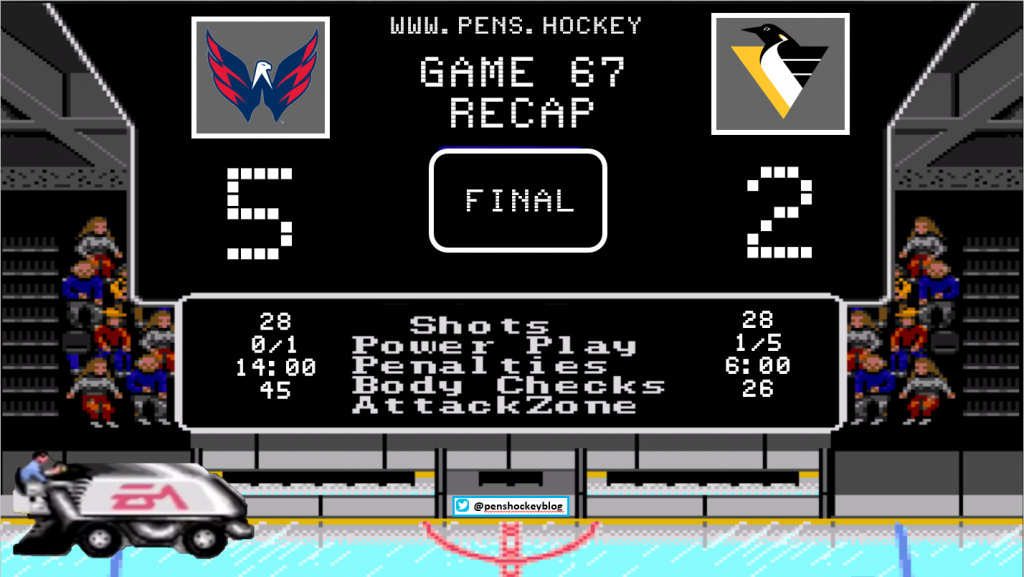 So, the Boys of Winter were set to clash yet again with the urine drinking sex offenders from DC; the Capitals, not Congress. The Pens recently returned to as close to full staff as they had been before dry-land training started in September. Early afternoon games have not been an advantage for them of late, but hopefulness abounded with their uptick in performance the prior two games. The Caps were scuffling a bit coming in as well, with defense and goaltending leakier than China's pandemic planning. The Pens.Hockey MeatUP crew was fully fed and a couple left-handed Pepsis in, so the table was set.

From very early on, it seemed the defense was not interested in playing conservatively and odd man rushes for the Caps started happening. Sully's system gives the D a lot of discretion on when to pinch but there doesn't seem to be a learning curve when it's not working…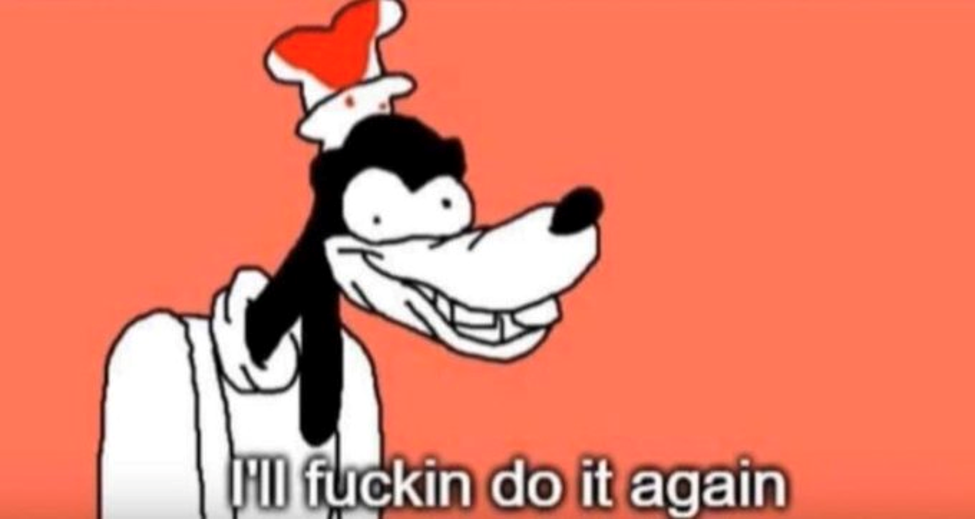 In pretty short order the Pens were down 3-0, and 2 of the 3 had a pretty similar theme: Caps in the zone with numbers, at least one is completely uncovered and Murray simply can't cover the net like Duncan does in the Geico ads. Two minutes in, Nick Dowd was building a lemonade stand the middle of the zone when the puck came out to him and he sniped it in before Murray could really even react.
Immediately following that play, Jonas Sigenthol, SeegannTha, fuck it – Sementhawer, tried to extract one of Lafferty's kidneys with his stick. Both went off in coincidental minors though because that's apparently not supposed to upset Lafferty. The next 14 minutes or so was Washington getting seemingly unlimited odd man breaks, interrupted by an extended 2 man advantage for the Pens that came up empty, but Murray held the fort. Just after the 16 minute mark, Vrana received a puck in the neutral zone and Geno was a little gassed. As a result Backstrom blew right past him and tipped in a pretty decent pass from Vrana. Nothing MM can do there except hope for a better effort from his mates. Two minutes later, after yet another odd-man break, Richard Panik scored easily past a down-and-out Murray. Very little MM could truly do with any of the goals, but when he's at the top of his game he slides over under significantly more control and likely stops that one. But that's now how it goes on days like this.
Shots were 12-6 Caps after one.

The second period was fairly meh. When I say meh, I mean Wilson the Pee Drinker spent most of his time taking runs at assorted Pens, but mostly coming up empty. At one point he got involved with LEtang, who gave him the business right back, and both went off together. As the period was winding down, Jared McCann made a great individual effort on a loose puck, and got a decent shot off despite Sementhawer hooking him on the play. McCann was awarded a penalty shot, but quite frankly, got off a better shot when he was being cup-checked on the preceding play.
The Pens got something going with about 30 seconds remaining in the period, and almost scored save for the tip of Holtby's size 11's just snaring the puck before it crossed the line. In the ensuing scrum, the Caps committed at least 2 penalties when Kutznutzoff closed his hand over the puck in the crease and Dillon knocked the net off the mooring intentionally, but only Dillon's delay of game penalty was called. Wilson punctuated the whole thing with a brain dead dangerous leap into the pile as the whistle sounded, but the league thinks he's cute and no additional penalties were called. Nothing came of the short PP time and the period ended with the same score.
Pens and Caps only had 7 shots each, for a game total of 19-13 in favor of the Caps.

Pens started the 3rd on the PP with a fresh sheet of ice, which unfortunately only made the shitty pass from below the goal line jump on to Hagelin's stick a little more smoothly.  He promptly started a 2 on 1 with Dowd, and they passed it back and forth until Dowd tapped it in behind Murray 30 seconds into the period.  At this point, I'm pretty sure SSG's IBS started flaring up pretty badly and Bender started Googling local massage parlors.  A small glimmer of hope did arrive 5 minutes later, however, when LolOshie misplayed an outlet pass that ended up on Sheary's stick behind the Caps' net.  Sidney Crosby made a beeline to the net and Sheary fed him perfectly for a tap-in to get to 4-1.
The Pens kicked it into gear immediately following the goal and had Holtby seemingly rattled, but just couldn't get another quick one to possibly really change the tenor of the game.  Time became the enemy of the Pens for the next several minutes until Orlov went off for holding at the midpoint of the period.  With time running out on the PP, Agent 101 let loose with a Wicked Rista' from about 25 feet and the Paint Can was ready to rock.
Unfortunately, TJ Friggin' Oshie proved a minute later that the Pens can't have nice things when he took a pass from below the goal line, through Dumo's legs and wristed it past Murray, who had little to no chance to come out to challenge the shot. 
Sully was not about to go silently into that good night, however, and he pulled MM with right around 4 minutes left. The Pens generated a lot of zone time and a few decent shots, but it was not to be and the game ended 5-2 Caps. Dammit.
Pens outshot the Caps in the 3rd 15-9, and the game ended even in shots at 28 apiece.
Thoughts:
The Pens have intermittently been plagued by horrifically slow starts, particularly in early afternoon games. Today was no exception, and no matter how bad they've been playing, teams like the Caps aren't likely to give up too many easy 3-0 leads;
5 goals on 28 shots might make it look like Murray had a bad night, but that stat does not reflect that he had literally no chance on all but one of those scores. If the team doesn't play any better tomorrow, it would not be surprising to see a similar total from (presumably) Jarry.
The odd man breaks are a product of mostly poor decision making – cross ice passes at the blue line, ill-timed pinches by the D, and some half-assed line changes. Gotta clean that up.
Despite the poor effort by the team, I'll bet my bile duct the Pens.Hockey crew did their part to will the team forward. I'm sorry I couldn't be there to share in the misery, but it was a true pleasure to have the opportunity to meet those who made the trip. Having had the opportunity to shake Drs Rad's and Jovi's hands, I'm now at T-minus 14 days until I find out if they had any patients' Corona Virus stuck on their clothes.
Gameday 68: Please, for the love of Murray, win a f**king game with Finn in town
Hi. This is Ung. That was Zooker, who kicked ass upon breaking his blawg cherry. My words will pale in comparison, but for good reason. I was out late being regaled by the amazing singing voices of our blawg peeps and their wives. WE have some serious talent (present company most certainly excluded). All of you idiots who missed it should be ashamed.
OK, so here's the deal. It's Finn's 4th game in da Burgh. I don't care if they're playing an all star team with Lemieux, Gretzky, Orr and anyone else in their primes. This game needs to be won.
Jarry will be in net.
Everyone else will be ready to go and hopefully properly chastened from yesterday's garbage fest on ice.
Pens – Canes. The Paint Can. LET'S DO THIS!!!