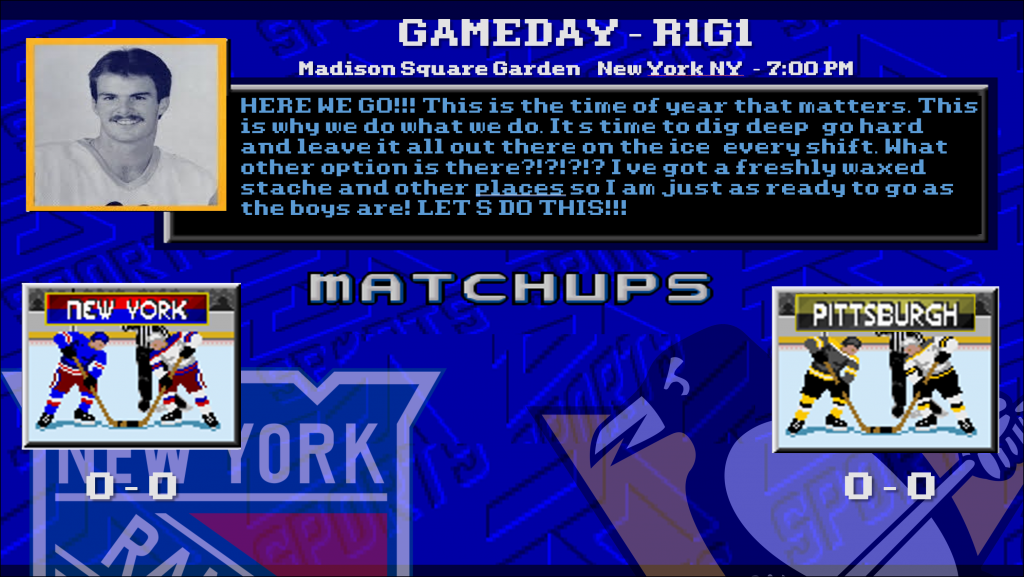 I have been bringing it up enough times lately that it's probably annoying to be reminded of at this point, but there was a time this season, back in the first two weeks of January, when I had enough optimism about the Pittsburgh Penguins chances to win the Stanley Cup that I wouldn't have cared who was their first round opponent. Yes, I was optimistic! And so was the team, talking about how they were capable of doing something special this season. Well, as anyone who has followed the Penguins this season knows, that optimism slowly eroded to the point where their playoff hopes came to hinge upon who they would face in the first round. I am very grateful that they managed to avoid the Florida Panthers, a team that not only was the best team in the League this year but also has good history against Pittsburgh (see the 1996 Eastern Conference Finals).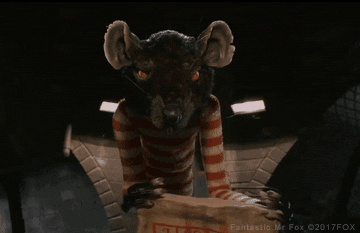 Instead, they drew the New York Rangers, a team against whom the Penguins have good postseason history. The two teams have met in the playoffs seven times, and the Penguins have won five times including the most recent time in the 2016 First Round. That time was the end of three years in a row of the Penguins and Rangers meeting in the postseason, with New York winning the prior two meetings. In all but one instance the winner of the series ended up going at least to the Conference Finals, and the Penguins won two Stanley Cups after beating the Rangers in the playoffs: in 1992 and in 2016. Since 2016, both teams have been struggling to return to the Conference Finals. The Rangers made it to the Second Round in 2017, but were eliminated by the Ottawa Senators, and then fell off a cliff for a couple of years before being entered into the 2020 Qualifying Round that the NHL implemented in the wake of the abrupt cancellation of the season due to the COVID-19 pandemic. This year's team had the franchise's best record since 2014-15, when the Rangers beat the Penguins in the first round but fell to the Tampa Bay Lightning in the Conference Finals.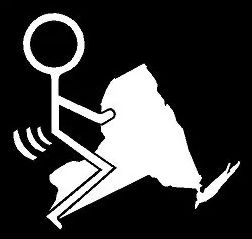 New York is ascendant of late thanks in part to five drafts' worth of stockpiling prospects and assets. In the last five drafts the Rangers have selected nine first-rounders: a first overall (Alexis Lafreniere, 2020), a second overall (Kaapo Kakko, 2019), as well as a 7th, 9th, 16th, 19th, 21st, and 22nd overall. Perhaps the most important skater for New York this season, Chris Krieder, was the Rangers' first round draft pick (#19 overall) in 2009, and he had a career year for New York; he notched 52 goals (tied for the second-most in franchise history, and the most by a Ranger since Jaromir Jagr scored 54 in 2005-06), a League-leading 11 of which were game-winners. He's to the left of Mika Zibanejad, who also had a career year while being second on the team in scoring, and to Zibenajad's right is deadline acquisition Frank Vatrano, brought in from the Florida Panthers. The second line features leading scorer Artemi Panarin, who ended up four points shy of 100, Ryan Strome, and Andrew Copp, a point-per-game player since his deadline acquisition from the Winnipeg Jets. New York's third line is their young guys line, with Lafreniere, Kakko, and Filip Chytil, the aforementioned 21st overall pick from 2017. The fourth line is centered by former Lightning Barclay Goodrow, who the Rangers hope will bring his championship experience to the whole lineup.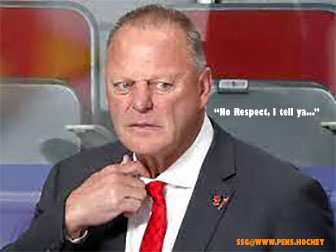 Defensively the Rangers have a decent top four. Reigning Norris winner Adam Fox was third amongst defensemen League-wide in points and arguably was New York's best skater this season. Like Kris Letang for Pittsburgh, he works alongside a defensive-defenseman in Ryan Lindgren, who came as part of the package the Boston Bruins paid in exchange for Rick Nash in 2018; Lindgren was only a prospect at the time but has grown into a solid defenseman. The Rangers 22nd overall pick in 2018 K'Andre Miller (by the way, that draft pick originally belonged to Pittsburgh, thanks FGMJR) forms a solid and mostly defense-oriented second pairing with Jacob Trouba, who still shows some offensive skill but has grown into a very good all-around defenseman. The third pairing of New York's 19th overall pick in 2020 Braden Schneider and former Dallas Star Patrick Nemeth is a wash offensively and good defensively.
New York's most valuable player this season, who may also be a finalist for the Hart trophy as League MVP, is Igor Shesterkin. He led the League amongst goaltenders in just about every meaningful category and will certainly be the Vezina winner as a result. Perhaps most importantly is the fact that he played 62.2% of the Rangers' goaltenders minutes, tied for fifteenth-most in the League. I've harped on it in previous years, but one key to a team's success is their starting goaltender and that they do not get overused during the regular season. Shesterkin had plenty of rest this season, as New York gave backup Alexandar Georgiev plenty of time to play as well, so there should not any concern for the Rangers that Shesterkin will not be up to the task.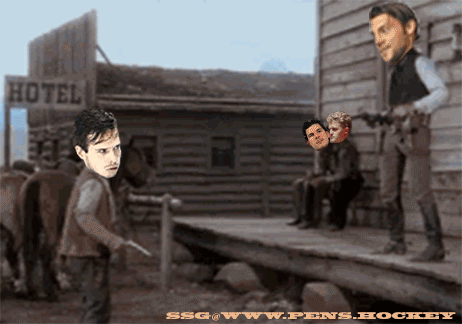 New York's success in the postseason may live and die with its offense. In terms of goals scored, the Rangers were smack-dab in the middle of the League, 16th overall. Their expected goals-for was 20th, second-lowest of all playoff teams, and they registered the fifth-fewest shots on goal in the League, the least of any playoff team. Interestingly, their shooting percentage was eighth-best in the League, so they were quite effective with the shots they did take. This is critical for the Pittsburgh Penguins, who will be without their starting goaltender Tristan Jarry for at least the first two games of the series. Pittsburgh will need to be effective defensively and limit the quality of New York's chances against.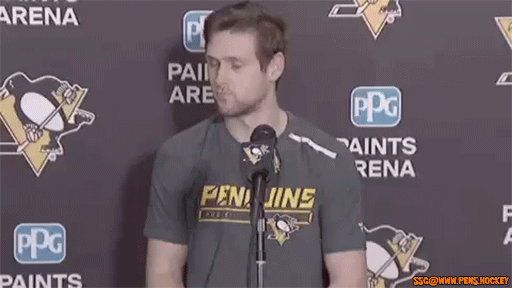 A critical battle in this series will be on special teams. I noted Pittsburgh's troubles on the power play in Gameday 81; the Rangers had the eighth-best penalty kill in the League, and their save percentage was second-best amongst playoff teams. Pittsburgh had the best save percentage and the third-best penalty kill rate, but they will face a challenge in New York's fourth-best power-play that again was very efficient with the shots they took. We all know that non-offsetting penalties are fewer and further between in the playoffs, so making the most of their chances will be even more critical. The Penguins have to get it together with the man-advantage; if they can, they'll be in much better shape in this series.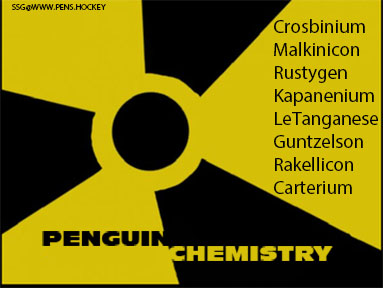 And that goes in general for the Penguins offense. Over the past three postseasons, their shooting percentage in all situations is the worst of any team besides the Rangers, who only played those three games in the 2020 Qualifying Round. This, despite having shooting metrics that are among the best. It's a familiar refrain for a team that has been suffering from a lack of finishing and scoring depth for much of this season. There's been chatter that some guys might show up for the playoffs where they hadn't during the regular season – looking at you, Jeff Carter, Bryan Rust, Kasperi Kapanen – and those guys have to turn on the offense if the Penguins are going to have any hope of winning this series. We know that Sidney Crosby, Jake Guentzel, Evgeni Malkin, and Kris Letang are going to be amongst the key offensive contributors, but they cannot be the only ones, not again. Pittsburgh won just one of their four meetings with the Rangers this season, a 1-0 win on February 26, and potted just three more goals against New York against the Rangers' 11.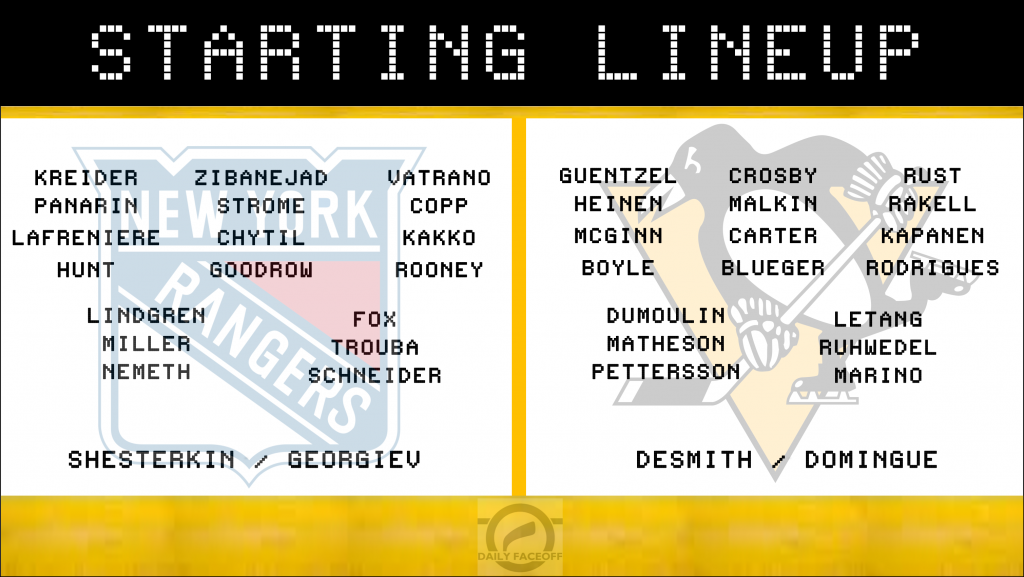 These aren't yours or your oldest son's Rangers. Henrik Lundqvist is gone and as such no longer haunted by the black-and-gold; his replacement, Igor Shesterkin, looks to be an even better goalie than Lundqvist and he's only in his second full season in New York. As a matter of fact, much has changed for New York since 2016, just as it has for Pittsburgh. They've gotten younger and better managed, and as a much deeper team than they were six years ago. These are two teams going in opposite directions, New York ascending and Pittsburgh descending. More to the point, New York's championship window appears to have reopened while Pittsburgh's is on the verge of closing. If the Penguins can solve their own offensive woes, they'll be in a much better position to win this series. Problem is, Shesterkin has only allowed 3+ goals 20 times this season, and New York still won seven of those games.
This could be one of the last good chances for Pittsburgh to win the Stanley Cup for a while. Let's hope they make the best of it!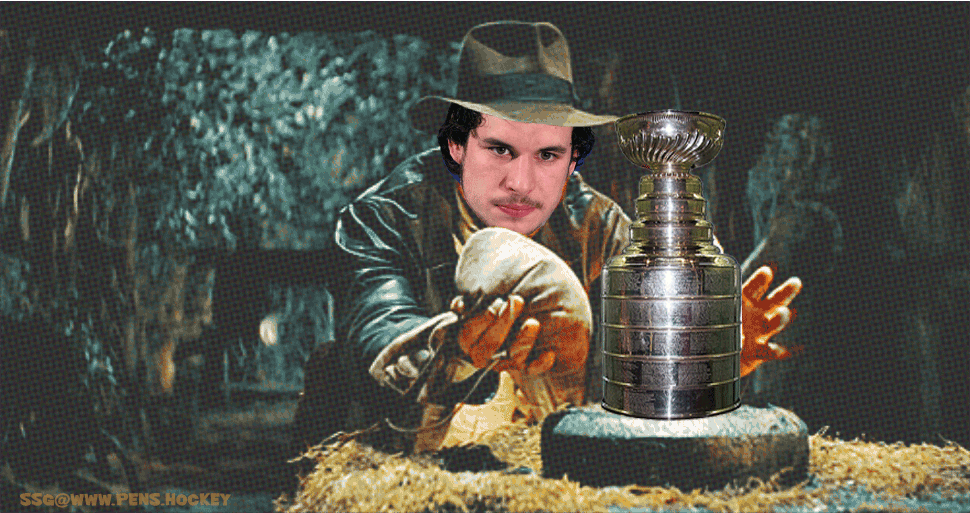 (record scratch) Dopfish allowed me some time address positivity blog.
Casey DeSmith isn't the hero we asked for, but he's the hero Pittsburgh needs.  Casey is used to being overlooked.  He was undrafted, when he arrived on Wheeling Nailers, in 2015.  He played himself into a spot on Wilkes-Barre, in 2017, where he holds the Wilkes-Barre/Scranton record for most saves in a playoff game.
He was named to the AHL's 2016–17 All-Rookie Team and has worked with both Jarry and Murray.  He has struggled this season, but the season is over, and he can write a new chapter.  It's amazing what people can forget.  At least one person reading this forgot to wear underpants today. 
In January we were asking for a replacement at the deadline, and after this series, you'd be wondering why we didn't use him more often.  Stop laughing Birdman, and drink the kool-aid.  Ducks fly together, Bad boys for life, or something like that. Casey has everything to lose if he plays poorly, because he is a UFA this year.  This will make him dangerous, and hungry.  Jarry will likely be back for Game 3, so this is Casey's time to shine.
"Casey's had a body of work for us, and we know he's a capable guy," Sullivan said. "It's our challenge with Casey to help him capture his very best game. We know he's capable."