What's up everyone? I have finally obtained internet in my apartment after living 2 weeks in the dark ages, not the Rico Fata and Ian Moran dark ages, but rather dark nonetheless. The good news is my fast five actually involves hockey that is going on instead of speculation, the bad news is I still don't know what the hell I'm talking about. Leading up to camp I was interested in seeing which unsigned rookies from the rookie tournament would get an invite to camp, and the answer was all of them. The Pens are reportedly "close" on "3 centers" they are looking at, but I don't fully believe that statement so it doesn't make my list.
5. ThE rYaN rEaVeS eXpErImEnT
Everyone has an opinion on Ryan Reaves, about the Penguins trading a first round pick and a prospect for him, about his role on this team, etc. Reaves may have already helped the team in more ways than Oscar Sundqvist ever did by colliding with Tom Sestito during a drill, a collision that Sestito is yet to return from. His absence is sorely missed.
Coach Sullivan stated that he is considering using Reaves in a penalty killer role, but after a quick look at the St. Louis penalty killers last season:
As you see Reaves was not a factor in the graphic from hockeyviz, which is why the Sullivan quote struck me as odd. What makes Sullivan's PK aspirations for Reaves even more bizarre is this from hockey-refernce:

Reaves has 8 CAREER short handed minutes in 7 years in the league.
Perhaps Sullivan assumes Reaves is a big body that can block shots, but Reaves averages 17 blocks per season sooooooo In Sullivan we trust?
4. Sidney Crosby is still Sidney Crosby
He is 30 years old and per wikipedia this is is current list of achievements: NHL All-Rookie Team, 2× Art Ross Trophy (Leading Scorer) — 2007, 2014, 2× Maurice "Rocket" Richard Trophy (Goals Leader), 3× Lester B. Pearson Award/Ted Lindsay Award (Peer-voted Best Player), 2× Hart Memorial Trophy, 4× NHL First All-Star Team, 3× NHL Second All-Star Team, 6× NHL All-Star selection, 2× Mark Messier Leadership Award, 4× Prince of Wales Trophy, 3× Stanley Cup champion, 2× Conn Smythe Trophy. 
After all of those achievements and 12 years in the league Crosby's competitiveness hasn't waned a bit. During the first scrimmage of training camp Evgeni Malkin scored a shootout winner, sending the loss to Crosby's team. Newcomer Ryan Reaves had this to say following the scrimmage about Crosby, "I don't know if I've ever seen somebody get so mad over a scrimmage loss before."
3. Welcome to the NHL Jordy
During the Penguins Prospects tournament everyone was excited to watch Zach Aston-Reese, Daniel Sprong, and Lukas Bengtsson, and those players did not disappoint by any stretch of the imagination. Another player that took advantage was undrafted invitee Jordy Bellerive, who shined with 4 goals and 3 assists in the 3 tournament games. The Penguins extended an invite to camp to Bellerive and after a day and a half they signed him to a 3 year entry level contract. He's 18, he's 5'10" and 194 pounds, he sounds like another Conor Sheary that will eventually be in the NHL. Jim Rutherford and his team have not been given enough credit for their work signing college players and undrafted players, something that is imperative for a team destined to have late first round picks.
Very honoured and excited to sign with the @penguins ! What a day for my family. Thank you to everyone who has helped me get here! #3peat pic.twitter.com/Rj4fg6g9Lw

— Jordy Bellerive (@jordybellerive) September 16, 2017
Hashtag game is on point.
2. Lukas Bengtsson returns
If you remember my last fast five I wrote about the rare disease that disrupted Bengtsson's season last year. After 8 months of rehabilitation, testing, training and treatment Bengtsson returned to competitive hockey at the Penguins prospects tournament and continues to participate in training camp. Bengtsson is a high grade defensive prospect for the organization, and you can't help but be happy for the kid for working his ass off to get back to playing.
1. HAPPY BIRTHDAY SOUTHSIDEGENO
When we started this thing we didn't know what the hell we were doing and now a year later we still don't know what in the hell we are doing. A little behind the scenes peak into a gameday post: I generally wake up around 5:30/6:00 and start working on the gameday post banner and lineup graphics during breakfast. Then I open my emails and have anywhere from 1 to 5 emails from SSG (sent at 2:30 in the morning) informing me that there is a new photoshop or gif waiting for me in the media folder. His dedication to providing comedic content to this blog last season is something I certainly don't take for granted, especially after learning that some of the gifs take him over 4 hours to make! From everyone involved in this community we wish you a happy 61st birthday big guy, we couldn't be doing this without ya!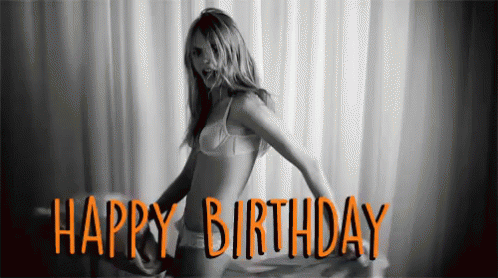 It took awhile to find a gif I knew you would appreciate ; )
---
I am linking to our previous post about the blog meet up game taking place on November 18th so that you can still buy tickets/make hotel reservations. We are currently up to 27 tickets though approximately half are my family, so if you're interested then sign up! If you all are interested in maybe a group t-shirt or something submit some ideas and I will check for the best price. You can also see the following blurb:
---
Hockey blawg meet up
Current buyers
| | |
| --- | --- |
| Name | QTY |
| Jovi | 1 |
| el_wray | 1 |
| UlfSammySon | 1 |
| raaaandy | 2 |
| ggb | 1 |
| jbot | 2 |
| jagr | 1 |
| Doge | 4 |
| Vlad | 2 |
| Brendan | 2 |
| lauriruu | 1 |
| Rad | 6 |
| PiH | 1 |
| Ungaba | 1 |
| MoonStanley | 1 |
| SSG | 1 |
| TOTAL | 28 |
OK, here's the form
fill this out completely and pay at the end or you can't come! Deadline is end of this week!