Hey! A meet up!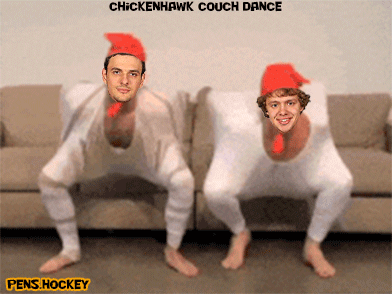 You can see our
previous post
for a list of users going to the meet up but that doesn't mean anything unless you fill out this form and pay up. Without filling this out, you're pretty much not going
Where:  "decent section of seating in the Lower Bowl"
When: 11/18 against the Blackhawks
Who: You and your family apparently. I capped the form out at 5 but we can do more if you want.
Also: Pre-game activities at the Souper Bowl or something? I dunno, we'll update this part later with better details
IMPORTANT HOTEL INFORMATION:
Holiday Inn Express Pittsburgh Southside
20 South 10th Street
Pittsburgh, PA 15203
Phone: 412-488-1130
-Pens.Hockey Meet Up, Group Code: PNS
-Group Room Dates: 11/17/2017 – 11/19/2017
-Single King (or 2 Queens) $129.00.
-All rooms have a pullout sleeper
-Secure Gated Self-Parking is available on-site for $18.00 inclusive/per night.
-All room rates are quoted net, and are exclusive of applicable state and local taxes 14%.
-Includes breakfast.
Reservation Method: Call In
A block of ten (10) rooms have been set up for our use, however, reservations will be made on an individual basis.  To secure your room you must call 412-488-1130, to confirm your reservation(s).
You will be required to guarantee your reservation with a major credit card.  All reservations must be received no later than 10/23/17.  After this time the Hotel reserves the right to release any unreserved rooms.
The Hotel will continue to accept reservations after the cut-off date, subject to availability at prevailing rates.  The Group Rate will be offered 3 days pre and post blocked group dates (subject to availability).
DO. IT.
yer whalecum ; )
Current buyers
| | |
| --- | --- |
| Name | QTY |
| el_wray | 1 |
| UlfSammySon | 1 |
| raaaandy | 1 |
| ggb | 1 |
| jbot | 2 |
| jagr | 1 |
| Doge | 4 |
| Vlad | 2 |
| Brendan | 2 |
| lauriruu | 1 |
| Rad | 6 |
| PiH | 1 |
| Ungaba | 1 |
| MoonStanley | 1 |
| SSG | 1 |
| TOTAL | 26 |
OK, here's the form