Good Monday everybody, for some reason I woke up this morning and felt like it was the perfect time for a Fast Five with Rad. It is my half intention to make these a biweekly occurrence but I also don't want to make promises that will most likely not come to fruition.
1. Cap Management
Despite a couple of their players having earned performance bonuses this past season, and despite having gone in & out of LTIR on two separate occasions in 2017-18, the Pittsburgh #Penguins still managed to avoid a bonus overage and actually slid in under the ceiling by $950!

— CapFriendly (@CapFriendly) May 20, 2018
What is this? Performance bonuses have become a new favorite for general managers as they take gambles on older players. When the CBA first went into effect it was mostly entry level contracts getting these bonuses. Here are the official terms from our boys Cap Friendly:
A Performance Bonus can be given to a player in addition to their salary. Performance bonuses are only paid to the player if they meet the requirements as defined by the bonus. Performance bonuses count against the salary cap; however, a team can exceed the salary cap due to performance bonuses by the maximum performance bonus cushion amount of 7.5 percent of the upper limit. Not all players are eligible for Performance Bonuses, and to receive a bonus within their contract, a player must meet one of the following criteria:
The player is on an entry-level contract.
The player has signed a one-year contract and is over 35 years old.
The player has signed a one-year contract after returning from a long-term injury (has played 400 or more games, and spent 100 or more days on the Injured Reserve in the last year of their most recent contract).
The bolded section is the key, as teams can maybe shed a million on a players contract and pay it off "under the table" so to speak.  However, if the team has too many of these contracts they go over the 7.5% limit and face a fine by the league:
9 teams incurred a Bonus Overage for the 2018-19 season, ranging from $25K to $2.55M.

Details are as follows:#Leafs: $2,550,000#Blackhawks: $1,232,500#Canucks: $852,847#Bruins: $774,000#RedWings: $755,000#Blues: $150,988#Lightning: $142,947#Caps: $82,500#Wild: $25,000 pic.twitter.com/s1MSaLxAoe

— CapFriendly (@CapFriendly) May 20, 2018
The Maple Leafs are no surprise here as Matthews is on a $925k/year entry level contract with $2.85 million/year bonus potential. Basically this entire first point is to say that the Penguins flirted with the salary cap ceiling throughout the year and still managed to stay under it when it came time to pay the bonuses. Heading into next season only Jake Guentzel has a performance bonus built into his contract, and if he meets all of the obligations he will cash out a whopping $132k.
2. 2018/19 Cap Space and Contracts
The first point was a perfect preface to everyones favorite topic, cap space and who the Penguins should target in free agency. As the roster is currently constructed the Penguins have $4.782 million worth of cap space with a signed roster consisting of 9 forwards (Crosby, Malkin, Kessel, Hornqvist, Hagelin, Sheary, Brassard, Guentzel, Aston-Reese) and 6 defensemen (everyone except Oleksiak). The Penguins currently have 5 RFA contracts to deal with and only 1 UFA, we will start with the UFA first because that is Carter Rowney. Rowney was on an AHL $612K/year deal the last few seasons, the league minimum contract is expected to be ~$725K next season… this is more words than I wanted to dedicate to Carter Rowney in the offseason.
The bigger issue for the Penguins is the RFA situation. The team has the above mentioned 4.78 million dollars and a RFA pool that is topped by Bryan Rust and Riley Sheahan and rounded out by Jamie Oleksiak, Tom Kuhnhackl, and Dominik Simon. Two more mentions currently in the AHL are Tristan Jarry and Daniel Sprong. I would be shocked if Rust and Sheahan aren't the top two targets for the Penguins to resign. Sullivan's use of Oleksiak down the stretch has me on the fence with him, especially with the team signing Juuso Riikola (point 4). If they can move the cap friendly Matt Hunwick contract ($2.25 mil for 2 more years) then I can see Oleksiak coming back considering he cashed in at an average $1.37 mil/year during his first 4 years, the Pens could probably get Oleksiak on a cap friendly $1.5 million 1 year deal as a "prove yourself" contract. The Penguins did a similar thing with Schultz, who went from making $3.9 million with the Oilers to a 1 year $1.4 million prove yourself contract with Pittsburgh before proving himself and cashing in on his current $5.5 million deal.
So, remove Hunwick and sign Oleksiak and the space is still just under 5 million for both Rust and Sheahan, not to mention Sprong's hit when he makes the jump. The Pens gave Sheary 3 million last year and Bryan Rust is worth every penny of that plus some. Sheahan just finished a 2 year 2.075 million dollar deal and JR may be able to slide him in at $2.5, which is a bit steep for a 4th line center. In other words, I hope Conor Sheary likes the West coast and it is pretty clear that some currently salaried guys will be moved come draft day.
3. Free Agency N'at
I know Dopefish66 is going to have your full free agency and draft day coverage later in the summer but after talking about the cap space it felt like the proper time to start the conversation. The biggest fish in the sea this year is John Tavares who just completed his final year of his $5.5 mil/yr contract with the Islanders. Tavares has popped up in the Pittsburgh media the last few weeks, is it possible? Technically yes. Is it probable that Tavares takes literally half the salary that every other team is going to offer him to be the third best center on a team? No. Be better Pittsburgh, this isn't Toronto, not every top free agent every year is signing with the Penguins. If the Penguins don't resign Kuhnhackl (I not so secretly suspect they will) and/or have to move Hagelins contract the team just lost 50% of their penalty killing forwards. As it has been in the Rutherford era, free agency isn't about the big splash this year but instead plugging the holes, a game your mom is familiar with. For fun I took the free agency list from capfriendly and shrank the salary parameter to those players who made $3.5 million or less last season, since that is the max I can see the Pens spending based on any moves they make.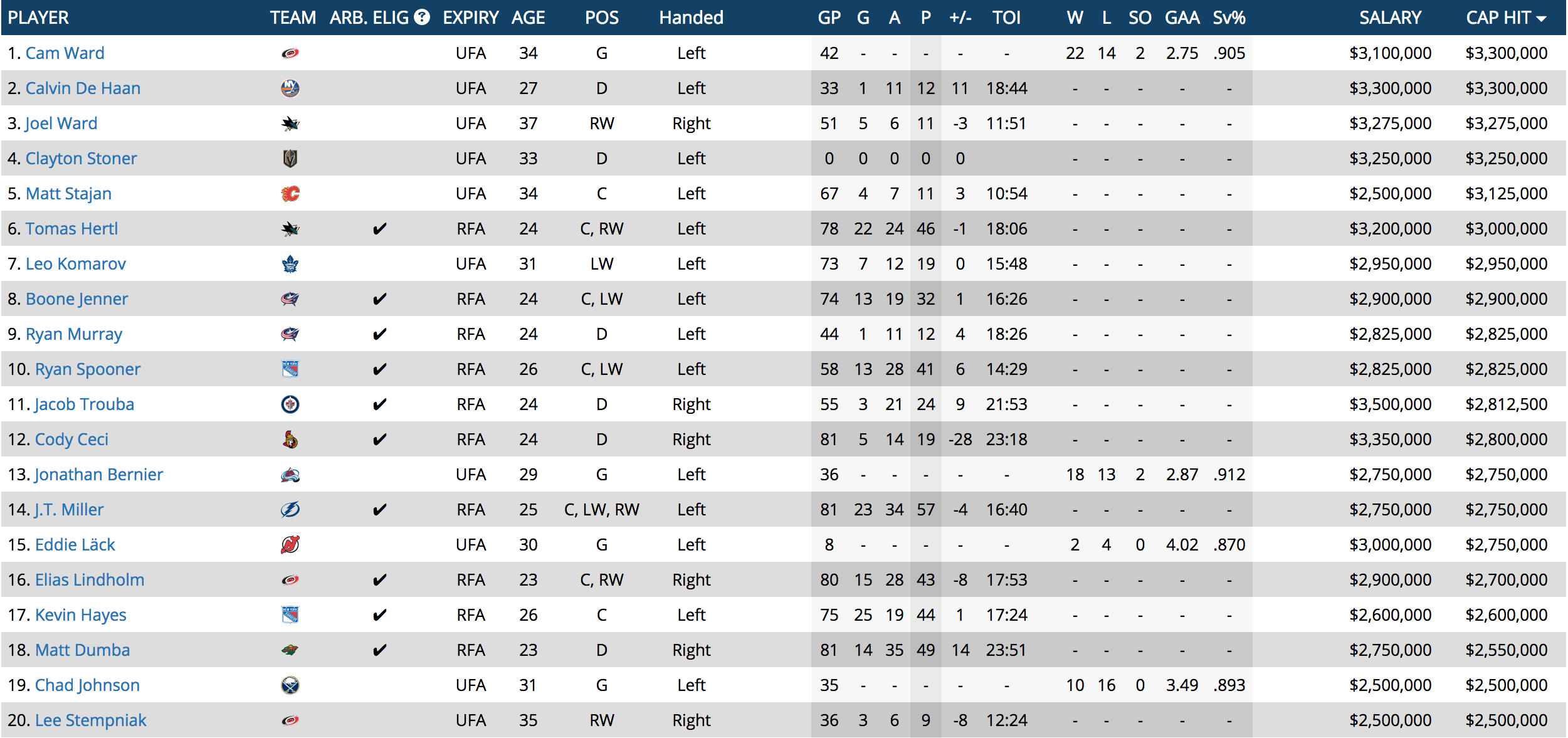 Cam Ward is going to make a really nice backup option for someone. Lee Stempniak made $2.5 million last year??? Really tough to see Rutherford offering any of these players their current contract amounts let alone a raise. What happens when we shrink the level to a Rutherford friendly $2.5 million?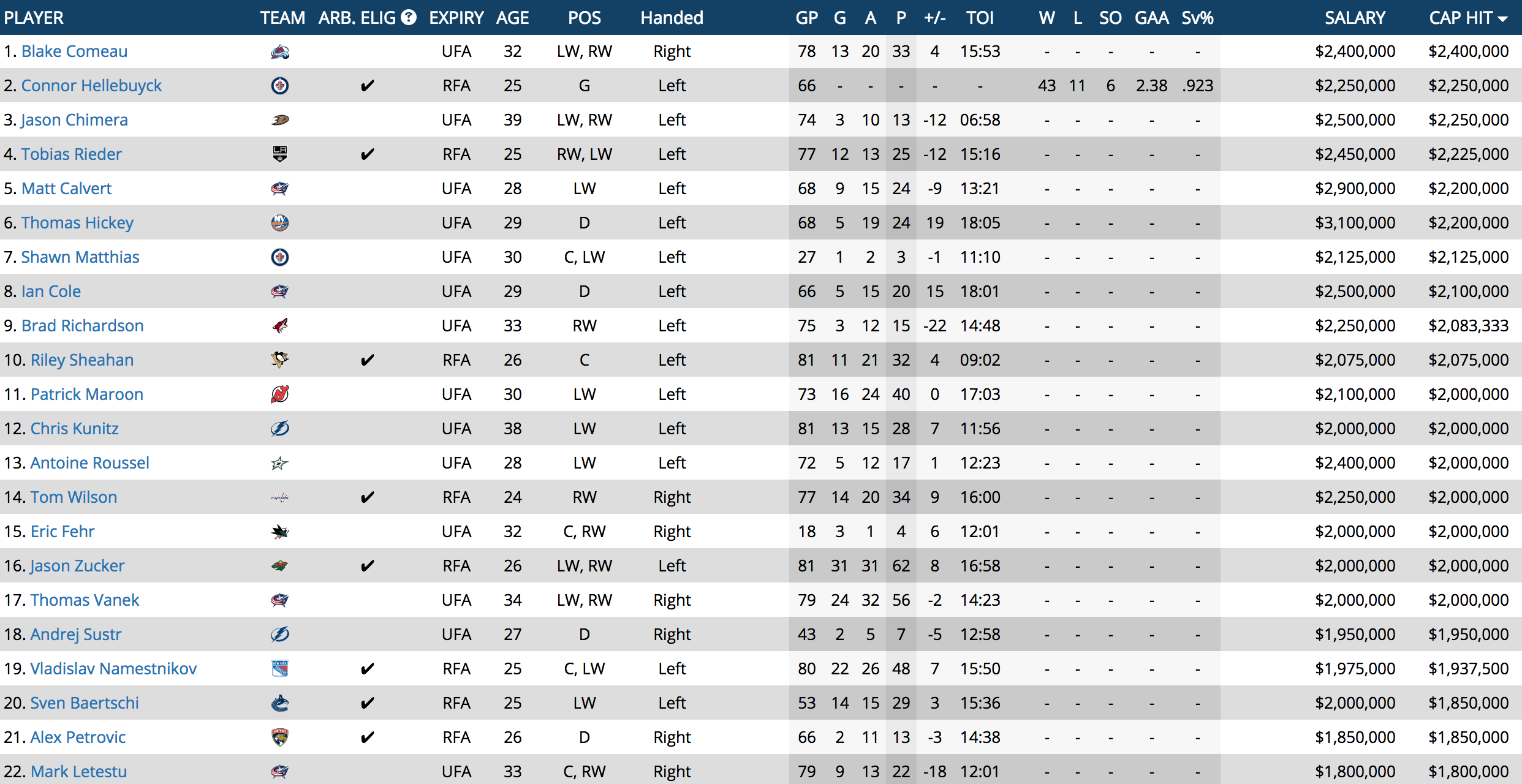 Connor Hellebuyck is about to get paid. Not to go all Brendan on yinz but Mark Letestu at that rate is probably more serviceable than Conor Sheary at his current $3 million. Thomas Vanek is also an interesting name here, not sure he fits the Pens system but he had a very good year with the Jackets. One last drop, the $2 million and under crowd: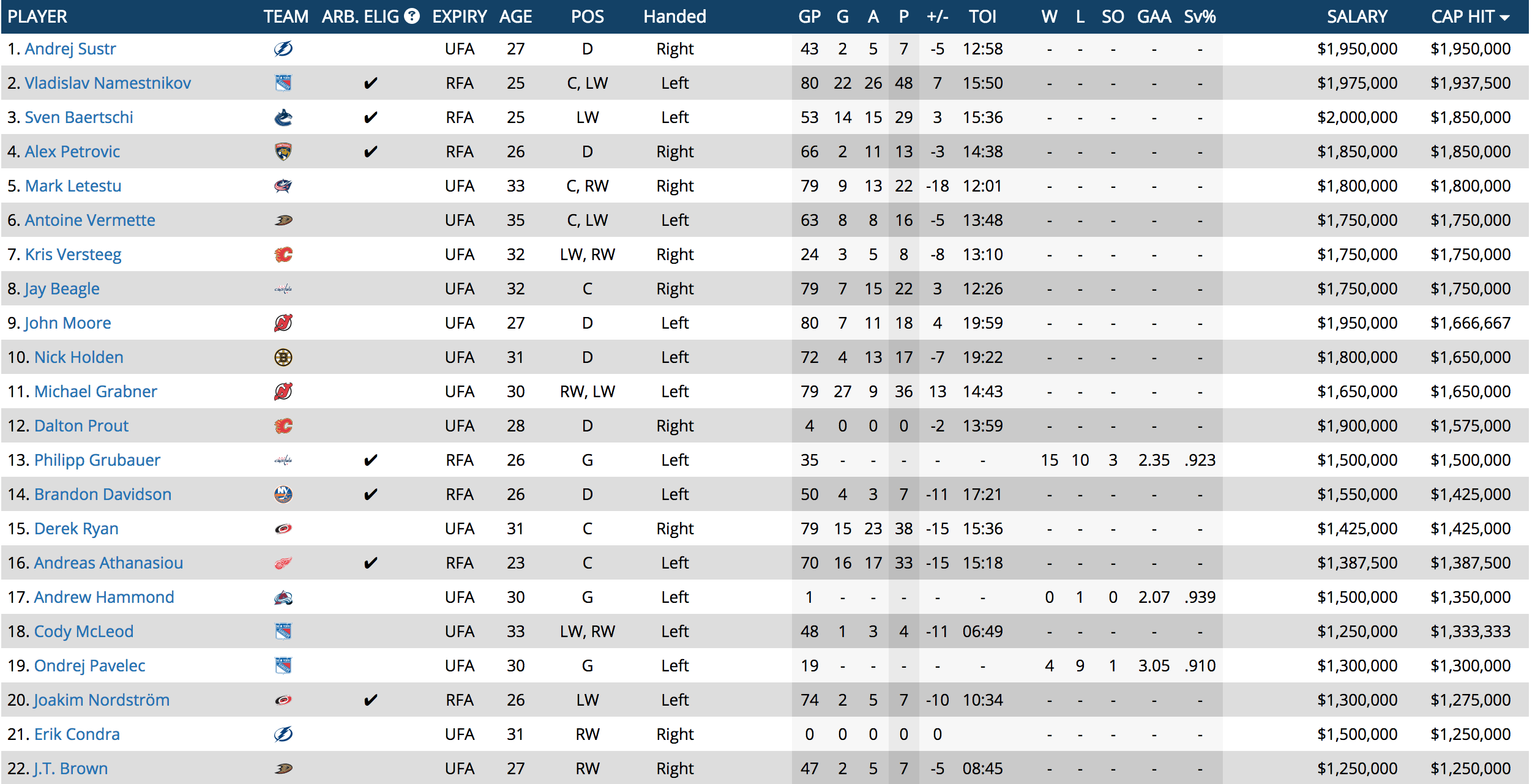 Trading Hagelin's 4 million for Grabner at 2 million is the most Rutherford move I can imagine. Depending on the cap space he opens with trades I can see a few people on this list of 20 that GMJR may target.
4. Juuso Riikola
The Penguins were active earlier last week when they signed Finnish defenseman Juuso Riikola to a one year $925,000 deal. Riikola is a left shot defender who is listed at 5'11" and 180 pounds. Riikola has played his entire professional career for KalPa Kuopio in Finland's top league, SM-liiga. He has been on the roster for Finland in international play 7 times already in his life, starting with the U-18 Junior International Championship in 2010-11. Riikola is not a goal scorer by any means, but seems to be a reliable defending defender with a nose for making good passes, especially on the breakout. Every prospect site you read about Riikola praises his skating ability. A Finnish prospect site reports that Riikola could be in the Penguins top 6 on opening night, but considering that is from a Finnish site it sort of has a "my child is an honor student" bumper sticker feel to it. Riikola starting the year in WBS and getting adjusted to North American hockey for the first half of the year makes more sense, with him being a likely call up when a defender goes down. Here are some "highlights," granted he is a not a flashy defender so these aren't too exciting.
One thing that really stands out is how his shot always finds the goaltender, that can go a long way in the NHL. It's a low risk signing by the Penguins and one that I don't mind them making, I always get hesitant with these players though. Approximately 1 in 20 ever work out, especially when their first NHL deal is signed after the age of 20, Riikola is 24 and you have to wonder why it took a team this long to sign him as flashbacks to Janne Pesonen start to emerge. This video is a better look at Riikola, take note of the skating ability before the goal at 1:42
If Riikola turns out to be another Olli Maatta it's an obvious win for the Penguins.
5. All Aboard the Flower Express
Some media members are actively trying to sell the idea that some Pittsburgh fans are rooting against Fleury. If you are, you're an idiot. Pretty sure everyone, the staff of this blog included, want nothing more than to see Marc-Andre Fleury win this fucking thing.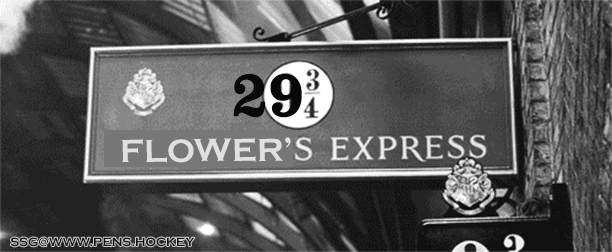 The Golden Knights continue to be one of the coolest stories in all of sports in recent memory and I honestly cannot fathom a fan of an eliminated team not jumping on the bandwagon at this point. The Knights have lost 3 freaking games in the playoffs so far, yet people are still doubting. I wasn't impressed by the first round because I didn't think the Kings were any good. I was mildly impressed by the second round because though I didn't think the Sharks were any good either I felt like they would be able to at least take the Knights to 7. I was extremely impressed by the third round, I felt the Jets were the best all around team in the West this year and thought they had a legitimate chance at a cup. Turns out there is a better team in the West, it's a team from Vegas, and they have a legitimate chance at winning the Stanley Cup. Also, lol to any idiot out there thinking the league rigged it this way, $100 says that same idiot said "the Knights won't win 30 games" at the beginning of the year.
---
Thanks for reading, be kind to each other, don't spread the herbes.