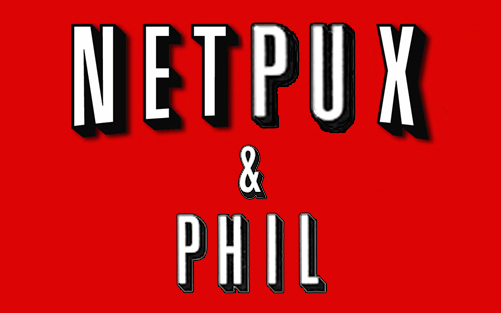 There is a small chance you've been really focused at work this week trying to get everything done before the three day weekend and you've missed the Phil Kessel shitstorm. There's a better chance that if you're reading this on a holiday weekend that you weren't too busy at work this week to catch at least the cliffnotes of the situation. For starters, I'm not a reporter, I have a few friends within the organization that have some inside knowledge but certainly nowhere near what those close to the team have, I am always going to be Pittsburgh biased but I try to see around the black and gold lenses as much as possible. I am simply a slightly hungover guy that wants to take this Kessel situation and dissect it, because that is what I am trained to do in the hospital.
It all started when Phil Kessel refused to talk to the media following the end of the season. At the time I was like "who gives a shit," in retrospect I'm like "who gives a shit." Colin Dunlap and Ron Cook(e) ran with the story and that is when this truly all started. Just this week, and over two weeks after the incident, 93.7 The Fan was still going on about it because even though this is Steelers town they need to talk about the Penguins in late May. They put up a Twitter poll which was glorious: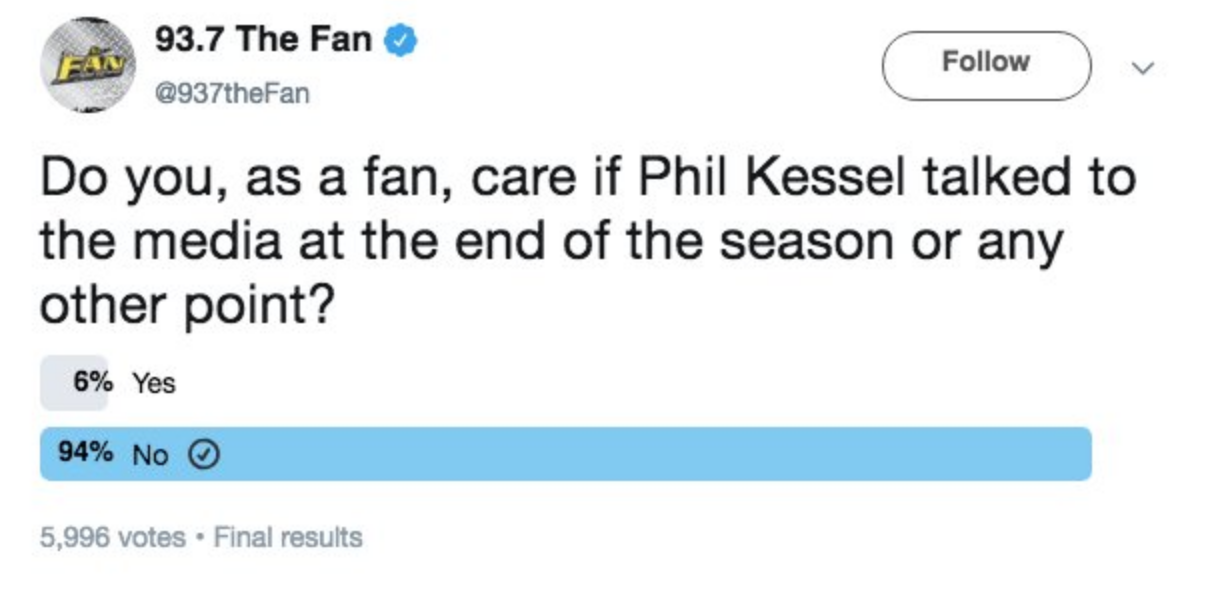 The 60 people that voted "Yes" work for the Fan, the other 300 was probably Dunlap.
The initial shade thrown at Phil for skipping this interview resulted in fans defending him, other members of the media defending the media, and it became a typical Pittsburgh sports coverage shit storm. This all changed when Mark Madden had Josh Yohe on his show and they talked about Kessel. This made multiple red flags go up. One because Yohe is one of the most respected writers covering the Penguins and I can't recall him ever participating in rumors just for clicks. Secondly, Mark Madden may carry around his arrogant persona on his over weight frame, but he is also well connected and doesn't like being wrong when reporting "breaking news." Obviously Madden has blogged about stuff (trading Malkin) and was wrong, but when he comes out with things his sources say, they are usually right, if you recall he reported Letang's season ending injury last year 2 months before the Penguins released the info.
There is also the chance that both are just trying to stay relevant in two dying markets and riding the Kessel media surge
SO now we have Yohe and Madden in an interview saying Phil is unhappy because he isn't with Geno, Sullivan is unhappy with Phil's practice antics and putting his iron man streak before the team, and the team is trying to trade Kessel. Now we are going to get to the thick of the post, I'm going to attack this from both sides, one for keeping Kessel and one for not.
To Trade or Not to Trade?
To start let's pull up Phil's NHL stat line so we have a reference point.
Kessel finished this season with career highs in assists (58) and points (92) while hitting the 30 goal mark for the 6th time and his first in black and gold. Even with his injury and "inexcusable playoff performance" he put up 9 points in 12 games, which was on pace for 18 in 24, just a few less than the cup years. Rolling with the stats as an opening point I feel it's natural that we start with the "not to trade" side of the argument.
Why shouldn't the Penguins trade Phil Kessel
Stats: In his tenure with the Penguins Kessel has continued to improve his play, not just in stats (though he has grown from 59 points in 15/16 to 92 this year) but also in his style of play. Phil Kessel will never be a 200 foot player, but we saw a much more defensively minded Kessel this year and that can only continue to grow as he works beside Sidney Crosby.
Contract: Thanks to Toronto retaining $1.2 million of his $8 million contract the Penguins are on the hook for just $6.8 for the next 4 years. Using the "comparables" tool on capfriendly.com we find that Kessel's contract is 90.6% comparable to Jakub Voracek, and also similar to Ryan Getzlaf (88.6%) and Corey Perry (85.3%). This year Voracek finished with 20 goals and 65 assists, Getzlaf had 11 goals and 50 assists in just 56 games, and Perry had 17 goals and 32 assists. Kessel outperformed all of these players while spending a lot of his time on the third line and at a discount to the organization. This paragraph alone makes it very hard for the team to trade Kessel, even with the unproven promise of Daniel Sprong you don't just trade away a guaranteed 20+ goal, 70+ point season off of your third line. You just don't.
Personnel: Madden mentioned that Kessel is unhappy that he doesn't play on the second line with Malkin, stating that Sullivan doesn't trust those two together defensively. This is a valid complaint from Kessel and a valid reason from Sullivan. Kessel and Malkin did have moments of brilliance when they were together, so why not try something similar? Something that was tried for a month and then abandoned forever… something that involves forwards that aren't defensive liabilities to make up for Kessel's occasional oops. For years and years and years it was "get a winger for Sid," the Pens acquired Phil and tried him there briefly. At that time Crosby had Dupuis and Kunitz on his wings and refused to love anybody else, that was then. Now Sid has Guentzel firmly placed on his left, what would it hurt seeing how Kessel slots in to the right? Even without any trades that gives you this
Guentzel – Crosby – Kessel
Hagelin – Malkin – Hornqvist
Rust – Brassard – Sprong/Sheary
Kuhnhackl – Sheahan – ZAR/Sheary
Really can't come up with a good reason why you wouldn't at least try these lines for 10 games or so early in the season.
Why should the Penguins trade Phil Kessel?
Stats: If you refer back to the image you can see one of the most impressive stats Kessel offers, and that is his consecutive games played streak. Kessel has suited up for 692 consecutive regular season games, which is good enough for 9th all-time and 3rd among current players:

The streak has been a source of tension however, with Kessel wanting to play though hurt and Sullivan being stuck with a difficult decision. On one hand, you play an injured star player to help him maintain something that is meaningful to him (after beating testicular cancer this streak is more than just a bunch of hockey games in a row for Kessel), on the other hand Sullivan could bench Kessel and let him heal risking the winger becoming upset moving forward. Should there be a common ground and a "what's best for the team" model here, yes, but there isn't. That is mostly due to Kessel's stubbornness, and that can be something that rubs a no nonsense guy like Sullivan the wrong way.
Contract: The pros of Kessel's contract are above, but here is a new angle for the "trade Phil" side. The Penguins are only responsible for $6.8 million of Kessel's contract, which is a manageable number for many teams. The 4 year duration with his management issues may be the hard part to move. However, clearing up nearly 7 million dollars in cap room isn't a terrible idea, especially after next season when Jake Guentzel (currently making 700k), Derick Brassard (3 million) and ZAR are all free agents and Guentzel and ZAR will have to be given a raise from their entry level contracts. The following year Matt Murray's 3.75 million dollar deal expires and depending on his stats the next two years he too will be needing a raise. With this in mind, loading up for one more cup run this coming season and then trading Kessel actually makes sense.
Personnel: Kessel has always been labeled as a difficult to coach player. He's been labeled as a lot of things from the media. One thing he isn't labeled is anything but a great teammate by the guys that matter. Malkin and Kessel constantly play practical jokes on each other, the kind of stuff the media applauded Fleury for during his tenure. When it comes to personnel issues it is all between Kessel and the coaching staff. Personally from a fans view seeing Kessel become more dependable in the defensive zone this year dampers the can't be coached narrative a bit. That being said, James Neal was/is a great scoring power forward. He also had a lot of off-ice issues with the team and the staff, and the team became a better one when he was removed. Sometimes it doesn't matter how much talent a player has, they can still bring the team down as a whole. I'm not saying that is the case for Phil, but that is certainly the way Madden and Yohe were painting it.
WWW Pens DOT Hockey Verdict
The Pros for keeping Phil are the stats, the wrist shot, and the memes. The Pros for trading Phil are Sullivan's sanity, the cap space, and the Toronto papers saying "told you so." In my opinion the only way trading Kessel makes sense is to open up cap space to ensure the team doesn't lose the players it has invested time in throughout the organization. Phil Kessel easily brings in a first round pick and then some, and one more season with the Pens certainly shouldn't change that. The only interesting situation in this coming draft is the Islanders have back-to-back first round selections at 11 and 12, adding Phil would help persuade Tavares to stick around, but this is a stretch. Going forward a year the Avalanche have 2 first round selections in 2019 at 8 and 21, giving away the 8th spot for a player like Kessel isn't a huge risk. It moves Kessel to the west, lands a top 10 pick, and frees up 7 million dollars to give Guentzel some money and extend Brassard. If the coaching staff and Phil can come to some agreements the best option is to gear up this coming season for a cup run with Phil Kessel on the team. I don't imagine GMJR trading Kessel for a similar contract and that's why it's hard for me to see him doing a one for one trade that helps the Penguins next season. Since I typed that it will most likely happen.
The bottom line is that even though Kessel is loved by the fans (myself included, have his jersey hanging beside me as I type this) the trade rumors brought on by the media are not only plausible but also possible, but it will have to involve a dance partner and GMJR making sure the team dynamic doesn't suffer. Trading the 4th highest paid player on the team can cause a bit of uncertainty with the rest of the roster if he isn't careful. We would also have to have three entire posts dedicated to Phil Kessel related photoshops and gifs if it happens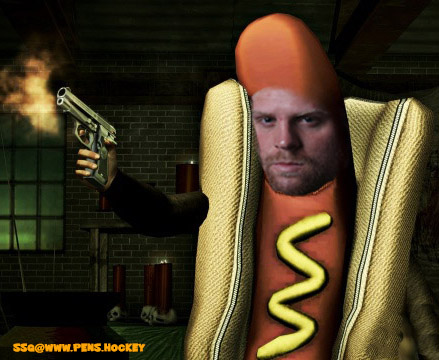 Enjoy your memorial day weekend everyone! We have a SCF post coming your way Monday!