The Pens are 3 deep into this new season. The first game they looked flat. Got outplayed in their own barn on opening nights. Woof.. that was a rough one. Looked exactly like how they exited the playoffs. The trades and signings did little to change the dynamics of this team. One dumpster fire a season does not make.
But, its only one game, the first game in an 82 game season. We'll be fine. Game 2 the Pens proved it to the tune of a 7 to 2 win, we will be fine. The pens were flying and putting the little biscuit in its home. All was fine… But.. Malkin and Bjugstad are injured.. How bad can it be?
Oh, 3 to 4 for Bjugstad and 4 to 6 for Geno… shit…
Back to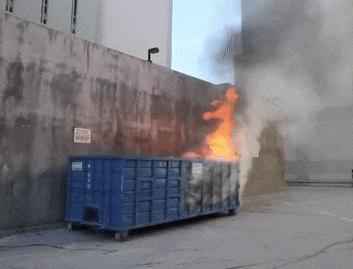 Game 3, The Jets roll into town with a D that wouldn't look out of place playing against the baby pens… What do the Pens do, score the first goal 30 seconds in and then… wait for it… Pitt.. Oh god, they Pitt'd so hard they started the bed shitting it in the 1st period.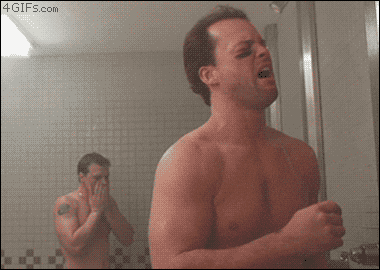 For 2 periods.
By the time they decided to hockey, it was the third period. The Jets locked it down and went home with the W and a split on their road trip.
Things are never as bad as they seem, they are never as good as they seem, well, unless you are lifting that shiny thing at the end.
Out of the first 9 periods of hockey, they have played 4 good periods… 4… Sure there are injuries, sure, but coming out that flat during your home opener. After a sweep in the playoffs and you come out and look like you want to be anywhere but on the ice.
That, right there.. is coaching. I like Sully, but dude, It ain't working.. Tug Em and get it right
Then leadership happened. Crosby got in a fight.. Malkin called the team out.. Pens win game 2.
I'll give them a pass on game 3.. Injuries, rolling 7 D because those are the best players you have on your bench. Sure, I'll buy it.
But now it is game 4. No excuses, you have had a day to figure this out.
So Pitter Patter Let's get At 'er!
Tonight the Pens finish their schizoid homestand with the Duck of Mighty Anaheim..
The Ducks are coming into this game standing at a perfect 3 and 0 with a win on Tuesday against the Red Wings 3 to 1. This is the 2nd game of a 4 game road trip that started in the aforementioned Detroit, and finishes with Columbus and Boston. This is a solid team.
I'll start with the back stops.. Expect Pittsburgh native John Gibson to start over Ryan (Sid Owns me) Miller. Did you know John Gibson is from Pittsburgh? Did you know? Huh did you know?  Expect this fact to be repeated a metric fuckton of times.. Every. Damn. Game. He. Plays.Here. He is a top rate goalie that will give then Pens trouble.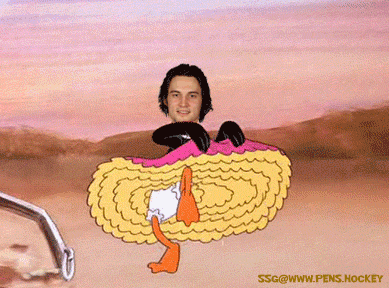 The Pens, with a day of rest, should start 2-time Stanley Cup Champ Matt Murray. Last game he looked a bit rough. But if you score only one goal, it doesn't matter if he lets in 2 or 10, you're not winning. Murray does save, but he can't score too, and when he looks bad, he looks really bad. But I am not getting off the Murray train. He'll get it together and will have a solid one tonight.
Down the middle, Anaheim is solid on the top line with Ryan Getzlaf as a proven top-line center. Isac Lundestrom (god, what a great name) was a first round pick in 2018 (23rd overall) and it's time for him to produce. The third line is headed by Adam Henrique surprisingly, I expected him on the 2nd. Finally, the 4th line is headed by former Penguin Derek Grant (we got Joseph Blandisi for him) with Carter Rowney (yes THAT Carter Rowney) on his right side. The forwards are solid, but its West coast hockey. So who is Devin Shore and Ondrej Kase anyway? Rickard Rakell, Jakob Silferbergererererer. Yea, names on a jersey. Don't care, won't be on the cup anyway… can't help but notice one Daniel Sprong is missing? Weird.
The top 2 D pairings are good. Lindholm / Manson and Guhle with Fowler. They support a faster team than the Ducks had last year and are pretty solid.
But if the Pens don't get after it, it won't matter who plays D, it will be a cluster.
Their injury list features Ryan Kesler, who is out with a hip injury and Patrick Eaves with a disease that attacks his nervous system, ouch!
For the Home Town Pittsburgh Penguins.
We look like the 4077 rather than a hockey team.
Players that are out: Malkin, Bjugstad, Galchenyuk, Rust, Trotman, Johnson (no, not that one). With Horny looking like a game time decision as he is "day-to-day" but its horny… but a Letang blast to the back of the knee is not something that you just get over.
The freshest addition add to the list is Alex Galchenyuk; so they called up Adam Johnson.
With Geno out long term, This is what we will have to look at. Simon needs off the top line, but that won't happen because *hockey sense* means more than *can finish*. Stop flapping it at me and telling me he makes the team better by being on the 1st line. 4.. 4 good chances.. wifs on all 4… yea, time for some 3rd line time their buddy. Know Your Role.. more like the Coaching staff needs to Know Your Role.
On the other hand Tanev has done everything but finish. Once he starts putting them in, watch out. Zar is on the 3rd line and needs to stay there. He just can't finish with the big boys. Big shot to the D pairs is a possible Marino for JJ swap.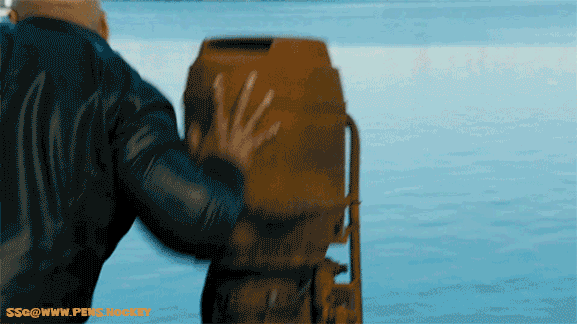 For the LOVE of GOD and EVERYTHING HOLY!!!! Bench the boat anchor, the plug, the pylon know as Jack Johnson (hey, everyone has taken their swipe at him, it's my turn damnit!). Let's see what this Marino kid has. I would rather get one put behind Murray due to a young kid being aggressive than an old man getting blown by in the neutral zone. I'll give J.J. a bit of credit, I have seen a few nice plays by him this year… But I have seen more bad ones.. If nobody will take him, put him on waivers and just eat it like a fat kid at a buffet.
It'll be the last game in a 4 game home stand. Put another check in the win column and split this 4 game run. Come out 2 and 2 after laying 2 eggs is not bad. Sully needs to get to start some major adjustments on his system (it hasn't worked in 2 years) and get this shipped running right. Maybe he just needs to kick a garbage can for some inspiration…
Dooo eeeet!!!! Let's Go Pens!!!!!
*Side note on Mr. Lange* I have been lucky enough to have a few beers with him at a local watering hole. I must say he is one of the most gracious, genuine people out there. If anyone deserves the accolades he gets it's him. Usually, you hear what a great guy somebody is and when you meet them they just aren't it. Lange is the genuine article and this city and fandom is blessed to have had him as the voice of the team and in many cases, our childhood.