First and foremost, let's take a moment to appreciate an all time great, and Hall Of Famer, Mike Lange.
Mike was a California guy, but don't let that fool you – the man is a Pittsburgher through and through. His first year broadcasting was the year I was born, and I'm one of the moldy oldies on this site. He used to get so many suggestions for sayings that he'd write them down on strips of paper and keep them in a shoebox. But perhaps his most famous was suggested by none other than Jaromir Jagr. More on that at the close of this recap.
The Pens were coming off a 7-2 shellacking of their lil bros in Shitlumbus, but that was after being embarrassed, at home, in their season opener by the Conor Sheary led Buffalo Sabres. Take that, Uncle Sully.
So which team would take the ice this Tuesday?
Lange with the rousing 'I love you all speech', followed by 'Jimbo' Jeff Jimmerson crushing 'O, Canada' and 'The Star Spangled Banner' and we're ready, so… Let's Do This.

Skipped it above, but apparently the Pens were feeling badly for the Jets having a blueline with less facial hair than my mom's all female bridge group so they went ahead and let Dan Marino's cousin play his first ever NHL game. Oh, and Sam Laugherty, too. And if I'm counting correctly, that means the Pens are playing with 11 forwards and 7 defenseman for the first time in Sullivan's tenure.
Sid, however, didn't give a single frk and took a glorious feed from Snek :32 in and made Hellebyuck long for the days of having at least two NHL caliber defensemen in front of him.
Jerk Jackoffson, though, DID feel bad, so he decided to sit back and give the Jets a great opportunity a minute later. Thankfully, Murray remembered that he's won two Cups and reacted accordingly.
I really think Mears likes saying PEE-onk, and I can see why. PEE-onk. PEEEEEE-onk. Makes me giggle.
While I was giggling at PEEEEEE-onk, Viley E. Heinola did what rookies playing the Pens for the first time ever always do, and that's score. Oh look, Gudbranson and Jag Jagoffson were on the ice, huh. You know, maybe this 7 D thing isn't so great after all…
Nice back and forth, until Letang decided that injuring Malkin wasn't enough and hit Horny somewhere on the inside of his knee with a shot, sending him down the run way. Shortly thereafter, we were reminded that ZAR was still around, throwing the puck into the middle for an 'assist' to Ehlers who made Murray look mortal, glove side. 1-2, if you care about scores.
ZAR tried to make up for it, but got nothing but post.
At this point, it was becoming clear that the Jets were playing to their strengths – young, fast legs – and were dragging the Pens into a track meet.
Finally things chilled out a bit, but the Pens just couldn't get it together. Witness: Letang realizing that ice is slippy and giving the puck to some jamoke who caught the post, thank Murray Jeezus.
Pens survived the first period and Horny came back out, like the muthafrking gladiator he is. Thank Jeebus because 10 forwards is not enough forwards for 2.5 periods of hockey.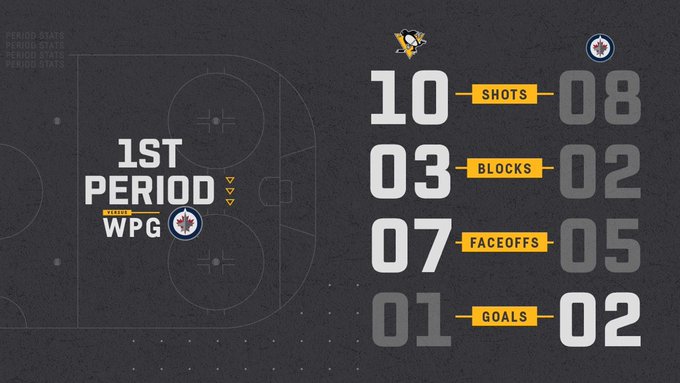 No Horny to start the 2nd. Yikes.
Under a minute in, another rookie, Douchie Pool-man pots his second ever. Perhaps youth on the blueline is actually the answer? Because it definitely does not appear to be $7.5 Million for your third paring, regardless of what Rutherford is trying to accomplish. 1-3.
A minute later, after six more unacceptable fuck ups, ZAR gets another wonderus opportunity. It was all for naught because he apparently attends the Tyler Kennedy School of Moon Shots.
For his troubles, ZAR took a stick to the chops and headed down the run way. If you're counting at home, the Pens now have 9 forwards. Nothing like rolling 3 lines in game 3…
With 11 minutes left, ZAR was back on the ice. Back to 10 forwards, so there's that.
Guess it didn't really matter, because the Pens two best defensemen decided that defense wasn't such a big deal, probably because there were 7 of them. Guess they were supposed to take turns taking a shift off, but Dumo and Tanger figured 'why wait' and let PEE-onk (giggle) knock one in during a scrum. A 1 on 3 scrum, even. To make it 1-4. Against a team with five middle schoolers on the blueline. Oof.
At this point, I was ready to switch to bourbon. But Mrs. Ung reminded me it was Tuesday and I killed half my liver last season, so I was forced to face the rest of the game un-medicated. Well, I had some vodka – I'm not a total moron.
With 5 minutes left in the period, the Jets were tired of it being so easy so some doofus took a penalty.
The Pens PP was *checks notes* NOT prepared. Color me shocked. Their best chance came off a Sid rush. Shortly thereafter Snek got mashed and everyone was angry. Grrr. Well, that plus $4.98 will get you a coffee at Starbucks, because the Jets just decided to play hockey, making the Pens look stupid again.
BUT WAIT A MINUTE!!!!!! Jets were offside, as Errey super-excitedly told everyone, zooming into the zone 'WITH NO CONTROL!!!!!'. Yay. So it's only 1-4 still. Wheeeeeee.
There was some scrambling and what not, but the period mercifully came to an end without any more flightless birdy embarrassment.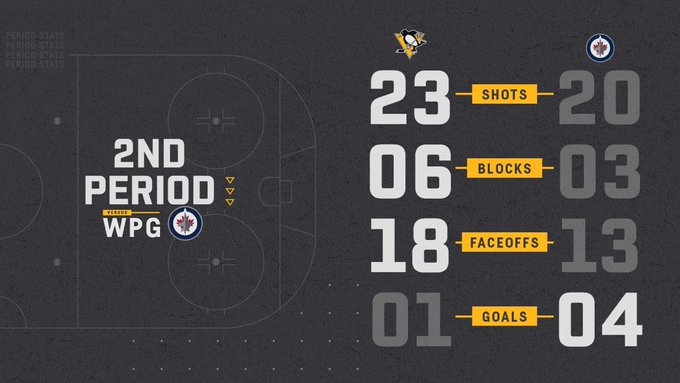 The third begins and it's a little punchy at the Ungstead. Trying to figure out how to measure my drinking and still somehow finish watching and writing about this game.
Looking back, when the defensive pairs for the Jets were released on Twitter, we were all excited that the Pens would use this game to build some momentum. Turn the Malkin and Bjugstad injuries into a rallying cry to start stockpiling the points.
Instead, it was the playoff Pens that showed up. Boneheaded plays on the blueline. No grit in the corners. No desire to win battles. Visible frustration from one of the 'leaders' of the team in Letang. Yeah, I'm calling him out already. The #1 defensemen is supposed to lead by example. He's supposed to make the smart play, the tough play, the RIGHT play. Instead, he jammed his head so firmly into his rectum the combined powers of Rad and Jovi and the finest emergency room in the country wouldn't be enough to un-butt-fuck the guy. Yup, we have two doctors and it STILL wouldn't help.
Meanwhile, hockey was still being played. Not much was happening, aside from the Pens still looking fat and slow.
Then, with about 11 minutes left, Laugherty draws a penalty. Would something happen? You're reading this, so you know the answer.
I looked down to do things, and suddenly, 5 minutes went by. What happened, you ask? Well, the score didn't change, so does it really matter?
No. No it doesn't matter. The flightless birdies were caught in the jet wash and there was nothing anyone could do.
And now, because I promised it earlier, I'll tell you that 'Elvis has just left the building' was a catchphrase suggested by none other than Jaromir Jagr.
Time for bourbon.
Thoughts:
Starting with 11 forwards seems like a recipe for disaster. Playing most of the game with only 10 was obviously a disaster.
There is no concept of 'team defense' here, and that's a problem.
Murray wasn't great, but this is not on him.
Sidney Crosby is an amazing hockey player.


Loading ...