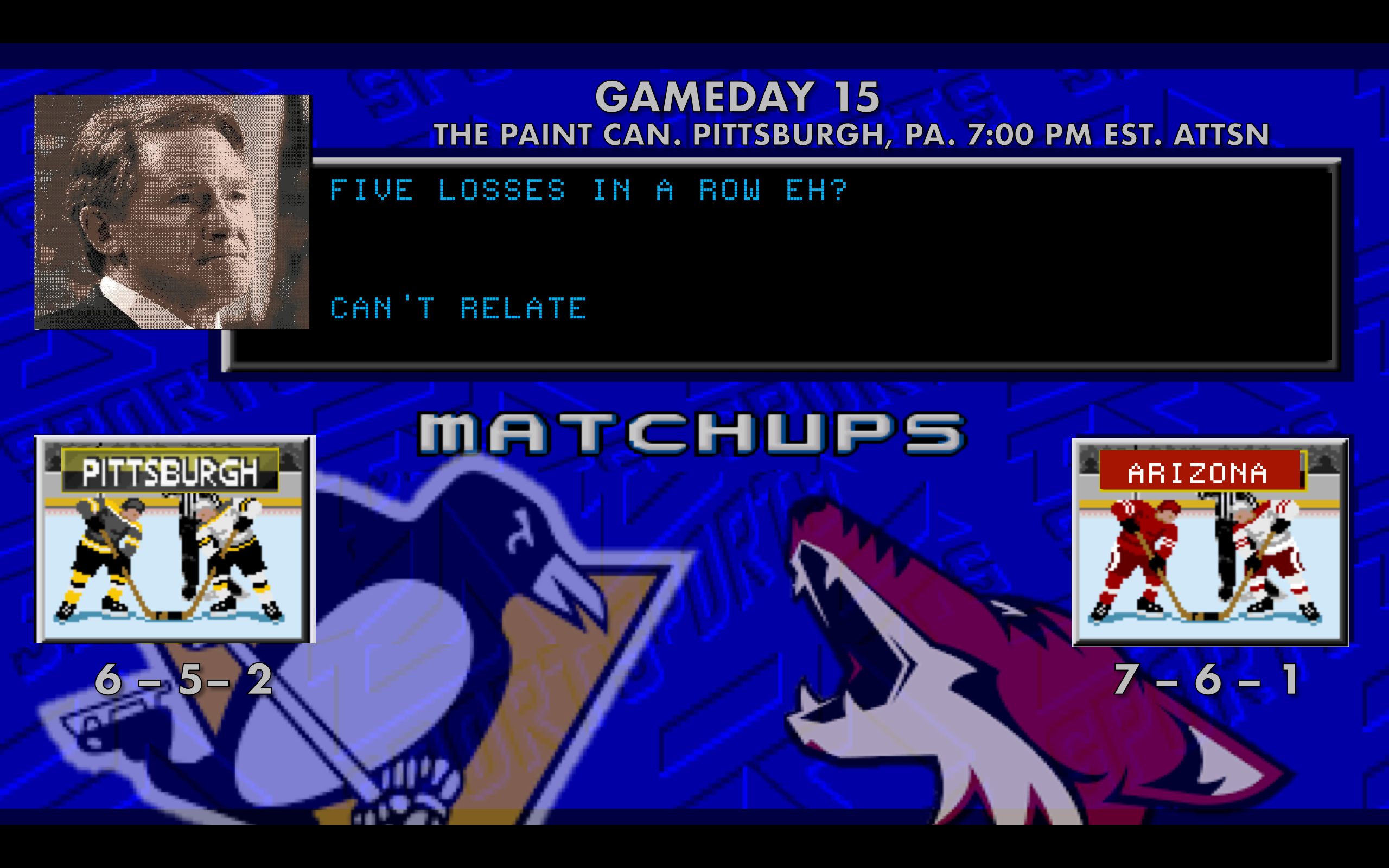 It's back to the Paint Can for the Pittsburgh Penguins for the third game of seven in this back-and-forth home/road flippity-floppity, this time to host the Arizona Coyotes for the first of their two meetings this season.  The Coyotes come into tonight's game as the second-hottest team in the Pacific Division…yes, that is deliberately specific because they haven't been this good in a while, just six points out of first place in the second-tightest division where eight points separate first and last place.  Arizona is doing well in their own defensive end thus far, allowing the fewest goals in the League, so they'll be an important test for a Penguins team that has had difficulty scoring goals since their now-legendary four-game Western Canada road trip.
In the Gameday before Wednesday's 2-1 loss against the Washington Capitals, "we" made it clear that the general mood around the Penguins, in the midst of a losing streak only one game better than Chicago's six games, would be better if the team hadn't been playing like garbage for the first four games of the skid.  So, of course, they go out Wednesday night and play great!…and still lose.  From @EvolvingWild on Twitter, here's a chart showing expected goals: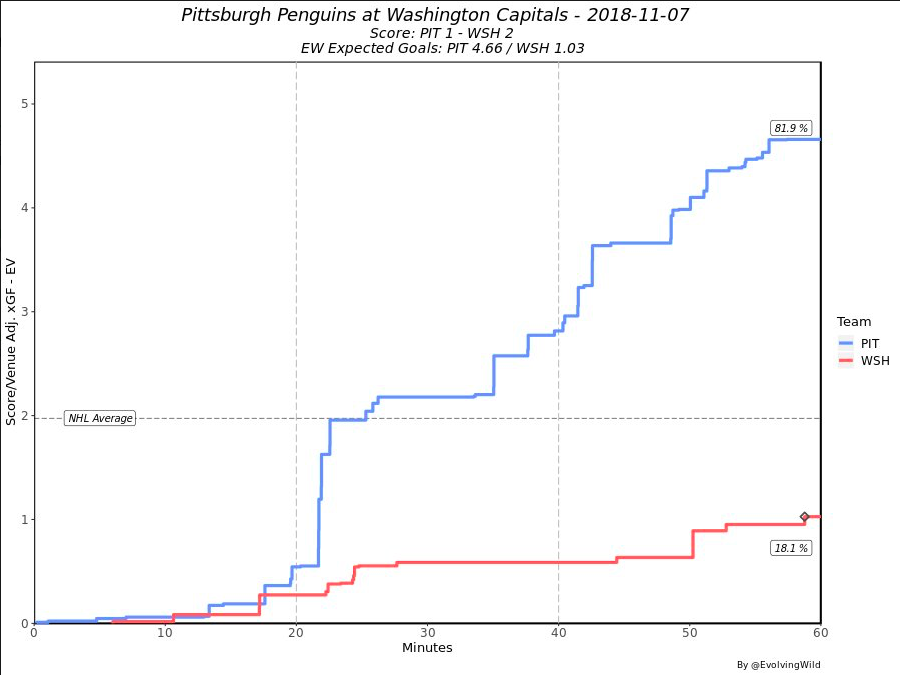 It took a Vezina-caliber performance from Braden Holtby to keep the Penguins from winning against their foes, because the Penguins were all over the Capitals. They did have a little help from their friends in black-and-white, who underreacted to T.J. Oshie getting high-sticked in the eye, then overreacted when Oshie got upper-armed in the head(?) by Evgeni Malkin, as well as missed the slew-foot to Kris Letang just before Oshie, apparently just fine, scored the game-winner and dumped the Penguins in the loss column again.  The League, in all its wisdom, benevolently handed Malkin no further punishment for his incident with Oshie, but the damage was done.
The good news is that the Penguins were so dialed in that even losing their leading scorer five minutes into the third period didn't stop them from pushing for goals.  The lines were jumbled like we've yet to see and they scarcely missed a beat.  But, once again, there wasn't a great distribution of ice time as Zach Aston-Reese had ~8 minutes and Garrett Wilson had ~6, which is disappointing but typical, especially when they're not getting anything past Holtby.  With the increase in buzz that general manager Jim Rutherford is looking to make some moves, the one name that has been constantly coming up is Daniel Sprong.  Every Penguins fan has an opinion on the Dutch winger, but the one variable in the equation is what he would do if given more than ten, hell, more than fifteen minutes a game.
One of our commenters, Andy Peppers, suggested there is a parallel between Sprong and former prospect/current Toronto Maple Leaf, Kasperi Kapanen.  One of the key pieces of the trade that brought Phil Kessel to Pittsburgh, Kapanen was 18 years old when he found himself headed from a team on the verge of a championship to one that was in desperate need of a rebuild.  Kapanen is now 22, and has nearly a point-per-game, largely from being lined up with Auston Matthews and now, with Matthews out, Nazem Kadri.  In other words, Kapanen is getting top-six minutes, only behind Mitch Marner for right wings on Toronto's roster, and is performing up to that expectation.  Meanwhile, Sprong is sitting behind Phil Kessel (who is always a top-six winger), Patric Hornqvist (who is doing okay), and Bryan Rust, who has been a shell of his former self as head coach Mike Sullivan continues bouncing him around the lineup, trying to figure out what to do with him.  Sprong is not being given the opportunity to show he could contribute and it's not because the guys ahead of him are playing better than him.
None of this makes sense from a roster management standpoint, and it's similar to what we saw with Derrick Pouliot, as Sullivan likewise didn't bother to use him basically at all.  It's a surefire way to keep the value of a player suppressed:
If he plays and is productive, his value goes up and you have to make the tougher decision about whether to give him an extension and invest in the player long-term, or risk losing him to another team who will benefit from his talents;
If he plays and doesn't produce, the player's value plummets and you won't get anything for him if you trade him and he eats up a roster spot that could go toward someone who may be more productive;
Or, you can bench/scratch him and keep his value limited to that of a "prospect", and only the player's previous body of work will give any indication of what he could do, not what he can do.
There are a lot of systems coaches implement to justify their decision to play certain players or not, and right now Sullivan's system is one that leaves a quarter of the dressed forwards off the ice for no less than 50 minutes a game.  This doesn't just waste those players' time but also puts a lot of strain on the players who are being played.  If the team was successful in that system, there'd be nothing to complain about, but you could hear from Rutherford how frustrating it is to have underperformance all over the lineup.  If there are players underperforming, then why are they getting ice time? You have to wonder where is the breaking point.
With all that said, here is how the practice lines looked yesterday:
Penguins forwards:
Simon-Crosby-Rust
Hagelin-Malkin-Hornqvist
Guentzel-Sheahan-Kessel
Wilson-Cullen-ZAR (Sprong rotating)

Johnson-Letang
Dumoulin-Ruhwedel (Oleksiak rotating)
Maatta-Riikola

— Jason Mackey (@JMackeyPG) November 9, 2018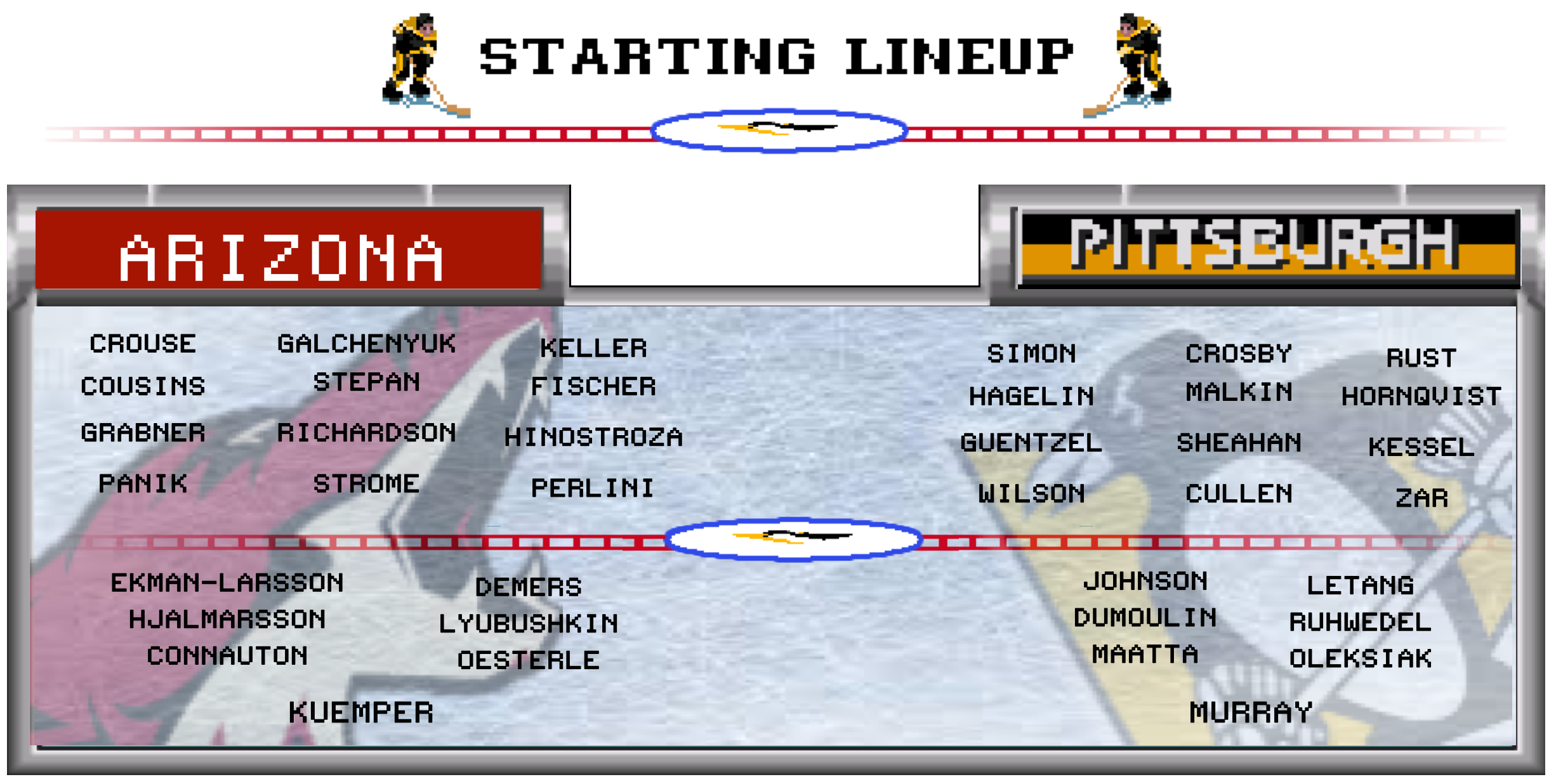 No changes, which makes some sense since this is the lineup that looked pretty good against the Capitals, with the only change Jamie Oleksiak mixing in with Brian Dumoulin and Chad Ruhwedel, and Juuso Riikola returning to the twin Finn pairing.  Sprong getting some looks with the fourth line, no surprise there.  At the end of the day, it doesn't really matter who plays, so long as the Penguins play like they did against Washington and get some pucks in the net.
The Arizona Coyotes come into tonight's game in the second of their four game road trip that starting Thursday night with a 5-4 loss against the Flyers, the second of a home-and-home against Philly.  After starting the season 1-4-0, they have won six of their last nine including a nice five-game winning streak.  They might be without starting goaltender Antti Raanta, who has missed the last two games with a lower-body injury.  In his place has been Darcy Keumper, who has promptly allowed ten goals in two games.  If it's not Keumper tonight it could be the first NHL start for Hunter Miska, called up from Tucson and sporting a paltry .901 save percentage and a GAA of 3.11.  In either event, the conditions are ripe for the Penguins to tee off on the hampered Coyotes.