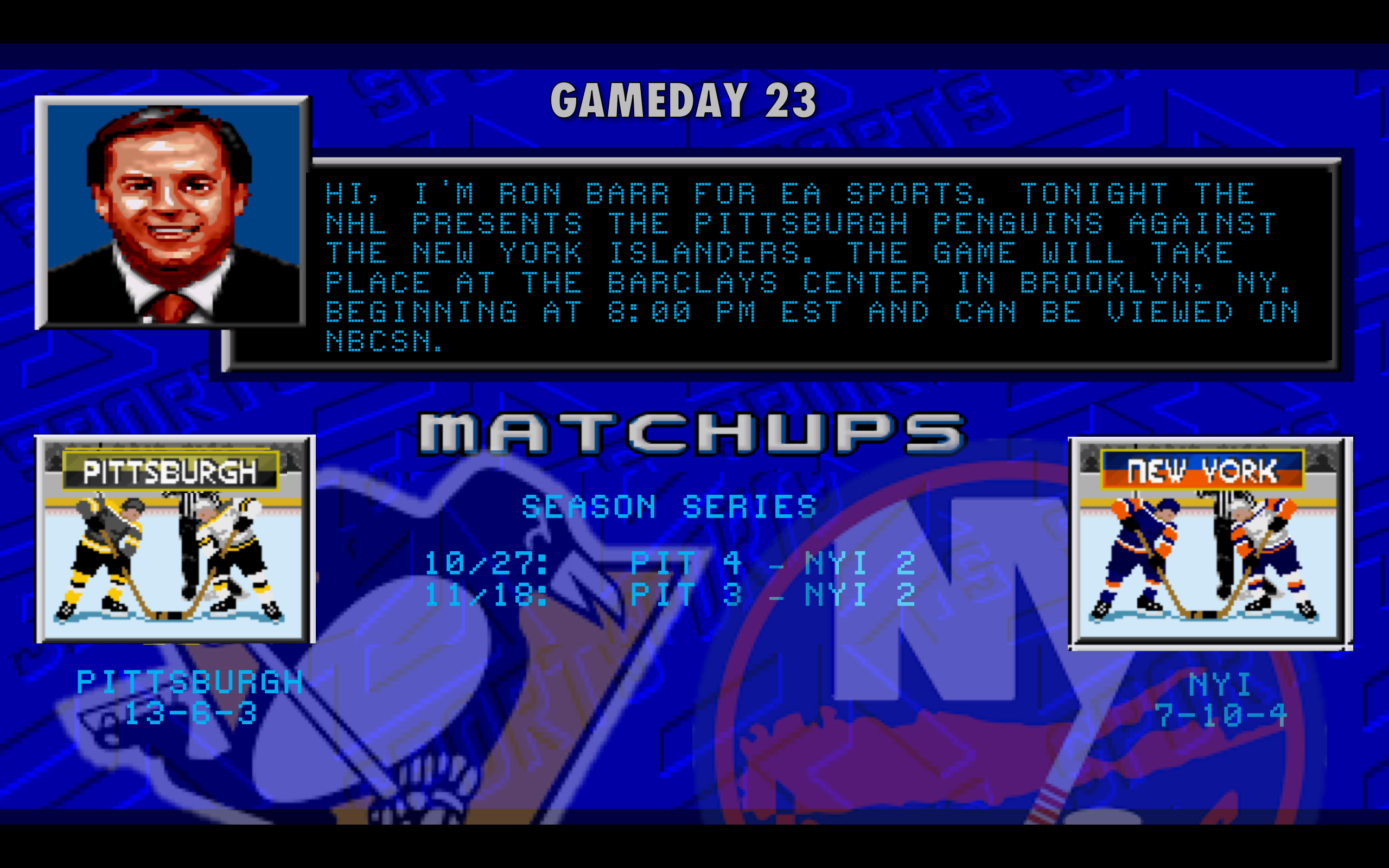 Fresh off of their first 3 day break since 'nam, the Penguins travel to Brooklyn to face the worst team in the metro. The only thing that could make this game more unbearable than Brooklyn would be NBCSN coverage, and since that is happening I advise you to start drinking 5 minutes ago. The Islanders have been awful this year, and it is extremely baffling. They signed Andrew Ladd over Kyle Okposo, they don't have a number 1 goalie, they haven't fired Jack Capuano, and they now have a 5.5 million dollar Ladd on the 4th line. Looking at this combination of factors I think it is more impressive that they've won 7 times. Ladd makes more on the 4th line than the entire Penguins 4th line. Even though he will always play for Minnesota in my mind, the Islanders also have Cal Clusterfuck
The last time the two teams faced the Islanders tried to grind the Pens down, going for more hits than shots, and it worked well for them so I hope they try that again. How many more games are in Brooklyn this year? Really tired of seeing that retarded SUV taking up empty seat space.

Brought to you by penspointsyourmom:
Last game we made fun of the Andrew Ladd signing, because it is awful. Today, we have to bring up the ghost of Rick DiPietro, who in case you forgot the Islanders are still paying. Despite having a Ritz cracker for a jaw and the fashion sense of a blind clown, the Islanders signed him to a 15 (yeah, frking 15!) year contract in 2006 at 4.5mil per.  He was 25 then so the Islanders planned to have him until he was 40.  By comparison Queen Henny has never been signed for more than 7 years, and we're talking about fucking Rick DiPietro.  His last season in the NHL he only played 3 games, was 0-3 with a 0.855 SV% and a 4.09 GAA.  So the Isles buy him out in 2013.  They will pay him 24 mil over 16 years.  The last year they pay him, he'll be 47.

The main Islanders blog seems to be lighthouse hockey we scouted them out a bit last game, but they complained about the refs during the entire 3rd period because that's what makes you 7-10-4, and didn't engage with them further. Eyes on Isles is the other blog, I don't know much about them, but they are now the enemy as well.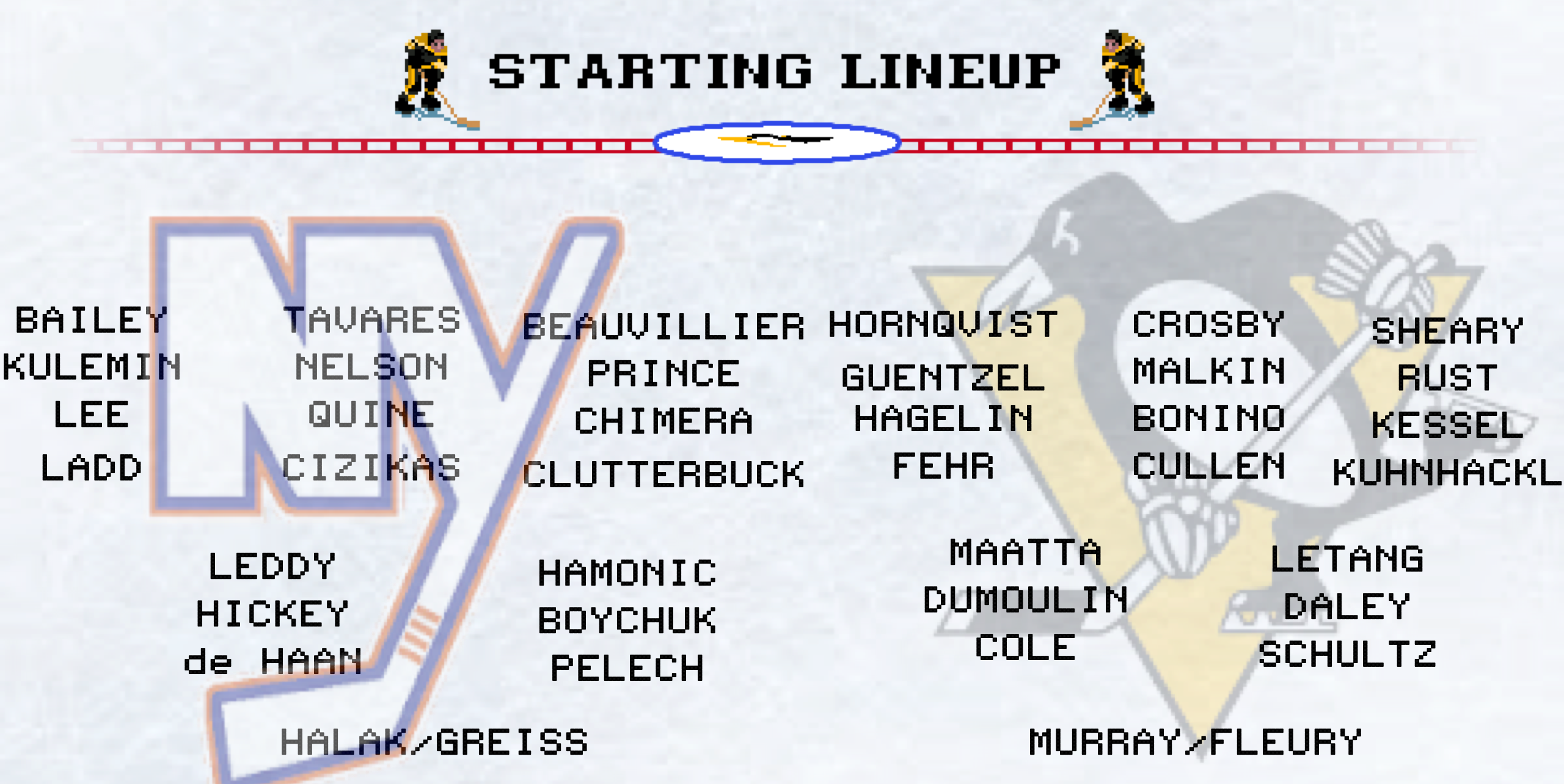 Hornqvist practiced yesterday and said he felt good, I fully expect him in the lineup tonight. I'm done making goalie predictions, the Pens play Dallas tomorrow, and you almost want to save the better goalie for the better shooting team, but division points are crucial even against the Isles. If Hornqvist plays I have Wilson marked as a scratch, but it should be Eric Fehr, who you just remembered is still on the team. The Pens should be well rested, and in the past this has actually hindered the team, but I don't see it happening tonight. At most it may take a period to find their legs, but the Penguins should have a good amount of jump tonight after a nice break. Ideally they can get an early lead, and then roll 4 lines on short shifts to save legs for tomorrow. This is the ideal, and so far this year the team hasn't done much by the ideal way. Ron Barr mentioned it above, but the game isn't until 8:00 PM tonight so you have time to prepare your drinks. I challenge you to drink every time Pierre holds his microphone with a grip that shows off his Stanley Cup ring. He is the only living person that wears a championship ring on a regular basis.

Winter's coming Jack…*thawack*
Who's sword swings the biggest tonight?
Crosby (22%, 5 Votes)
Kessel (22%, 5 Votes)
Malkin (13%, 3 Votes)
Guentzel (13%, 3 Votes)
Horny (13%, 3 Votes)
Hagelin (9%, 2 Votes)
Boninio (4%, 1 Votes)
Sheary (4%, 1 Votes)
Cullen (0%, 0 Votes)
Rust (0%, 0 Votes)
Kuhnhackl (0%, 0 Votes)
Some other "well dressed" bird? (0%, 0 Votes)
Total Voters: 23

Loading ...
HAM AND CHEESE SANDWICH, POTATO CHIPS AND AN APPLE POLL
"Wasted Day's and wasted nights…"
Whose talent is being wasted the most?
Tavares – Islanders (45%, 10 Votes)
Ekman-Larsson – Coyotes (18%, 4 Votes)
Gaudreau – Flames (14%, 3 Votes)
MacKinnon – Avalanche (9%, 2 Votes)
Skinner – Hurricanes (9%, 2 Votes)
Rask – Hurricanes (5%, 1 Votes)
O'Reilly – Sabres (0%, 0 Votes)
Scheifele – Jets (0%, 0 Votes)
Larkin – Red Wings (0%, 0 Votes)
Some other schlubb? (0%, 0 Votes)
Total Voters: 22

Loading ...
LET'S GO PENS!
"You'll never get rich from diggin a ditch…"