The Penguins continue their California vacation tonight with a quick stop in Anaheim in the first of a Friday-Saturday back-to-back. The Pens enter this game on a 4-game losing streak that has seen the team get outscored 16-6 in those 4 games. Offensively, though it doesn't show on the scoreboard, the team has been generating quality scoring chances but with elusive results. Oddly enough, their last win, a 5-2 whooping over Toronto, was the last time the Pens have played a game with fewer than 50 even-strength scoring chances (3 of the 5 goals in that game were powerplay goals). Since that win, the Penguins have generated the following:
| | | | |
| --- | --- | --- | --- |
| Game | Scoring Chances | Goals | Final Score |
| @ Toronto | 50 | 0 | 4-0 |
| Buffalo | 53 | 2 | 5-2 |
| @ Washington | 51 | 3 | 5-3 |
| @ Los Angeles | 56 | 1 | 2-1 |
| TOTAL | 210 | 6 | |
As you can see, the offense is doing a decent job generating scoring chances. They are just a bounce here and a bounce there away. PDO is usually referred to as the "luck" measurement in advanced stats. It is calculated by adding a team's shooting percentage and their save percentage. The league average shooting percentage is 9.5% and save percentage is .905 which gives the benchmark of 100 for PDO. The Penguins PDO average on the year is perfect at 100.5. The four games during this skid? 88.9, 92.7, 87.3, and 96.9. When PDO gets out of balance on a well-balanced team such as the Pens it implies that either their shooting percentage has dropped, explained by amazing opposing goaltender performances or poor shot selection, or their save percentage has decreased, explained by poor goaltending and defense. For the Pens, it's a combination.
In the 58 games prior to this skid, the Pens PDO had been less than 90 just 5 times. In the last four games it has been below 90 twice and just 92.7 in a third game. Why the sudden change? A large portion of this losing skid is to blame on a defense that was stretched too thin by the use of reserves that has finally caught up to the team. It starts from the first pairing and trickles down from there. Despite doing his best to keep his head above water, Kris Letang is flaming out with his current partner, and it's dragging the entire team down. Look at the following chart, adapted from naturalstattrick, all numbers are 5v5. Remember, corsi represents scoring chances for and against, you want more scoring chances for.
| | | | | |
| --- | --- | --- | --- | --- |
| Pairing | TOI | CF | CA | Corsi % |
| Letang-Dumoulin | 228:28 | 263 | 172 | 60.46% |
| Letang-Marino | 158:48 | 145 | 133 | 52.16% |
| Letang-Johnson | 501:04 | 439 | 518 | 45.87% |
Though he is probably the most criticized player on the team, Kris Letang deserves more recognition for his job this year. Why is that? Because look what the rest of the pairings Jack Johnson has been a part of look like
| | | | | |
| --- | --- | --- | --- | --- |
| Pairing | TOI | CF | CA | Corsi % |
| Johnson-Marino | 179:28 | 144 | 150 | 48.98% |
| Johnson-Schultz | 112:37 | 79 | 97 | 44.89% |
| Johnson-Ruhwedel | 90:52 | 71 | 85 | 45.51% |
| Johnson-Riikola | 85:24 | 73 | 70 | 51.05% |
What is the glaring similarity between these two tables, and what is the part that isn't shown in the two tables? The obvious similarity is, save for the 85 minutes Johnson has spent with Riikola, his pairing has routinely been on the ice for more scoring chances against than for. Not ideal for a defender. The not so obvious difference between the two tables is that the Letang-Johnson pairing is a top pairing. In the second table, the average corsi of a Johnson pairing is 47.60%. Now consider the Johnson-Letang pairing, which enters tonight's game at a 45.87%. Kris Letang, despite the constant criticism, has taken Mr. 47% on his side against the opponents' best offensive players, and somehow, Johnson only dropped 1.13%. We shouldn't criticize Letang's current play. It's miraculous that he has been able to continue performing offensively while partnering with a guy who has a corsi of 47% on the third pairing and turn out a corsi of 45.87% on the top pairing.
Many people don't understand why Johnson is still paired with Letang during this period of time without Dumoulin and Marino. I think the answer is because Kris Letang is the only defender strong enough to not completely sink with this anchor. The Pens are there offensively, and man once Dumoulin comes back and that top pairing gets closer to the 60% corsi marker again look out. In the meantime, Marino still has a week to go and Dumoulin just started skating again. Both will join the team within the next week or two, but that cannot come soon enough for Letang.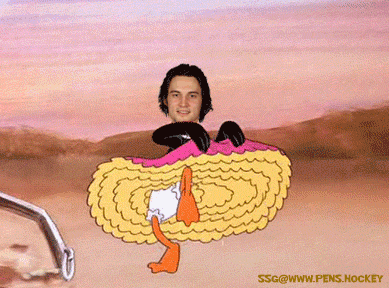 With all of that out of the way, lets get to the Ducks. Lost in the trade deadline madness was Anaheim claiming Agozzino off waivers from the Penguins. I say "Agozzino" because I can't remember if his first name is Andrew or Anthony and I no longer have to care. Agozzino takes away ex-Pen Carter Rowney's 4C position. The Ducks also traded mishandled Pens prospect Daniel Sprong to Washington for defenseman Genand Djoos. The Ducks once mighty defense looks like Elmer Fudd finally won after Lindholm and Fowler both went out with injuries last week.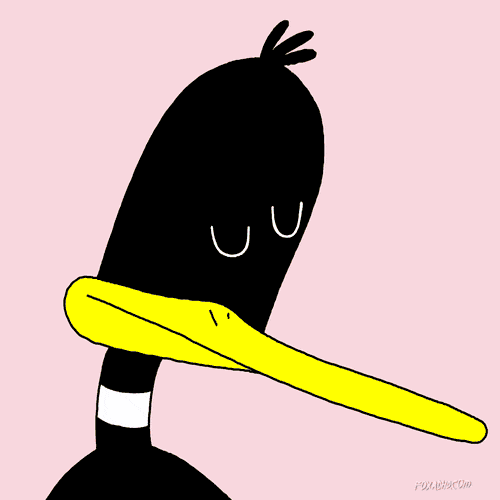 At forward, the Ducks are paced by second-line center Adam Henrique's 24 goals, followed by Jakob Silfverberg with 18. Henrique is tied with 90-year-old Ryan Getzlaf for team lead in points with, umm… 39. Yeah, that's not a typo. That would be good enough for 6th on the Pens, 2 fewer than Sidney Crosby's 41 points in 34 games. It's moments like this that I like to remind people that we bitch about 4th line forwards. The Ducks top scorer is notching 0.62 points per game and still we complain about who should be getting 6 minutes a night.

Much like the Kings, the Ducks haven't had much to show for this season and would love nothing more than to knock off the Penguins. The Pens are due for a big game based on the way they've been playing and the bounces they haven't been getting. Tonight would be a great time for those bounces to swing their way. It's a Friday night. It's a pizza night. It's some beers, it's some cheers, it's Penguins hockey baby.