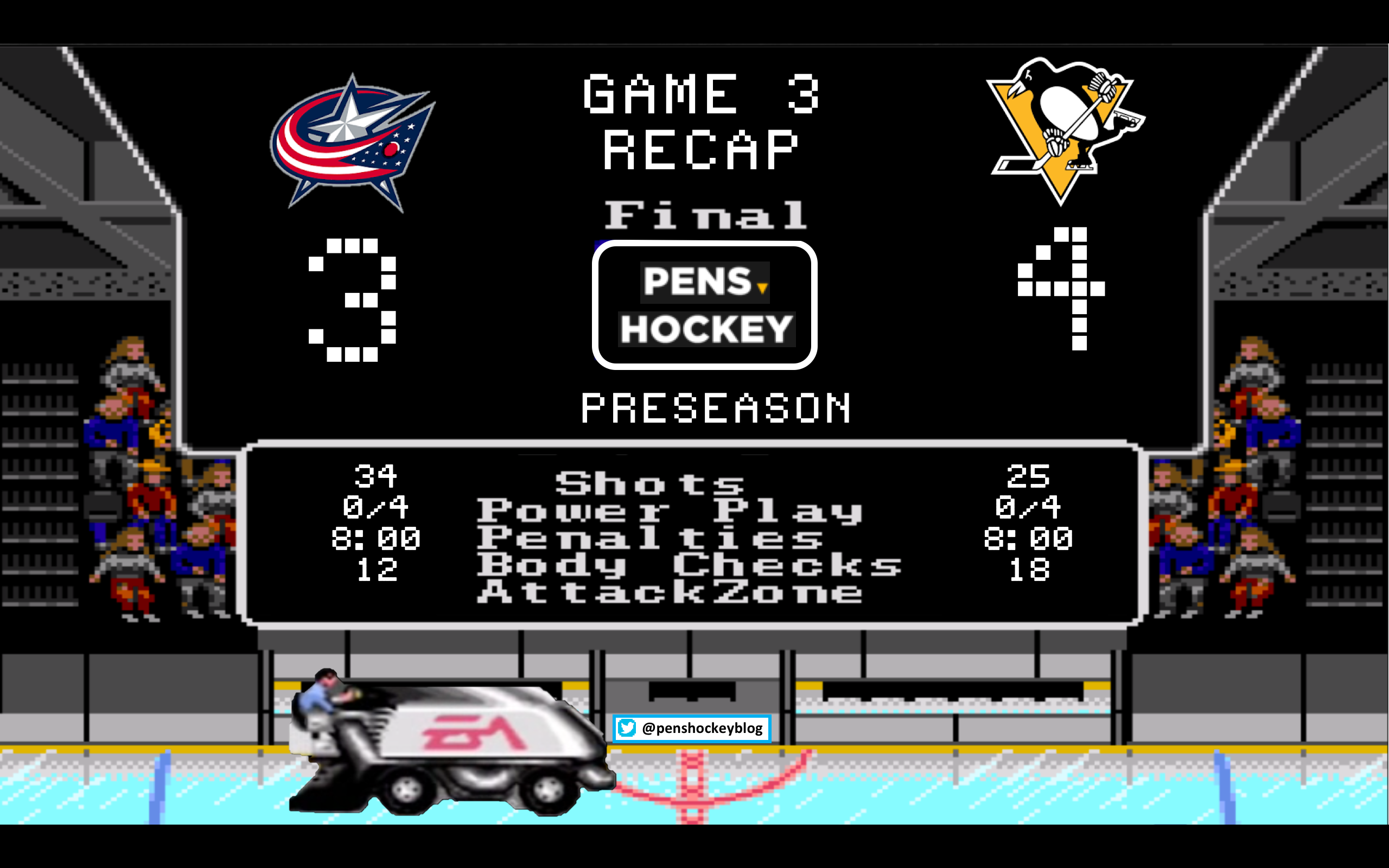 The back to back Stanley Cup Champion Pittsburgh Penguins played their third non-televised preseason game last night while NHLN opted to feature the showdown between two 2nd round exits, the Blues and Caps.
The Penguins decided to roll with the following lines:
Penguins lines →
Aston-Reese – McKegg – Sprong
S. Wilson – Johnson – Rust
Kuhnhackl – McClement – Archibald
Miletic – Blueger – Tiffels

— Pittsburgh Penguins (@penguins) September 22, 2017
Defensive pairings →
Maatta – Hunwick
Pouliot – Ruhwedel
Tinordi – Trotman

Goalies →
Niemi
DeSmith

— Pittsburgh Penguins (@penguins) September 22, 2017
It was nice to have a game in Columbus, also known as the Penguins second home. Four minutes into the period it was Sam Militec cleaning up the garbage to get his first of the preseason:
Let there be GIFs!

Here's a look at Sam Miletic's 1st period goal. pic.twitter.com/TweAsaEOT8

— Pittsburgh Penguins (@penguins) September 22, 2017
No other goals would be scored. Niemi stopped 11 CBJ shots.

Less than 20 seconds in the Jackets tie up the game courtesy of Pierre-Luc Saturdays are for Dubois. The game would stay tied until there was one minute left when it was time to get Sprung by Sprong:
Hey, did you know the Penguins are up 2-1 over the Blue Jackets?

BOX SCORE: https://t.co/l5MtRlHjZm
RADIO STREAM: https://t.co/0Gv4jkpk1f pic.twitter.com/ZhjrypiUnh

— Pittsburgh Penguins (@penguins) September 23, 2017
The goal was originally credited to ZAR but on further review of this video from the 80's it was determined that Sprong touched it last.
7 minutes into the third Cameron Gaunce scored but apparently he is no longer a Penguin and received the Brian Gibbons Columbus from Pittsburgh offer. 2-2 game.
5 minutes later it was the man with all the hype getting it done again, as ZAR notches another one:
Nice bank shot, @zreese11! pic.twitter.com/a4uPzLa24L

— Pittsburgh Penguins (@penguins) September 23, 2017
Throwing the puck towards the net from the half-boards is such an underrated move, good to see a young player thinking about it. The lead lasted for 20 seconds before Dubois scored again.
With less than 3 minutes left in regulation it was the man that seems to be on an absolute tear of redemption putting the Pens up for good:
It was Olli a Maatta of time. pic.twitter.com/DLmgQH88Xr

— Pittsburgh Penguins (@penguins) September 23, 2017
Both of Maatta's goals have come from him pinching down, which during his rookie season is something we saw him do a lot.
---
Niemi finished 31-34 with a .912 SV%
Zach Aston-Reese and Daniel Sprong are doing exactly what they were advertised to do, which is not making the lineup decisions any easier for Mike Sullivan. Both players have an instinct to fire the puck from anywhere and it is paying off.
Maatta and Hunwick were paired together for most of the night, interesting to note that Hunwick received the fewest minutes of all defenders.
Derrick Pouliot finished with 0 points despite having 3:35 on the powerplay, you can't say Sullivan isn't giving the kid a chance. In defense of DP, all of the media members said he looked much better in this game for whatever that is worth.
Greg McKegg finished with 0 points but was a plus 2, and received the most minutes (21:46) of the forward group so that tells us what Sullivan thinks about him currently
The Pens are finally on television tomorrow when the take on the Blues at the Kraft Hockeyville game that has been moved to UPMC Mario Lemieux Center in Cranberry.
The Marian Hossa situation is being investigated by the NHLPA, as they think it's a little fishy that 38 year old Hossa suddenly developed a skin allergy that won't allow him to play hockey right around the same time the Blackhawks are out of money. Hossa is going to a doctor appointed by the NHLPA to get a diagnosis before the NHL will determine if Chicago can put him on LTIR. Yay drama!