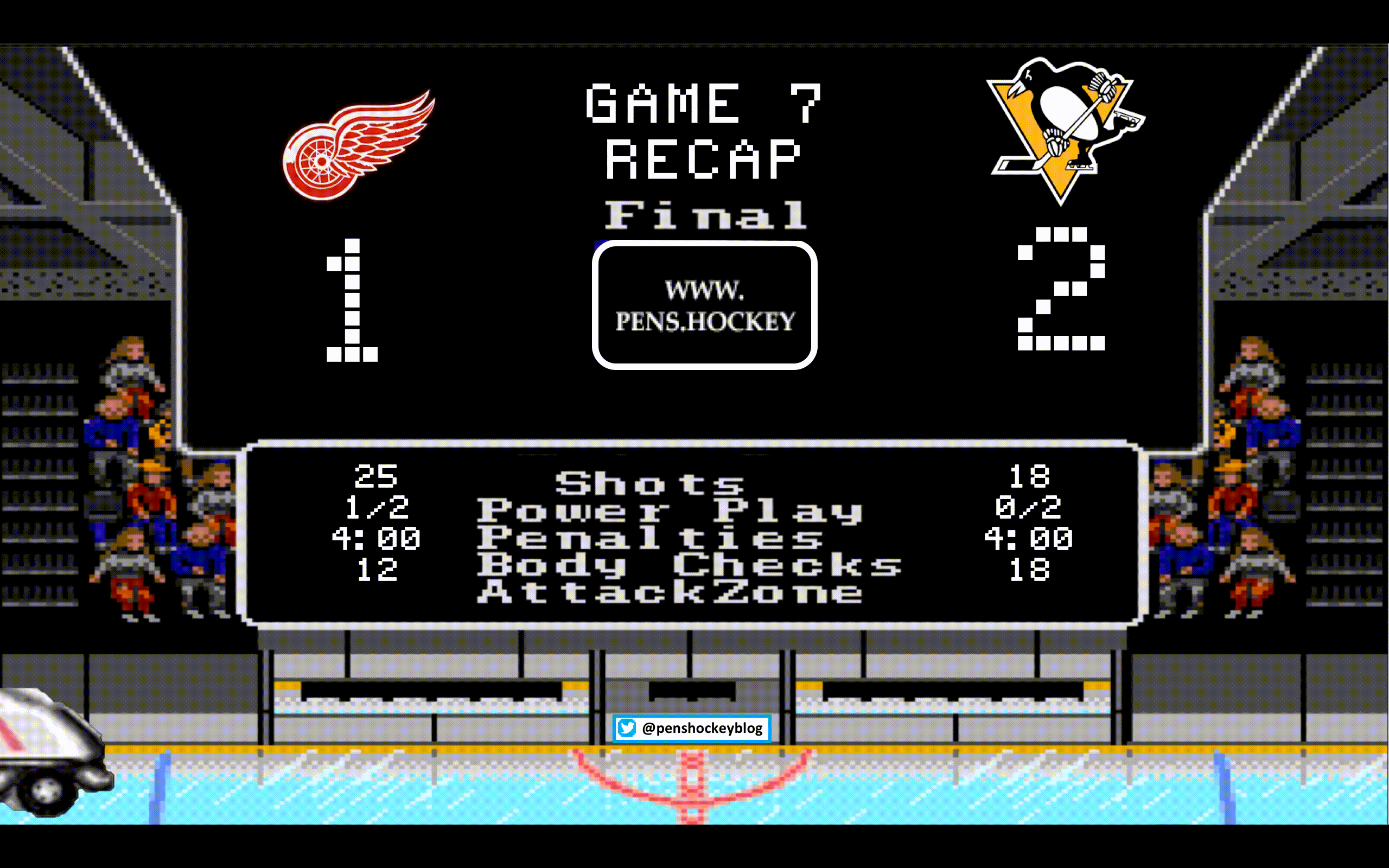 After failing to show up 6 nights ago in game five and taking a 5-0 curb stomping the Penguins put on their big boy pants to squeeze out a 2-1 game 6 win 3 nights ago in Pittsburgh. It was do or die, there was no tomorrow. One game. 60 minutes. The new Stanley Cup Champion would be crowned, would it be the Detroit Red Wings holding on to become the first team in the salary cap era to win back-to-back cups? Or would it be the young and gunning Penguins getting revenge and earning the franchises 3rd trophy?
There were nerves and jitters early, lots of butt cheeks were clenched throughout but both goaltenders got the job done. Chris Osgood had to be good often as the Pens threw 10 shots on goal in the first while Marc-Andre Fleury did his job and saved the 6 that came the other way. It's only game 7, so why not just stay tied the entire time so we all die of heart attacks?

The Penguins have been a quick strike team all season, so it only made sense that they would pull something quick in one of these periods. What didn't make sense was who pulled the trigger. One minute and thirteen seconds into the period it was Evgeni Malkin not quitting on a puck and Max Talbot taking advantage:
Max Talbot (7) Assisted by Evgeni Malkin (20) @ 1:13
Now the Penguins had to get down to business. The Red Wings were going to come full throttle and the Pens were ready for it. Shift after shift the defense held the fort, and when there was a break in the wall Fleury was there to bail them out. Sometimes in hockey there are things you can't explain. Why Chris Osgood played this next sequence so far off of his center is one of those things. Max Talbot is another…
Max Talbot (8) Assisted by Kunitz (13) & Scuderi (4) @ 10:07
What a smart decision by Talbot not to give that puck to Tyler Kennedy, good God Kennedy would've hit someone in Dallas.
A 2 goal lead is the scariest lead in hockey. That statement has to be multiplied by approximately one bajillion in a game seven that decides the champion of the league. Regardless, the Penguins defense stayed tall, Fleury turned away all 11 second period shots, and the Pens were 20 minutes away from victory.
When one minute needs to go quickly it can feel like eternity. The Penguins faced 20 eternities last night. Slowly but surely 60 seconds at a time ticked away forever lost in history. Things were looking good, but we all knew it wouldn't be this easy. Not to this veteran Detroit team. With just over 7 minutes left to play Jonathan Ericsson notched his 4th of the playoffs, and holy butt clench city.
The Penguins were all in on defense, evident by their one shot on goal for the whole period. Osgood actually saved that one. Detroit opened the flood gates and brought the fires of hell down on the Penguins, but they stood up to the challenge. Shift after shift provided moments of exhaustion, held breaths, and swears. Words cannot even begin to describe the final 3 minutes of this game, luckily I have video for that:
MARC. ANDRE. FLEURY.
Ladies and gentlemen, your 2009 Stanley Cup Champions: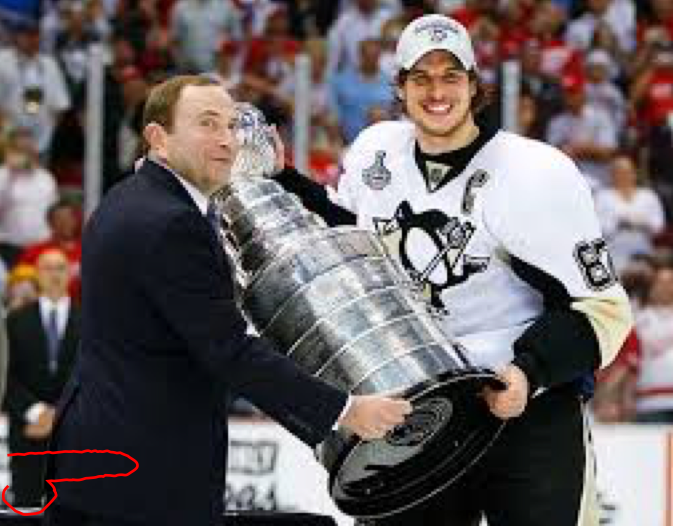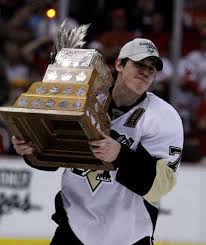 Soak it all in boys, with the way the team is growing and under Bylsma's coaching this team is going to be one of the greatest over the next few years. For now, we just enjoy this, as the Pittsburgh Penguins are the 2009 Stanley Cup Champions.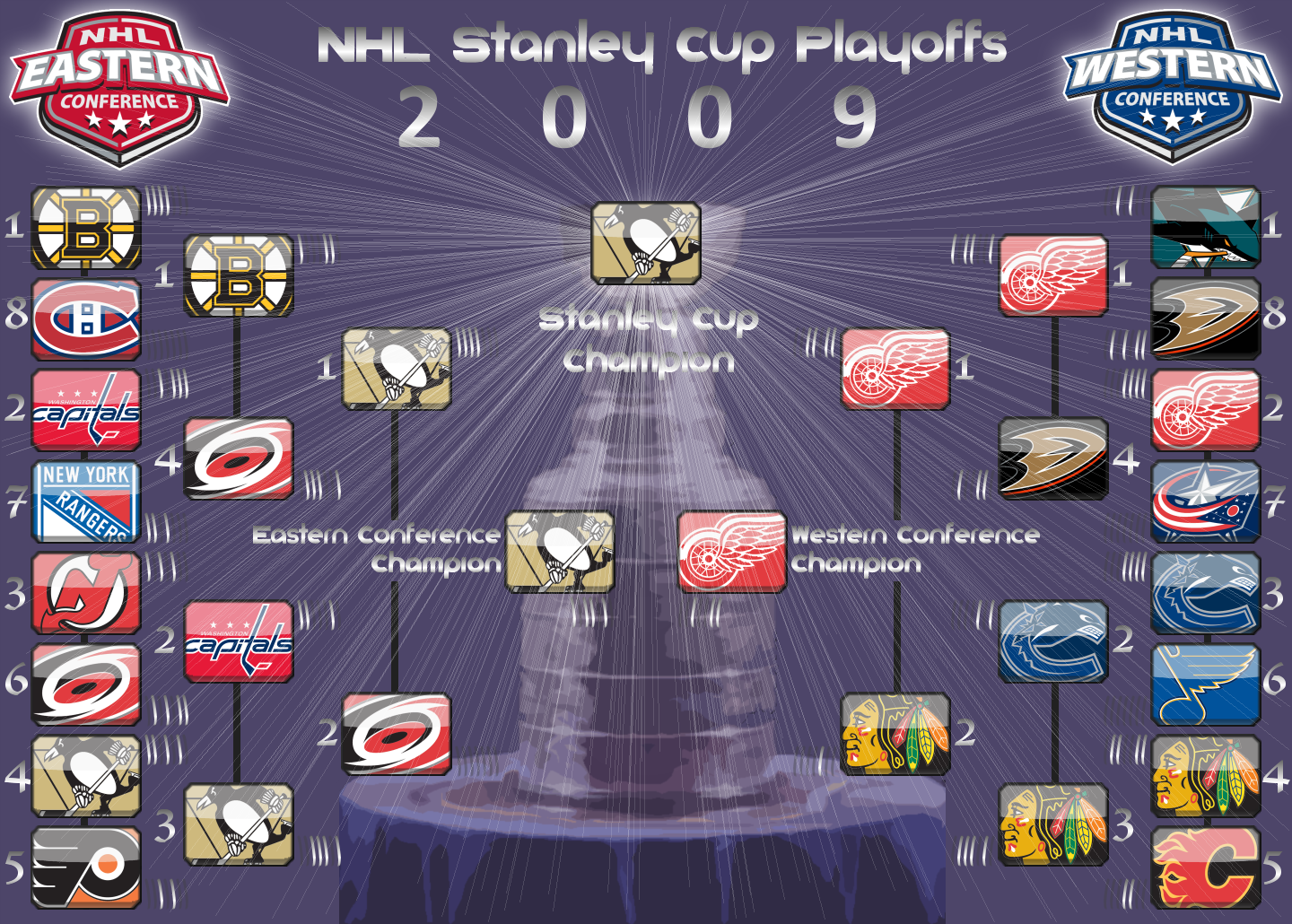 ---
Hockey blawg meet up
Current buyers
| | |
| --- | --- |
| Name | QTY |
| Jovi | 1 |
| el_wray | 1 |
| UlfSammySon | 1 |
| raaaandy | 2 |
| ggb | 1 |
| jbot | 2 |
| jagr | 1 |
| Doge | 4 |
| Vlad | 2 |
| Brendan | 2 |
| lauriruu | 1 |
| Rad | 6 |
| PiH | 1 |
| Ungaba | 1 |
| MoonStanley | 1 |
| SSG | 1 |
| TOTAL | 28 |
OK, here's the form
fill this out completely and pay at the end or you can't come! Deadline is end of this week!