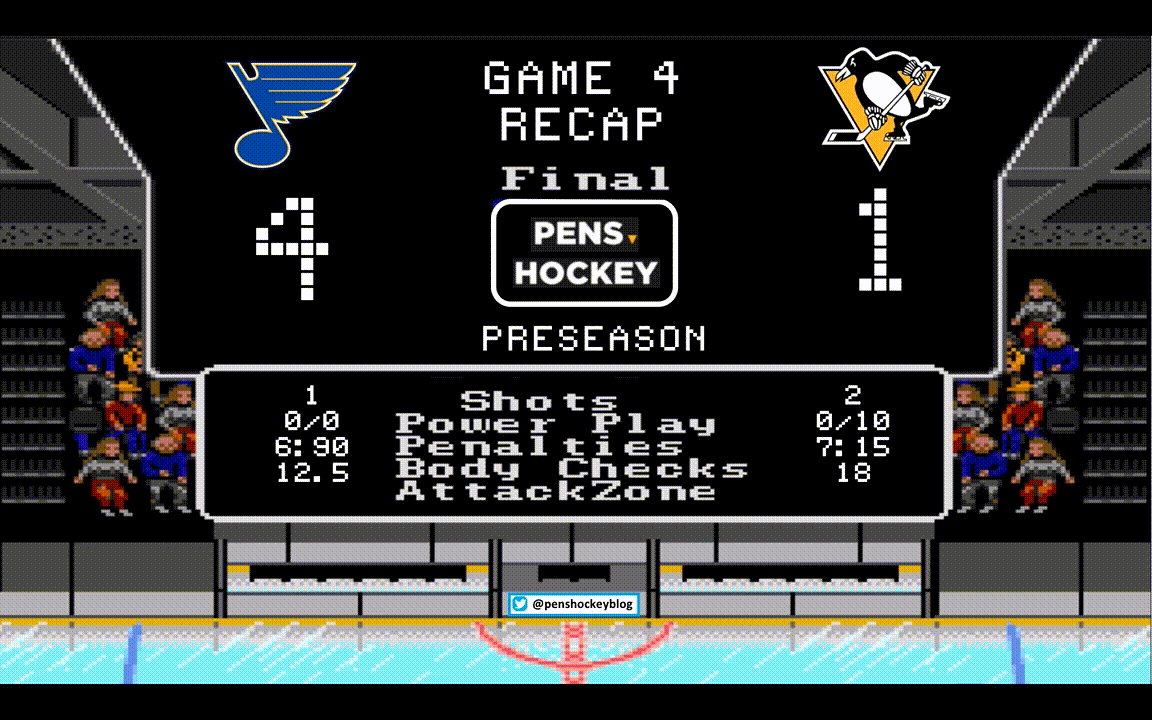 The Penguins completed 3 preseason games before making their national television debut, and it's only preseason so it shouldn't really matter. Though Chicago has been on twice. And the Canucks 4 times. But Whatever. The black and yellow jerseys graced the NBCSN broadcast once again last night as the team iced what looked like an 80% or so opening day roster:
Lines for Hockeyville USA →
Guentzel – Crosby – Sheary
Aston-Reese – Malkin – Kessel
Hagelin – Rowney – Simon
G. Wilson – Blueger – Reaves

— Pittsburgh Penguins (@penguins) September 24, 2017
Defensive pairings for the night →
Dumoulin – Letang
Czuczman – Schultz
Summers – Bengtsson

Murray and Niemi will be the goalies.

— Pittsburgh Penguins (@penguins) September 24, 2017
Notables:
Zach Aston-Reese starting in his fourth straight preseason game and slotting in on the same line he started with at the beginning of camp. Sullivan might see something brewing?
Kris Letang back on the ice for the first time since 2004 while wearing his newly awarded "A"
Off of the opening face off Jake Guentzel danced into the zone and put a back hander off the post. Before we had enough time to even predict what this season might hold for The Jackal he was burying a feed from Crosby:
Father and son making magic at #UPMC66. pic.twitter.com/VWsV5GFYbH

— Pittsburgh Penguins (@penguins) September 25, 2017
The play is made by Conor Sheary who knows his job is to get the puck to open space near Crosby. A simple chip. For 10 years we begged the Pens to make trades for a winger for Sid, and all they needed to do was a simple chip. Solid finish by Guentzel too, obviously.
Matt Murray was stellar in the first and it would end 1-0. Sidney Crosby is still good at this whole hockey thing:
Pre-season hockey is clearly too easy for Sidney Crosby. He looks like a Midget playing against Peewee kids. pic.twitter.com/2Rfc2aXUgo

— The Canadian Game (@ItsCanadasGame) September 25, 2017

The second period went about as well as Jeremy Roenick interviewing the guy without realizing he was talking about the wrong hockeyville rink. Taresenko scored less than 4 minutes in and Kyrou scored 30 seconds later to put the Blues up.
The Blues held a 29-18 shot advantage through two.
I went to sleep because I'm old now and apparently the Penguins followed the Steelers example and stayed in the locker room during the period.
---
Big opportunity for ZAR to earn a spot in this one, unfortunately the entire second line wasn't ready to play
Matt Murray with a good body of work
The Penguins play again tonight against the Red Wings in Detroit