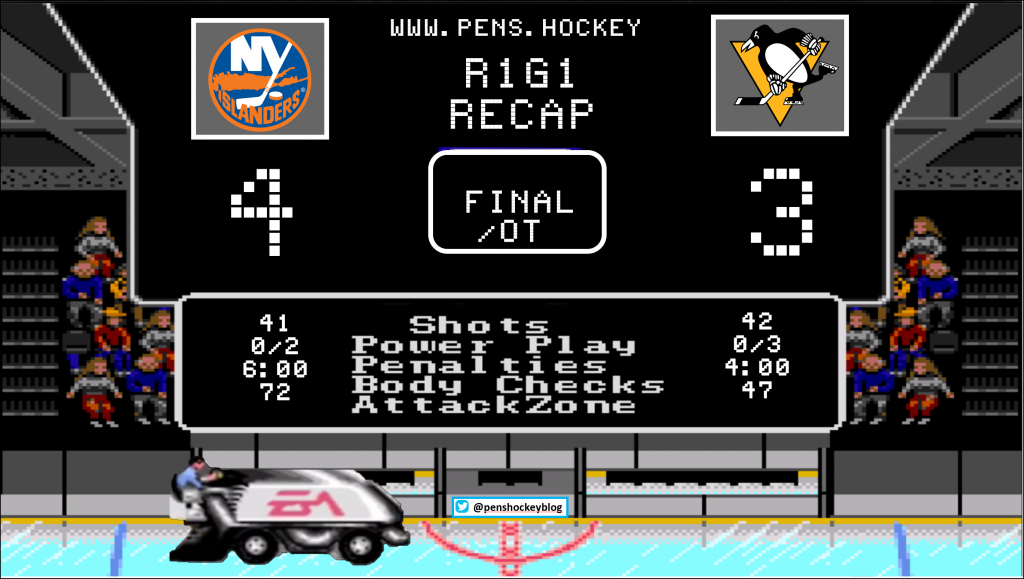 It's finally here. And the team is finally… dammit, no Malkin for the Penguins because why should we be allowed to have nice things?
On the other side of the ice, it would be the first game all season for the Isles where a goalie would miss a game with an injury, as Simian Varlamov would be unable to go.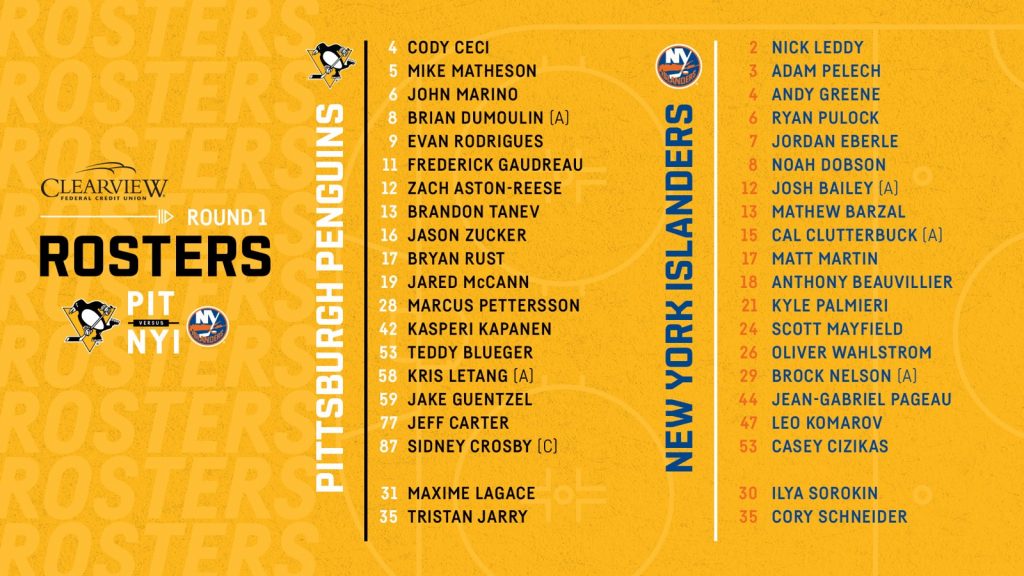 Doesn't matter. It's the playoffs. The Penguins are still as healthy as they've been all year and riding some great play and a division championship. Let's do this!

Sid was ready. In the first 30 seconds The Captain was able to create two good chances and had that dogged determination already. That's the fire we want to see.
The Carter line would follow up and keep the puck in the Isles zone for a while but nothing doing. We would then be treated to our first Tanev sighting in a long time which was fun but didn't generate anything. This brought Sid's line back out and they immediately went back to work, this time generating three chances.
In fact, everyone was looking great for the first 5 minutes, with the Pens having four shots to none for the Isles.
The danger kept up, but nothing was getting particularly close. And whenever the Isles were pushing into the zone the Pens D, particularly Letang, were there to keep things away from Jarry.
So naturally, as soon as a mistake was made, the Isles would take advantage…
Bad gap from Pettersson there, but Jarry wants that one back. Ducking while the puck is going upstairs seems… incorrect. Ugh. And friggin' Palmieri to boot. Double ugh.
That goal seemed to deflate many of the Pens, but Sid's line kept working hard and leading the way. That would prove to be all the motivation needed for ERod, Zucker and, ultimately, Gaudreau
Gaudreau (1) from Rodrigues (1) – 11:10 – EV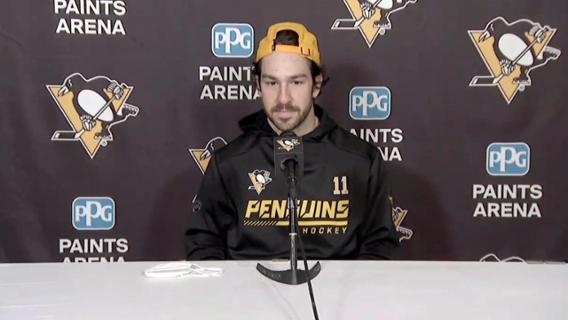 In 103 regular season games, he has five goals. In nine career playoff games, he has four goals. Talk about clutch. What a pickup for the Pens.
With 5 minutes remaining Dumo attempted to keep the puck in the zone only to have Clusterfuck make a play and get himself a breakaway. Luckily, shooting isn't his strong suit and he missed. Crisis averted.
More shenanigans with the Isles nearly getting one by Jarry, but the Hockey Gods decided otherwise. In fact, it turned into a pretty clean break for Jake the other way but he ran out of room and couldn't get a shot off. Sorokin didn't care and tripped Jake who went hard into the boards. We'll remember that one, asshole. Pens to the powerplay.
It was a clinic. The puck remained in the Isles zone for the entire two minutes. Great puck movement, good looks, a few missed shots but great puck retrievals. Towards the end of the powerplay they had their best chance with Sorokin getting the tip of a skate blade on a pretty re-direct from The Captain. Amazing opportunity and save.
The rest of the period would play out without issue.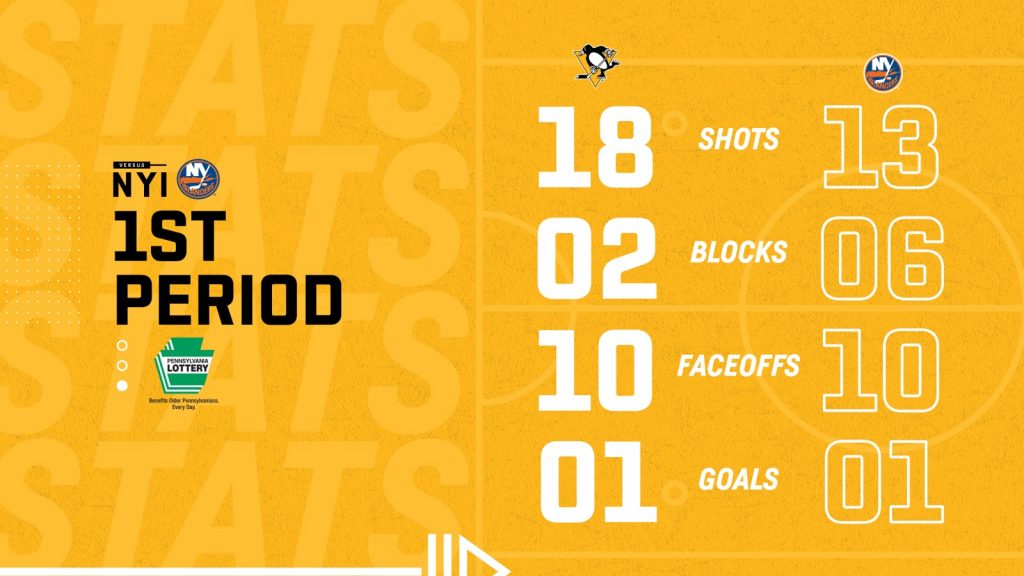 An ugly play early on in front of the net almost bit the Pens in the butt, but Jarry was up to the task. Sphincters tightened there for sure. Welcome to playoff hockey!
But the Pens started pushing hard and ERod nearly pulled off what Nelson tried on Jarry. And then the pressure would just keep building, line after line just keeping the Isles on their heels and forcing turnover after turnover and chance after chance for the Pens.
Finally Dumo would have a clean look from the center point and Sid would make sure it wasn't just an easy save
Crosby (1) from Dumoulin (1), Guentzel (1) – 3:47 – EV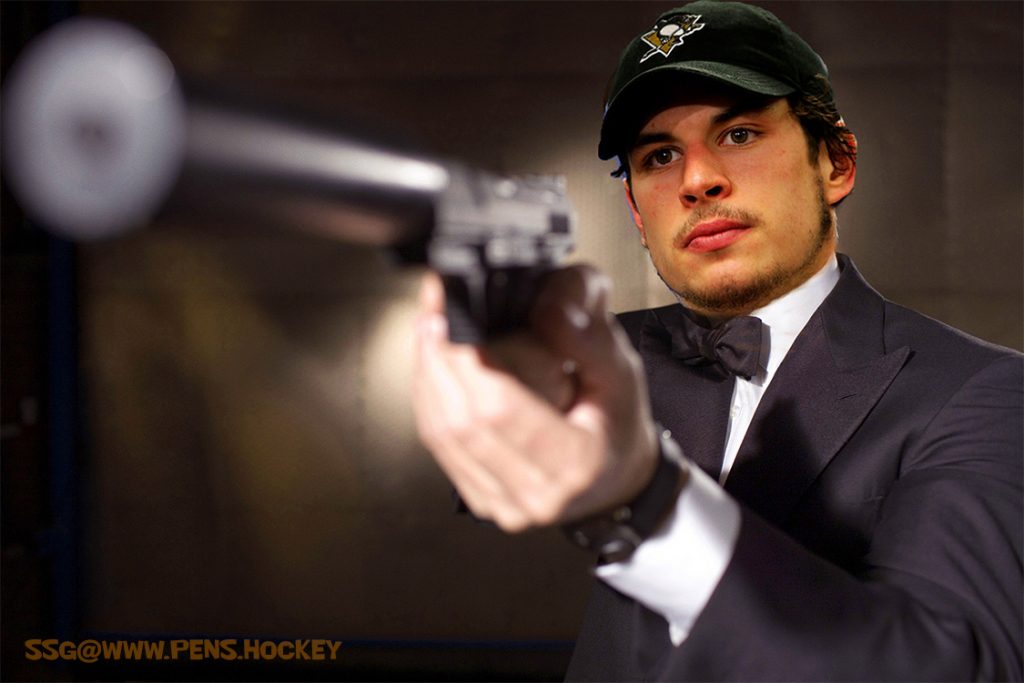 What a fantastic tip from The Captain. What else is there to say? Oh yeah – Mike Lange was on the radio call again! That's good juju right thar boi I tell you what!
Shortly after the goal with the Pens again on the attack, one of those P d-men would trip Kapanen and the PP would come out to play again.
The Isles were more prepared this time and the Pens never really mounted much of a chance.
For the next several minutes it was more pressure from the Pens, just without more goals. But from a desire standpoint, there is no question they want it bad. Bodies are flying with the Pens giving as good as they're getting. Letang has been everywhere, doing all of the things. Sid is flying. Tanev is turboing. ZAR is hitting. All good stuff.
The refs were showing some playoff reffing, ignoring some cross checks on Sid. Ho hum who cares, apparently. But when you whack a dude in the chin with your stick hard enough to make him bleed, like Carter did, that's going to get called every time. Which was the right call, dammit.
So the PK would have to step up. Which they did. Brilliantly, holding them to only two shots. This is a Big Deal because the Pens PK was pretty pedestrian all season.
A good PK is a momentum builder. Especially when it gives The Captain over 5 minutes of rest to plan his attack. And while they didn't convert, Sids line flying back on to the ice after that kill made use of that momentum. At least for a few seconds until it was TV timeout time. Oh well.
More pressure after the TO and Carter would make up for that double minor in part by drawing a call of his own. Back to the PP late in the period with a chance to do good things. They did not do good things. And we were reminded that the Isles had a very good PK all year.
No matter, the Good Guys would head into the locker room with the lead after 40 and life was feeling pretty good.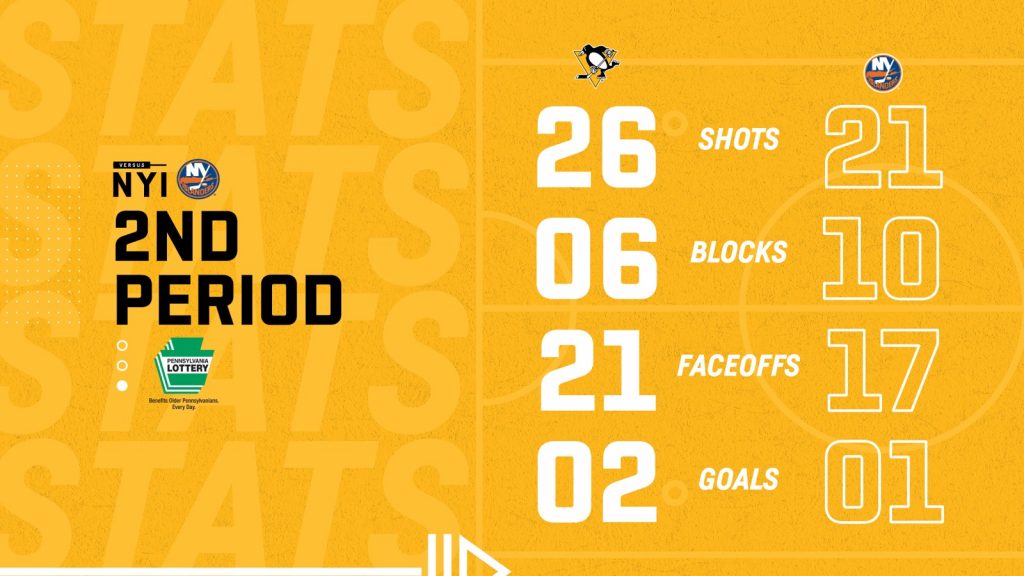 What. A. Mess. I don't know what happened in that locker room, but it couldn't have been anything good. The Pens came out on their heels and the Isles came out flying. This would happen the entire time I was on with support to fix the damn site so that we could continue to bring you this incredible coverage you all need so badly.
After dealing with some pretty continuous pressure from the Fishermen in the first three minutes, it was a sloppy change that would be taken advantage of.
If you thought Jarry should have had the first one, like I did, then you were positively apoplectic about that one, like I was. It's not like it was a laser. And when the puck is coming at your face, where do you think it may go? I could never be a goalie but Jarry is and he should have had that one, plain and simple.
The details of the next 10 minutes largely escaped me. Tech support BLOWS, but again, for the good of the site…
What I can tell you is that the Penguins were discombobulated. The Isles were jumping on them FAST, particularly on puck retrievals behind the net. Marino and Pettersson and to a lesser extent Matheson were not handling things very well and as a result there was a lot of chasing going on and not enough puck possession.
But then I got the site fixed (my own fuck-up caused it because of course) and I was back to watching intently, and Nelson was back to ruining my day.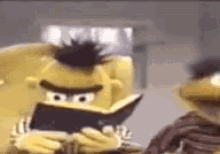 I have no idea why the Islanders don't put up video of all of their goals. It's not like they were busily tweeting anything else. Anyway, this time at least Jarry was screened, but six hole glove side wasn't a great look. Not a 'terrible' goal, but, situationally, it was a terrible goal.
Sometimes I hate the playoffs. Well that's not actually true – my sphincter hates the playoffs. Thankfully, Double K likely felt the same way and didn't make me go more than 30 seconds in discomfort.
Kapanen (1) from Carter (1), Ceci (1) – 16:21 – EV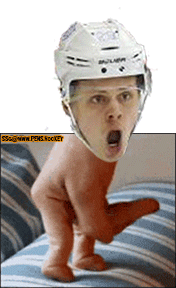 What. A. Shot. Just fantastic. And thank goodness.
The last few minutes had a few tense moments, but as we likely expected, there would be no decisive goal and the teams would head to the locker room and get ready for Playoff OT hockey, aka, Sphincter Torture.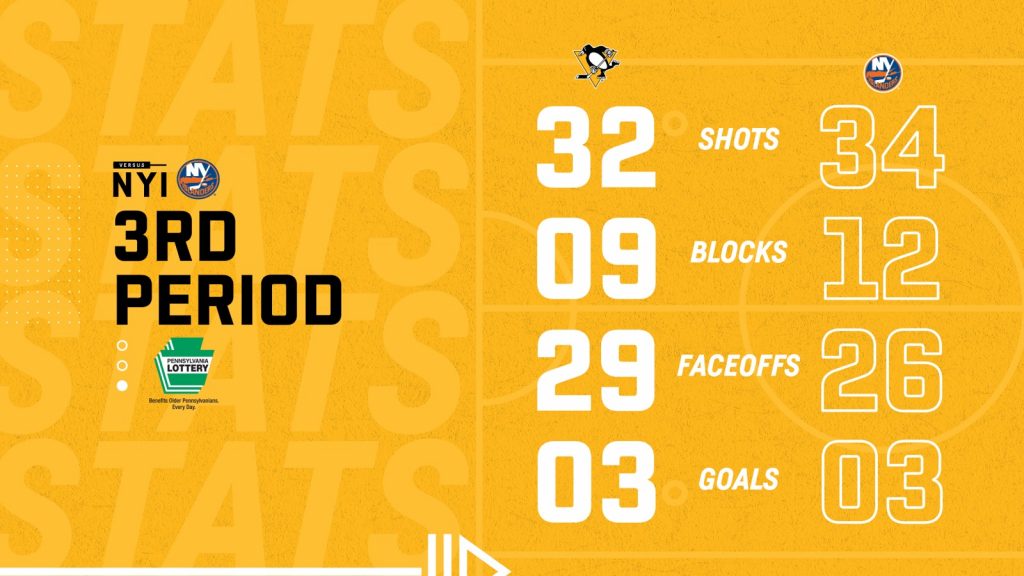 A messy start and it looked like nerves were a real thing. Some tense moments when Barzal would generate a mini-break, but McCann makes a great defensive play to get over break up the chance, sending Barzal wildly into the boards.
From here it was a good bit of back and forth, which is not something you expect in OT. Then it was lots of messiness and turnovers. No crisp passes, more like harried attempts to escape the zone. Then I look up and 9 minutes are gone with only a handful of shots by either team.
A couple of minutes later Matheson decided to try to make me throw up and let Pageau just take the puck away from him deep in his zone and create a glorious chance. Not a good look from a guy that did not seem to get more comfortable as the game went on. Playoffs are a pressure cooker and you could see that some of these guys were more used to it than others.
Back and forth, forward and backwards. Lots of finishing checks, a few tense moments in some creases, but you could just feel that the longer this went, the more it favored the away team. After all, the Pens are 1-9 in their last 10 playoff games, which is pretty insane when you think about it.
So it was stick gripping time for about half the team. Sid / Snek / Rusty were flowing. Carter and McCann didn't look particularly nervous. But Marino was feeling it. And Matheson. And, worst of all, Pettersson.
When the pressure builds you start to second guess yourself. You hesitate when you should be decisive, even if you end up being decisively wrong, at least you tried.
The puck enters the zone on the RW boards. Marino has some trouble with it and ends up taking a tumble into the corner. Carter flies in to help but gets there just a minute late and can't prevent the pass to Palmieri in the circle. Which left him facing Pettersson. In Marcus' defense, he was skating back to cover who he thought was his guy, so when he recognized the threat, his momentum was the opposite direction. But instead of lunging forward to attack, he hesitated and swiped at the puck. And Jarry though he had the whole post covered…
Game.
Thoughts:
Sid was flying. He will lead this team like few times in the history of this franchise. He's still the greatest two-way player in the game and he will show everyone this over the course of these playoffs.
Letang was a beast. He was everywhere and he was making the right plays. More please.
Carter looks ready to fill the void of Malkin for as long as he needs to. He was focused and good.
Guentzel is going to die from repeated cross-checks in the crease. What a beating he's taking. We need some push back there.
Jarry was bad. Two of those goals should never have been goals and came from nothing plays. That's not playoff-caliber goaltending. He's better than this, so let's hope it was just nerves.
As mentioned, Marino and Pettersson had bad nerves. Matheson too. Let's hope that they sweated it out tonight and Tuesday they'll show what they're really made of.
The Pens were the better team for most of the game. They had the better chances. Their goalie let them down. That can happen once or MAYBE twice in the playoffs. That may have been Jarry's mulligan.


Loading ...