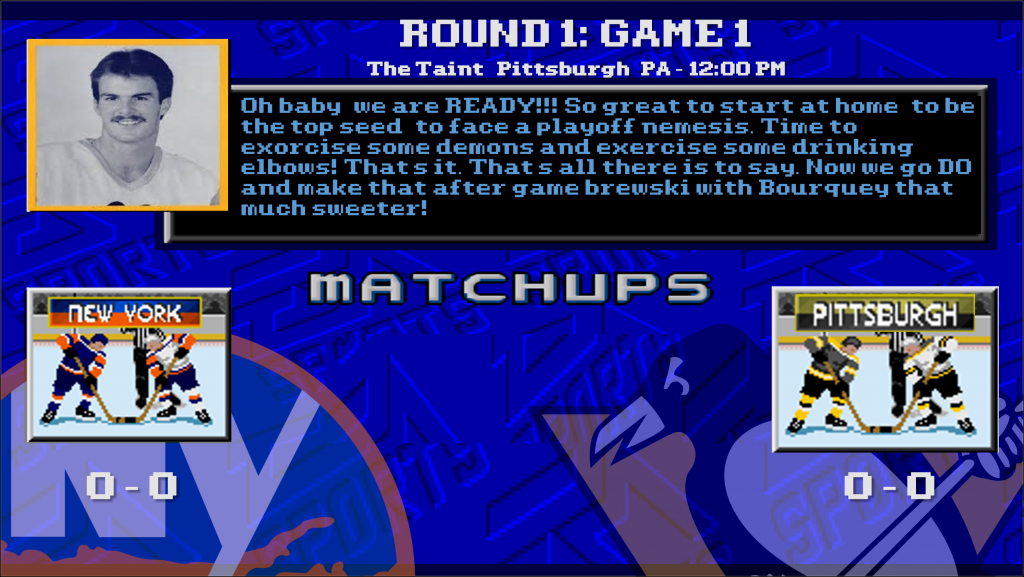 I've gotta say: I don't care that it's the playoffs, and I don't care that it's the first time we're seeing the Pittsburgh Penguins play in over a week, but I hate noon-time hockey games. If your team wins, it's fine, you get to have the whole rest of the day to do whatever and you'll have that undercurrent of glee knowing your team won; conversely, if your team loses, you're still going to do whatever it was you were going to do but it'll suck thinking about your team losing. Maybe it's just me, but I'd rather my team lose at night because I can go to bed and sleep it off quickly.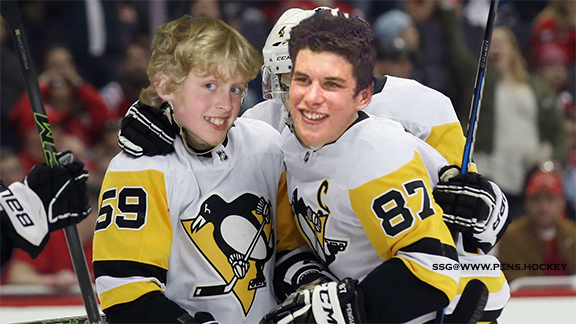 Anyway, here we are, Game 1 of what I'm calling the East Division Semifinals between the Penguins and the New York Islanders. New York will definitely be looking to duplicate their success from the first round in 2019 when they swept Pittsburgh out of the playoffs, aided largely by an unreal performance by goaltender Robin Lehner who faced an average of 34 shots per game, allowed only six goals, and had a .956 save percentage. As you might suspect, Pittsburgh dominated the shot chances metrics, but a key issue was shot quality. At even strength, the Penguins had just a 0.01 expected goals advantage in the entire series, as the Islanders defensive scheme prevented Pittsburgh from getting better results out of its 112-89 shots on goal advantage.
Of course, a lot has changed in the last two seasons. After the Islanders themselves were swept out of the second round of the playoffs by the Carolina Hurricanes, Lehner left the Islanders to join the Chicago Blackhawks, but he wouldn't stay in the Windy City for long as he was traded to Sin City where he currently serves as backup goaltender of the Vegas Golden Knights (backing up former Penguins Marc-Andre Fleury). The Penguins too have a different goaltender defending their cage in Tristan Jarry, who spent several years third on the depth chart behind Fleury and the guy he replaced, the guy who had such a hard time against what was a below-average Islanders offense in 2019, Matt Murray.
This time around New York will pin its hopes on Semyon Varlamov, who was among the best goaltenders in the League this season, as he finished best goals saved above average metric of anyone. Historically though, it's a good matchup for Pittsburgh, as Varlamov does not have great, or even good, or even average numbers against the Penguins: in the regular season, he is 6-5-4 against Pittsburgh with a .899 save percentage and a 3.04 goals against average. This season alone Varlamov was 1-3-2, with a .897 save percentage and a 2.86 goals against average. Perhaps most relevant though is Varlamov's playoff history against Pittsburgh, which is short but sweet for Pittsburgh as he was the goaltender of record for the Washington Capitals when they lost the 2009 Eastern Conference Semi-finals against the Penguins, who would then go on to win their first Stanley Cup of the Crosby/Malkin era. That was twelve years ago, in case you needed reminding.
The Islanders were one of the best teams in the League defensively this season, allowing the second-fewest goals on the tenth-fewest shots against, and their save percentage was best in the League as well. Much of their success comes from an aggressive forecheck by all four lines, as well as clogging up the neutral zone and slowing down zone entries. Much of the Penguins' inability to produce offense in 2019 had to do with having bunch of defensemen who head coach Mike Sullivan knew couldn't be relied on to skate quickly or move the puck quickly against the Islanders' forecheck. Jack Johnson played four minutes per game less in their series against the Islanders than during the regular season while Erik Gudbranson played three fewer minutes per game. The other four defensemen were relied upon even more as a result, and grew tired more quickly.
Johnson and Gudbranson (and Justin Schultz) have made way for John Marino, Cody Ceci, and Mike Matheson, three far more nimble skaters who have also proven themselves capable of providing offense when needed, something Johnson and Gudbranson were neither asked nor expected to do. Their skill and ability to join the rush was exploited quite positively by Sullivan this season, and they absolutely helped bring Pittsburgh through a lot of injuries this season. We will see this afternoon if New York will be able to forecheck aggressively and effectively enough to disrupt Pittsburgh's breakouts, and if they cannot, the Penguins should be able to make quick work of the Islanders and return the favor from two years ago.


Loading ...