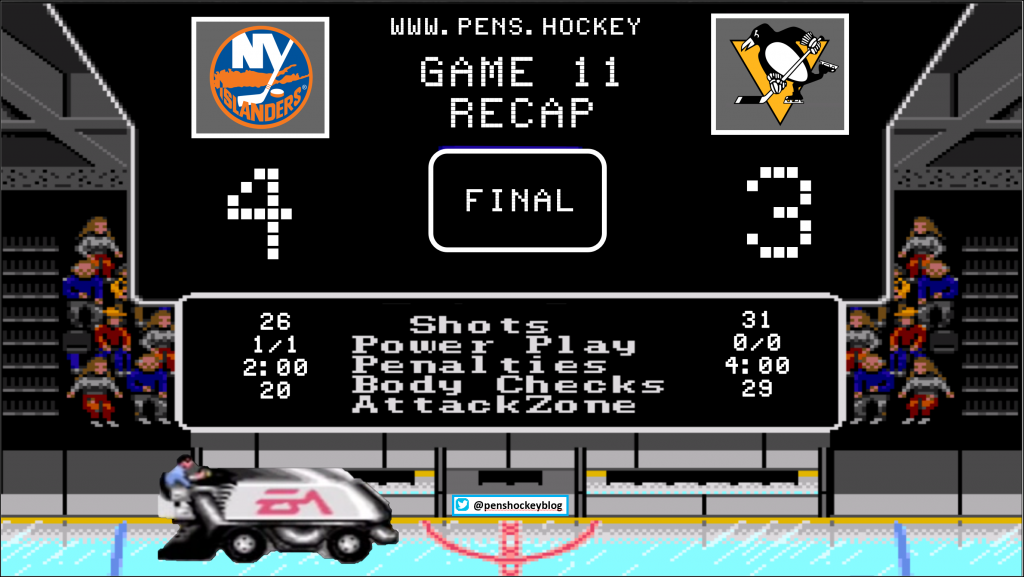 We're back, baby! Excited to get rolling, but with so much time off, we should let Grover ease us back into game action.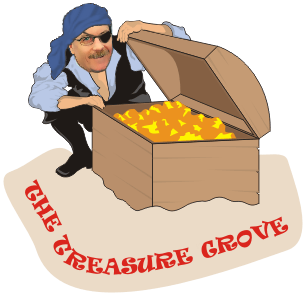 No time like the present!
Seems like a good roll to keep going.
And this time, lets do it in regulation, OK?

First game in what felt like, er, what was almost a week and the Pens would come out zooming. You could see the Pens were trying hard not to turn it over in the NZ but were still able to generate some pressure. In fact, they were moving so well it almost looked like they knew what they were doing. Which is neat but didn't turn into a goal.
We did get to see Ceci below the dots on more than one occasion which was a little unsettling but ultimately caused no damage. Letang did the same, which we expect, and it also caused no damage either way which was a welcome development.
The first half of the period was pretty even but nothing happened. The second half, though…
O'Connor was trying to get fancy entering the zone and the puck laughed at him and stayed out. The Isles turned on the puck faster than Ceci could see see what the hell he was doing and that was all she wrote. Too much space to work with for goal scorers like Eberle usually doesn't work out well.
More back and forth with neither team sustaining dominance when the Crosby line would have a great rush that PO decided to join, luckily for the rest of us…
Pierre-Olivier Joseph (1) from Guentzel (4), Letang (4) – 13:43 – EV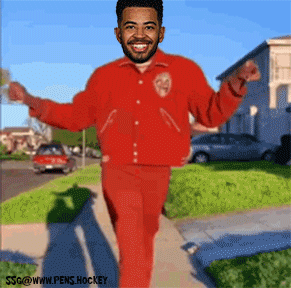 POJO has taken a lot of shots in his handful of games, most of them going wide by a zip code or so. Not this time. Apparently he was missing wide because he's a sniper and just had to get his sights lined up. Who knew?
A couple minutes later we were reminded that speed matters with Geno tossing a puck ahead that created a Rust/Zucker break that just missed. That would matter because shortly thereafter the same line simply couldn't corral the puck, but the Isles did and crap.
That puck was bouncing around like crazy and seemed determined to screw over the Pens. Hard to put much blame on anyone… aside from Matheson letting Eberly stay too close to the goalie without smashing him.
The last couple minutes would yield nothing further.
Stats after one:

Great first two shifts for the boys in white with a lot of pressure and quality looks and puck movement. Alas, no twine tickling to be had.
A little later it was revealed that McCann wasn't in his normal spot and had not in fact played the entirety of even the 1st period. Did you notice, because I did not.
Five minutes in a Penguin did a thing and an Islander did a thing and we'd have a couple minutes of 4 on 4.
As expected, the Pens owned the better of the chances. As also expected, no pucks in the nets. This was followed by several minutes of Islanders hockey that had its intended effect – lulling the audience practically to sleep. Good lord this team is boring to watch when they are playing 'their way'.
Thankfully Jarry stayed awake because SiSi and Mathisfun were 'playing defense'.
I was sitting here taking notes almost the whole time, I swear it, but I can't tell you what happened. The Pens were moving well which was neat, and nothing went in, which was less neat, but then I looked up and the period was almost over. ALMOST.
Malkin (2) from Kapanen (4) – 19:44 – EV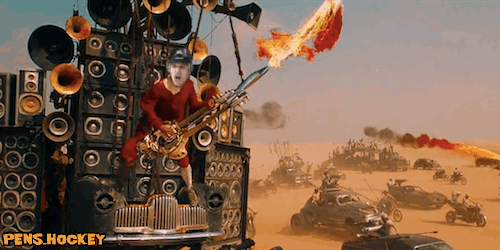 To say this goal with 15 seconds left in the period was huge is understating things. The Pens needed this goal. GENO needed this goal, his first even strength of the season and first in 7 games. They were playing the right way, using speed and shooting a ton. It was just a matter of time and it was fantastic to see, as it prevented the Pens from dragging yet another deficit into the locker room with them.
Stats after two:

Up tempo to start still which is great to see and expected with so much down time. Each line seemed to be in tune with each other and were keeping the pressure up. So it was only a matter of time until something good would come from it.
Guentzel (4) from Crosby (5), Rust (6) – 3:19 – EV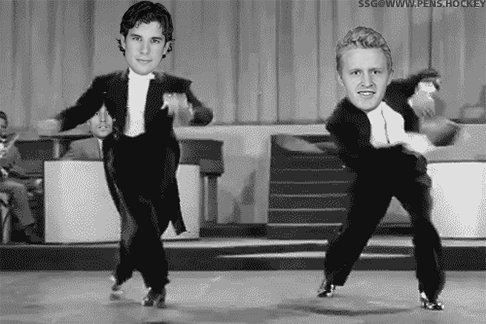 DAMN that pass from Sid. Wow. It's like watching Geno got Sid going even more. Amazing work from that line there.
The next few minutes would be all Pens who almost had another goal or three. You could just feel the Pens confidence growing. It seemed like each line had a great look. At one point the Pens had a beautiful tic-tac-toe passing clinic that looked sure to be a goal, but they tried to add a second toe and didn't convert. Confidence is good. Over-passing when you could have made it a two goal lead is less good.
Speaking of less good…
Superman strikes again. Letang and POJO were out of position and both missed the guy (POJOs guy, for the record). Super Tanger then took it upon himself to save the day. He did the opposite.
Yes, there are two clips of this goal against. Yes, you should punish yourself and watch them both. Yes, Letang did absolutely the wrong thing. Yes, I'm having a double bourbon right now.
Pens were not dissuaded, though – they kept the pressure on. Kept the waves waving. Most chances, more OZ time. Really were looking like they could get it done.
And then the first powerplay opportunity would arrive, courtesy of a delay of game as Blueger, on his off hand deep in the DZ, would get a case of the yips and the PK would have to step up.
Spoiler: they did not.
Of course. Just when the Pens were waking up and looking good, that happens. Someone please explain to me why Letang is on the PK because it doesn't make sense right now.
Pens would pull the goalie and lay on the pressure, but it was all for naught.
Thoughts:
Jarry had some MONSTER saves and is looking more confident. Perhaps he heard me say the Pens needed a starting goalie.
Geno is definitely awake. Look for the momentum to build.
Sid is making it happen right now, and Rust is the beneficiary. Rust attempted 15(!) shots tonight, with 8 on goal. That's 32 in his last 4 games. Mostly thanks to Sid.
Letang. It's officially time to move him down the lineup. And ffs get him off the PK! He's NOT a defensive defenseman. I'd prefer LITERALLY any defeneseman on the roster on the PK instead of him right now. It's mind boggling.