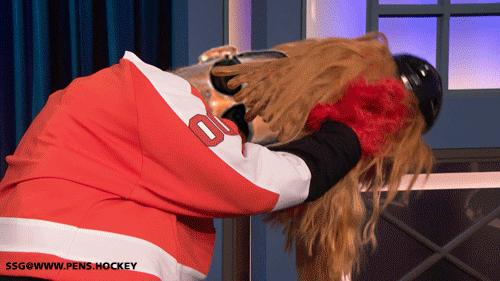 The Flyers suck. I don't know anything they've done this season, but that statement is still true.
I'm guessing they added some players and lost other players or something in the offseason, I don't really care, they're still good enough to be the 2nd best NHL team in Pennsylvania.
I did see that they now have Michel Therrien as an assistant coach, so maybe they're work on being less soff.
It's a shame that Lafferty is out, but I don't see any openings right now.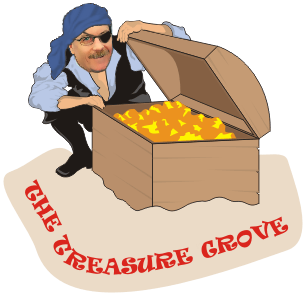 The first period started out with some back and forth action. 6 minutes into the period a puck came up the board to the blue line to Justin Schultz. He threw it at the net, and luckily Bryan Rust didn't touch it with a high stick. It had just enough energy to float over Elliott's shoulder. 1-0
Justin Schultz (1), Assisted by Kahun (3) @ 5:57
The Pens broadcasters really wanted to make jokes about Elliott's nickname being Moose, but I only know 1 goalie with that nickname.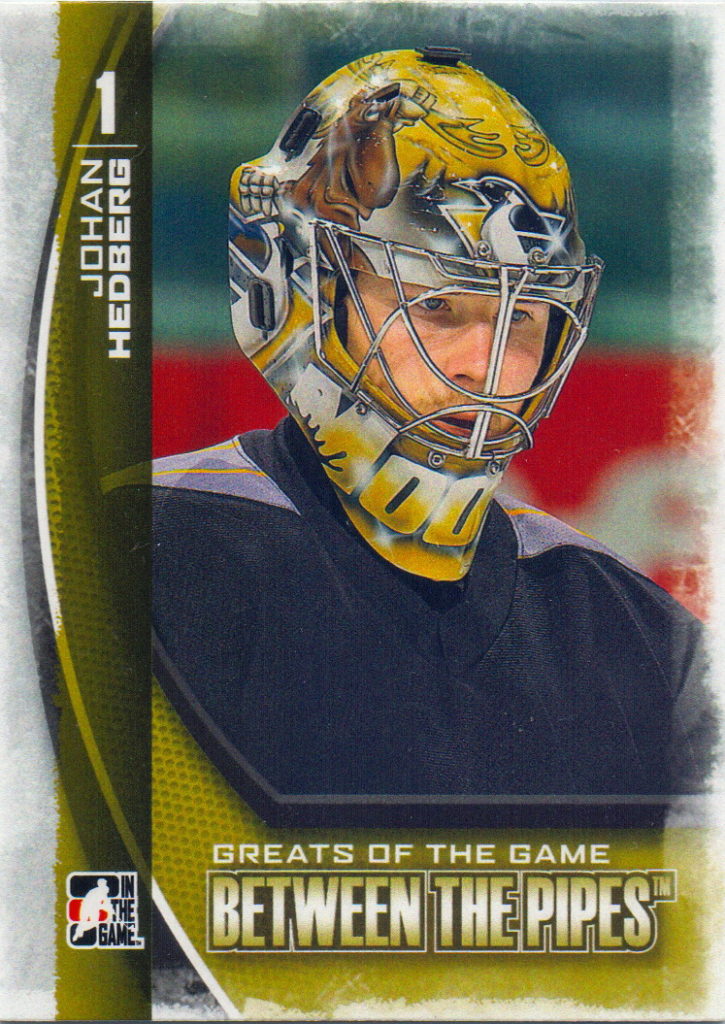 A few minutes later, the duo of Kahun and Rust decided to outwork the entire Flyers team and keep a puck amongst themselves at the side of the net. Kahun was able to feed the puck to McCann right in front. 2-0.
Jared McCann (4) Assisted by Kahun (4) and Rust (1) @ 8:13
Immediately after this, the top line came out and Crosby decided he needed to outwork some people too. He got the puck to C-Moan in the slot, who cashed in some of his extra corsi for a goal. This was good for 3 goals in 2:49 and 3 goals on 4 shots. Not too shabby. 3-0.
Dominik Simon (2) Assisted by Crosby (11) @ 8:46
With this, the rout was on. A few minutes later, off a faceoff a puck went to Dumoulin at the blue line and bounced over his stick. It looked like Philadelphia was going to get a breakaway, but Dumoulin managed to get the puck to Letang who got it to C-Moan. He made a nice play to not lose the puck in the neutral zone and got the puck to Crosby in front of the net. Crosby faked a shot and stepped around a mob of players in front of the net and roofed it past Elliott. They could teach saints patience with replays of that goal. 4-0.
Sidney Crosby (5) Assisted by Simon (6) and Letang (7) @ 14:02
If you're keeping score at home, it's Penguins 4 (goals) – Flyers 4 (shots).
With 3 seconds left in the period, the Penguins imitated your mom and played with too many men.

Early in the period, the Penguins got a second power play. After the power play, Guentzel scored. 5-0. I missed the goal because I was too busy trying to get a picture of the "Deez Nutzkanen" sign.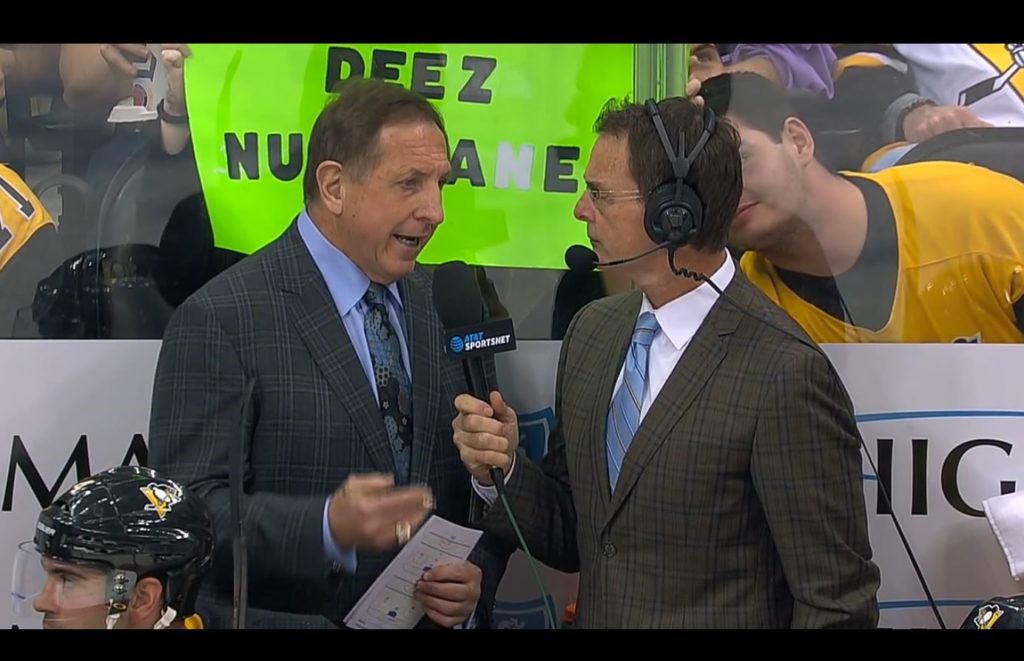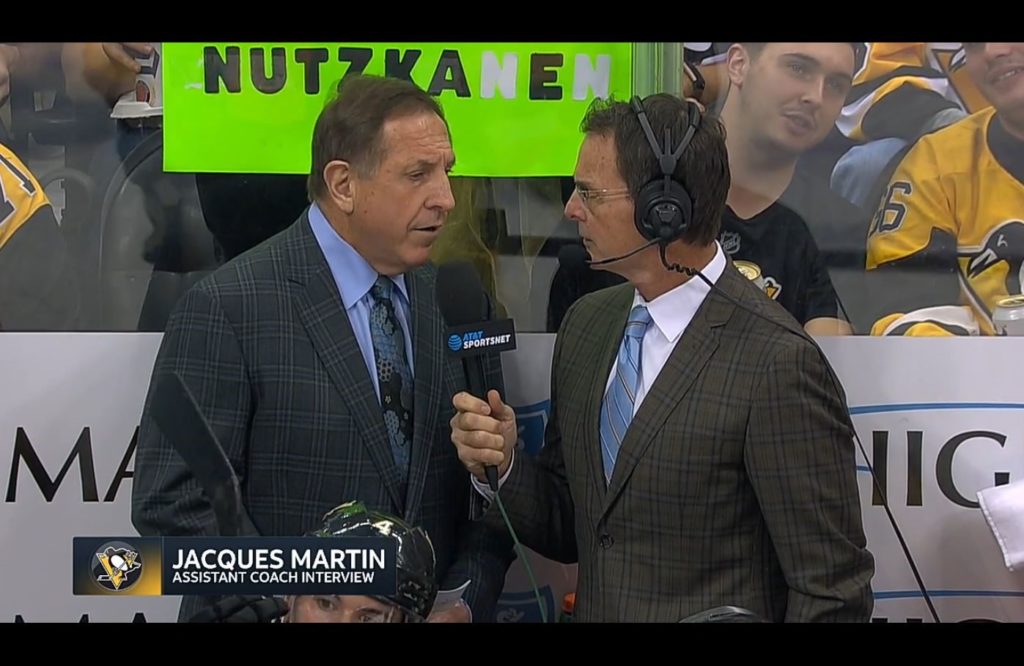 Jake Guentzel (7) Assisted by Crosby (12) and Simon (7) @ 16:40
Next shift, JJ threw a puck to the net and ZAR got just the tip. 6-0.
Zach Aston-Reese (3) Assisted by Johnson (2) and Tanev (4) @ 17:00

Fans started chanting "Elliott", which is usually dumb in the first place, but it's even dumber when the goalie's name has 3 syllables. It's like trying to fit a long team name into Take Me Out to the Ballgame, just use "Home Team" and move on. I guess you can't expect much from people who woo every chance they get. /end rant

Elloliot out.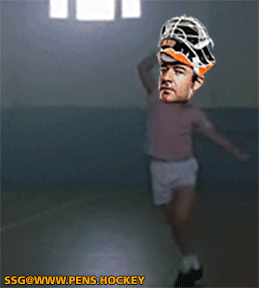 2 minutes into the period the Flyers score. I don't have a gif of it. If you don't like that, too bad.
A few minutes later, the Flyers got a powerplay and tried to cut the lead down to only 4. Unfortunately, the PP ended and they were still down 5.
The remainder of the period got chippy because it was past most of the flyers player's bedtimes.
With 6 seconds remaining the other Dominik brought the gift of chili to Pittsburgh. 7-1.
Dominik Kahun (2) Assisted by Hornqvist (5) @ 19:53
Deuces.
Thoughts
The Penguins looked solid in this game, but they are playing the flyers, so who knows. I can only assume it will get better with Malkin coming back soon (possibly Saturday). I just hope they don't rush him back.
Our PP hasn't gotten many chances, and hasn't looked very good when we've whipped it out. Hopefully we can get some more practice going forward.
Be prepared for everyone and their mother trying to compare Crosby and McJesus coming up on the game with Edmonton on Saturday.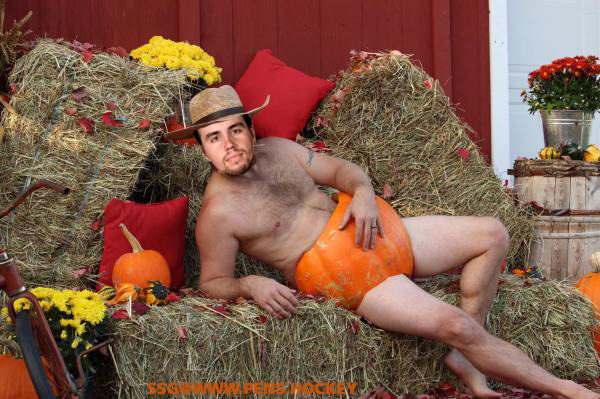 Loading ...

Loading ...