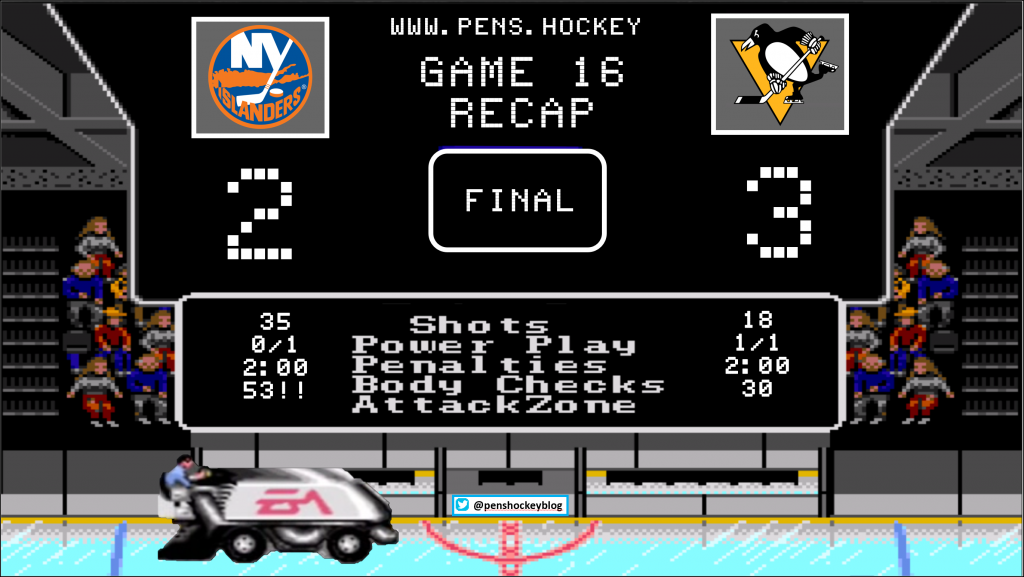 1000 games. With all the injuries, it's taken longer than expected to get here, but here we are. Currently in the top 40 in points all time. Seventh in points per game. First ever Penguin to wear a Penguins jersey for 1000 games. You can't compare Mario and Sid – they're too different. But they're both undeniably in the top 5 ever to skate in the NHL. Good lord are we spoiled as a franchise. Thank you, Sid – for everything.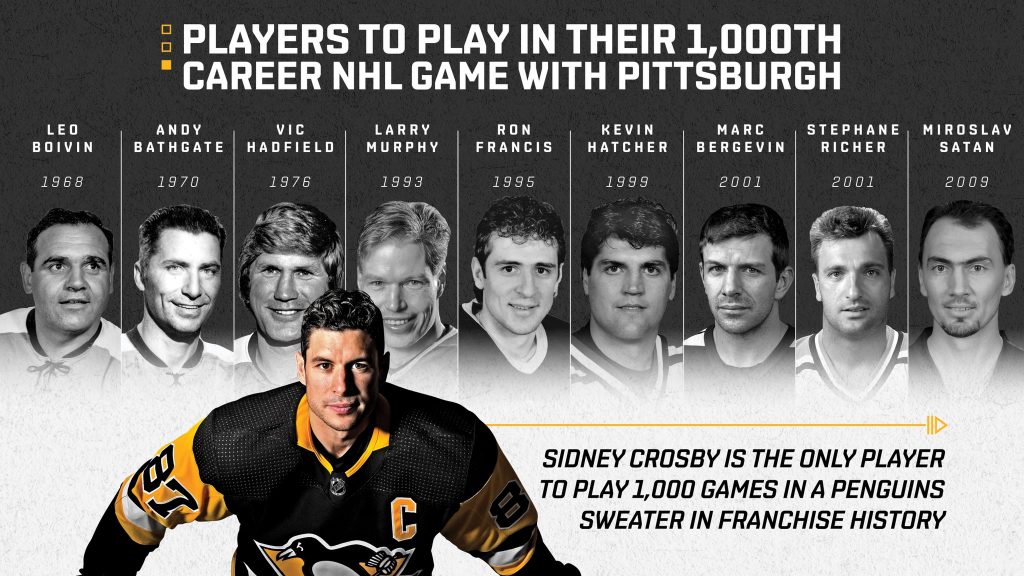 For the second game in a row, no changes to the lineup including the goalie.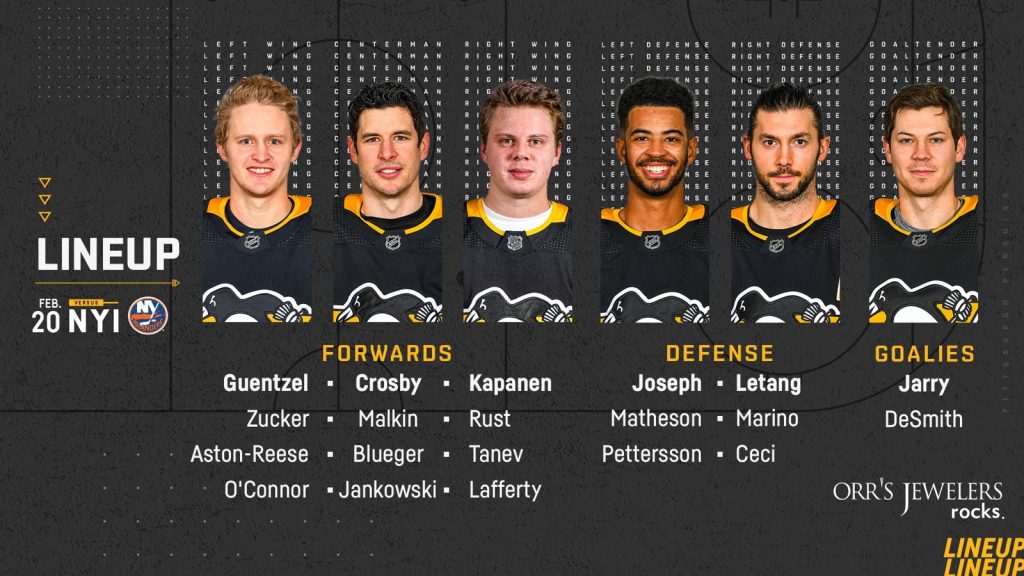 The Islanders showed up ready to fly. Trotz reconfigured his lines to put Barzal with Lee and Eberle and you wonder why he would ever split them up. They immediately put the Pens on the defensive and only a sharp Jarry would be the difference.
It didn't end with those three, either, with the Isles rolling lines and seemingly getting faster each shift. They would push that advantage to an 6-0 lead in shots and keep the Pens from getting their first until about 5 minutes into the period.
The up and down was mostly down with the puck in the Pens zone for long stretches. It didn't matter which line it was for either team, the puck was on the wrong side of the ice. This just kept going, with the Isles building up a 12-4 shot advantage with about 5 minutes left.
Not until an Isles icing with 3 minutes left did we see a faceoff in the Islanders zone. I think. Probably. Sure seemed like it at least. And even though Mr. 1000's line was on the ice and won the faceoff, they couldn't keep it in the zone. And oh yeah, Malkin got hurt somehow. Luckily Jankowski is here to take his spot! *gets bourbon*
A couple more looks for the Isles but Jarry was up to the task.
Stats after one: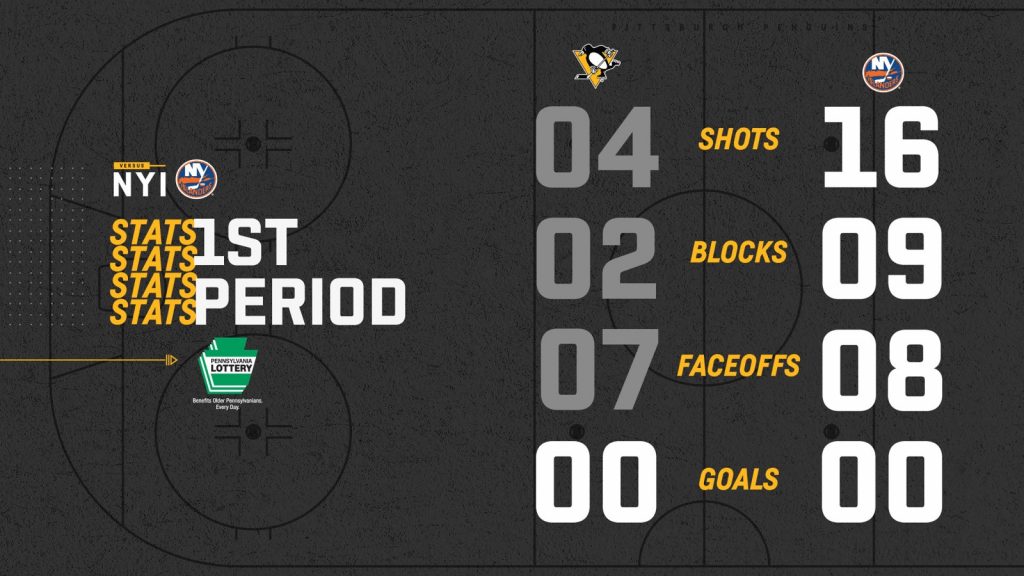 Well shit. Looks like a right leg something-or-other for Geno. Not out to start the 2nd. Sully's response includes putting Rust back on that top line. I like it. I bet Rust does too.
Kapanen didn't mind the change either when he had a great opportunity that would go down as not even a shot on net because pipe isn't net. BTW, that's just stupid. The puck hits the goal but it's not even a shot on goal?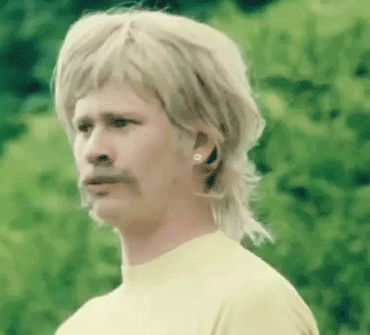 Just under 5 minutes in, Geno would return and take a normal shift. Looked good enough, even with odd line mates. Let's hope he'd be OK.
Weird lines would continue during a choppy first 10 minutes, but eventually they'd stabilize, with Geno centering Zucker and Rust. And Kapanen skating on Sid's line.
The isles just wouldn't let up, though, and required Jarry to continue to stand on his head. Which he did. And then he figured that wasn't enough so he decided to stop a puck, in his glove, without looking at it. For real. I couldn't find a clip of that but to be fair I didn't look real hard. It's worth noting I don't get paid for any of this.
With just under 8 minutes left, the Malkin line would finally generate some pressure, and Geno would feed the puck to a streaking Zucker. While they wouldn't connect on the play, it would draw a penalty.
The first unit would win the faceoff and get to work. Even Letang decided to get to work…
Letang (1) from Malkin (7), Crosby (8) – 12:35 – PPG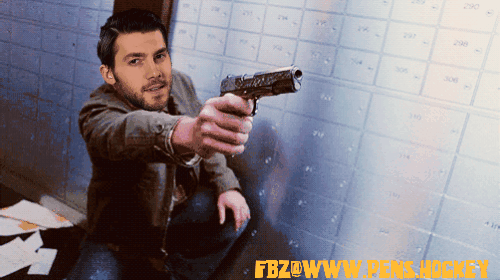 Great puck movement, great people movement and a great shot. Letang picked a great time to pot his first of the season.
A couple minutes later, MathIsFun got a little over-excited and forgot to cover Eberle who then got to make Jarry look silly.
Not shown on this goal was Matheson's decision making that took him over all up in POJO's bidness. He was supposed to cover that dude with the puck, but apparently that wasn't as interesting to him. Shame. Matheson had been really great but a total brain fart there. Of course, Eberle scoring a goal against the Pens isn't exactly rare.
The period would be much more even, as evidenced by the scoreboard.
Stats after two: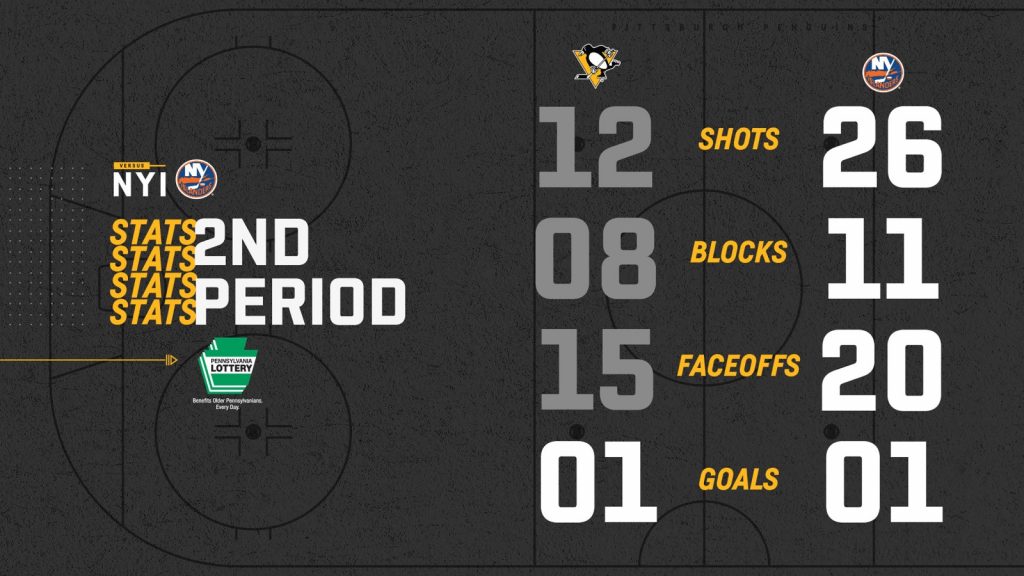 In the first minute, Geno decided to take a calculated risk, assuming the puck would make it out of the zone to him and bust them on a 2 on 1. Instead, Bert's curly haired cousin would keep it and take advantage of a double screen Jarry.
Taking a chance is often required to generate offense. I bet Geno regrets taking that particular chance. Hard to get too mad, but still not great. Jarry can only make so many saves without seeing them.
The next 7 minutes were the definition of back and forth hockey. The Isles were still moving fast, but started immediately trapping which always frustrates the Penguins.
One way to break the trap is the Activation of the D. You know who happens to be pretty good at activating his D?
Matheson (1) from Blueger (7), Lafferty (1) – 7:35 – EV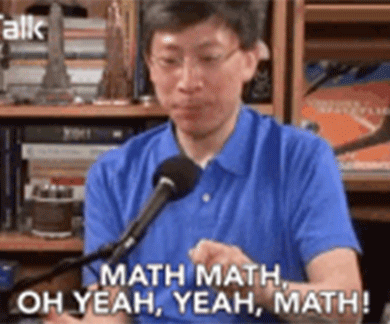 Now THAT is how you make up for an earlier brain fart. Great play from deep in his own zone, great moves to keep possession through the neutral zone and a nice pass and heads up positioning to drive the net and a shooter's instincts using the screen. Great stuff.
The pressure would continue from the Good Guys and you could sense they had gained some confidence.
Stuff happened. About 6 minutes of stuff. Mostly it was the Isles flying around and the Penguins gamely keeping up with them. And then, when the Pens had the puck, it was them trying to figure out a way through the trap.
Sid's line would figure it out and would then add some more pressure and get the puck down low. Then it would go low to high and Letang was ready for it.
Letang (2) from Crosby (9), Guentzel (8) – 13:34 – EV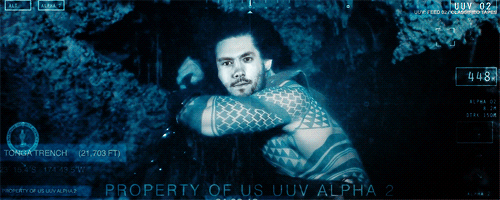 Great pressure, great puck movement, great shot. Letang is feeling it tonight, finally. And right when Mearsy was asking for more offense from the defense. Don't mind if I do, thinks Tanger.
A minute later, for fun, Zucker decided to be a hooker. Great time for the first penalty of the night.
The ensuing penalty kill was a little nuts, but once again, Jarry was ready. Even Letang made the right plays on D. A critical Kill at a critical time and the confidence would grow.
The confidence grew so much that, with under two minutes left and an empty cage to shoot at, Letang and Sid would take turns waiting for the other to shoot. Neither would… and it wouldn't matter.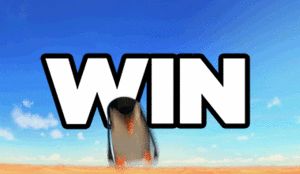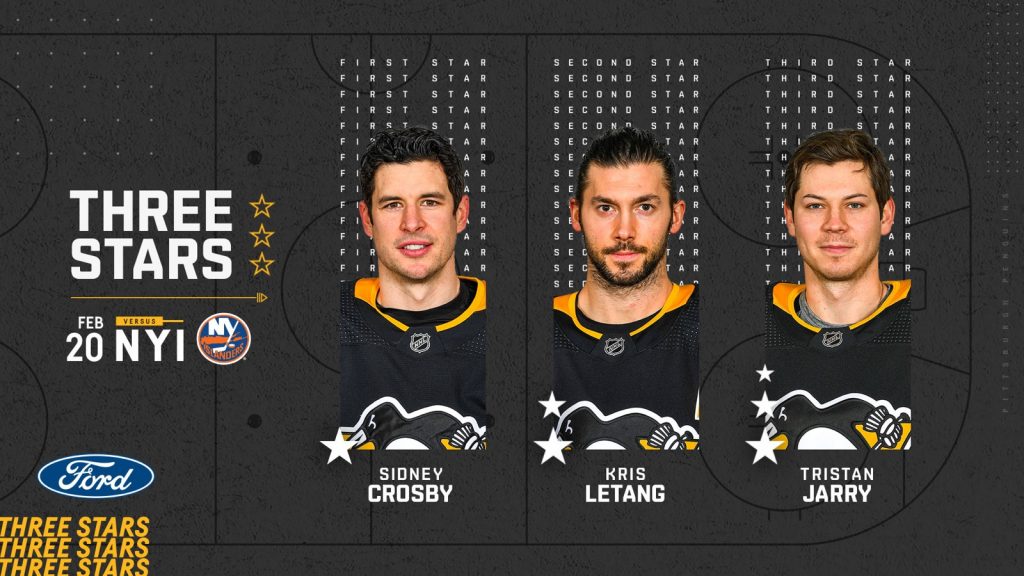 Thoughts:
Jarry has returned. It's almost like he could have used a proper training camp and pre-season or something.
Letang focused and delivered. I have ragged on him more than anyone, deservedly so, but he has been much better lately. Good for everyone.
Malkin sort of hurt, but still played a great 3rd period. That borscht power seems to be back in his skating stride. Also good for everyone.
Matheson is finding his way. This is why Florida gave him $4.875M per year and we took it. The guy has skillz.
Kapanen played 19 seconds in the 3rd. You have to hope that nothing significant happened. Pens need him to contribute.
Game 1000 was just as great as game 1, 100, 500, whatever. Sid is a machine. When he's healthy he's unbeatable. When he's inspired he's inspirational. When he's angry…. well, just ask Philly. We have received a gift from the Gods with Sid. Treasure all of these moments.