When you are known for creating the best rendition of a lineup ever in your teams history and not being successful it adds pressure. When this happens 8 years in a row it adds doubt. When you have a 2 goal lead on a team that has played 50 minutes of hockey without their best player and 35 minutes with just 10 forwards and said lead gets erased in 48 seconds it adds a sense of dread.
To be honest, I thought the Washington Capitals would put on an absolute clinic in this game. I was expected a 4-1 or so relatively easy win. I expected the team to actually show some heart. You're down 2-0 in a series. You have been eliminated by the Penguins consistently over the years. You have to come out in game three and give them everything you have… well if that was everything Washington had, and there's no reason to believe it wasn't after seeing 2.5 games of desperation, it's a shame they didn't print out President Trophy shirts again because that's all they will have once again.
The Paint Can was absolutely rocking to start this game, crazy how a cup run has changed the dynamics of the playoff crowd. There was a time there when playoff games were only marginally louder than regular season games but for now those days are gone. As Washington brought their "A" game, seemingly for "assholes" and ramped up the hitting early the Penguins again held the fort. 6 minutes into the period the worst scenario for Pens fans happened, shoutout to @whoreallycares for this gif: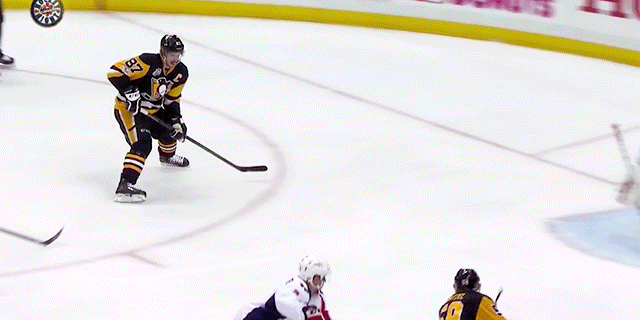 Forgetting the Niskanen hit for a second, what the fuck is up with Ovechkins swing to the head? Justify it by saying he was going for the stick that was on the other side of the body if you want but you're wrong. Now to the Niskanen hit… he was given a game misconduct. NBC agreed that it was the right call then backtracked. Here's the issue. In your mind reverse Crosby and Ovechkin here. If Ovechkin is swooping in from the left boards to prevent Crosby from getting to goal and can't stop in time and falls into Niskanen does the same hit happen? If the hit was truly unavoidable then the answer is yes. Since we see players on the same team fall into their own teammates and not get their head chopped off consistently then the hit was completely avoidable. It's the NHLs fault for allowing stuff like this for years because "it's part of the game" in the playoffs. NBCSN was shocked that losing Crosby took the wind out of the Penguins sails, but secretly they were all fapping to the possibility of a Capitals win.
A minute later the Capitals would cash in on a powerplay by scoring a goal that touched everything but a Capitals stick. Backstrom got credit but whatever, freak bounce. The Capitals blow a huge opportunity to take a big first period lead in a game they have to win after eliminating the opposing teams best player.

Mike Sullivan is no stranger to playing with mixed up lines and in a weird way the 280whatever mangames lost in the regular season have actually helped the Penguins prepare for situations like this. That being said when you have to start mixing lines on each shift it takes away the match-up edge, especially for lines like Kuhnhackl-Cullen-Kunitz who have been stellar at shutting down Ovechkin and co. This period should've been the Capitals pouring it on, and they did bring it, but the Penguins were able to hold tight. Chris Kunitz scored early but then it was reviewed and determined it was still a good goal but then it was somehow challenged and determined it was goalie interference. I didn't know you could challenge a review but whatever, probably the right call. Patric Hornqvist hit Conor Sheary at some point and Sheary would not return. Down to 10 forwards… great.
Just one of those nights. Ugh…#Sheary #Hornqvist pic.twitter.com/C0DcbaAYWC

— Benstonium (@Benstonium) May 2, 2017
Fleury with a huge 2nd period to keep the team in it, with this most likely being his best:
what a stick save by fleury, my god pic.twitter.com/z3jPGCvw9x

— evgeni malkin's ego (@EvgeniMaIkinEgo) May 2, 2017
Losing this game 1-0 would've almost been considered a win for the Penguins. I expected an early goal by the Capitals and the Penguins to fade. Instead the Caps got some more powerplay opportunities because the refs had to get the teams to an even 5 powerplays each, and each time the crazy good Washington PP unit we hear about was effectively shut down. Matt Cullen got a breakaway on one of the opportunities and was completely hooked by Shattenkirk but since he turned his head away from Cullen it meant he didn't mean it.
a big missed call, shattenkirk hook on cullen, would've sent him on a shorthanded breakaway pic.twitter.com/zPuuUwPDSc

— evgeni malkin's ego (@EvgeniMaIkinEgo) May 2, 2017
Absolutely no clue or reason how/why this wasn't called. The Penguins do get all the calls though. After a huge kill the Capitals finally get an odd man break and Evgeny Suksnutsoff out-waited Fleury to give the Caps a 2-0 lead. Then something strange happened. It would've been alright for the Penguins to fall into a shell of themselves and coast through, but they did the opposite. They started bringing pressure. With around 3:30 left Sullivan pulls Fleury and all hell breaks loose. The Penguins lose control of the puck in the neutral zone and it's a foot race between Ovechkin and Schultz. Plain and simple scenario, if Ovechkin gets to the puck it's a 3-0 game. Justin Schultz put his heart into every stride and throws his soul into Ovechkin to prevent it from happening, underrated play and it will not go underappreciated here.
Following the hit the Penguins were able to get zone time, and with Kessel at the point he gives the puck to Agent 101 and look out Loretta.
EVGENI MALKIN (3) Assisted by KESSEL (9) & SCHULTZ (5) @ 18:07
geno with an absolute laser pic.twitter.com/ylwuOymNs9

— evgeni malkin's ego (@EvgeniMaIkinEgo) May 2, 2017
What a shot by Malkin. Prior to the goal NBC was sucking off Holtby for his brilliant bounce back game since he had made 24 saves in a row… huge bounce back, you did your job 24 consecutive times….wow. The Paint Can was rocking again and the mocking chants of "Holtby, Holtby" filled the air. After a timeout and some more possession the puck came to Malkin again, and this time he found Justin Schultz…
JUSTIN HOLY FUCKING SCHULTZ Assisted by MALKIN (12) & KUNITZ @ 18:55
This is a @6Schultz6 appreciation post. Retweet to share your support. pic.twitter.com/FHztiEzPE9

— Pittsburgh Penguins (@penguins) May 2, 2017
"but it was deflecteddddd the Penguins get all the bounces" first, see your teams first goal. Second, the Penguins didn't have their best player, it's your fault for the game being this close. Third, "Justin Schultz for a 3rd rounder??!?! LOL JIM RUTHERFORD IS AN IDIOTTTTTTTT"
justin schultz ties it with the goalie pulled and only a minute remaining and my pants are off pic.twitter.com/wBKsyqOGD3

— evgeni malkin's ego (@EvgeniMaIkinEgo) May 2, 2017
Just unreal heart by this Penguins team to tie this game, I don't know if I have ever seen something quite like that.
Mike Lange always says that overtimes are either won in the first 5 minutes or the last 5 minutes. A few plays after Phil Kessel nearly ends the game the Capitals are able to spring a breakaway… or were they allowed to spring a breakaway?
Nice catch by the boys at @DKPghSports for the blatant puck carry by Johansson, leading to Daley's penalty, leading to the GW goal in OT. pic.twitter.com/1eu2LGaNDO

— TheConfluence (@TheConfluence) May 2, 2017
2 full strides with the puck in his glove = illegal but what the fuck do I know. Following this illegal puck movement Trevor Daley gets called for playing defense and the Capitals get their 5th powerplay of the game, which made the NHL happy because now both teams have the same number so yay they solved the favoritism thing. I can't find a gif of the Daley penalty which was apparently for holding, which is comical in itself following the literal holding of the puck that happened before it, but I don't see how you can't call the Shattenkirk hook but can call this. The Capitals would score on the powerplay as Shattenkirk became the hero they all hoped he would be. Congratulations. This thing is over in 5.
---
THOUGHTS:
Multiple sources reported Crosby was walking with no limp after the game and even told someone he was fine. Obviously he had to be held out for concussion protocol, but without that injury this series is 3-0. If Crosby comes back for game 4 this series is 3-1.
Hell of a game by Chris Kunitz on every aspect. Great stuff by the veteran when the team needed him the most.
The Penguins were a disallowed goal (Kunitz) and some missed penalties (Shattenkirk hold, Johansson carry) away from this game not being close. Any Capitals fan feeling good today deserves the darkness they will be feeling soon
Can someone give Brian Dumoulin some fucking love!? What a solid defender that has played every bit of every extra minute given to him.