The season was over. The Penguins were done. The Capitals are 5-0-2 all-time when facing a Sidney Crosbyless Penguins team. That's cute but that's also regular season where the Capitals are 5-0-2 against most teams. This is the playoffs though honey, and the Penguins are 8-1 all-time in playoff series against the Capitals, and they are one 60 minute effort from making that an impressive 90% completion rate. All of the narratives were set but everyone in the media once again forgot that though they wish it did the stuff they write doesn't reflect the mood of the Penguins.
Marc-Andre Fleury has consistently been labeled as the nicest guy in the locker room, the dude looks like he serious questions whether or not to swat at a pesky mosquito, so when he does this it is pretty fantastic:
fleury is too real for this pic.twitter.com/LzrErLDmNt

— evgeni malkin's ego (@EvgeniMaIkinEgo) May 4, 2017
It's Thursday, May the Fourth be with you, the Pittsburgh Penguins are one game away from eliminating the Capitals. GIDDY-FUCKING-UP.
Some were a little anxious on how the Penguins would respond to the Crosby injury. Would they retaliate with early penalties? Would they try to play more physical? Would they dress Tom Sestito? No. The Penguins did exactly what they had to do, ignore the tactics of losers and play like champions. Sullivans message in the locker room was probably crystal clear, play your game. Less than 5 minutes into the period the Pens got the start they wanted.
PATRIC HORNQVIST (3) Assisted by MAATTA (4) & CULLEN (4) @ 4:39
Loved this stretch pass on the first PIT goal tonight. Quality celebration by Hornqvist too. pic.twitter.com/qGyffZOvKX

— Sean Tierney (@ChartingHockey) May 4, 2017
Great look by Olli Maatta, who has quietly (and that's a good thing) put together a solid series. Horny is used to going down on Holtby's mom, so he changes things up and roofs one on Braden. How many times have the Pens gotten opportunities while Orpik was on the ice? Perfect start for the Pens. The story for the rest of the period, and most of the game was Marc-Andre Fleury. In a game without Letang and Crosby it was going to come down to Fleury, and the soul-patched son of a bitch delivered.
Confirmed: Marc-André Fleury is rather stellar so far. #StanleyCup #WSHvsPIT pic.twitter.com/9B76nZiiUY

— NHL (@NHL) May 4, 2017

In another must-win game the Capitals are trailing. They have to bring everything they have to start the second period. If they could only get the next goal and tie this thing up early maybe there would be hope… first: the Penguins don't have their best defender or their best forward, why in the fuck are you relying on hope, second: ORLOLOLOLOLOLOLOLOLOLOLOV
JAKE GUENTZEL (8) Assisted by BARRY TROTZ @ 3:51
Guentzel is just willing pucks in the net these days. His eight playoff goals lead the NHL. 😮 pic.twitter.com/HWLf7YTXfK

— Pittsburgh Penguins (@penguins) May 4, 2017
With Crosby out Matt Niskanen doesn't know what to do with his stick so he uses it to take away the drop pass option from Guentzel… (if you look at the opening freeze of the gif above) With that option taken away The Jackal can either carry the puck behind the net or just throw it towards the rattled Holtby and see what happens. The Capitals happened. Niskanen and Orlov pairing… thanks Barry.
Everyone was feeling good but the Capitals weren't going to go away that easily. 4 minutes after The Jackal goal it was suxnutsoff getting his 45th goal of the series.
Kuznetsov snipes to get the Capitals on the board pic.twitter.com/9aoJdWLiYD

— Pete Blackburn (@PeteBlackburn) May 4, 2017
Turn-over by the Penguins defense shows you how important good clears really are against Washington. 1 minute later Trevor Daley showed everyone he didn't learn his lesson, and Nate Shit ties the game up.
Nate Schmidt ties it at two with his first career playoff goal pic.twitter.com/maZ5s4kwNN

— Shayne Pasquino (@shaynepasquino) May 4, 2017
Too many black and gold members standing that close to Fleury, as they were obviously set back by the offensive burst and decided to fall into a shell. Easy to say "don't do that" from my position though.
Tie game. This is what the Capitals have wanted. Yeah, they didn't get the start they wanted and they were down 2-0 to a team they should be beating but hey, better late than never. Then the Penguins get a powerplay opportunity.
The entire Penguins defense has done exactly what everyone that actually gets paid to talk about the Penguins said they couldn't do in this series. They have not only covered the Capitals but they have also contributed offensively. The fuck are we paying these people for? Unfortunately for Penguins fans this may be the last 6 weeks of Justin Schultz, because someone is offering this man a lot of money after clutch goals like this.
JUSTIN SCHULTZ (2) Assisted by MALKIN (13) & GUENTZEL (4) @ 11:24 PPG
Schultz now has six points in his last six playoff games (2G-4A). His three-game playoff point streak (2G-2A) is also a career-best. pic.twitter.com/7WCtp7lmjO

— Pittsburgh Penguins (@penguins) May 4, 2017
Perfect shot by Schultz. What a steal by Rutherford. The rest of the third would result in some make-up calls to even up the power play advantage. Barry Trotz would complain after the game saying some of the penalties called against the Capitals were "light," but he is most likely upset that he can't hang himself due to having no neck. A man with no neck coaching a team that chokes…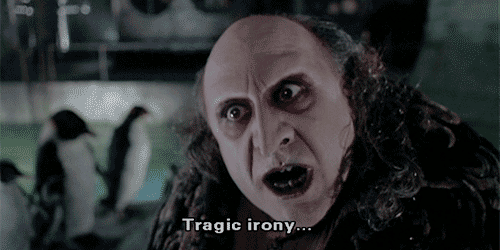 The third period was all about holding on. The Capitals had some powerplay time to work with to start but that fizzled out faster than the Blue Jackets. Washington put everything they could on Fleury but the man wasn't having it.
🌸 Flower Power 🌸 pic.twitter.com/Z0IieMZL6M

— Pittsburgh Penguins (@penguins) May 4, 2017
Jake Guentzel nearly blew the roof off when he hit the post with 5 minutes to go as yet another clang of iron sends doubt through Holtby's skull. The Capitals pull their goalie with 2 minutes to go after barely sustaining enough pressure to do so and then Nick Bonino wins an Oscar.
#Penguins #Bonino fakes #highstick against #Capitals #Oshie ~#Pittsburgh should have gotten penalty for #Embellishment ~stuff ruins playoffs pic.twitter.com/bjWXTMvVto

— Nicholas Prins (@nohouzecalls) May 4, 2017
Cross checking a defenseless player = hockey play. Trying to draw a penalty like every player does = embellishment. To be fair Capitals fans should be experts in embellishment having watched Ovechkin for 10 years. Your entire franchise should be embarrassed for embellishment. Also, I am so glad a player like Oshie would never do this in a playoff game… (Shoutout to @LoranMannistheMann for the reminder)
This bogus penalty on TJ Oshie severely hampered the Capitals comeback attempt. https://t.co/y5UrM7INmv

— CSN Capitals (@CSNCapitals) May 4, 2017
Okay so listen. 58 minutes of hockey was complete. The Capitals trailed for 50 of those minutes. If you want to blame a call that wiped out a 6-5 opportunity for this loss go ahead, that's what losers do anyways. Your team lost because they don't have what it takes. You want to write a click bait article then write the truth, THE WASHINGTON CAPITALS DON'T HAVE WHAT IT TAKES. It was a 6 on 5 with a pulled goalie, so essentially a powerplay, which your team was 0/4 on in the game. Please tell me how this thwarted a comeback attempt? Your comeback attempt was thwarted when you didn't cash in  prior to this penalty. Your comeback attempt was thwarted when your roster that is so "fap-worthy" on paper couldn't beat a team without Kris Letang and Sidney Crosby. Your comeback attempt was thwarted as soon as you had to have a comeback attempt. Stop trying to find any narrative you can. The refs aren't helping the Penguins, the Capitals just aren't better than the Penguins.
Choo! Choo! Cole train coming through. pic.twitter.com/y67MOlUAlv

— Pittsburgh Penguins (@penguins) May 4, 2017
https://youtu.be/4g545LhuEnI?t=4m55s
Don't stand on the tracks when the train's coming through, butthead.
GAME FUCKING OVER
---
THOUGHTS:
Huge coaching decision on the end of period powerplay by Sullivan. Instead of icing a powerplay unit he puts out Kuhnhackl-Bonino-Rust, which pays off as they have to play a lot of defense. Kuhnhackl with a huge block at one point. Just a heads up coaching decision, great stuff.
You need your goalie to steal you a game or two in the playoffs, the Flower did just that
The Penguins do not have practice today so I wouldn't waste your time looking for any injury updates
The series is 3-1 and it feels good, but it isn't over. The Penguins had to play their best game against Washington and they did, but they will have to do it one more time. I'm not saying they can't, just reminding everyone that it takes 4 wins to finish a series.
How fucking glorious will it be if that 4th win is in Washington on Friday? What a hockey team. Pens Boner Full Mast!
Let's be clear though:

Winning this game was not "justice."

Justice won't be served until we send the Caps to the golf course.

1 more W.

— The Steelers n'at (@thesteelersnat) May 4, 2017
TROOF. FINISH THEM