The Pittsburgh Penguins have arrived at a crucial juncture in their franchise's history.  Eleven months have passed since winning their fourth Stanley Cup, and the second in the career of Sidney Crosby, and the Penguins are one win away from returning to the Eastern Conference Finals at the expense of the Washington Capitals.  Winning an emotional Game 4 at home without Crosby, the Penguins showed that they can beat the League's (supposedly) best team without their own best player and captain.  It's encouraging enough an indicator that Penguins fans are hoping the team doesn't need Crosby to eliminate the Capitals and advance, so that Crosby can fully recover from the concussion he suffered in Game 3.
True to Crosby's competitive nature, however, he practiced yesterday with contact and there is no indication as of this writing that he won't play tonight.  Whatever we fans are wishing for, the fact remains that the decision for Crosby to play or not is not up to us.  With all the scrutiny the League has faced for its handling of concussions over the decades, the long and short of it all is that there are conditions under which any player recovering from a concussion must meet before being eligible to return to play, and whether those conditions are satisfying to anyone not involved with the NHL is more or less irrelevant.  Crosby will in all likelihood be cleared to play tonight, and we all must take it from there.  (Also likely returning from his concussion is Conor Sheary.)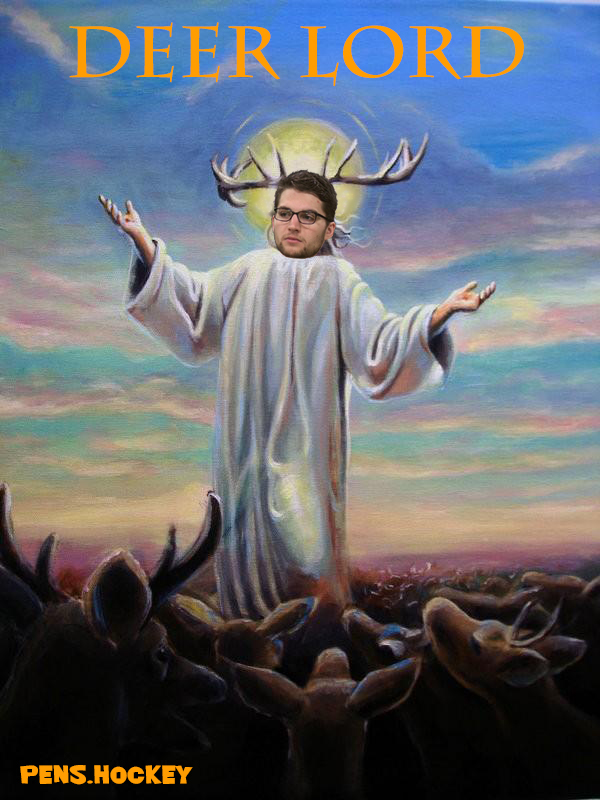 I think there's enough debate already on the NHL and its handling on concussions, just as there is for the NFL, and those are larger-picture conversations that should and do happen all the time.  Sidney Crosby is the face of the Pittsburgh Penguins and of the NHL.  He represents a major investment to both and I have no doubt in my mind that as much as the Penguins want him to be available for every game they play from now until when Sid retires, they must also wrestle with the fact that Sid has been concussed before and in ten, fifteen, twenty or more years those concussions may come back to haunt the player, the team, and the League.  His would be the highest-profile brain at risk and if the team can be successful while he recovers, then why put him in the lineup?
Oftentimes, however, the big picture gets pushed to the side and the little picture is the only thing considered.  Does Crosby's availability present the greatest chance for success for the Penguins? ("Does a wild bear crap in the woods?") If he's "available," every team would put him in the lineup, no further question.  Like it or not, Sid (and Conor) will play if given the green light, and chances are that neither of them will show any ill effects from their concussions, and play as much as they normally would.  We'll be scrutinizing every shift, every play, and how they perform.  None of that will really be any different from usual, will it?
For Washington, they must be near complete demoralization.  Their Vezina-nominated goaltender is being beaten by a backup for the second season in a row.  Alex Ovechkin was called out on CBC for his lack of effort in Game 4, and he was practicing on the third line yesterday.  Barry Trotz did not sound confident in denying that the Penguins are in the Capitals' heads.  T.J. Oshie, who scored 33 goals in 68 games and had a League-leading 23.1% shooting percentage this season, is goalless and a -3.  They even let Evgeni Malkin, not one to do great in the faceoff circle, lead the Penguins to a 55% faceoff winning percentage in Game 4. To know that you are giving everything you've got and to still be one game away from being eliminated by a team that isn't at 100%…the Penguins have been in their shoes in the past, and it has to be hard to cope.  If they lose to a Crosby-less Penguins team, it will be an extinction level event for their team, and heads will roll.  (Even if Crosby plays and Pittsburgh wins, I have to imagine Barry Trotz cannot survive this sequel of a failure).  They have only eleven players signed for next season; this was the year they needed to win the Cup, and they might not even get to the last four, #wrongfore.

Without Sidney Crosby, Conor Sheary, Kris Letang, and Matt Murray, the Penguins still have all the pieces they need to beat the Capitals.  How couldn't the Penguins be in Washington's heads?

The Capitals decided they wanted to make it into the media yesterday after news of Crosby practicing took over so they put Alex Ovechkin on the third line. Feed them the kool-aid and they'll drink it. Some said this was just Trotz playing mind-games… because being one game away from elimination and potentially being fired is exactly when you play mind-games. More realistically is that the Capitals are looking to go 11F/7D and will double-shift Ovechkin the most, which makes more sense than anything else you've read. They also flirted with an Orpik-Alzner pairing… that vibration you just felt was the HBK lines collective boners hitting the ground.
Following the game 4 loss the 96.1 Mikey and Big Bob Freak Show featured Capitals fans Facebook comments, and an overwhelming majority of the comments were begging the Capitals not to put up the "thank you fans" banner this year because they are so disgusted. Of course realizing that this is something that Capitals fans don't want I had no choice but to honor their wishes.
DO. IT.