OK, so you know how I said I'd stay up for one of these games in the West over the weekend? Yeah, about that… The good news is that if you missed it too, we can learn all about it together, right here! And won't that be fun?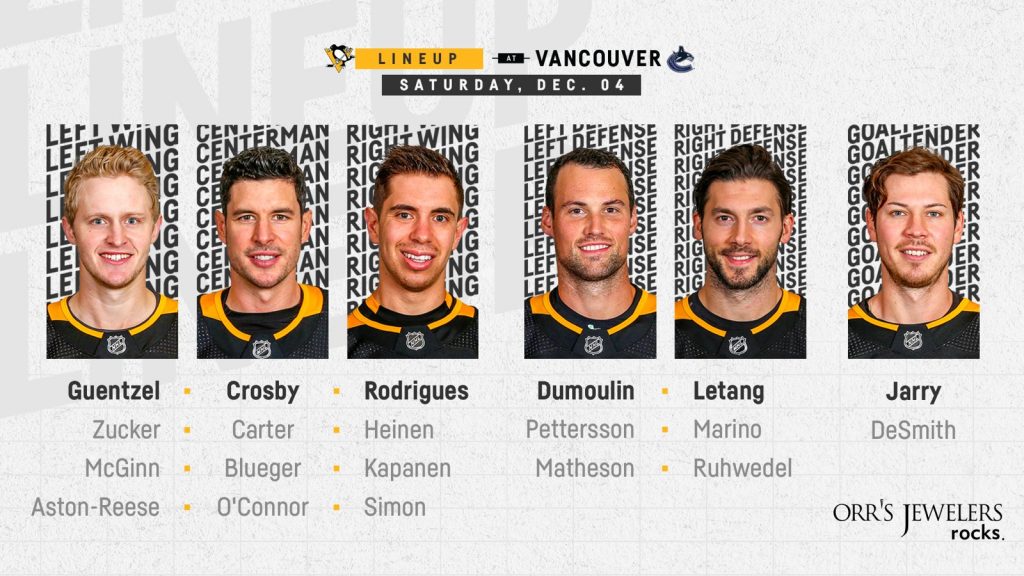 Some lineup shenanigans are afoot. Kapanen just wasn't getting it done with Carter. That's a guy that clearly needs a Geno. So until that happens, he has to try something else. I'm not thrilled about messing with the Blueger line, but perhaps the speed and skill Kappy has will work out. Also glad to see the Lafferty experiment is over for now. O'Connor deserves to be in there. Next man out is Simon, btw, fight me.

With 4 minutes left, the Nucks would take their first of what would end up being MANY penalties, but LeTang would trip a guy 23 seconds later. T.Hanks Le Tang.
Nothing else of note and the period would end.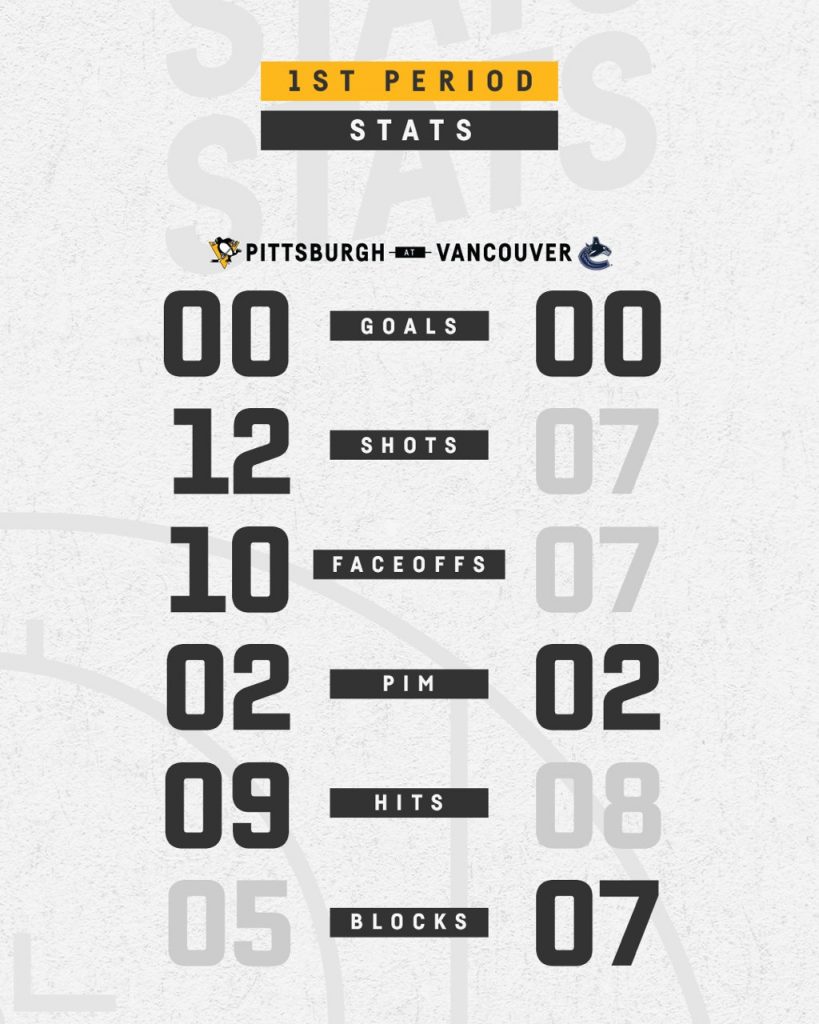 Point streaks are fun. Especially when it's Jake because he's so smiley.
Guentzel (11) from Dumoulin (3), Letang (13) – 2:19 – EV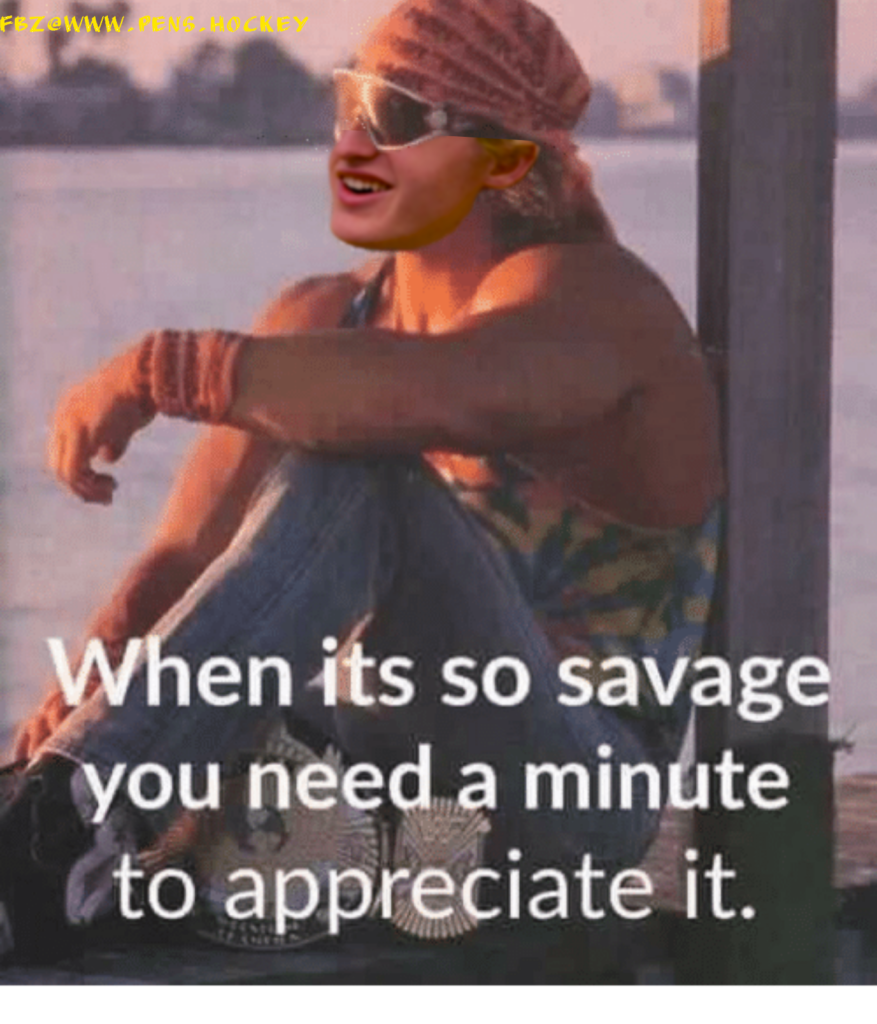 Jakey on the spot for the carom and nothing Fatcher could do about it. Love to see the movement and the entire unit getting involved. Faptastic stuff.
A couple minutes later, Peeettterrrssson decided he'd had enough of J.T. Miller's BS and cross-checked him but sadly the officials were watching. That's a no-no, go sit, dipshit.
The PK did a reasonable job, but the echoes from Fatcher whackin' his stick to signal the end of the PP were still ringing out when a shot from the point did some wacky stuff and jumped up and over Jarry and into the net. All tied up.
They'd stay all tied up for a good while, with only a couple of interruptions by Miller taking two tripping calls in a row. Either the PP was crap or their PK was good because, once again, no highlights.
At the 16 minute mark, it was shenanigans. First Michael Myers would mistake the puck for his favorite knife and try to pick it up. Not technically a legal thing to do. 30 seconds into the PK Tyler MotteVerySmart would cross check LeTang, and suddenly the Nucks were down two skaters. BUT WAIT THERE'S MORE! 20 seconds after THAT, Tucker NotCoolMan would fling the puck over the glass like a dumbass.
With a lengthy 5 on 3, you have to know the Pens would figure out a way to get it done. And maybe not now they drew it up, but when you're on a hot streak, good things happen.
Guentzel (12) from Crosby (7), Carter (7) – 17:13 – PPG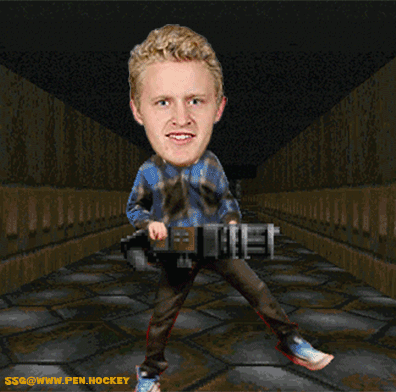 Guentzel over here playing the part of left-handed Ovie, unleashing the howitzer.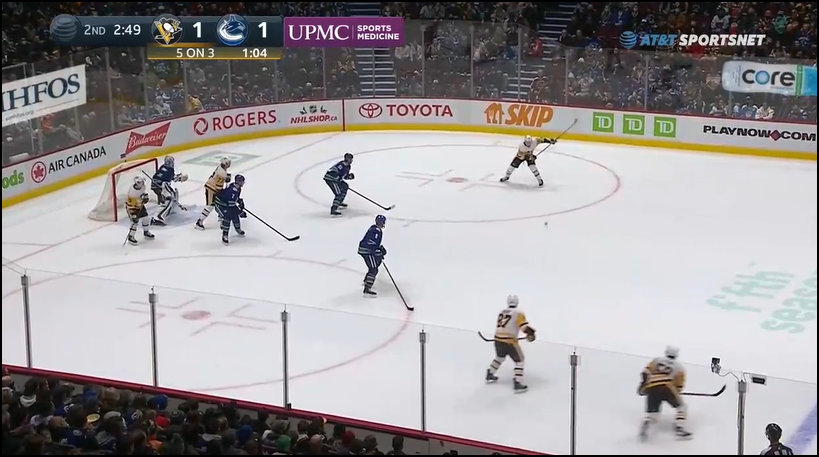 Like I said, not the typical 5-3 play but it's in the net so I won't quibble.
Oh yeah, there were 3 dudes in the box when that went in, so it was still a 5 on 3. Again, again!
Guentzel (13) from Crosby (8), Letang (14) – 18:23 – PPG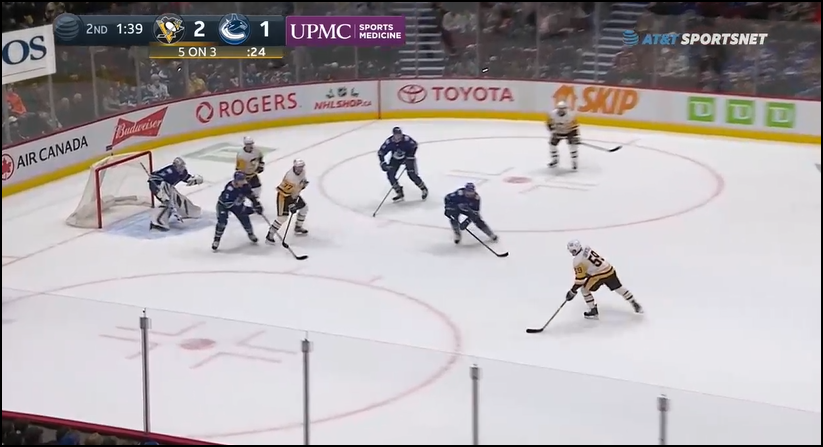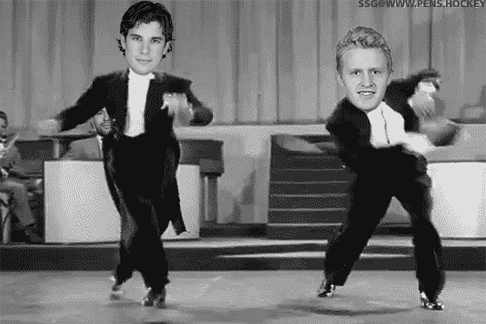 I put the screen cap in because the twitter highlight of the goal got lumped into the next link. But it's long and covers all three. SOOOO long. The point is, Jake can score from anywhere (doesn't that look kind of like a mirror image of the last one?) and oh yeah, Hat Trick. Drinks all around! And hats too! Oh, and some dude chucked a Nucks jersey. Yikes.
Sadly, no more goals the rest of the powerplay and the Pens would head to the locker room after 40: Jake 3, Vancouver 1

The Nucks were defeated and the Pens were flying high. They didn't exactly mash the pedal to the floor but they did just keep going. Demko was actually pretty good in this game, but he Pens just took advantage of their opportunities. Like this one, about half-way through:
Crosby (3) from Letang (15), Guentzel (11) – 11:15 – EV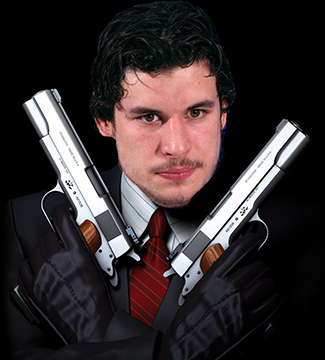 Typical Sid – out work your man and beat him to the net. Brilliant feed from Letang as well.
At that point, it was all over but the crying. Jake tried for a 4th a couple times but it really didn't matter.
GAME, BITH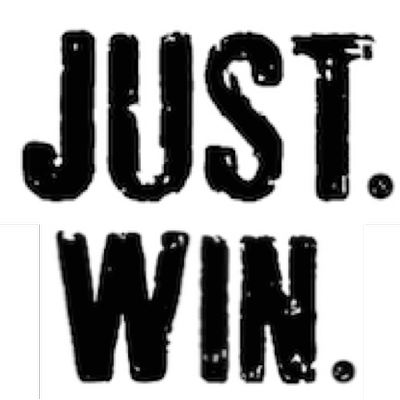 Thoughts:
Apparently the Kapanen experiment needs another day – it was Top Line Night
Sure it was 5 on 3 goals, but nice to see the powerplay convert
Vancouver blows, but you play who you play. Good to see the boys step up.
Ice time on the blueline was spread better. This is a Good Thing.
Jarry just may get the call from Team Canada and that is not a ridiculous statement. Wild.