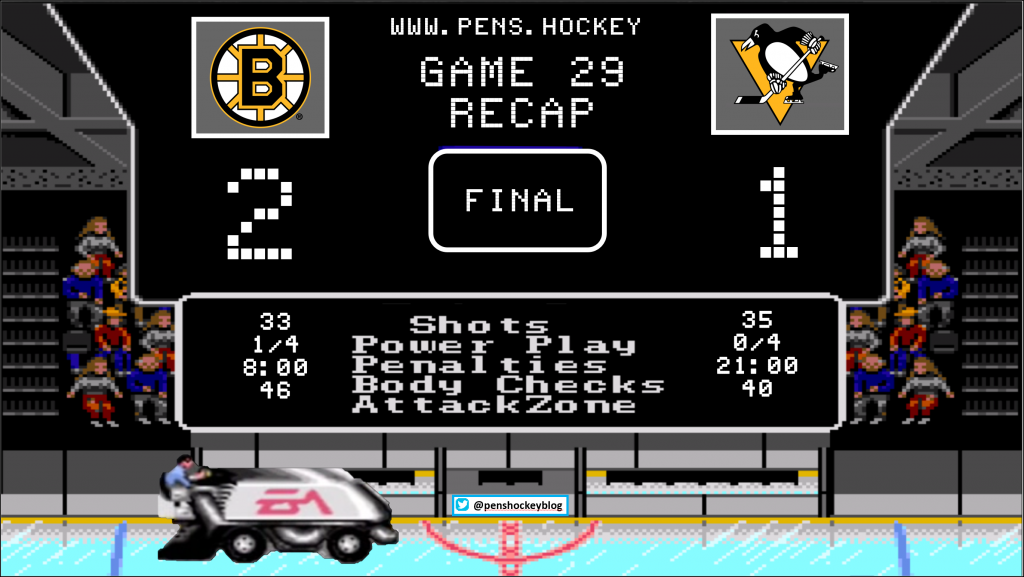 There's no time for pleasantries, so let's just go ahead and get down to business…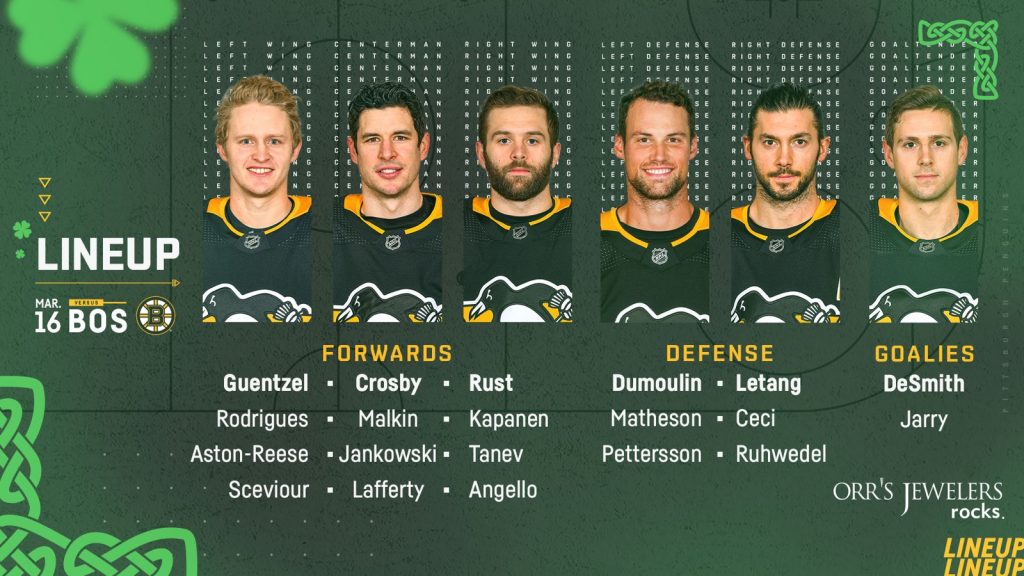 We barely had time to hear that for some reason Our Boy Blue would be out of the lineup (and apparently 'longer term' with an upper body, it was revealed by Sully after the game) when PastyHack decided to board Snek. Time to whip out the PP!
You'd think that, even though the Boys in Gold were tired, they'd manage to take advantage of being as 'fresh' as possible, with fresh ice to boot. How does one shot on goal sound, then? And by none other than Big Ant'ny?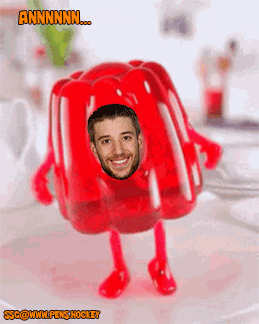 Darth Vladar was up to the challenge, though, and then Geno would begin The Tinordi Show by getting rung up for a holding call. Oh, it wasn't a hold, or even an interference, really, but WTF do I know, I'm not a trained NHL referee. Shit, I can't even skate.
Anyway, that created 4 on 4 for a while with a brief PP for the Broons at the end and I've seen that fish before…
I'm sure Dumo was flat footed for a reason. The reason was that he was doing the wrong thing and moving too far out of his proper position. Dumo is good but he isn't perfect. Same for DeSmith. Pasty boy gets those Dunkin' commercials for a reason.
Anyway, that put the Penguins in exactly the situation they apparently seem to like the most.
Right around the 13 minute mark, we would get the second installment of The Tinordi Show when he pasted Geno behind the net not once but twice, and both were apparently clean (again, not a ref). Geno didn't escape unscathed, though, and would head to the locker room. He would come back out for one quick shift, apparently testing it out, but head right back down. Neat.
Lots of action. Lots of shots. Lots of blocks. Lots of hits. No scoring. But this happened:
With 6:47 left Pasty boy would trip Dumo and the ensuing powerplay would, indeed, suck a big wet donkey dong.
Despite the loss of momentum on the PP, the Pens kept pushing. And eventually they pushed hard enough.
Tanev (7) from Rodrigues (3), Kapanen (13) – 15:22 – EV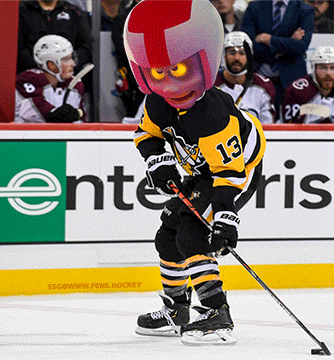 Great awareness all around. And yes, that was the line, Tanev and Kapanen on the wings with eRod at center. Good lord. But they made it work, so I'll just move along.
Just like we would move along to the first horn with no further incidents.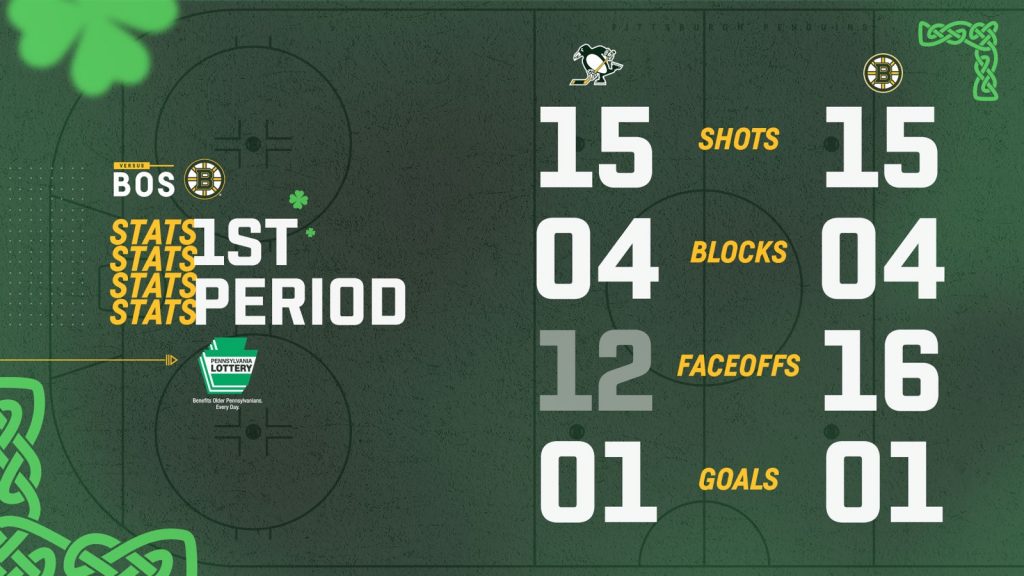 OK, so I was busy. So were both teams. Bergeron would open the 2nd like Pasty opened the first, molesting Jake Guentzel. This time with a check to the head. Nice.
The PP was garbage, but only for a minute when they managed to put too many men on the ice to end it. Because why not try something new? PK stood tall.
Speaking of trying something new, No Chin Pete was tired of new things and figured he'd keep on taking penalties, this time holding Frederic who you may be familiar with as the guy Ovie 'cup checked' the other day…
Anyway, Pens back to the PK. Thankfully, the PK was still kicking ass and saved the day.
With just over 7 minutes remaining, we were greeted with the 3rd and final installment of The Tinordi Show, courtesy of Turbo. And let me tell you, hockey twitter had Opinions.
Yup, looked bad, and you really hope Tinordi is OK. But boarding? A major? A GAME MISCONDUCT???
Look, hockey happens fast, but check out where they were relative to the boards when contact is made: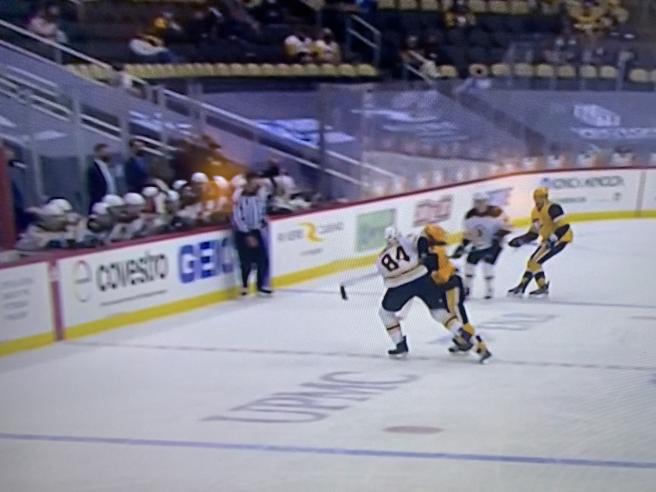 That's not close to the boards. You want to penalize for charging (because Turbo was in Full Turbo Mode and had quite the head of steam) I get it. But a major and a game seems… excessive. Again… I am not a ref.
So now the Pens are without Geno Machino AND Turbo Tanev for the next 33 minutes. Oh, and they had a 5 minute major to kill. Super.
Without going into details, because I can't, the PK was again up to the challenge. There's something about stepping up as a PK unit when you know your team got hosed that is so great to see. Any momentum that Boston could have gained from having a 5 minute powerplay was squashed and even stolen. Just a great gutsy effort from the boys.
They'd use that momentum to keep Boston off the board the rest of the way.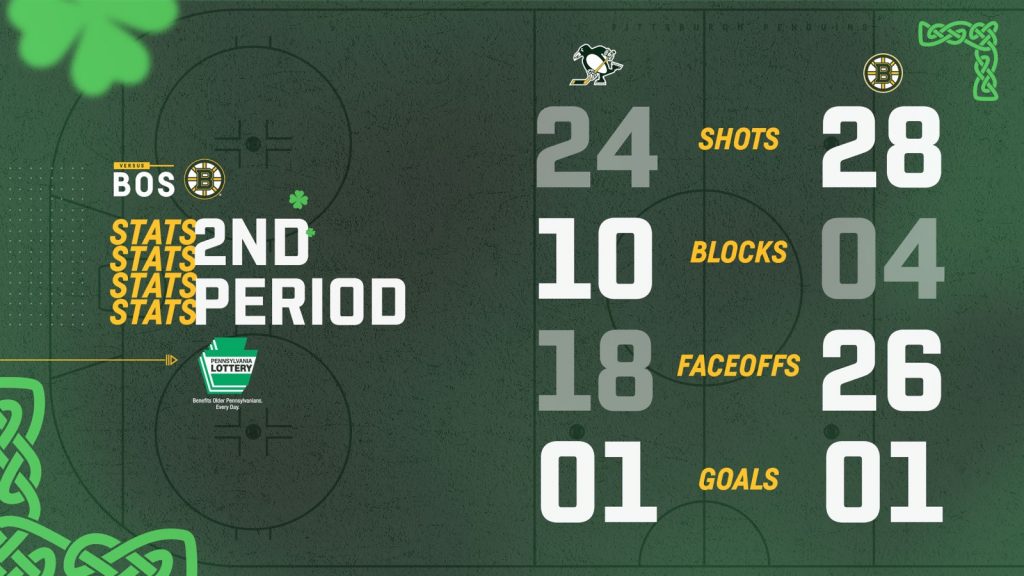 Still no Geno and down one Turbo and it was true line blender time. I can't even keep track of how many different forward units were out there but if you take 7 guys and divide them by 3 you get… well like 2 and then carry the 1 but you can't have a part of a dude on a line so can you really carry the one? Let's just say lots. And I only broke down the 7 guys because Sully wisely left Sid's line untouched.
Is it sub-optimal to have ERod as your 2nd line center? Or Jankowski? or Lafferty? Yes. Yes those all suck donkey balls. But that's what the Pens had to work with, so work they did. For 7 solid minutes. Until Letang thought it would be smart to stand in front of his goalie with another dude behind him.
Just… dammit, Kris. Not all your fault, sure, but LOOK AROUND you twit.
The suckiest part about that goal was that you could just feel that it was a difference maker. The Pens were down two skaters on the tail-end of a back-to-back of their 3rd game in 4 days, knowing they have 3 more over the next 5 days. They didn't deflate, by any means. They kept pushing. But there was only so much they could do. Putting one more puck past Darth Vladar wasn't one of those things.
Game.
Thoughts:
A Malkin injury right now really sucks. He's playing great and the boys need him.
No Malkin, McCann, Blueger. Remember how deep the Penguins always are at center? Yeah… not so much.
Refs need to at least explain themselves after games. No reason why they can't have a few questions after each game. NHL needs to fix that.
Gutsy effort. Sully was very complementary of his team's effort, as well he should have been. No shame in that one.
See yinz on Thursday in Jersey!