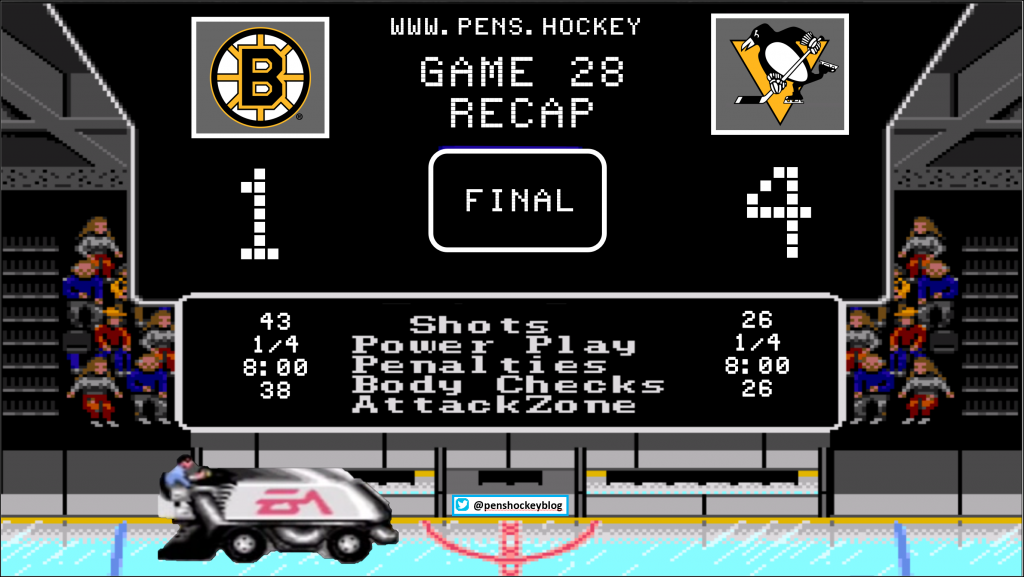 It's been a little while, so let's check in with everybody's favorite Penguins historian, Bob Grove.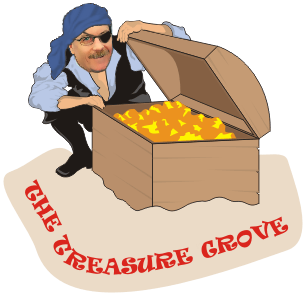 A jinx or a prediction?
So many faptastic streaks going on right now I'm not sure which is fappiest.
OK Bob, now you're pushing it with the jinx possibilities!

OK, look. You've been busy. I've been busy. The Penguins have been busy (and are about to get busier), so let's all agree that we're just doing the best we can, agreed? If the game is on downstairs and I can hear it while I'm working, that pretty much counts, right? Right!
I can't tell you if they were fired out of a cannon, but I can tell you the Bruins were firing everything they could at Jarry. Jarry didn't care, that just meant he got to stop more pucks which is apparently fun for him.
It wasn't until Rust slashed Ratty McRatface just over 6 minutes in that the shots really got dangerous, mostly because when there's one extra dude on the other team he generally stands in front of the goalie and shit like this can happen.
There goes the shutout. And once again, the Pens would be playing from behind. Thankfully, the Penguins are not new to this concept and wouldn't be rattled at all.
Not being rattled is different from not giving up lots of shots, because those didn't stop. It got silly, actually. Someone should tell them to stop letting the other dudes shoot so much. As a matter of fact, let me fire off an email real quick…
Regardless, Jarry was up to the task and enjoying the feel of all that rubber. SO MUCH RUBBER.
I suppose one good thing about taking a lot of shots is you tire out faster. Rope a dope still or sumpin.
During one such slow skating play, Geno would machino the puck to Kappy who would gain the zone and find the Rod on the wall. Nobody was very impressed with this particular Rod so he chucked one at the net to get HHHHHCCCCTHalak's opinion on the matter.
Rodrigues (2) from Kapanen (12), Malkin (16) – 16:51 – EV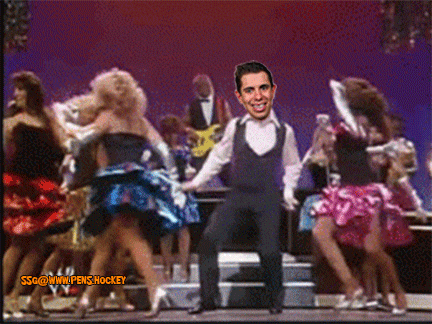 Nice job by Geno and Kapanen to get into the zone and good work by eRod demonstrating that there's no such thing as a bad shot on net. Halak wants that one back which is fine – he can have it, it's right there behind him, I mean what's the big deal just take it you whiny douche!
Not even two minutes later Sid showed everyone that it was actually his idea to shoot from anywhere.
Crosby (11) from Guentzel (15), Dumoulin (4) – 18:34 – EV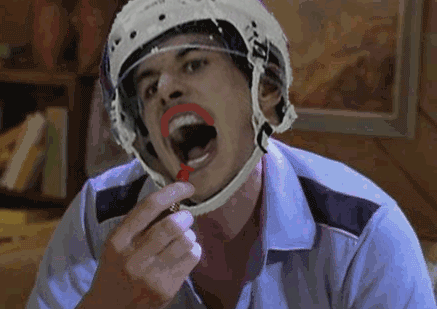 OK, so let's start with the pass from Dumo. Did yinz know the Pens are now 10-2-1 with Dumo in the lineup? That is not an accident. That look at that pass were things of beauty. He's not an 'offensive' defenseman, but Dumo knows WTF is going on and makes those kinds of passes all the time. Sid makes those kinds of plays all the time, so his pass to Jake, and subsequent maneuver to the wing after 'opening up' the hips (so open) to put himself into a great shooting position were nothing new. The shot… well. It's Sid. You try to tell me he didn't put it precisely where he was aiming, I dare you.
The last 90 seconds would pass without further incident and suddenly a shooting gallery from a hungry Boston team looking to push the Pens into a corner had turned into a 2-1 lead from the good guys.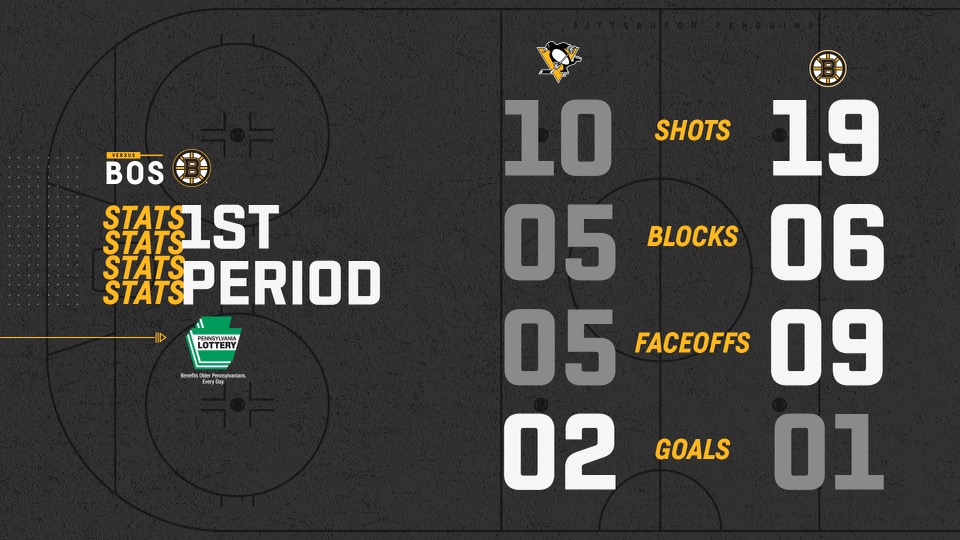 The second period, which I also only listened to, sounded boring. PastyHack took an early penalty, but the PP was mostly limp, mustering up a single shot on 3 attempts.
This was followed by some other highlight-UNworthy crap for the next seven minutes, including yet another puck over the glass from No Chin Pete. Remember when I told you he only had one minor all season, before that weird three penalty game? Yeah, not so much any more. Thankfully the PK was there to bail him out.
The PK allowed the Geno line to rest up a bit, and eRod and Machino would hit the ice with purpose. That purpose was for eRod to get tripped up and sit back dahn so the Big Boys could try out the PP one more time. This time… it was stiff.
Malkin (8) from Crosby (17), Letang (15) – 11:40 – PPG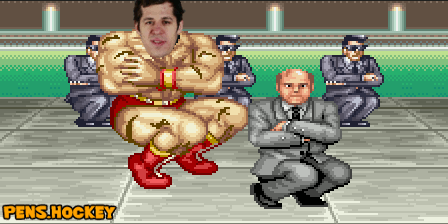 That pretty quick release is what got Halak. And that's the thing about Geno – he can score in literally all of the ways. Big winding slapper. One-timer from the circle. After five moves on a breakaway. Picking his corner. Shoveling in front. Or a simple, deceptively quick flick of the wrist. Malkin can do it in all of the ways.
With that goal, the Magnificent Magnitogorskian recorded his 1,100 point in the NHL. He becomes the 5th active player to reach that mark, but he does it in fewer games than any of them not wearing a Penguins sweater. In fact, he does it the 18th fastest ever in the history of the league.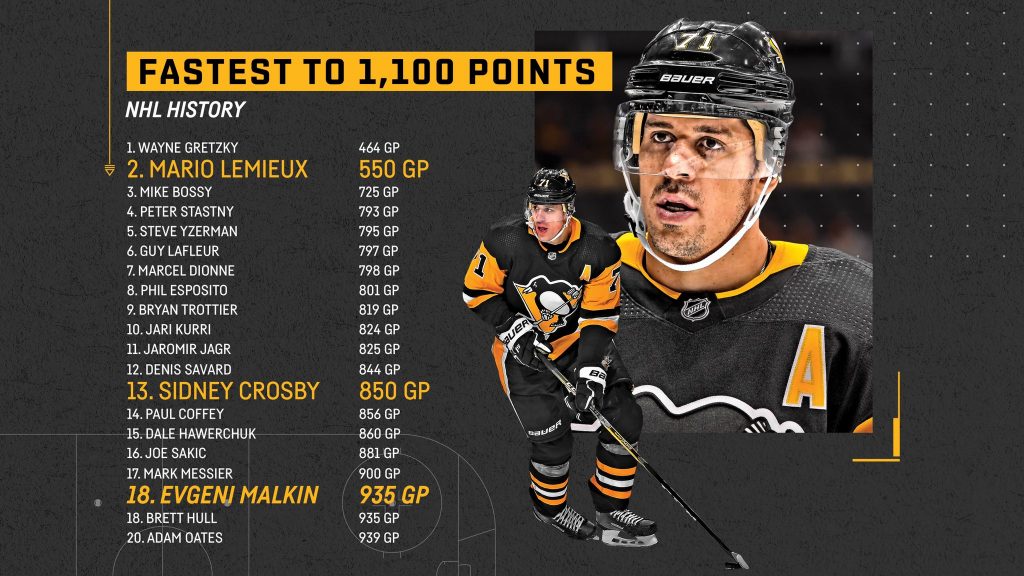 To put that list above into even better perspective every one of those dudes started their careers before the butterfly goalie became a thing (again, except the other current active Penguin). The others actives include Thornton, Marleau and Ovechkin. Those Sharks are old af and Ovie, love him or hate him, is an all-time great.
To anyone who ever comes to this page and reads this blog, know this: If you suggest, ever, in my presence that the Penguins should trade Geno or would be better off without him, I'ma virtually kick you in your virtual nards. Or virtually titty punch you in your virtual fun bags. Sid may get more accolades, but this guy has been with him every step of the way and deserves nothing but our unending respect.
The rest of the second period occurred. I don't care, but the Penguins did and maintained their 3-1 lead into the break.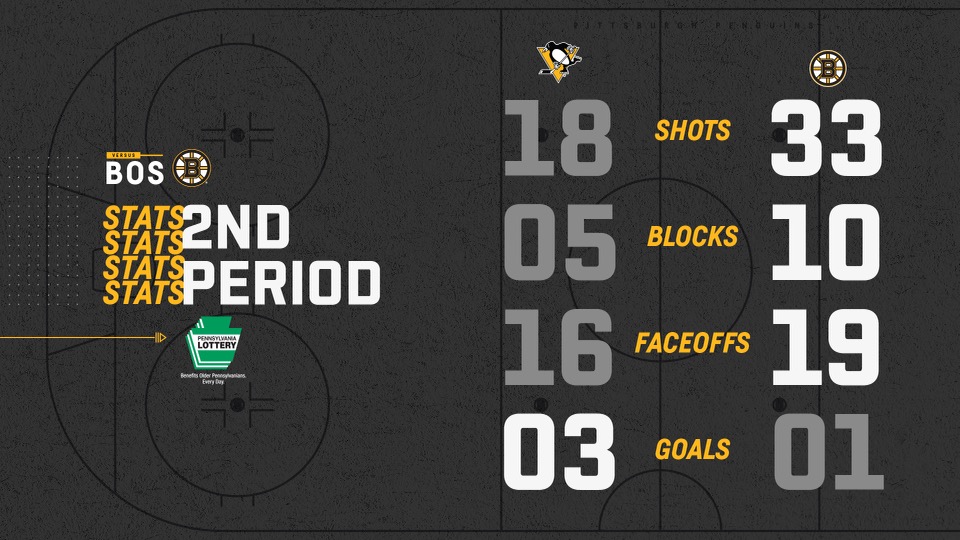 More Broons shots. More Jarry leather and rubber-lovin'.
How great is it that Jarry has decided that he's the starter? It was his job to win, and his backup is playing pretty great, but Jarry is still determined to win the job. Lately, he's been determined to prove, every time out there, that he belongs as the starting goalie of the five-time Stanley Cup Champion Pittsburgh Penguins. That's not something given to someone – it must be earned. Jarry is earning it, every night.
I'm talking a lot about Jarry even though I actually did watch this entire period. He was the guy. His boys played well in front of him, shots aside, but Jarry was there every time he needed to be. Ultimately, he was there 42 times out of 43, and that one was way back up dere (don't bother scrolling, you've come too far by now and we still have a GD game day ahead) and he couldn't even see it. Translation: if Jarry sees it, he saves it. That's pretty damn nifty.
The other nifty thing is how well the Pens have learned to play with the lead. These are the same damn Broons who are a 'terrible matchup' most of the time, but the Pens didn't seem to care. They just out worked them. SPRINTING back for back checks, skating the extra few feet and taking a hit to make a play. Winning board battles. Out WANTING IT. It was fun to watch, even if not a lot happened on the scoresheet.
Speaking of scoresheet, Snek had some streaking to continue…
Guentzel (11) from Rust (11), Crosby (18) – 19:44 – ENG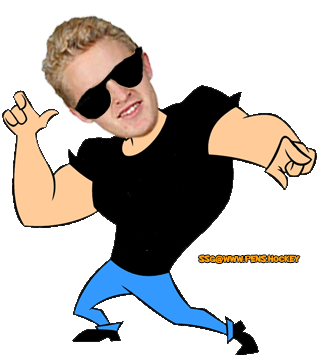 A super easy ENG was a fitting end to a dominating night. Game.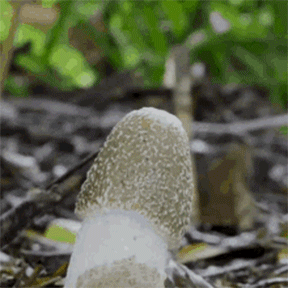 Gameday 29: Keep it Rollin'!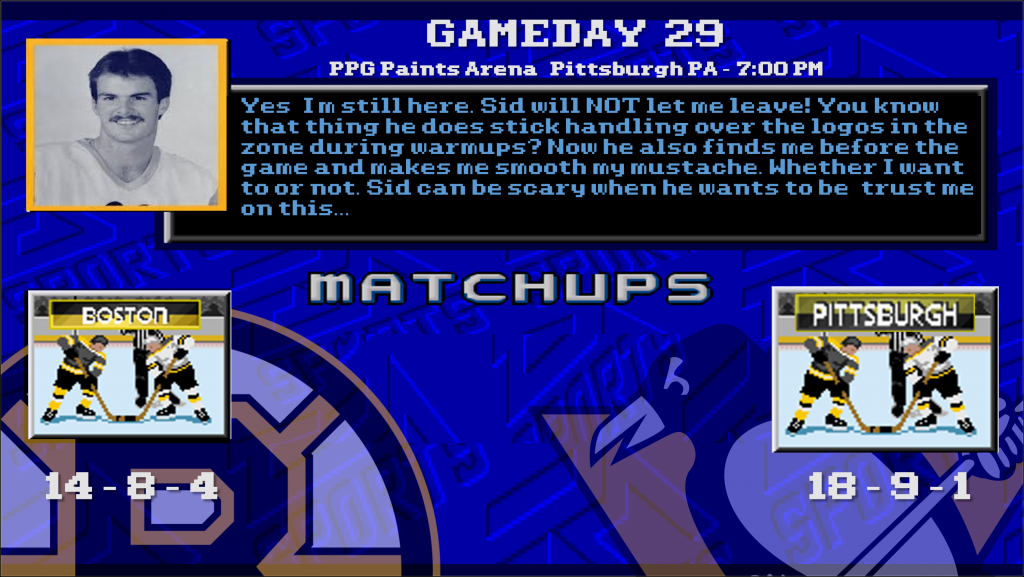 Game two in a stretch of five games in six and a half days will at least start with the Penguins riding high. Winners of 6 straight and 8 of 10, the familiar March Of The Penguins is in high gear.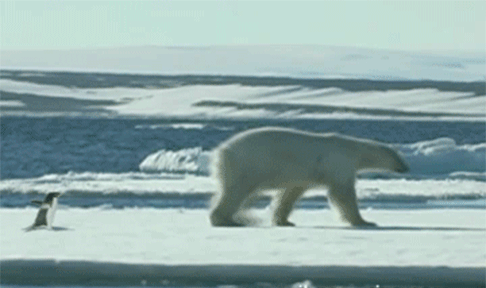 Having proven to themselves that the mighty bears of Boston are not unbeatable, the Penguins will look to continue their streak tonight.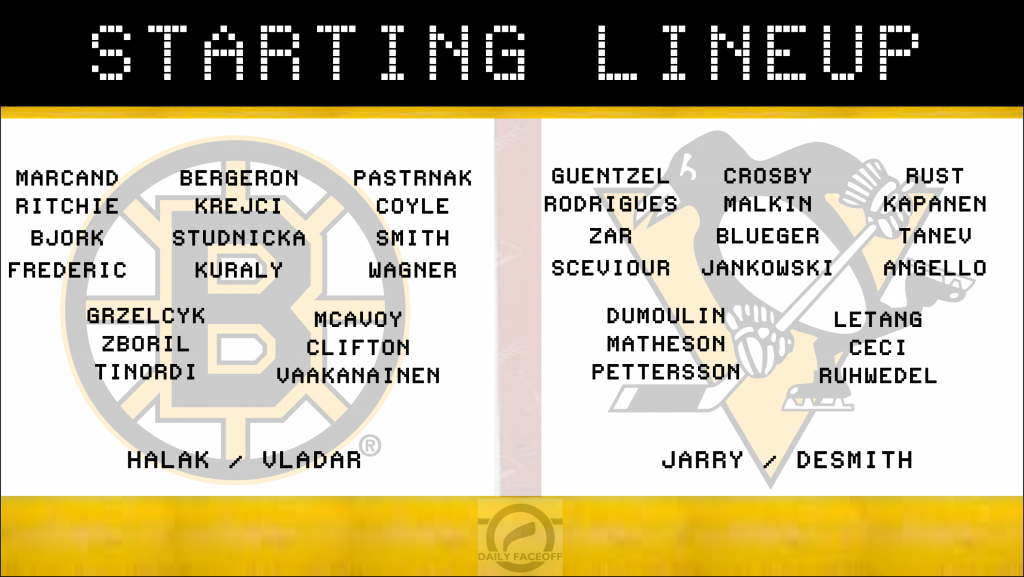 Both teams seem likely to ice the same lineup, albeit with backup goalies in net. DeSmith vs. Vladar? If it was Vadar, I'd be worried. But this guy has a superfluous L. How can anyone expect to win with a superfluous L???
Let us do the thing, my breathern. Let us vanquish thine enemy. Let us slayeth the bear.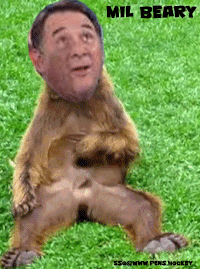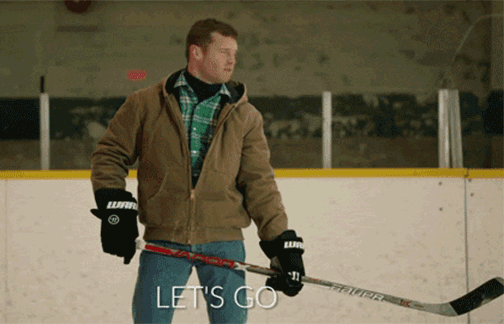 Loading ...

Loading ...