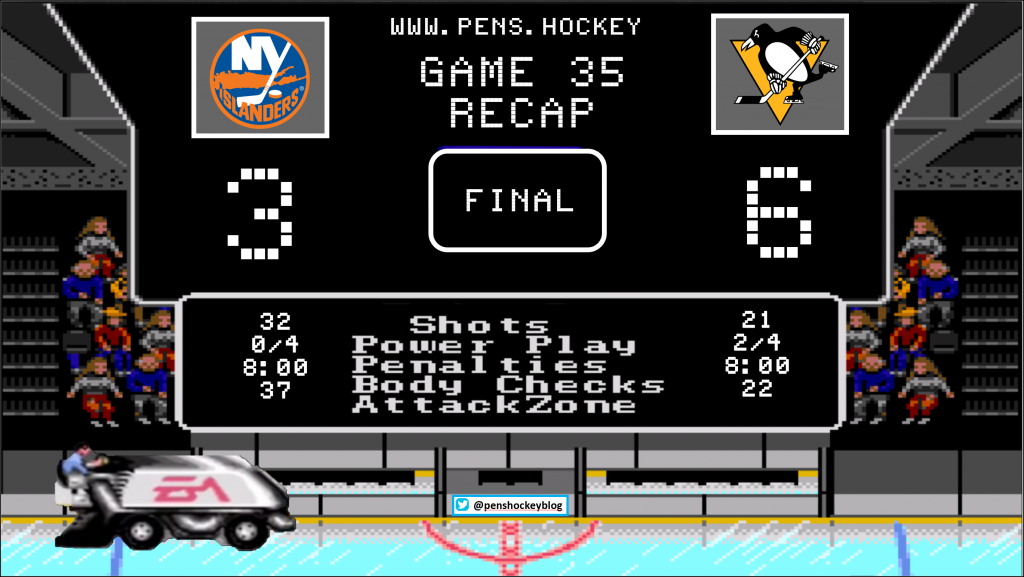 Hello Ladies and Germs!!  Ung has been doing yeoman's work for our benefit all season long, so we gave him the night off…..so he could work.  Wait, wuhhh?…  Well, anyway after playing a very enjoyable round of golf in the afternoon at Firestone Farms and taking a very nice early evening walk on the Montour Trail with Mrs. Z, I decided to catch the game Quentin Tarantino/Pulp Fiction style by starting in the middle, watching to the end then circling back to the beginning.  (Spoiler alert:  by 10 minutes into the 2nd, Sorokin probably felt like Zed and the boys did after Butch freed Marcellus. )
At any rate, coming into the game, the Pens well publicized issues with the Injury Murder Hornet (let's face it, this shit is well beyond a "bug" at this point) had us gearing up to play the #1 team in the conference with a healthy top 6D, Sid's line, then whatever combo Sully could come up with by writing names on Yahtzee dice and shaking that cup like it was the moment he found out Sheary deflowered his niece.  Life's a bitch.  Let's play hockey. 

The first couple of minutes pretty much resembled that initial minute or two of a UFC fight where the fighters just rock back and forth doing that churning butter thing period  with their hands.  The Pens had a slight advantage in O Zone possession but no blood was entering the nether regions.  At 3:17 the Islanders' Walstrom was trying to get to a rebound right in front of Jarry but bowled him over instead.  The PP was pretty much 2 minutes of the Pens not getting a good zone entry or really ever getting set up to run the PP.  It certainly did not portend what was to come later in the game.  Queue the of-late slightly better of LOLerty a minute or so after the end of the PP.  He generated some good speed up the left side of the ice and Freddy G came along for an impromptu 2 on 1.  Lafferty did a good job of drawing the defender to him and putting a good pass on Gadreau's stick, and at 5:48 he made no mistake.
Gaudreau (1) from Lafferty (4), Sceviour (2) – 5:48 – EV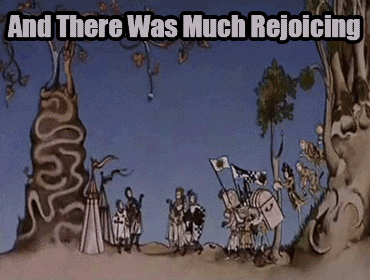 Gadreau had pretty much been the equivalent of a Cleveland Indians Spring Training invitee in Major League until about 10 days ago, but he's growing on us quickly.  1-0 Pens.
On we go.  The next couple of minutes saw JG Pageau then Mathew Barzal making similar moves to bust in the zone with terrific speed and get angles inside the D for quality scoring chances, but Jarry wasn't impressed.  Earlier this year at least one of those turns out badly, but TJ has really turned it around.  This seemed to wake the Pens forwards up and after an excellent shift by Sid, Jake, and Rust, McCann stepped on the ice and started eating lightning and crapping thunder.  He drove his way into the zone and fed it over to ERod the Ugly who let go a wicked wrista with some traffic in front. 
Rodrigues (4) from McCann (7), Ceci (5) – 10:07 – EV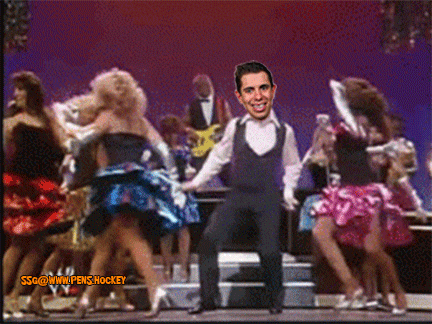 Zip, Zap, Bob's yer Uncle, 2-0 Pens.  It's only due to the injury situation that Erod now belongs on the 2nd line, and he did make a great shot, but the newly invigorated McCann absolutely made that play.  He pretty much had all 5 Islanders on their heels with his speed and Rodriguez was there to finish it off. 
The Islanders spent the next couple minutes trying to establish themselves physically, but the Pens were undeterred and played through it.  They did get a little lucky  with a missed tripping call on Rust, but in their best T Peeler style the refs made up for it at 15:23 by calling TJ for high-sticking a guy on a follow through from a clearing attempt.  The PK unit did a good job keeping the Isles from even getting set up for a good while and didn't let up and particularly good chances overall.  Killed. 
After another couple minutes of some high velocity, albeit a bit choppy, back and forth Lafferty failed on a clearing attempt and subsequently tapped Wahlstrom on the thigh, who promptly Greg Louganis'd, and back on the PK they would go for the last minute of the period.  NBD.  On to the 2nd.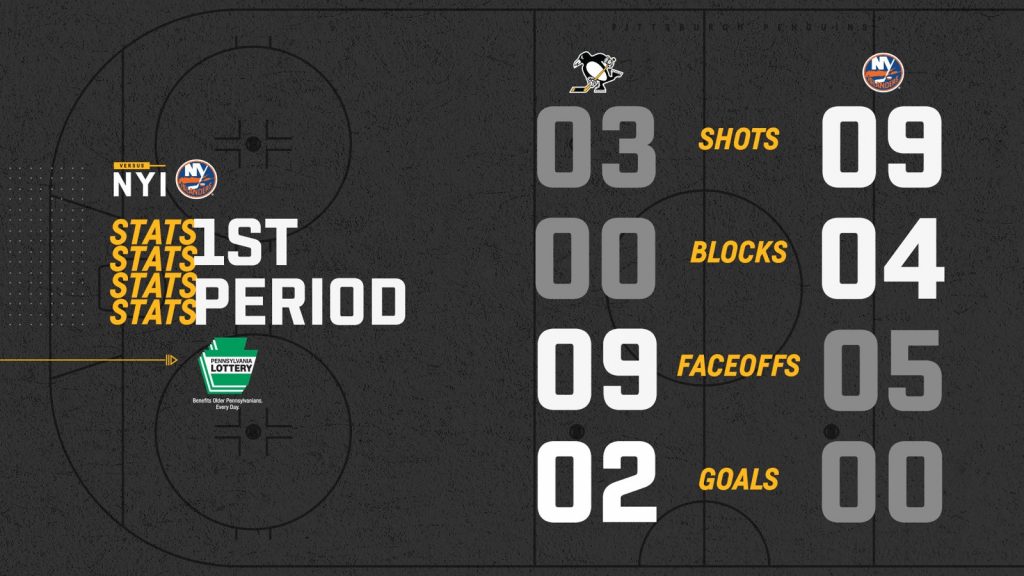 (Quickly looks at the stats, does  best Bob Uecker "That's all we got, 3 GODDAMN shots?" Hears we scored on two of them, takes a sip of Jack and shuts TF up)

So here we go in the 2nd, with the Pens being on the happy end of a bit of a stats anomaly.  Never a bad thing to have a 66% shooting percentage, but let's not get mentally irregular here.  Carryover PK saw the Isles generate a couple quality chances but TJ and the post were there to take care of business.  The ensuing pace of play was pretty high, but not exactly pond hockey.  Then at 4:09, Nick Leddy took a slashing penalty that despite me rewinding 4 or 5 times I never saw.  File that one in the shrug it off and don't friggin' blink, because 17 seconds after a clean face off win and some Goncharesque backward skating by Letang to, gulp, find an open lane to shoot, the puck ended up sitting on the ice in front of Sorokin.  After a sneaky smart little sweep of the skate by Jek, along comes the Captain to backhand a seeing eye shot between the knees of the defender who had at least been alert enough to cover the post behind his down and out goalie, but then forgot the rules of being a lady.
Crosby (14) from Guentzel (19), Letang (20) – 4:26 – PPG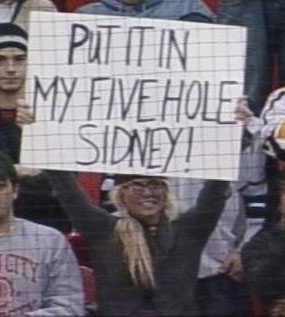 3-0 has been a bit of a sticky wicket for this team on occasion due to the old forgettin' where the gas pedal is phenomenon, but in the immortal words of Herb Brooks "Not t'night".  The Islanders looked a little rattled and the Pens kept the pressure on.  Literally almost a minute later, Mayfield gets his money's worth putting the wood to Lafferty's kidneys by the boards and at 5:30 the PP came out for another shot at putting the biscuit in the basket.  This time it took the f****ng slackers 48 seconds to knock it in after a gloriously classic tic tac toe McCann to Sidney to Rusty.
Rust (12) from Crosby (25), McCann (8) – 6:18 – PPG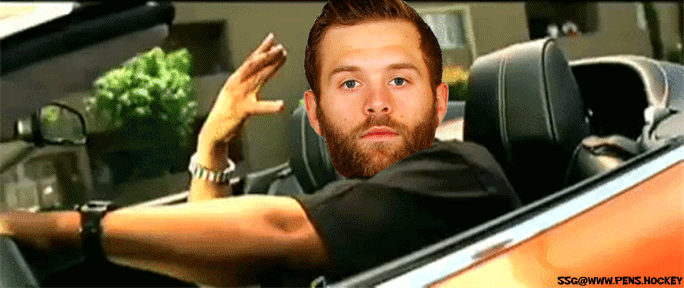 4 zip, and that was all  the medievalness Sorokin's ass could handle.  Queue Varlomov for his turn in the barrel.  Sullly's crew STILL weren't satisfied though, and there was clearly about a 15 degree tilt to the Islander's end.  They did at least allow Varly a few minutes to work up a sweat before they dipped their balls in his mouth and at 8:21, there was Rust out front cleaning up what Letang left for him after another stinging shot from the blue line.
Rust (13) from Letang (21), Guentzel (20) – 8:21 – EV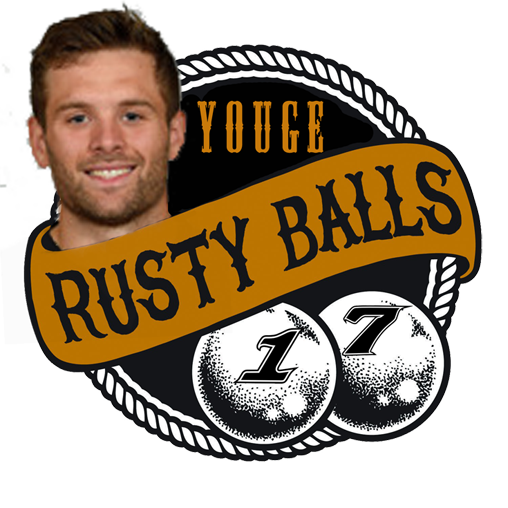 5-0 Goooood Bois.  
This would spark a sign of life however from NYI, and they picked up their intensity.  At 10:47 after a wide shot from Jek, Barzal got his skates moving like a sonofabith, caught Letang a little flatfooted and taking a bad angle, as he occasionally does, and busted in uncontested on Jarry.  With the speed he carried and as gifted a scorer as he is, Barzal had little trouble lifting one past Jarry and the Islanders were on the board. 
This seemed to settle the game down a little bit and though both teams skated well, the Pens enjoyed the better end of the possession battle.  Let's all have a drink.  5-1 and we'll see yinz in da turd.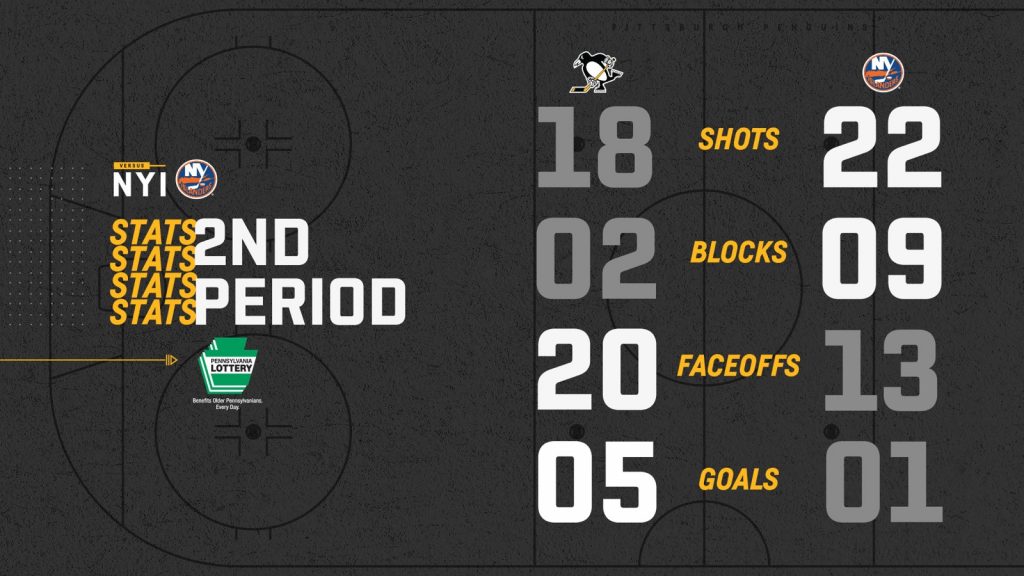 As the 3rd period started, I will fully admit that my primary thought was: don't take your foot all the way off the gas, maybe just notch it back to 5 over the limit, ya know? I figured it would be good to really focus on some of what Sully preaches about playing responsibly, and to some degree, not giving them any inspiration to go full dickhead if it started getting out of hand. Trevor Gillies may not have been on the bench but I could tell Trotz was looking around to see if he had anyone with some unconvicted felonies in his background after that 5th goal. This will pretty much be presented as a lightning round because it's getting late and my 3rd drink is doing what it's paid to do.
The Pens seemed to have heard me and were doing a good job not sitting back.  The newly formed tree trunk line of Angello, Big Z and O'Connor (the runt of the litter at 6'3"…) were getting some quality time.  Just shy of the 5 minute mark there was some excitement as Sid busted into the zone and very nearly did one of his Sid things juggling the puck. Didn't quite happen, but after he got knocked down he did a nifty little bit of stick handling while shoveling the snow off the ice with his heiny.  On we go.
Shortly after that little display, Barzal was showing off his speed again and pantsed Pettersson as he cut in for a shot, which TJ stopped but Beauvillier was there all alone to slap home an easy rebound.
I would note here that the Pens forwards appear to have made a quick run to get nachos before the stands closed for the night because if Beavis hadn't knocked it in, Eberle was right behind him, similarly untouched.  Okay.  Fecal matter occurs.  Wipe yourselves and let's finish the job.
The next 10 minutes was what you might expect and/or hope for.  The Isles were pushing the pace as best they could, and though they came up with a couple decent chances, TJ was equal to the task and the Pens were pretty successfully executing a hockey version of the 4 Corners.  Excellent forechecking when they could and equally effective back-checking; led by the Captain setting examples of how that gets done.  Freddy G took a slashing penalty with just over 6 minutes to go, but the PK had been pretty stout all night and had no interest in putting a dent in their perfect record to that point.
With just over 4 minutes left, Wahlstrom continued his stellar night by taking a careless high-sticking penalty.  Sully wisely sent out a 1st PP with Marino as a 2nd defensemen.  I would have thought this to be the perfect time to go into pass and pass and pass and pass mode, but they actually took advantage of the Isles being over-agressive to create a couple pretty good chances, including Sid just missing knocking it in a wide open net (puck was bouncing – he couldn't get it cleanly.)  The PP ended up being short-lived however when Rust took an elbowing call to make it 4 on 4.
The Isles pulled Varlamov to give it the appearance of them having a power play and with 2:27 to go, Eberle sniped a one-timer to make things suddenly a little interesting.
Normally there would be a goal GIF here but apparently Islanders media also didn't give a sh!t. ¯\_(ツ)_/¯
Because of the timing, the Isles actually had a PP that would go to about the last minute.  Eberle had another scary chance, but the post saved the day.  Then, just as Rust came out of the box the Isles flubbed a pass at the blue line and Rusty kicked it into gear for the Hatty.
Rust (14) Unassisted – 19:18 – ENG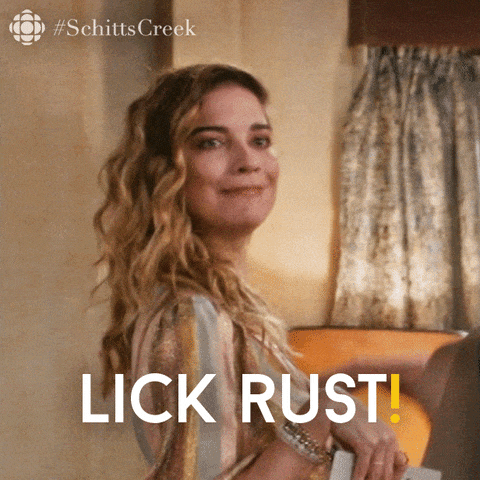 Unfortunately, the 2800 in attendance were all sitting so far away, the Ice Crew just stood on the ice waiting to see if anyone had the arm to get a hat to the surface.  Game.  And a big one.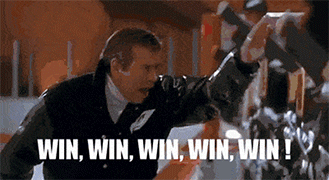 Thoughts:
Sid/Jek/Rusty are doing what the team absolutely needs them to do right now; while the entire rest of the division KNOWS they're carrying the load and is deploying the best they have to stop it. That's some modern day Gretzky/Kurri/Messier stuff right there. Adding scoring from the hodge podge 3rd and 4th line guys has the early season bridge jumpers looting grocery stores for tissues and hand lotion.
My fingers are locking up as I type it, but Tanger has extracted his cranium from his rectum and has been a bit of a force once again. Yeah, he still makes some boneheaded decisions and has clearly lost a step, but the good actually is outweighing the bad.
Jarry/DeSmith might be the DL best 1-2 punch in the league right now. Match that with a healthy D Corps and there's every reason to believe in lots of nights with dancing Russian midgets. (Disclaimer: Pettersson is technically part of that, but has been only incrementally better than his god awful start to the season. I'll take it…)
Let's do it again on Monday. Happy Passover.