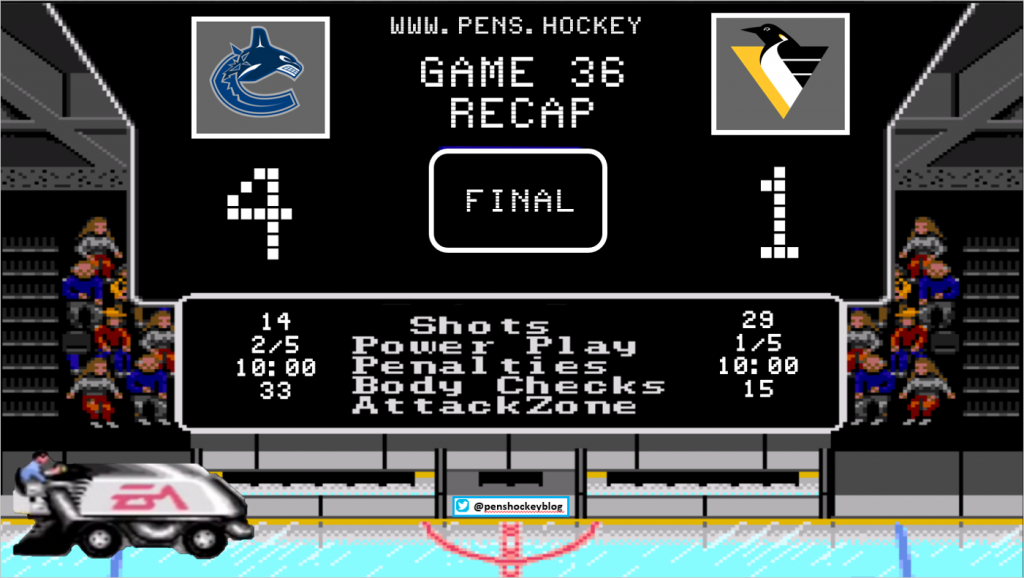 Fresh off a convincing 5-2 win in Alberta on Friday night, the Pens headed to the Left Coast for some late night action with the Canucks. Thankfully, no players were injured in Edmonton, which prevented Geno and the crew from having to dress fewer than 20 men if a replacement wasn't able to fly across the continent in time for puck drop. Mike Sullivan was behind the bench for his 500th career game as head coach. If he's not a finalist for the Jack Adams this year, we need to impeach Gary Bettman.

My parents are in town for the holidays, so after consuming no fewer than 2 dozen cookies, 3,000 lasagna calories, and 10 alcoholic beverages, I brewed myself a pot of coffee for puck drop. The game started with 10 minutes and 25 seconds and not a single shot. I then brewed myself a double shot of espresso. Upon sitting back down, the Pens found themselves in a bit of penalty trouble after a questionable call on a lifted stick that resulted in a 4 minute penalty.
Seconds into the PK, Brandon Tanev was called for holding and the Pens now had to kill a full 2 minute 5 on 3. With the 5 on 3 expiring, and after some absolutely INSANE saves by Murray, JT Miller fired the puck into the net from a bad angle. 1-0 Nucks.
JK….Sullivan challenged for an offside that might have occurred during the 2010 Olympics, and the goal was taken off the board….unfortunately, 62 seconds was returned to the 5 on 3.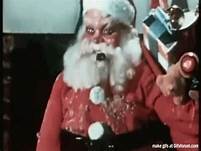 Before you could sit back down after celebrating the no-goal Jack Johnson was off to the box for tripping a Canuck forechecker who skated into his stick for the rarely seen back-to-back-stacked 5 on 3.
This is as annoying to type as it was to was to watch. Long story short, Vancouver scored on 2 of the remaining 3 penalties, the good guys didn't get a single shot in the period, and the refs gave a "sympathy PP" to the Pens like that one time you brought Nicole with the annoying laugh home from the office holiday party after you both had a few too many. This was figuratively and possibly literally the longest period of Penguins hockey I have ever watched.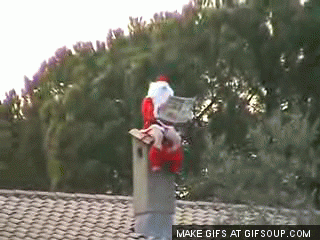 The second started with the Pens finally getting a shot on goal during the carryover powerplay time. With a little more consistency in actually playing 5 on 5, Pittsburgh started to slowly get their legs under them and sustain some offensive zone pressure.
The game was pretty physical, with the Canucks taking some liberties, but the Pens weren't slowing down. Halfway through the period, the Pens took the lead in shots, but it still seemed like they were fighting it a bit with bad turnovers and missed shots.
At one point, Malkin picked up some speed in the neutral zone after a turnover and set up Jake for a seemingly easy finish, but Markstrom made a ridiculous save with his skate and stick blade.
Pens PP got a chance after Jake was clipped with a high stick and Vancouver was punished with a double minor. Rust missed a wide open net on the backhand, but as soon as the first half of the penalty expired, Guentzel was able to squeak one by the gigantic Swedish goaltender for his 18th of the year.
The Penguins were absolutely dominating the 2nd period, so naturally, in a game like this, Vancouver was able to score a late goal off a perfect shot by Elias Pettersson.
With a minute remaining, Jake had a puck jump over his blade and Blueger snapped his stick in frustration after he missed a bouncing puck in the slot on a delayed penalty.

The 3rd started with the Pens squandering a powerplay. Minutes later, Jake drew a penalty on a breakaway that resulted in the Pens squandering a powerplay. Markstrom was everywhere. Pucks were bouncing everywhere. Just one of those nights.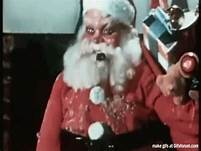 Brandon Tanev took a stupid penalty on a holding call and moments later, Pettersson set up Boeser for an entirely-too-easy goal…and some social media trash talking for Matt Murray. Dicks.
Pens pulled Murray and owned possession, but couldn't make the score any closer. No empty net goals against, which was about the only good thing to happen tonight. Game.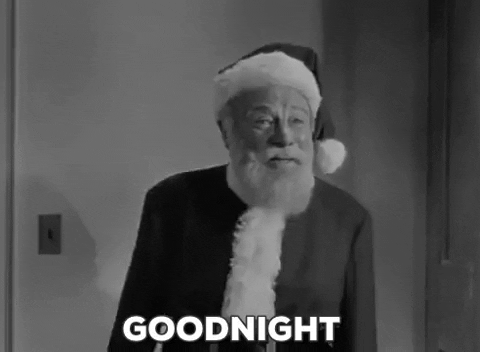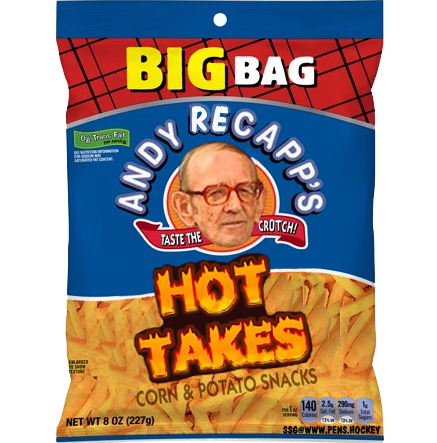 Stefan Noesen scored a goal in his first game as a Shark. I assume he will immediately disappear until his first game after being traded at the deadline.
Jake could have realistically had 4 or 5 goals tonight.
The microphones are ridiculously close to the boards in Vancouver and every body check sounds like the arena is collapsing.
Matt Murray let in 4 goals on 14 shots for a .714 save percentage and a GAA over 4. Only idiots will blame this loss on him, but the results aren't going to help him get the net back.
Last game of a road trip, second half of a back to back, penalty trouble, and a goaltender standing on his head….these things happen.
From my family to yours, I hope everyone has a fantastic Christmas and takes the time to celebrate the things in life that matter most. Thanks for reading.


Loading ...

Loading ...

Loading ...

Loading ...