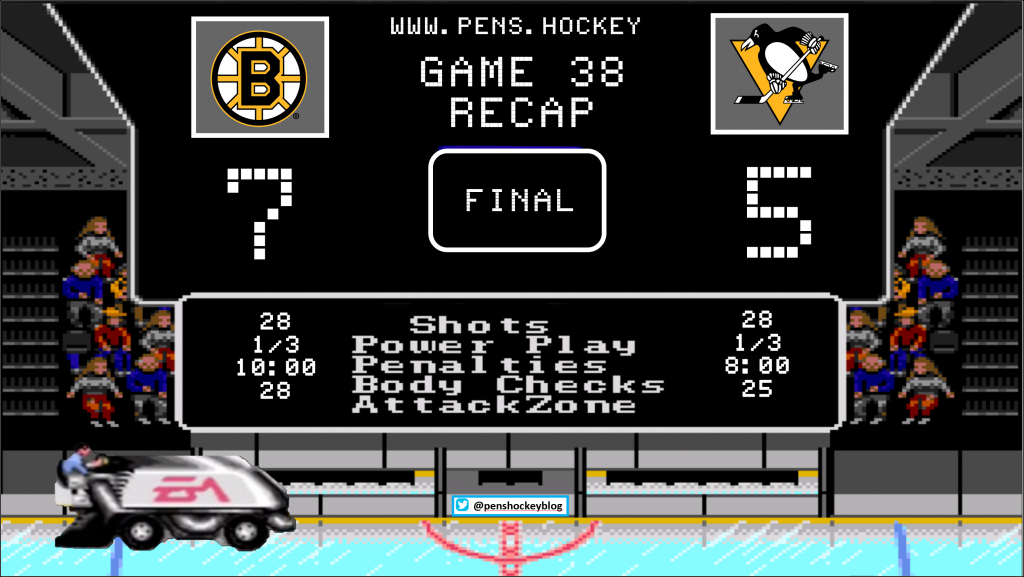 Pens are riding a 5 game heater. Bruins pretty much always beat the Penguins at home, at least until Thursday. Something's gotta give. Let's take a look at what gave.
And contrary to what I hoped when adding the lineup yesterday, Blueger did not dress for this one. Neither did Jarry. Oh well. Dance with you brought you!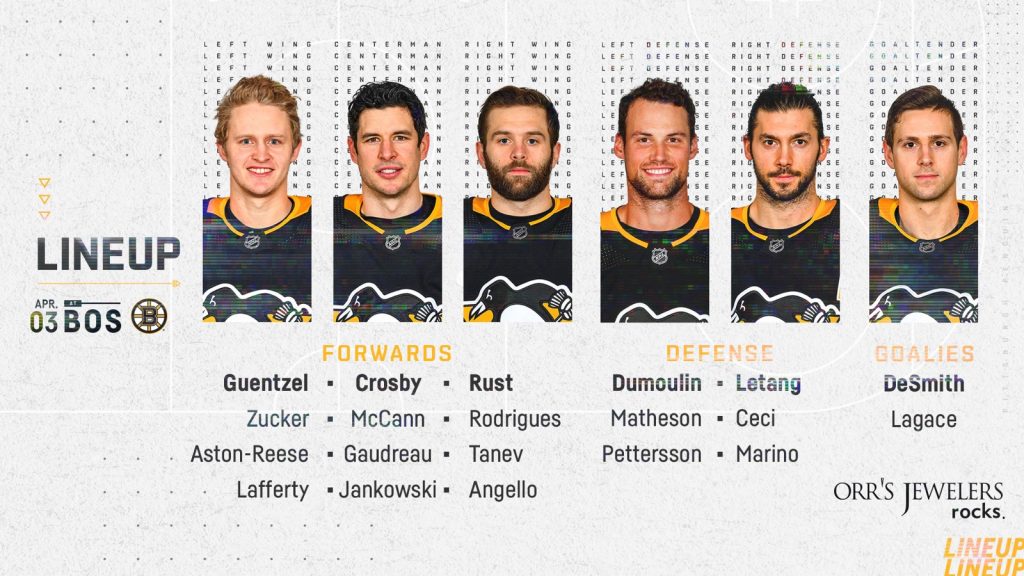 The start of the game looked a lot like Thursday's contest. The Pens came out flying and ferocious on the forecheck. Which was great because you knew the Broons pride wouldn't let them stay down for long.
Just over 3 minutes in, Jankowski would win a faceoff in the offensive zone after a hard working shift by the McCann line had forced a stop in play. The puck would end up on Matheson's stick and it didn't take long for him to decide what to do with it.
Jankowski (3) from Matheson (6) – 3:24 – EV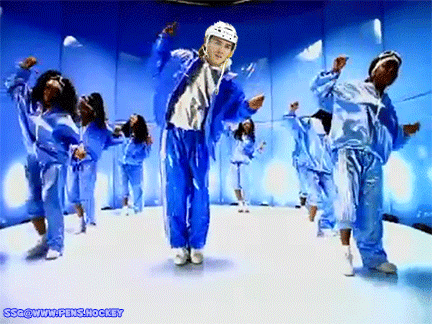 Off a Broon stick and then just the slightest nudge against Janky's and Halak was unable to track it. A fluke goal, but a goal none the less.
I made the mistake of beginning my note taking in the second, so I don't have much from the first. Something tells me that's OK because there will be PLENTY to talk about for the rest of the game…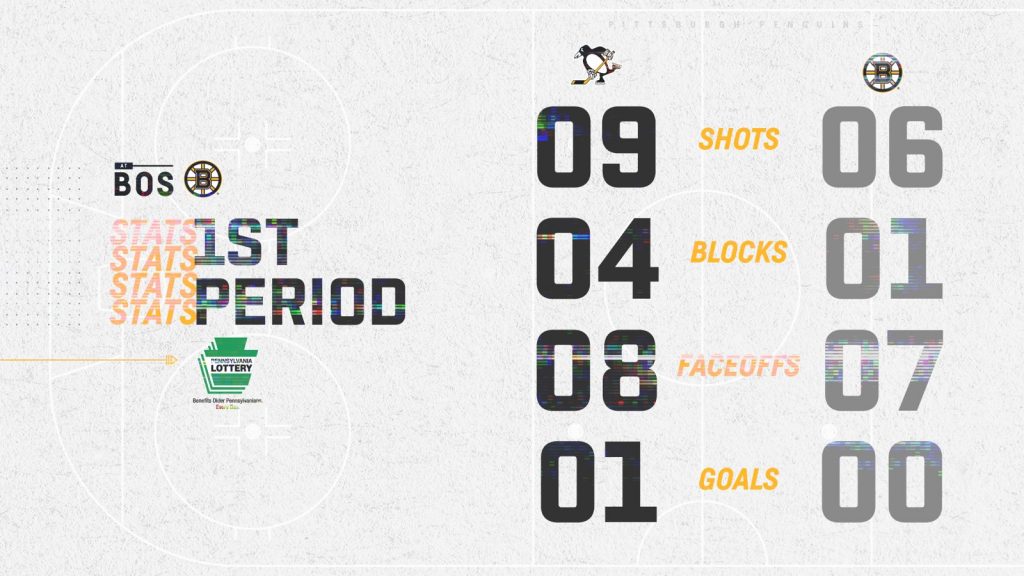 Refilled my water and… wait what?
Well that could have gone better. Letang thought he had the D to D pass available but Ratface came flying in and took out Dumo. Puck to the front and thus begins the tale of woe of the Blueline… oh good lord, what now?
More hard forechecking leads to a confused Pettersson/Marino pairing and the rebound popped out to the worst possible spot. OK, it was the worst possible spot because of this: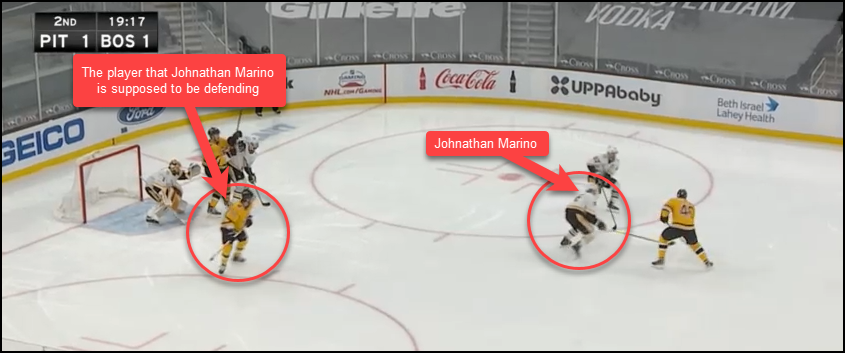 And just like that a one goal lead becomes a one goal deficit. Time to start day drinking.
So what do you do to stop the bleeding? If you're Mike Sullivan you put the best all around player in the NHL for 10 years running on the ice and see what kind of ideas he has. Turns out, he had a couple of pretty good ideas. Something along the lines of 'anything you can do, I can do better', but, like, on the backhand…
Guentzel (16) from Crosby (27), Dumoulin (5) – 2:45 – EV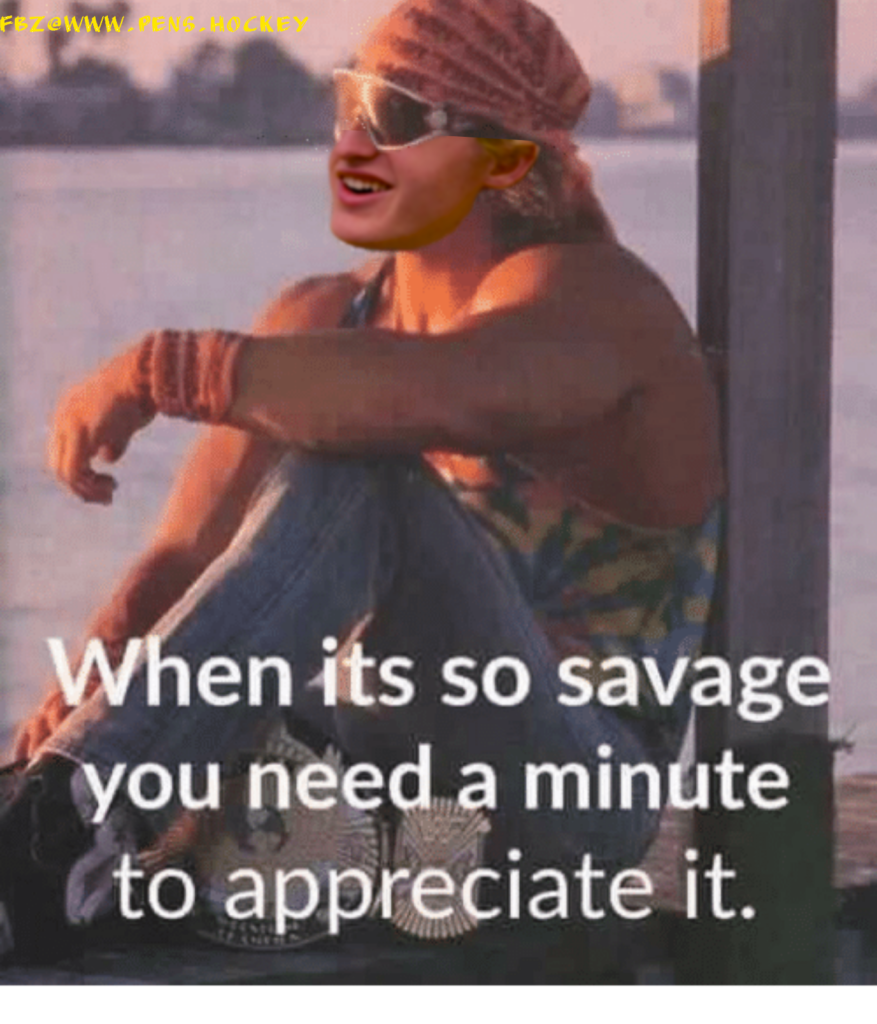 Oh that pass from Sid. It's enough to split a pair of jeans in the good way.
Not too long after that, the Bruins decided that taking a penalty might be helpful. And they were right, just not how they were hoping.
McCann (9) from Guentzel (21), Crosby (28) – 5:11 – PPG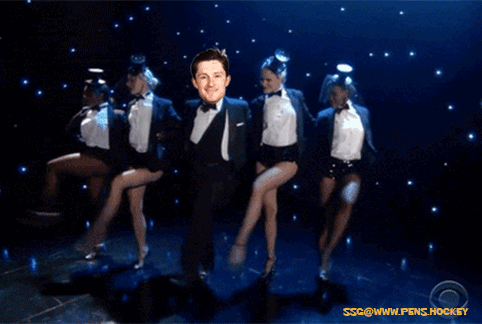 If your pants were only weakened by that first goal, they were fully split now. At least mine were. And just like that, a one goal deficit would become a one goal lead again.
Things settled down for a while at this point on the scoring front, but tempers were definitely rising. Lots of finishing checks and extra shoves all around. To the Pens credit they were giving as well as they were receiving. Heh heh.
There was a penalty… and then another penalty to negate that. The 4 on 4 was fun-ish, but nothing came from it.
But then the Bruins would find another gear and start cycling in the zone, getting the Pens chasing. Unfortunately one of those chasers was Johnny Boy and the trigger-man was Ratty McRatface.
Because of course. But it didn't have to happen.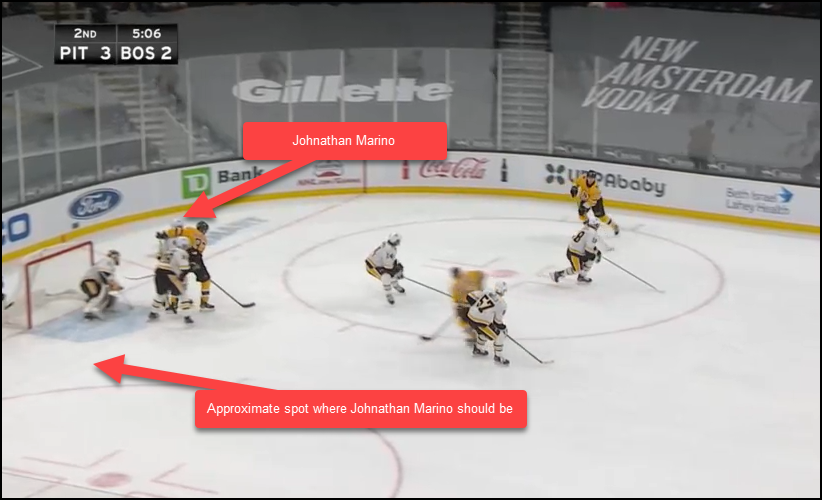 When I watched this live, I blamed Peeeettteerrssson because he's often to blame. But Marino went a-chasin' while Petey stuck with his guy. That left lots of open ice for Ratface. A brand new hockey game. Again. At least it's not boring? *drink*
At this point stuff really got chippy, which never favors the Pens. Naturally Marchand was involved. What was less expected was Sid getting involved. But after some pushing and shoving in front of the net, it was a full-on Donnybrook behind the Pens cage. Ultimately it would be Tanger and Ratfukker heading to the box but it really could have been half of the people on the ice.
After that, shit got even more crazy. The refs would miss a slash on Rust that caused him to drop his stick, but they would call a … well a something on Rodrigues for some reason that nobody could probably explain.
The Broons didn't care about the explanation. They just went to work.
Marino got shoved out of position and, instead of taking note of the fact that his ass was blocking DeSmith's eyes and that he now had two Broons behind him and thus moving into a better position, he opted to ignore his Harvard education and remain motionless in the slot. Not a great look. I guess the sophomore slump wasn't completely out of his system.
Now down 4-3, the Pens looked like they just wanted to head to the locker room. The Broons looked like they wanted more. Guess who won that 'battle'?
Wow I hate that piece of trash but he does know how to score.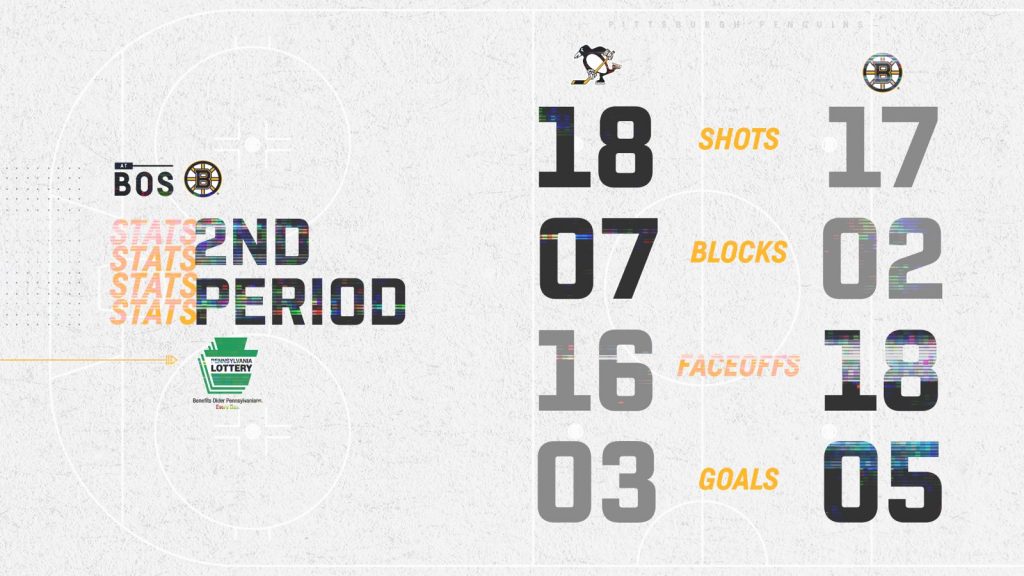 One of our regulars summed up the 2nd period best:


Keeping their momentum, the Broons got PastaSauce a breakaway in the first minute. That's when DeSmith remembered that he is one of the hottest goalies in the league right now and shut him down. Which is a good thing because 6-3 a minute into the 3rd of an afternoon game would have made me grumpy.
Instead, the Pens got back to playing the right way. Puck control, better passes, forechecking, and, most importantly, defensemen being in position.
There was one time where a Pens d-man was well out of his normal position. Thankfully it was Ceci and he was deep in the zone looking for a feed from Laugh, which he got
Ceci (3) from Jankowski (4), Lafferty (5) – 4:38 – EV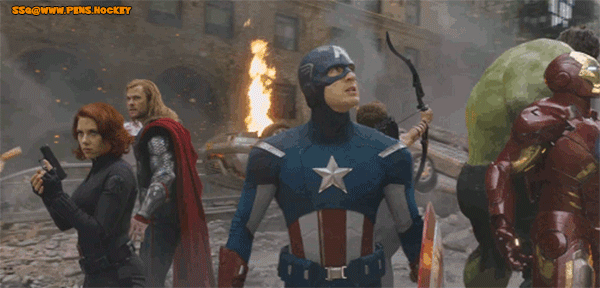 Let's take a minute to appreciate Cody Ceci. He arrived in Pittsburgh with some bad press in his past, but he quickly has proven that it was more a function of playing in Ottawa than him actually sucking. He has been the opposite of suck all season. Physical when he needs to be and obviously full of quality offensive instincts. There just isn't anything bad to say about the guy.
The next 10 minutes were mostly Pens. They were on their toes – the Broons were on their heels. This trend would continue until around 7 minutes left when the Sid line made it look like they were on the powerplay. Lots of crisp passing and a great look but Jake couldn't Snek it home.
At the other end of the ice, we were reminded that Matheson doesn't get paid what he gets paid for his defensive prowess, per se…
Woof. Between the terrible play by Matheson and Ceci's inability to stop that pass I don't know which thing to hate the most. Just kidding it was totally Matheson eating it.
The end of this one seemed inevitable. Pens would pull DeSmith and Pasta almost had the ENG but Letang locked him up for the penalty. All over but the crying, right? Wrong.
Crosby (15) from Guentzel (22) – 18:45 – SHG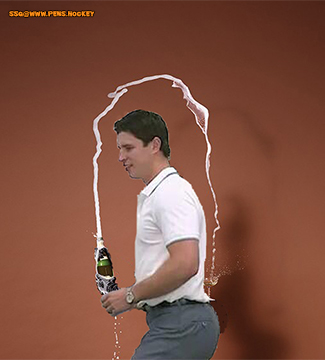 That's Sid's first short-handed goal in over a decade. Think about that for a minute. Nuts. And also, things just got more interesting.
Speaking of more interesting, Sid would take a butt-end to the chops from Bergeron. This would, uh, knock him to the ice in, uh, apparently some, uh, pretty severe pain… OK, so maybe he wasn't so terribly hurt, but the refs didn't even talk about what happened to McCann, and they even watched a replay!
But whatever, double-minor to Bergeron, back to 4 on 4 hockey, and an OZ faceoff that Sid would take (on his strong side) with Bergeron in the box.
This would lead to what would be a controversial decision for some on our blog. For me, I think that all signs pointed to putting the extra attacker on the ice to maximize their advantage. Others disagreed.
Unfortunately for everyone watching from Pittsburgh, nothing went the Pens way and Ratty McRatFukking McFukkFace would get the ENG.
Game.
Thoughts:
So many blunders from the blueline tonight – hopefully that gets it out of their system
DeSmith wasn't 6 GAA terrible but he was also not great. Happens.
Pens could have turtled when the Broons came out flying to start the second. They opted to work harder. Sully for Jack Adams.
Sid and Jake are like peanut butter and jelly. Peas and carrots. Yin and yang. So fun watching those two play together.