Sometimes words can't be found. You can search in your head for minutes at a time thinking about how to describe certain emotions and realize that you can't. Sometimes words aren't enough. Sometimes it's easy to get swept away in all of the hot takes, to get lost in all the literal shit the experts that get paid to cover your favorite teams say. Sometimes you just need to be reminded that we are all fans of the same team, and that giving up on that team isn't a thing that is allowed, regardless of the outlook:
Whoever wrote that must've been an amateur. Columbus used the hashtag #marchon. The Capitals went with #rockthered as usual. The Senators were #allin. Nashville wanted you to #standwithus. The Penguins didn't use a hashtag during the playoffs. The Penguins didn't need a hashtag during the playoffs because their names were already etched into eternity just a year ago. They entered the playoffs as the reigning champs. The kings of the league. And if you come for the king, you best not miss.
Mike Sullivan has a way of always playing tight checking hockey games in clinching scenarios. Game 7 against Washington. Game 6 and 7 against Ottawa. None of the games against Columbus because come on bro, they weren't going to win that series. This one started out just as predicted. The Penguins were locked in with their clinching scenario system. This fans sign won the first:
Bring it home, @penguins! #letsgopens pic.twitter.com/VNgMGrhgfB

— Candace (@rockcandy87) June 11, 2017
Tight checking and solid goaltending, 20 minutes down, no score.

Much of the same minus a post here and there for each team. Then it happened, the play Nashville fans will let eat at their hearts until the next time their team is this good again. The puck was played from the corner into Murray's pads and the ref lost sight of it and blew the whistle, as he was blowing the whistle the puck was going into the net after some heroic diving effort. It's a horrible rule. Always has been. With 4 refs on the ice they should be able to discuss it and come to a proper conclusion. But they can't, and it is a rule. If the roles were reversed I would be pissed to hell and back, but I wouldn't be able to say it isn't in the rule book.
The early whistle "no goal" is going to cost Nashville the game.

— Andrew Fillipponi (@ThePoniExpress) June 12, 2017
This is the wrong view, friends. Coming from a guy who once said that a national audience watched Sidney Crosby pass the baton we shouldn't be surprised. The no goal call cost Nashville a lead in the 2nd period. The refs spent the rest of the game giving Nashville every advantage they could. Nashville cost Nashville the game, Andrew. No score after 2 despite a 50 foot Nashville breakaway that Murray saved with **gasp** his glove
That Murray save on the breakaway… pic.twitter.com/oNgj3AnkGV

— Benstonium (@Benstonium) June 12, 2017
0-0 hockey in a game 6 of the Stanley Cup Finals with a good atmosphere on a Sunday night. The league literally couldn't have scripted it better. For those out there that still think this league is fixed, just consider that they can't even write/air a 30 minute Draft Lottery without multiple mistakes. Time clicked away slowly. Then Olli Maatta apparently tripped someone by hitting him behind the net. Nashville powerplay in the 3rd, refs clearly pulling for the Pens. Then Trevor Daley gets called for doing something to another man and the Predators have a 5 on 3 powerplay for over a minute. If you think losing the no goal is the reason Nashville lost then you didn't watch the rest of the game. 5 on 3. 3rd period. This is when you put your heart on that ice. You put your soul down. You do whatever it takes. Matt Cullen. Brian Dumoulin. Ian Cole. 3 players who may not be on the team in a month, asked to go above and beyond what ordinary hockey players can do.
Pens FUCKED up right now. Nashville going to score, 5 on 3 for Preds… only a miracle prevents a preds' goal.

— Sr.Nervios (@AlbertoNervios) June 1, 2017
Miracles are kind of what Jesus is known for:
The Penguins kill it off. Unreal play by a group of guys that time after time showed us that they never give up. Time continued to click down and it was looking like overtime. It was looking like the Penguins wanted to go to overtime so that the calendar would change to June 12th during the game. Chris Kunitz has the puck and casually tosses it back to the blue line to Justin please sign him today JR, like right now Schultz. Schultz takes a slapper that goes just wide of Rinne. The boards are live in Nashville, we've been told that the Predators knowing their boards is one of the reasons they are so good at home. June 28th, 2014 during the NHL draft. The Penguins want to add depth. The Predators, ironically,  want to add scoring.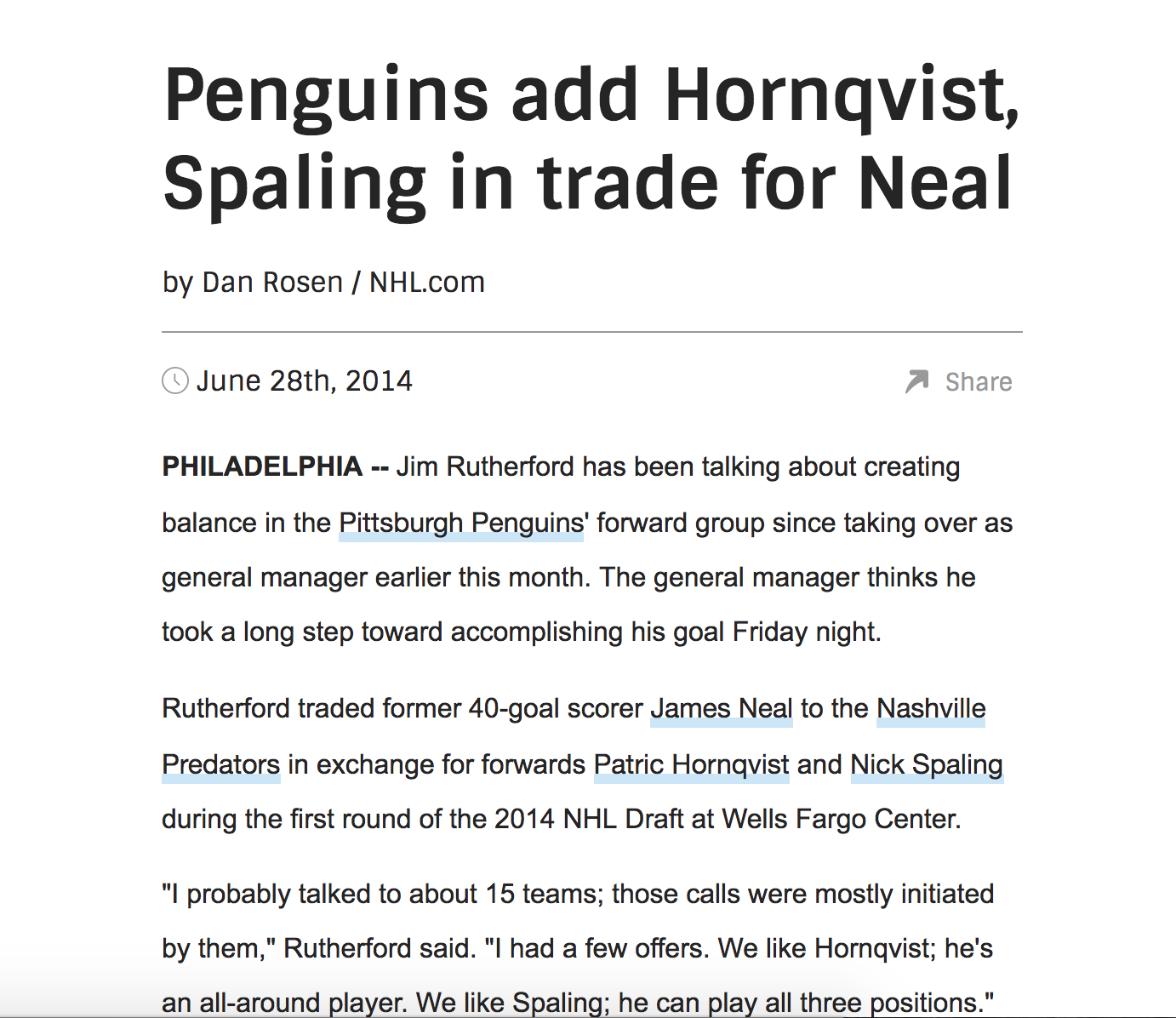 Just shy of the 3 year anniversary, Patric Hornqvist silenced those that once cheered for him.
PATRIC HORNQVIST (5) Assisted by SCHULTZ (9) & KUNITZ (9) @ 18:25
HERO. pic.twitter.com/uVczME15md

— Pittsburgh Penguins (@penguins) June 12, 2017
Is there a more Patric Hornqvist goal? Starts with a gritty battle in front of the net and ends with pure determination and a great bounce. The Penguins were 95 seconds away. The Predators pulled Rinne and it was chaos. 6 on 5 the Predators were trying but just couldn't get a look, and then the man who doesn't ever get enough credit, but most likely will in the form of a substantial raise this offseason did what he does best and nonchalantly clears a puck from a high danger situation. The puck rolled out and Carl Hagelin decided he was going to go all out on his injured ankle and beat the Predators to the puck…
CARL HAGELIN (2) Assisted by DUMOULIN (5) @ 19:46
The last goal of the NHL season goes to Carl Hagelin with this empty net goal!

(#PIT 2-0)#StanleyCup pic.twitter.com/fmx1SIbLVQ

— NHL Daily 365 (@NHLDaily365) June 12, 2017
That is a player realizing if he empties the tank right now he gets tomorrow off.
We were all Evgeni Malkin watching Hagelin get the puck:
Malkin & Kessel's reaction to Hagelin's ENG is priceless. pic.twitter.com/F9pjtBMiB9

— Cristiano Simonetta (@CMS_74_) June 12, 2017
And now we are all fans of the 5-time Stanley Cup Champion Pittsburgh Penguins. After a legacy defining game 5 (lol). After all of the doubt from the experts. After every injury that would've left a weaker group of men lost. We get this: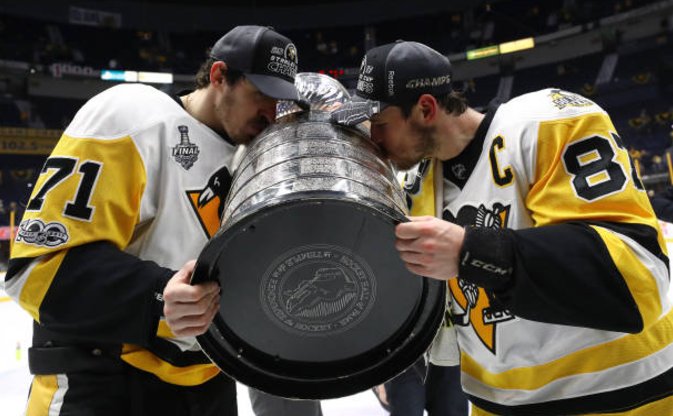 We wake up to an NHL.com that looks like this: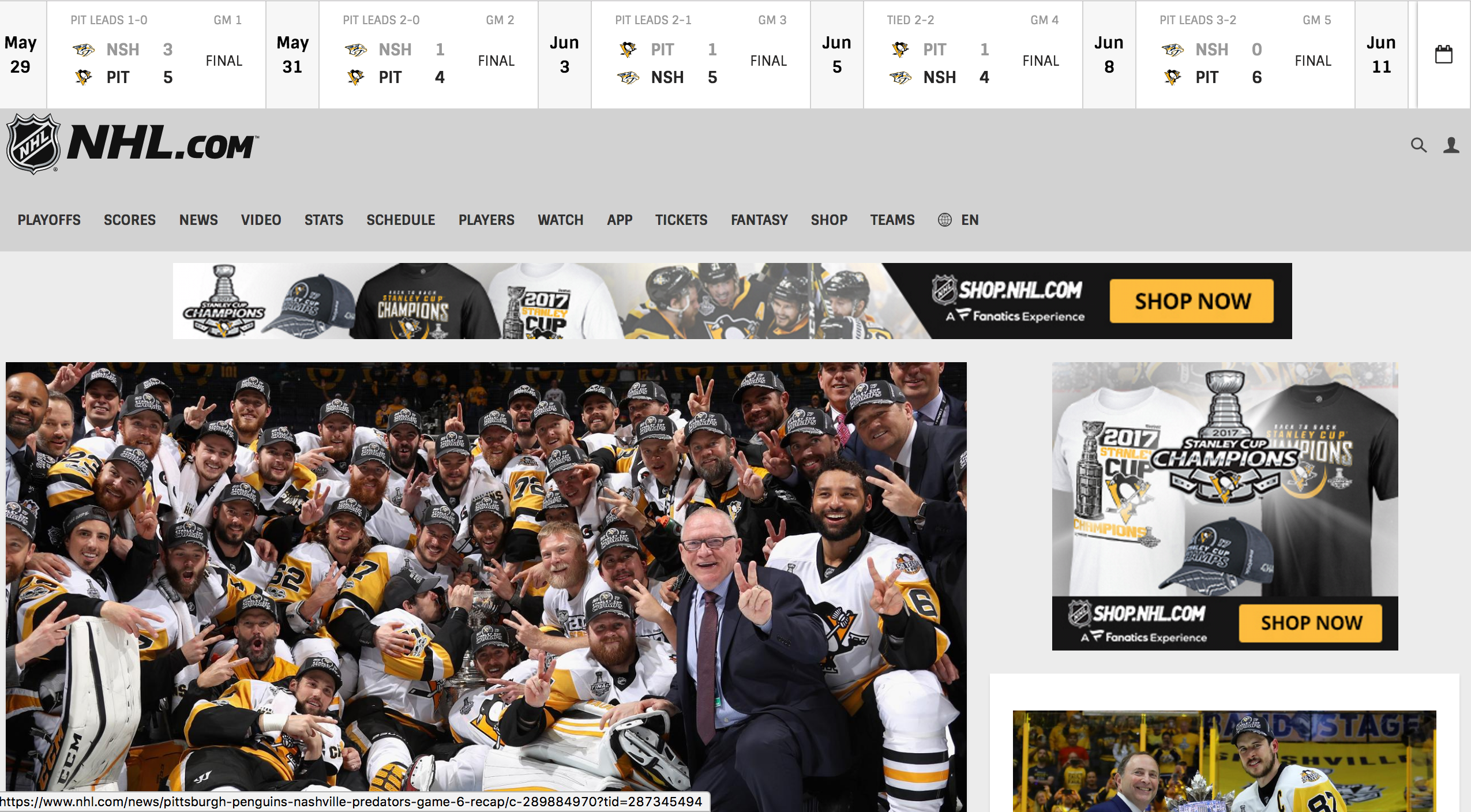 We get tweets like this:
Another one for the #CityOfChampions.

Congratulations, @penguins! pic.twitter.com/LqSpmplvZ0

— Pittsburgh Steelers (@steelers) June 12, 2017
And now we get weeks of this:
Shower of Champions. My god.#BackToBack #StanleyCup pic.twitter.com/sTNPMYvhcc

— Benstonium (@Benstonium) June 12, 2017
We are a spoiled rotten fan base, and I love every God damned minute of it. It has been an incredible journey being able to make these posts and follow the sport and team I love all season, the fact that people actually read my stuff is still mind blowing to me, the fact that some of you even like it or at least pretend to like it makes me wonder about your brains. Regardless, here we are. At the top of the mountain, the pinnacle of fandom. Today nothing can get you down. Nothing can stand in your way. You're a Pittsburgh Penguins fan, and they are the Stanley Cup Champions, baby.
---
THOUGHTS:
Radio Sync'd Highlights: Pens WIN Back-To-Back Stanley Cups after a Game 6 WIN vs. Preds, w/ Mike Lange's radio calls. pic.twitter.com/xb6txvANO5

— Benstonium (@Benstonium) June 12, 2017