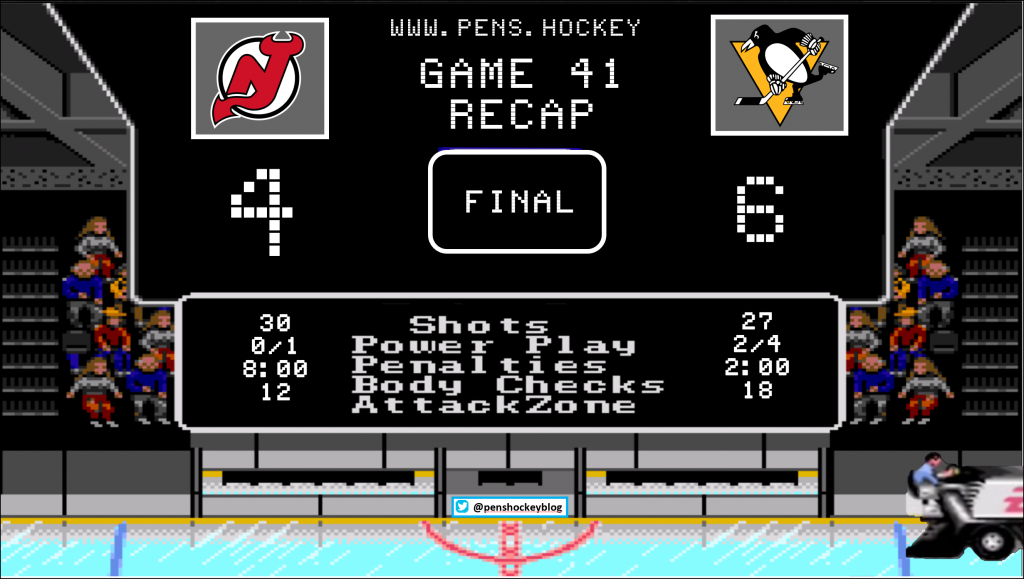 The Pens decided to puni-, uh celebrate, having righted the ship in New York the night before by taking a little trip to visit Lord Blackwood and the old time Urban Legends in the stinkhole that is Newark, NJ.  The Devils suck only slightly less than Buffalolo, but have mustered whatever abilities that escalated them to the NHL to play well enough to win 2 of the 3 prior contests against the Pens. My Boy Blue still had some kind of owie, so the Pens rolled the same lineup as the previous night, which probably hasn't actually happened too many times so far this season.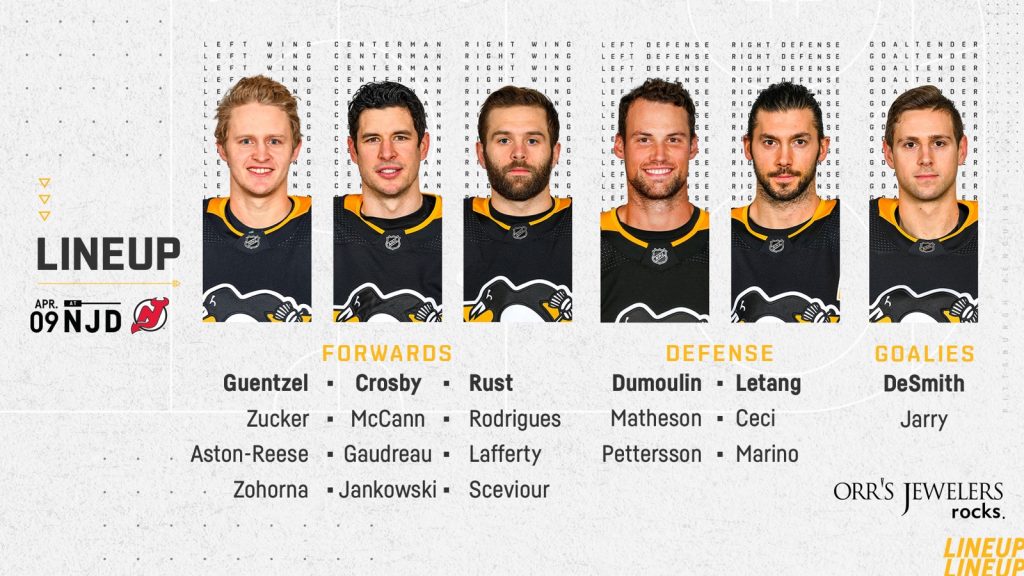 Let's f**k this pig.

The first couple minutes saw both teams making zone entries that were comparatively short-lived, but both managed to generate a couple of  good shots along the way and CD and MB had to be reasonably sharp.  At 3:01, however, the would-be king of Hockey Porn names, Miles Wood, positioned himself basically inside DeSmith's jockstrap and knocked in a rebound on a quick shot off a clean faceoff loss by ERod.  To give Letang some credit, he did engage Wood, but went for a stick lift instead of putting him on his wallet.  Wood had relatively little difficulty in fighting that off and while pretty well standing on Casy DeSmith's left pad, punched it across the line.  .
Bourbon Bobby wanted them to challenge for goalie interference, but Sully knows better than to trust the god awful NHL refs to ever admit they missed something that happened right in front of their faces and let the goal stand. 1-0 Campfire horror story guys.
The next 4 minutes or so saw the Devils truly carrying the play.  It's not that the Pens were necessarily playing that bad, but NJ clearly had more jump in their step and were taking it to the Pens a bit.  NJ has a crappy record for a reason, though, and at the 8:31 mark they executed a bad change while in possession of the puck and were called for Too Many Men.
The 2nd PP unit were the stars last night, but the 1st unit took the ice to give it a rip. They controlled the puck well and were moving and making good passes to try to evade the pressure from the NJ PK unit, but not really getting good looks. About a minute and a half in, and stay with me here, Letang makes a pass from below the goal-line to Rust at the right dot; his shot was blocked and ended up at the center point where Crosby (?) unleashed a one-timer.  After the initial save, there stood McCann to lob wedge (Get it?  The Masters is going on so I said – Yeah, sorry. I'm a dork) the puck top shelf over Blackwood right at the 10 minute mark.  It took Letang and Crosby being in the exact opposite places you would expect to see them to make it work, but hot damn, it absolutely did.
McCann (11) from Crosby (30), Rust (15) – 10:00 – PPG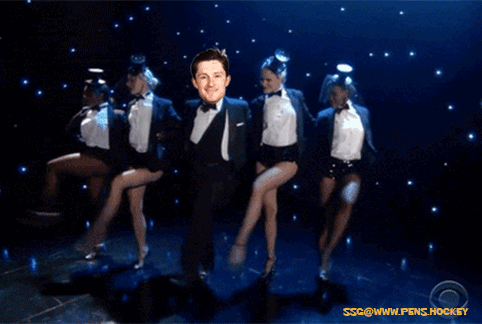 This energized the Pens a good deal and they started to pick up their play.  That said, nothing much was really going on until about the 13 minute mark when McCann pretty much toe-picked at the exact moment Vatenen's stick ever so slightly touched the front of his skate and bing-bang-boop, back on the PP.  Not a good call, but eff them.
This time Sully sent the 2nd unit out to start but the main highlight from that was Math Is Fun flying down the wing with the puck and then getting Scott Stephensed behind the net.  NJD's PK  did a good job pressuring and tying up the puck along the boards the rest of the way and the PK ended uneventfully.
Immediately after that LoLafferty had a glorious chance right in front but Blackwood treated him like the Ginger Midget in Sherlock Holmes and reminded us why Lafferty is one of two forwards on the team to not have a goal so far this year.  NJ followed this with a breakaway of their own but DeSmith was equally sharp and it was no dice.
At 16:15 Porn King took a tripping call and the PP unit would get one more chance late in the period.  Mears's voice hit dolphin octaves once or twice but Blackwood stayed sharp.  It looked like we were headed to a tie game at the intermission when Dumo launched a harmless wrister from the left point that the NJD Defenseman tried to block with the lesser known chicken wing maneuver, and you can see how that worked out…
Dumoulin (2) from Ceci (8), Lafferty (6) – 19:13 – EV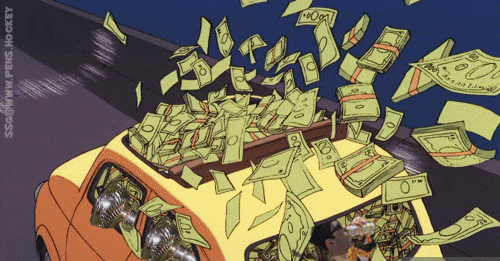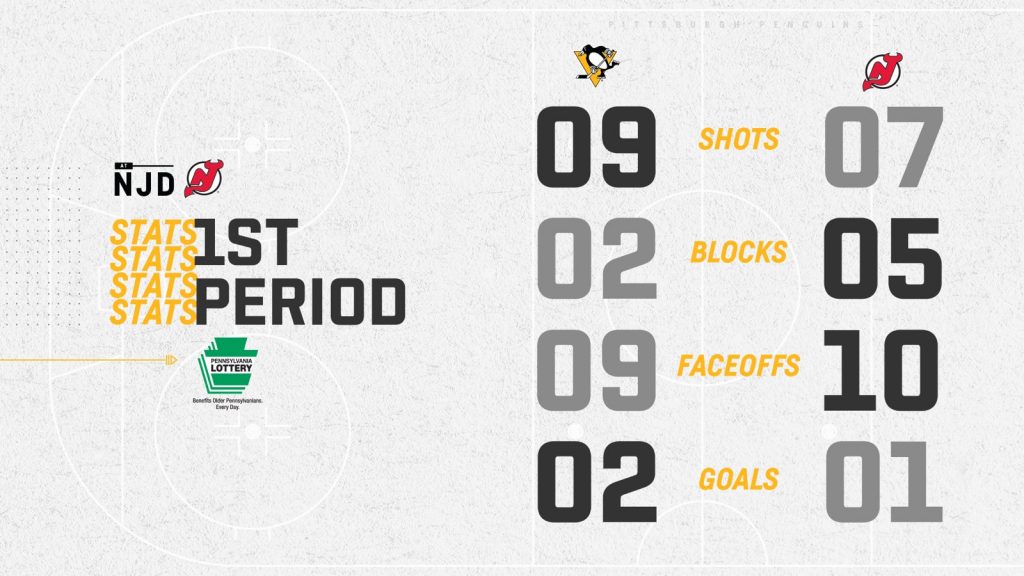 Moderate spoiler alert. Both teams skated well and the Pens generated what seemed like a pant load of chances in the 2nd but McKenzie Blackwood spent a lot of time waiving his genitals in the general direction of the would-be scorers. More spoiling: Casey DeSmith would have his turn in the barrel a few times and would do much the same as Blackwood did. And on we go…
The first 5 minutes pretty closely resembled the opening moments of the game:  lots of pretty good skating and passing, some decent shots and solid goaltending.  Lafferty got another good chance, but, well when you're being outscored by Dumolin, you know how that ends.
At 5:39 Jack Hughes and the Devils would strike first, again, after a series of ties ups in the neutral zone and the slot.  Somehow a shot came in which then got deflected over to Hughes who ripped in a pretty nice shot from inches above the goal line to DeSmith's left. 
Not really any fault to be assigned there – it was a sequence of choppy plays and the puck ended up in a spot where Hughes had to make a Crosby-Lemiuex level shot.  Excrement occurs.
There would be no scoring for the next 10 minutes, but some shit happened. At 9:39 Big Z got called for a slash that was roughly equivalent to the trip that Vatanen laid on McCann in the 1st (if anything it was closer to being Interference, but Chel likes to Chel)  The Pens PK unit has struggled of late so there was some concern going into the kill but by and large did a good job preventing NJ from doing much until the very end where they rung one off the post to CD's right and then missed a wide open net on the rebound.
Right after that the Pens had two excellent chances but Blackwood was steadfast.  Not long after that, Lafferty the Snakebitten had two more really good chances  but couldn't get one by Blackwood.  Nothing lasts forever, thankfully this time, and at 17:36 Blackwood let up a juicy rebound and Sceviour channeled Sid by slapping a backhander out of mid air that floated over Blackwoods shoulder like the Bugs Bunny pitch that struck out 3 guys at once.
Sceviour (3) from Letang (26), Jankowski (7) – 17:36 – EV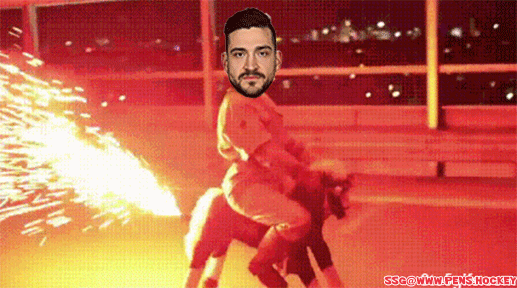 Early on Casey DeSmith took his turn at committing larceny by frustrating Zacha from in tight while no one on the Pens seemed inclined to stop him from handling the puck right in front of the net.  No harm done.  At 3:12 Porn King Miles Wood would add another down to his up and down night by taking a fairly lazy hooking penalty (and the only penalty in the 3rd period)  that Rusty Ballz would make him pay for 54 seconds later.  It was an absolute laser beam slapper from probably 35 feet, which continued the trend of Pens PP guys being in spots and taking shots from places we're not used to seeing. 
Rust (15) from McCann (9), Crosby (31) – 4:06 – PPG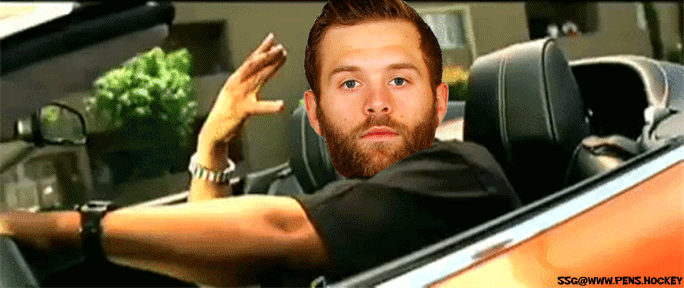 Excellent screen by Jek on the play as well.  4-2 on the proper side of the ledger.
At this point the Pens seemed to take their foot off the gas a little, although it could have been more that the Devils went into desperation mode and started reeling pushing the tempo.  Our sometimes fickle friend, Puck Luck, would have one more thing to say however, and after a somewhat choppy sequence at the end of their shift  Jek found Sid from behind the goal line and Sid wired a wrister far side
Crosby (16) from Guentzel (24), Marino (6) – 10:02 – EV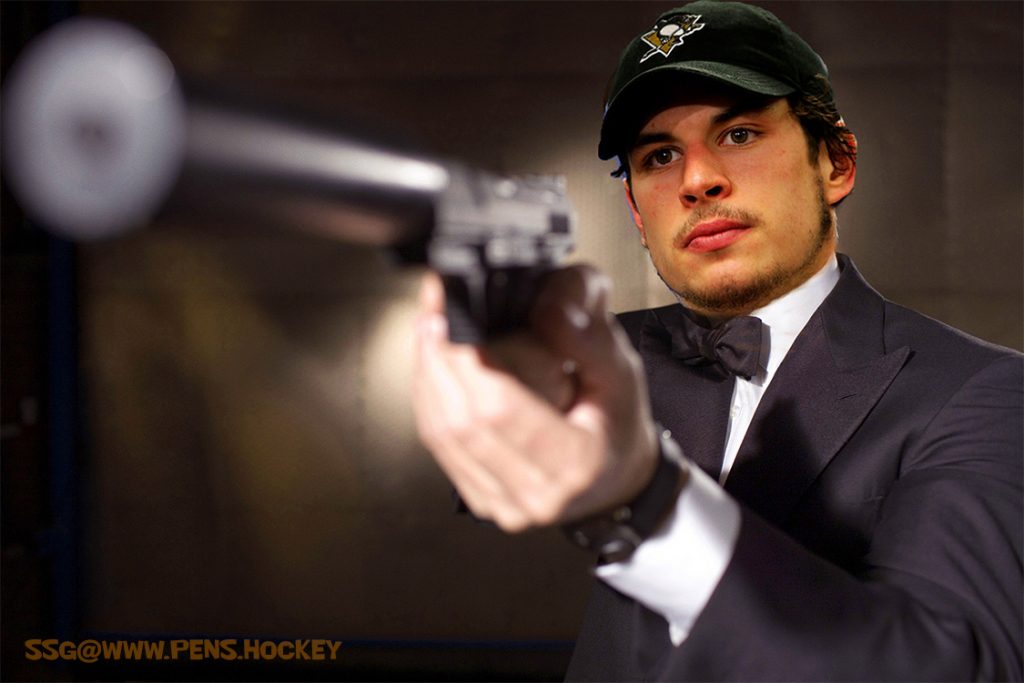 Yay!! Right? Well yeah, but hold onto your butts.  At 11:36 Boqvist fired the puck across the crease from below the goal line to DeSMith's right where poor Letang was perfectly positioned to Orpik one right past his unsuspecting goaltender.  Oops.
5-3, but no worries….,right?
As the clock continued to wind, the Devils would turn their amps up to 11 and pulled the goalie with nearly 4 minutes left. Along the way their gambles resulted in some pretty good scoring opportunities for the Pens, but Blackwood kept them in it.   With an empty net at their end, the Devils kept coughing up the puck like they were having COVID relapses, but the Pens could not find a way to get one in.
With 2 minutes to go it started getting real.  The Devils kept the Pens pinned in the zone for an extended period and after a bizarre sequence in which DeSmith stopped Wood from scoring on a deflection, Dumo would score his 3rd of the year but on the wrong goalie.  He was tied up with wood against the back wall and tried to flick the puck out front but it went off the back of DeSmith's pad and in.  Shit.
Fuck that goal clip…  With relief I'm here to tell you that with just under 30 seconds to go Rust out-turbo'd everyone on the ice to get to a loose puck and seal the deal.
Rust (16) from Guentzel (25), Letang (27) – 19:35 – ENG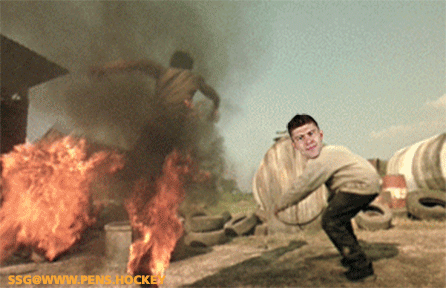 GAME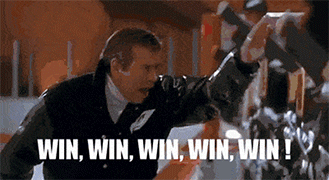 Thoughts:
Other than a short sequence in the 3rd when he did a quick Joe Vitale impression against the back wall, Pettersson was not embarrassing tonight. He even reminded us that he can let fly with a helluva a slapshot when the mood strikes.
The own goal thing is a little concerning because it's like a rash, but it didn't end up killing them tonight.
Hockey can be a fickle mistress: the night after Sid/Jek/Rusty didn't hit the score sheet at all, they put up a combined 8 points on the night.
Despite the score, both goalies played well – this thing could have been a football score quite frankly. And both had some really unlucky bounces off their own guys. Good rebounds last night and tonigh for TJ & CD coming off the back alley abortion in NYC on Tuesday.