This game was rubbish. I am not from Britain so I don't know if I am allowed to say rubbish on here, but we are followed by the official British Penguins Fan Club on Twitter so fuck it. I am going to keep the recap a bit short today, because I want to dive in a bit on the first half of the season. In recap, the bye week was good for the old guys, bad for the young guys. This is a problem because the team has 3 old guys and 20 young guys. You can just see that the team doesn't have the legs under them, and a major part of that is from the disruption in the schedule.
Thoughts:
Mike Condon played out of his freaking mind. Unreal performance, probably has 17 voicemails from Durex looking into a partnership
Kris Letang hasn't been very good the last two games. Is it trying to do too much in Dumoulin's absence? Probably. Is it because Letang is a stupid lazy overpaid idiot? Most likely. Bottom line, and I know it is super easy for a loser like me to say this, but when a key defender goes down the Pens need Letang to step up his defensive game by being more sound, not by trying to do more.
Sidney Crosby hasn't scored in like 11 periods or something, rumor is he is no longer elite and will be replaced by Claude Giroux at the all-star game
Tommy Kuhndawg finally cracked the lineup. Kuhnhackl looked like a player with good potential that has been benched for 4 weeks.
Sheary-Crosby-Rust line isn't working folks, please retire it.
Reuniting HBK when down in a game is a smart move, I feel this is the best way to roll with that line. It obviously didn't work, but I have no issues with Sullivan trying to bring in some momentum.
Matt Murray gave the entire league a "how to score on Matt Murray demo," it involves deflections. Murray is extremely well positioned on every shot, and as we've mentioned almost every shot hits him in the chest. This means that once the puck is deflected it is just a prayer, but since Murray is Jesus who answer's Jesus's prayers? Don't be surprised if we see teams start to take long shots with lots of traffic on MMX in the future
Good money should be spent finding out what Mike Sullivan said to get ejaculated, I mean ejected, here is our good friend Brendan with a demonstration of how Sullivan's voice carries:

It has been over a season since the Penguins last dropped 2 straight games in regulation (over 90 games according to Steigy, but consider the source). That is pretty incredible. We are now at the halfway mark of the season, so let's have a quick breakdown of that:
Record: 26-10-5. Points recorded in 31/41 games = 57/82 points= 69.5%
If the Pens were to produce an identical record in the second half they would finish with a 52-20-10 record and 114 points. Last season the Capitals won the President's trophy with 120 points, so finishing at 114 ain't too shabby. In fact, the Penguins haven't finished a season with more than 110 points since 92-93.
In conclusion: 6 months after lifting the Stanley Cup the Penguins are sitting in a comfortable spot as they gear up to do it again, and you couldn't ask for anything more.
Of course with all that being said I don't think the Pens have come close to hitting their full potential this year, both on the ice or in the GM box. Major kudos to Jim Rutherford for his patience, or more probable his napping, and not trading away Fleury at the beginning of the year when Pittsburgh Media demanded it necessary. Now however, I would expect Grandpa Jimmy to open up his "box" and start making some calls to figure out how he can attempt to forever cement his legacy. What is JR looking for?
Defense:
Since the injury to Brian Dumoulin the Pens have suffered in a big way on the penalty kill. Giving up 2/4 to the Capitals is one thing, giving up 2/5 to fucking Ottawa is a problem. In addition to this, Olli Maatta is yet to return to where he was his rookie season and after 39 games played this year it is hard to chalk it up to being rusty or unconditioned. Ian Cole and Justin Schultz have been a huge surprise for the Pens blue line, but you have to wonder if it isn't due in large part because of Schultz and less because of Cole (though I admit, Cole looks 100x better than he did last season). With all of this in mind it doesn't take a creative imagination to think Rutherford is calling some peeps about available d-men. The question, as always, is what is the price? Another consideration is the term. The Pens currently have 3 defenders (Letang, Maatta, Cole) signed beyond this season, and with resigning Dumoulin a must, you have to think JR will want someone with a few years left instead of a rental.
Offense:
The Penguins offense has been an absolute threat the entire season. Here is a quick graphic:
CROSBY, MALKIN, KESSEL leading the team is what you obviously want. There are two red flags here, and you know where I am going with this. Carl Hagelin and Eric Fehr are taking up 6 million dollars in cap space right now, and have a combined 10 goals and 13 assists, which COMBINED is less than Conor Sheary. Nods to Sheary by the way, 25 points in 34 games in his first full NHL season so far, not too shabby.
Does Rutherford move Hagelin, the guy he wanted so badly? I admit Fehr seems more likely to go, especially in a package deal for a defender, but the play of Hagelin can be overlooked…crickets… 4 million dollars on pace for 10 goals is never a good thing, especially when Fehr is doing the same. Kunitz, Bonino, Cullen and Sheary are the only forwards with expiring contracts, well and Dupuis, RIP. Bonino takes a lot of shit from fans, but at 2 million dollars he is way more serviceable than Brandon Sutters jock. Kunitz is most likely done, but probably doesn't get traded. Kuhnhackl has been as good as Fehr so far this season, so putting Fehr on the trading block isn't going to hurt the Pens, but he also isn't going to bring home anything to show your parents. That leaves us with Hornqvist's Swedish Brotha:
By putting Hagelin on the block JR dangles a shiny, fast, STANLEY CUP WINNING Swede with 2 years left on his contract in front of other teams. Is there a better fit for the Penguins, that is the question that Rutherford has to answer. The other issue is disrupting chemistry and morale, something Rutherford believes a lot in. I am not going to sit here and write out trade scenarios or anything like that, mainly because after trading away Scuderi for Daley my imagination isn't as good as JR's reality.
Finally, Goaltenders.
Flat out saying it now, Fleury finishes the season with the team, gives up his NTC and moves on. I just don't see the team making a trade at the deadline to move Fleury unless it brings in another above average back-up, and even then it is questionable. Murray has now had two injuries in the last 4 months (broken hand in world cup, lower body injury in December), I don't see Rutherford, a man that loves goalie depth, putting all of his eggs into the Murray basket.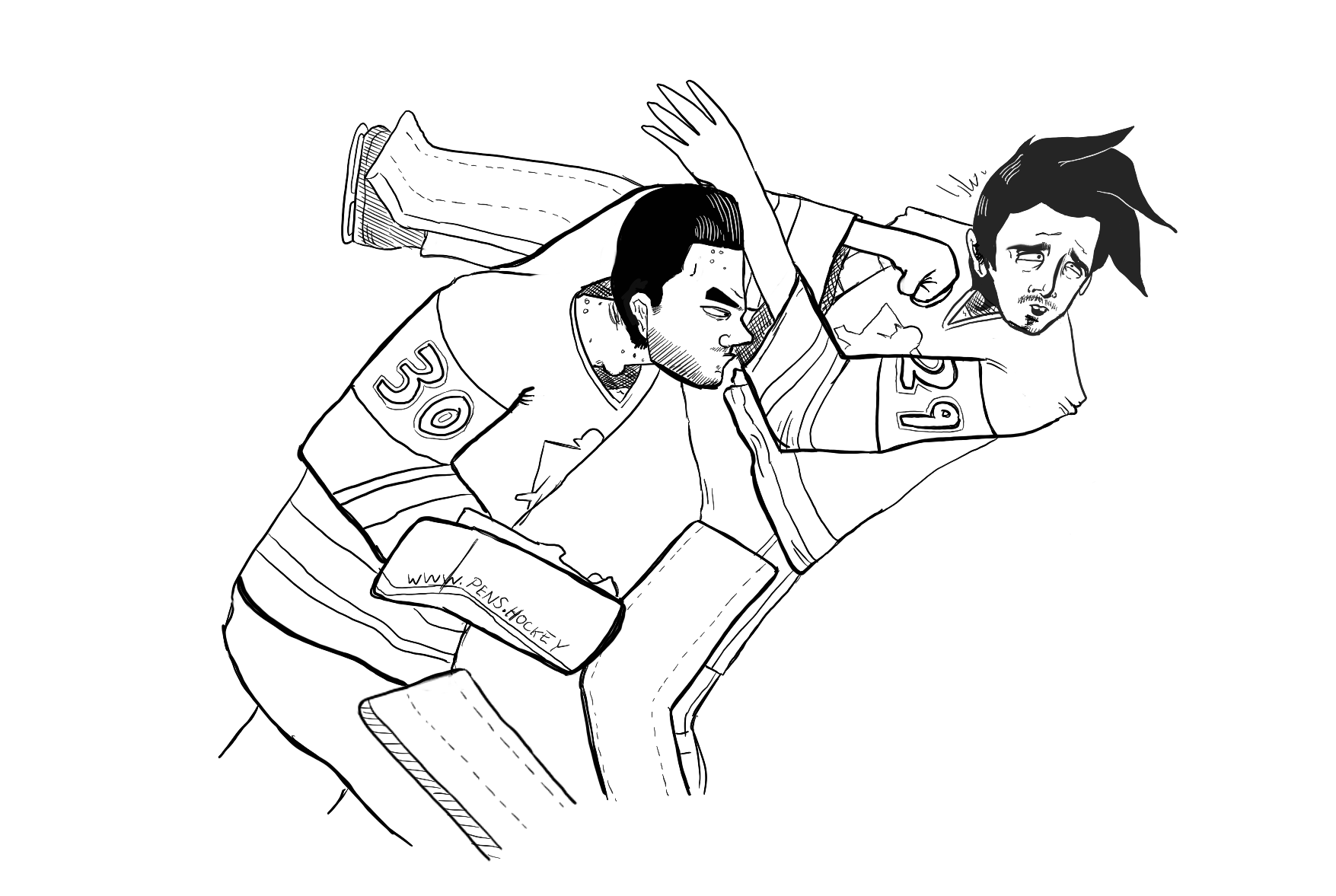 Murray the starter, Fleury the back-up, that's what the team is carrying to the post-season.
Projections and Midway Awards:
Crosby and Malkin are on pace for 90 points each, with Kessel a casual 82… damn son.
Fleury and Murray both have 13 wins oddly enough, putting both on pace for 20+ win seasons
MVP: Crosby. No debate, move on.
Most Improved: Come on, Schultz.
Best Rookie / new guy: Murray is technically a rookie and gets this by default for that reason. If the debate was between Rust and Sheary, Sheary gets the advantage in my book but I have honestly been thrilled with the play of both of them.
Best Defender: Rob Scuderi, for no longer being here.
Most Likely To Improve in 2nd Half: Tie between Carl Hagelin, because he can't get any worse, and Derrick Pouliot because whatever pick JR gets for him has an equal chance of being as good.
Most Likely To Cool Off: This is a tough one because historically the Pens have played their best hockey in March. With that in mind it wouldn't surprise me to see the team as a whole cool off a bit in early February before igniting the world in March.
I can't believe half of the season is already over. It has been a fun ride doing this here blogging thing with yinz, and I can't believe some of you have actually enjoyed reading my stuff. I think we need to have some kind of poll or something for the end of season awards, so that everyone contributes. Some categories can be: most memorable play, best goal reaction, best Sully moment, dumbest Errey saying, etc. Anyways, thanks as always for reading and here is to the next 41!
LET'S GO PENS
HERE WE GO STEELERS…HERE WE GO…clap, clap

No words….can't talk with a mouthful.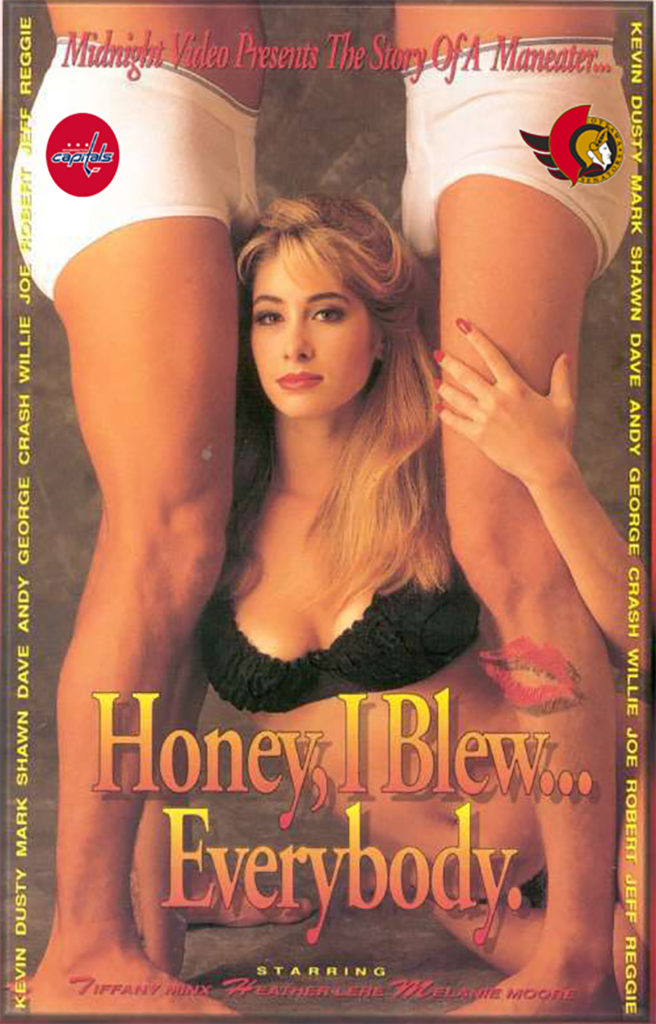 2 in a row??? YOU DRITY LIL HO! Off yer knees and VOTE!
9) "That box is very tight." – Errey (42%, 8 Votes)
5) "Comes around the backside and gets his stick in there." -- Errey (16%, 3 Votes)
12) "Spread out the Senators and come with speed." -- Errey (11%, 2 Votes)
11) "Trickling between his pads, he's able to squeeze it." -- Errey (11%, 2 Votes)
7) "Dribbled off his stick right onto Condon." -- Steigy (5%, 1 Votes)
2) "Hornqvist, he's just runnin' everybody, everybody on the Senators is biting their lip right now" -- Errey (5%, 1 Votes)
8) "Murray has seen a lot of rubber here." -- Errey (5%, 1 Votes)
3) "Crosby would have scored if he just shot, without trying to open up the Condom." -- j-b0t (5%, 1 Votes)
4) "Another big Condom stop!" -- TSN (0%, 0 Votes)
6) "Get on your forecheck and start banging bodies." -- Jay (0%, 0 Votes)
14) "I think if we get it behind them and go to work, we'll be OK." -- Sheary (0%, 0 Votes)
10) "We have 4 on league waiting if you wanna do a 5 man?" -- Blawgayczar (0%, 0 Votes)
13) "He doesn't have the big size that the other ones do." -- Errey (0%, 0 Votes)
1) "They've blown one lead this year." -- Steigy (0%, 0 Votes)
Total Voters: 19

Loading ...