The Pens were at home last night to finish out their schedule before the mandated bye week, a week full of speculation, ideas, and media vomit. Before we get to enjoy all of that however, we must recap the game that was.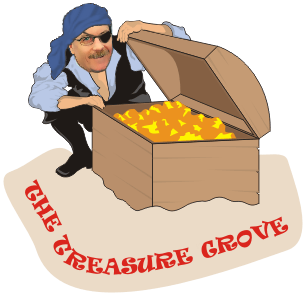 Since NHL began tracking in 1997, 84 players have taken 10,000+ faceoffs. Among those, highest average draws taken per game: K.Primeau (22.68), Sundin (22.67), Oates (22.02), Sakic (21.91), Messier (21.69), Crosby (21.57), Brind'Amour (21.57).

— Bob Grove (@bobgrove91) January 7, 2018
I don't know why he thinks to dig this stuff up, but man is it awesome
Pens begin their night in last place in the Metro. Last time Pens were last in their division on Jan. 7 was in 2006, when they were 11-21-9 and 7 points behind fourth-place NYI in Atlantic.

— Bob Grove (@bobgrove91) January 7, 2018
Only one way to go, eh?
In his last 5 appearances (1 in relief), Jarry is 1.21 and .957. Wow.

— Bob Grove (@bobgrove91) January 7, 2018
#goaliecontroversey2018
Your goaltender is your best penalty killer? Opponents have scored on 1 of their last 31 power plays with Jarry in goal (Cam Fowler Dec. 23). He's stopped 39 of 40 shots along the way.

— Bob Grove (@bobgrove91) January 7, 2018
Grover with the Jarry love
Last 4 seasons, average # of points needed to reach playoffs in East was 95.5. To get there, Pens would need to earn 50 points in their last 39 GP, say 23-12-4. That's earning .641 of possible points the rest of the way; they've earned .523 so far. . .

— Bob Grove (@bobgrove91) January 7, 2018
well then let's get going
The Penguins didn't change much up when it comes to lines, going with the following:
Welcome back Dumo!@Du24theboyz is back in the Penguins lineup for tonight's game vs. Boston. pic.twitter.com/rokVZ6axiF

— Pittsburgh Penguins (@penguins) January 8, 2018
In pregame skate it was Oleksiak as the odd man out, at game time it was Cole back in the dog house. No clue how anyone on staff thinks Hunwick is better than Cole, but whatever. At this point just trade Ian Cole, though unless a legit third center is the return the team will regret it. No other surprises and welcome back Brian Dumoulin.
The team started just like every other game in Pittsburgh this year, dead. The Bruins took advantage and picked up right where they left off the night before not even two minutes in when Ryan Spooner scores 1:51 into the game.
https://twitter.com/BruinsGIFs/status/950168587121168384
Fortunately for the Penguins they are used to trailing in the first period so they didn't give up, and this paid off two minutes later when a defender finally got on the board:
JAMIE OLEKSIAK (3) Assisted by HUNWICK (2) & HAGELIN (5) @ 3:53
Jamie Oleksiak unleashes a cannon and ties it up.

That's @jamieoleksiak's second goal in his last four games. pic.twitter.com/A2utt6PWSD

— Pittsburgh Penguins (@penguins) January 8, 2018
Just a perfect D to D pass and one-timer, something we haven't seen enough of since maybe the Gonchar days. Perfect placement by Oleksiak, putting the puck a foot off the ice so that if it is saved there will be a rebound, but also in a spot where it could go in. Hunwick with the assist, but he still sucks.
Now that the score was even the play would even out a bit for the next few minutes, Oleksiak would continue his trend of getting a goal and a penalty in the same game but the Pens PK was able to kill it off. Ten minutes into the period Matt Grzelcyk gets called for having an awesome last name and the Pens went on the powerplay. Little known fact, the Pens powerplay heading in to this game was clicking at 25.8% which had moved them into first in the league. Greater known fact, Phil Kessel fucks.
PHIL KESSEL (18) Assisted by CROSBY (26) & MALKIN (25) @ 11:04 PPG
KING OF THE POWER PLAY!

Kessel's 27 power-play points are most in the NHL. Crosby and Malkin tally the assists. pic.twitter.com/FtCKRhmPdf

— Pittsburgh Penguins (@penguins) January 8, 2018
Last recap I made the comment that Sidney Crosby may be having one of his best seasons as a play maker and we are underrating it because the goals aren't there. Just look at this freaking pass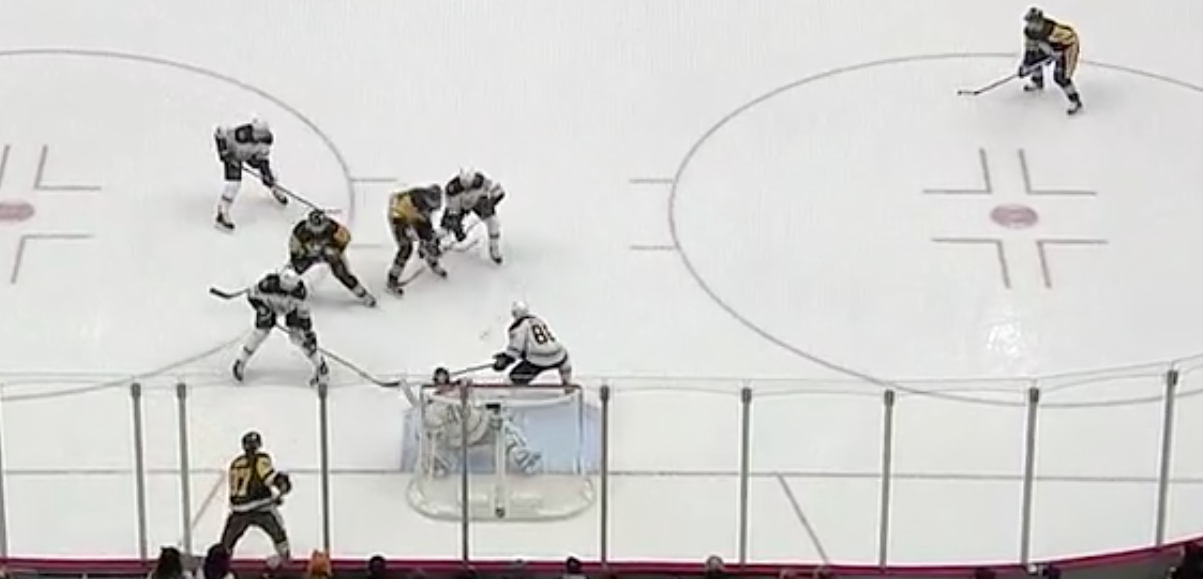 So was Sid trying for a bang-bang pass to Malkin? That was my first thought, but after slowing the video down it's hard to tell if this was intended for Malkin or not, but even if it was this would still be classified as threading the needle. As for that shot from Phil…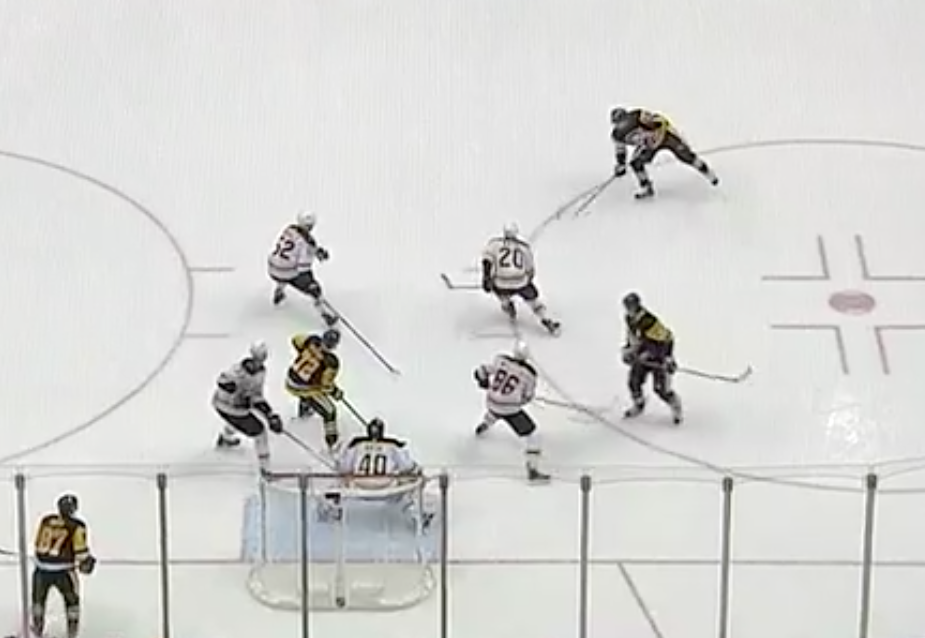 almost 90% of player would've taken the extra stride to the right to get the opening to the net. 90% of players would've made Rasks job very easy. Phil Kessel uses a Bruin decoy to hide the shot, and from this screenshot I think you can really appreciate how freaking good he is…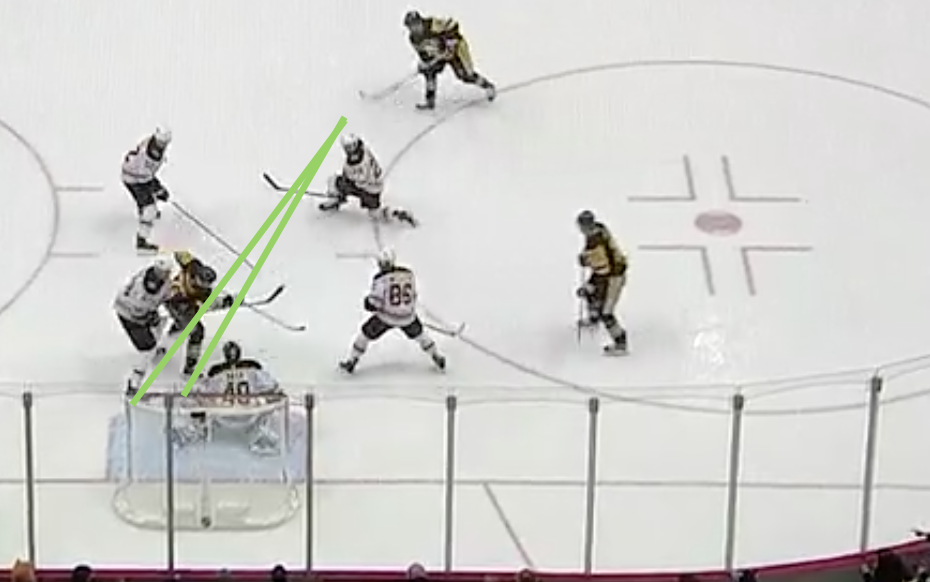 I could tell you where I've seen tighter fits, but we are a PG-13 blog.
https://twitter.com/penguins/status/950175782239948801
Just look at this flex, flex baby: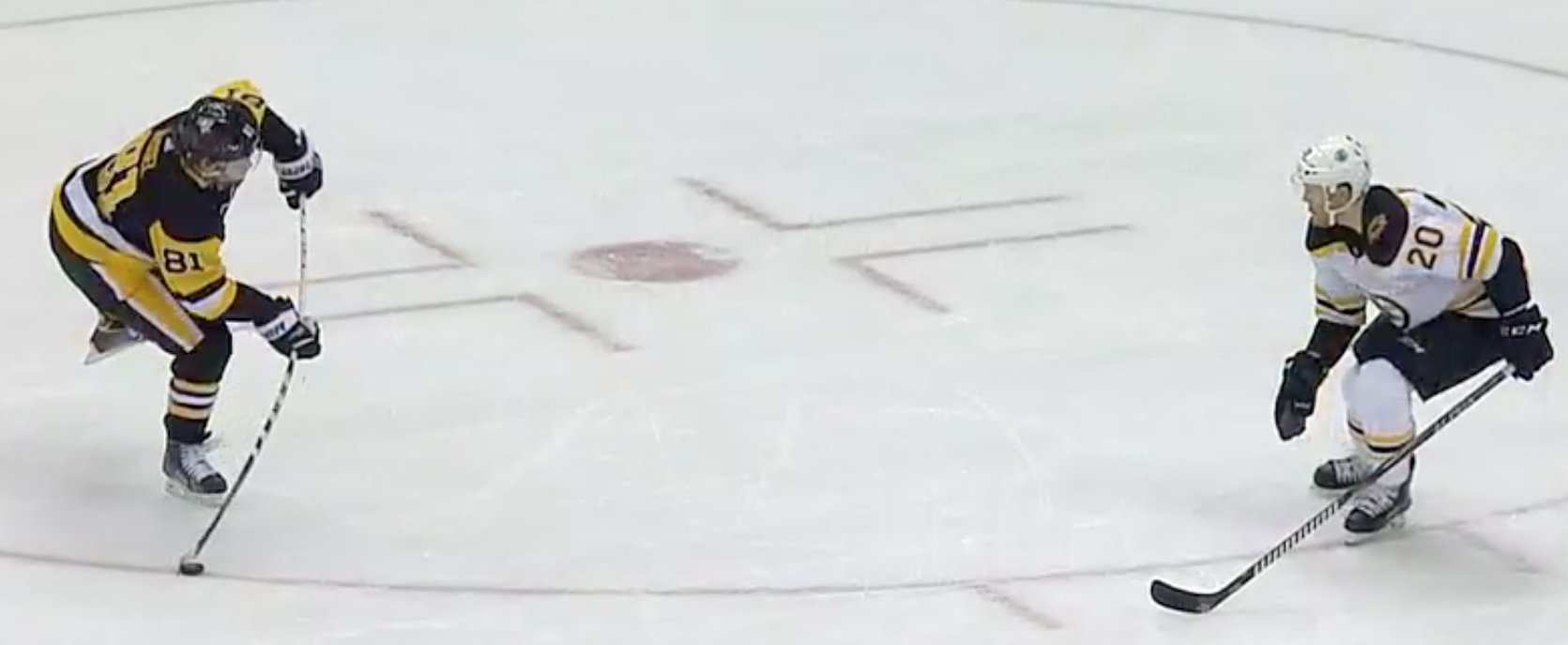 Now that I'm done gushing over Kessel, there was still half a period left to play. Two minutes after the Kessel explosion it was another defender triumphantly returning to the scoresheet:
KRIS LETANG (3) Assisted by CROSBY (27) @ 13:27
LETANGERANG! That's two big goals from Penguins defensemen so far in the 1st period. Crosby with the faceoff win and the assist. pic.twitter.com/azDfmXUvpd

— Pittsburgh Penguins (@penguins) January 8, 2018
Bottom six scoring is nice, but goals from the defense are never a bad thing.  Almost identical shot as Oleksiak's but on the opposite side, slightly surprised Letang didn't miss wide. The remaining 8 minutes would play out scoreless, and holy shit do the Penguins have a lead after the first period!?!?!
https://twitter.com/penguins/status/950175237068541953
Three goals on nine shots? Yes please, all day every day and twice on Sunday, oh we are talking about shooting percentage and not your mom? Meh, it applies the same.

Now, the Penguins aren't accustomed to having the lead after the first period, so there was only one thing the team could possibly do with a two goal lead, right?
Brad Marchand scores at 7:18 to make it 3-2
Noel Acciari (who?) scores at 8:18 to tie the game at 3…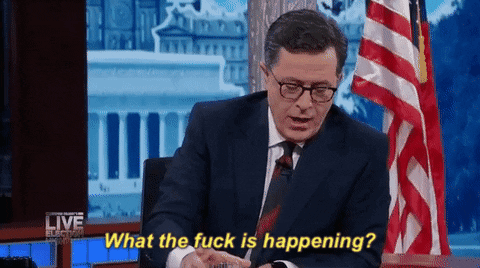 David Pastrnak scores at 12:14 to give the Bruins a 4-3 lead…
Kris Letang gets on the scoreboard with his second point of the night after this sweet assist
.@pastrnak96 steals, circles, and scores. pic.twitter.com/w3eCLsgFJd

— NHL GIFs (@NHLGIFs) January 8, 2018
David Backes scores at 17:08 to make it 5-3 Bruins.
Somebody tell me where to send the baby gift, because the Penguins missed a period.
Mike Sullivan pulls Tristan Jarry and replaces him with a goalie that sucks. Daniel Sprong would draw a penalty in the final three minutes, and of course the Pens would make it interesting…
EVGENI MALKIN (16) Assisted by CROSBY (28) & HORNQVIST (13) @ 19:56 PPG
What a clutch goal from @malkin71_ with 3.6 seconds left in the 2nd period!

Game info and stats: https://t.co/q4d9kQOswy pic.twitter.com/w8jgqGGVqX

— Pittsburgh Penguins (@penguins) January 8, 2018
Just get the hell out of here Sid. The Bruins play the role of the NHL and forget about Evgeni Malkin in front of the net, Sidney Crosby plays the role of being really, really good with a sick tape to tape pass.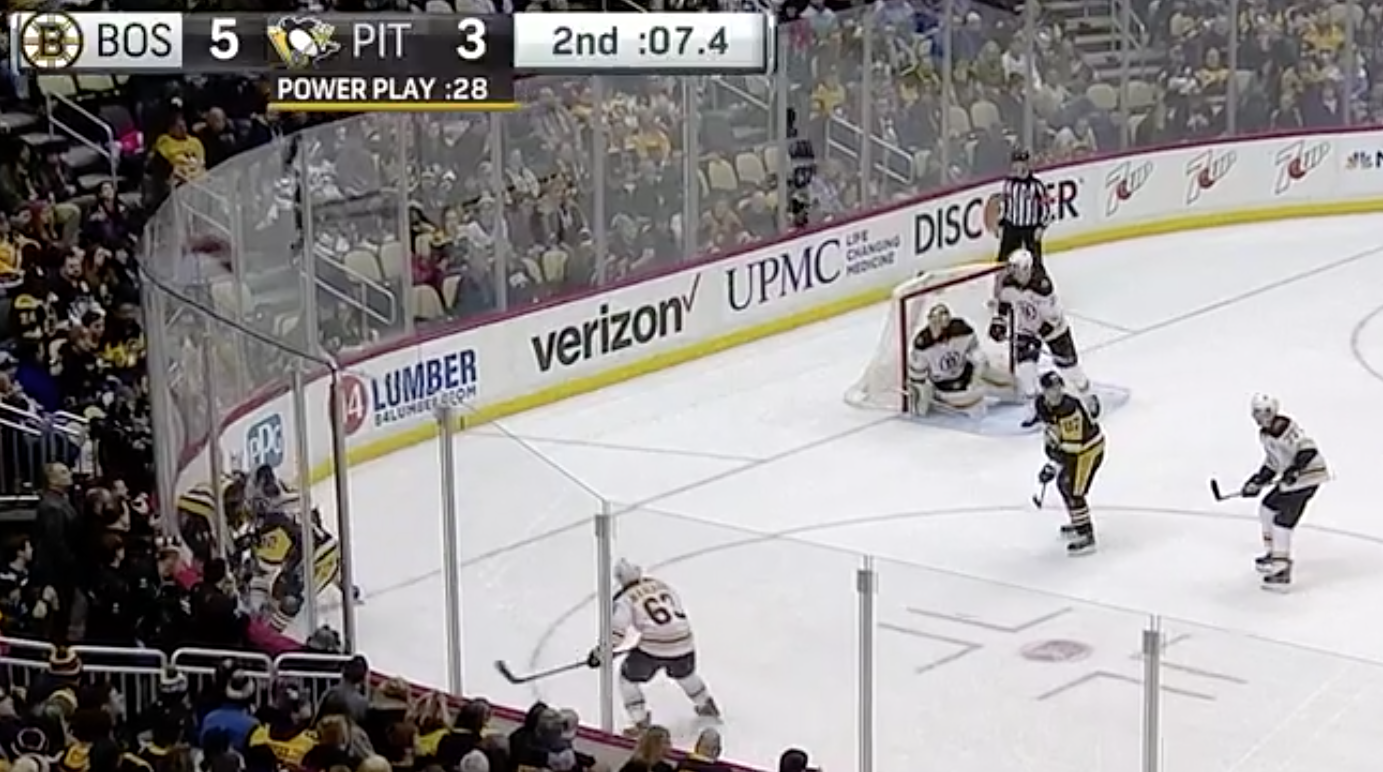 This is when Sid looks back and finds Malkin, 2 full seconds before getting to the puck. Rewatch the play, he doesn't turn around again yet Malkin knows what is coming.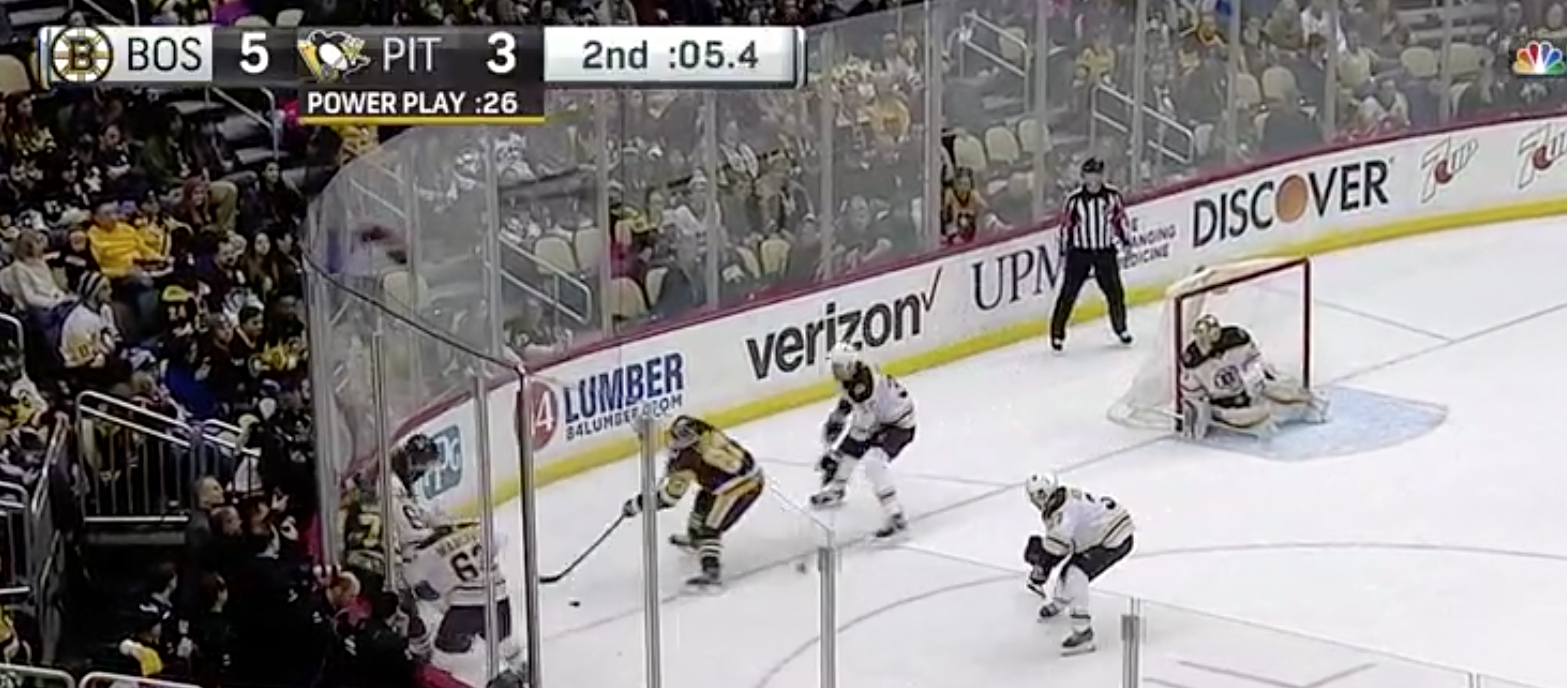 That's how the Penguins leaders lead. Also, 4 Boston defenders with the puck in the corner and 3 Penguins players is not good math by Boston.
Two up, two down.

Here's a look at your #BOSvsPIT stats through the 2nd period of play. pic.twitter.com/o6XticZ1hj

— Pittsburgh Penguins (@penguins) January 8, 2018
The majority of the fans most likely leave if Malkin doesn't score that goal, and who could blame them?
After a four goal first and five goal second would we have a 6 goal third? Two minutes into the period the fourth line continued looking really good together, and Riley Sheahan is feeling more and more comfortable in his new role:
RILEY SHEAHAN (4) @ 2:54
After Kuhnhackl plays the body and knocks the puck free Sheahan just walks in short-side. Not much to work with here: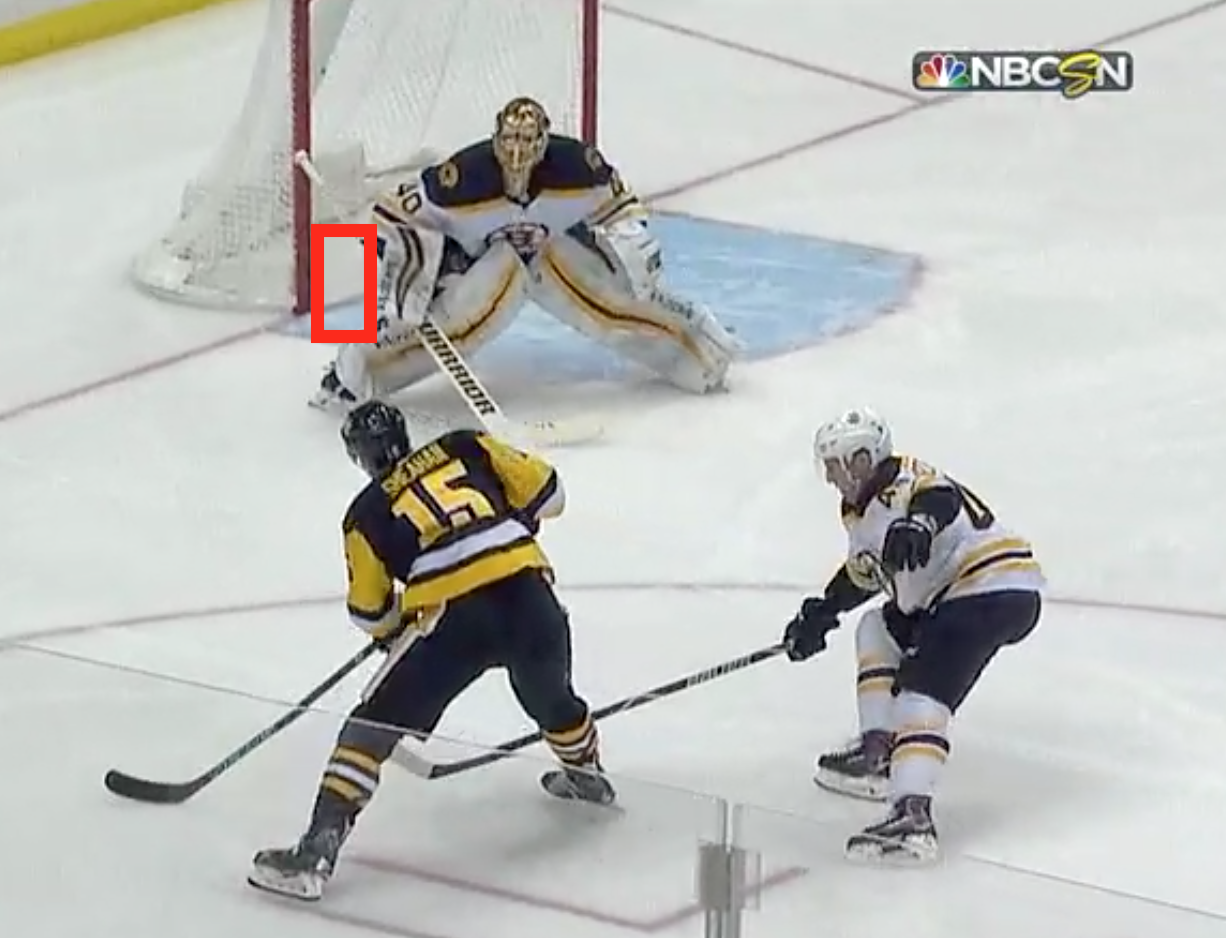 Notice the angle of Sheahan's stick here, it's almost perpendicular to the goalline which is what keeps Rask from covering the near post; he can't over commit to that side because everything about Sheahan's stick says he is going to the far side. For those still upset about the trade, Scott Wilson scored his 1st of the year with Buffalo giving him 1 goal and 1 assist in 30 games.
What a crazy game this was, and neither team could break the tie. This is mainly because the Penguins woke up defensively and only allowed 6 shots on goal after Murray stepped in in relief. With less than two minutes left Jamie Oleksiak draws a penalty, and the ref makes that always exciting point to center ice. A penalty shot to basically win the game for Marchand.
One, two, three triple deke
https://twitter.com/penguins/status/950204370649575424
And Murray reminds everyone that he is still pretty good at this whole goalie thing. Unbelievably huge stop.
The Marchand penalty shot was the third-latest ever taken against Pens in regular season. Dave Keon (Tor) scored at 19:55 of third on Nov. 20, 1974 in 8-5 Pens' win, and Dale Hunter (Wash) was stopped at 19:34 of third on Dec. 6, 1989 in Pens' 5-3 win.

— Bob Grove (@bobgrove91) January 8, 2018
You knew Grover would have our backs.
Game back on. OT underway.

Here's a look at your #BOSvsPIT stats at the end of regulation.#LetsGoPens pic.twitter.com/IQKyZHQzFs

— Pittsburgh Penguins (@penguins) January 8, 2018
Rob Rossi is the only person I've seen on record say they are against 3v3 overtime, and there's a reason for that. It is insane. These two teams had you on the edge of your seat when a puck casually exited the Pens zone and Phil Kessel goes all the way back to his own blue line to pick it up.
EVGENI MALKIN (17) Assisted by KESSEL (29) & LETANG (24) @ 2:51
Evgeni Malkin has six points in his last three home games (3G-3A)… This one is our favorite. pic.twitter.com/PSdIcpbT3F

— Pittsburgh Penguins (@penguins) January 8, 2018
Good God.
can u marry a hockey sequence, asking for a friend pic.twitter.com/ypgKC7i1rC

— ego (@EvgeniMaIkinEgo) January 8, 2018
This was the 48th multiple goal game of Malkin's regular season career. The last 28 times he's had multiple goals in the regular season, Pens not surprisingly are 25-0-3.

— Bob Grove (@bobgrove91) January 8, 2018
The goal was Malkin's 12th career OT winner, making him the franchise leader in the category as Crosby and Lemieux both have 11.
back in a playoff spot

sid and geno heating up

phil kessel is still a penguin

life is good pic.twitter.com/7mSMCLBRRk

— ego (@EvgeniMaIkinEgo) January 8, 2018
GAME
---
Thoughts:
– Crosby goes from 30th in the league to top 20 in points after getting 7 in two games
– The penalty shot could be the save that brings back all confidence in Murray, which should scare most of the league.
– The fit of Simon on Sids left has probably earned Conor Sheary  a new uniform during this bye week. In fact it wouldn't be surprising if this was the last we saw Sheary and Cole.
– This team is a decent third line center away from being really good again, and I have a feeling that move is coming.
– Evgeni Malkin, Sidney Crosby, Phil Kessel. The three leaders may have saved the season tonight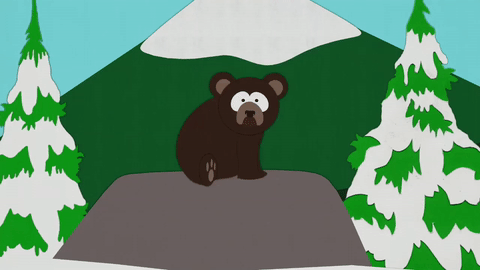 Loading ...