The Penguins went into this game knowing that the Rangers were on edge after getting embarrassed the night before and that their own fans were on the suicidal watch list following the Steelers unfathomable loss. A win would help remind the city of Pittsburgh that there is still one championship caliber team hanging around. A loss would make Monday mornings obituaries take up 6 pages.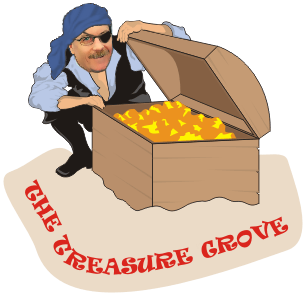 https://twitter.com/bobgrove91/status/952698344878481408
Jake stepping up in the absence of Rowney and the PK unit not missing a beat
https://twitter.com/bobgrove91/status/952693311839621120
#blessed
https://twitter.com/bobgrove91/status/952692305571581952
https://twitter.com/bobgrove91/status/952688781873659904
https://twitter.com/bobgrove91/status/952685762105020422
So let's get to it
As expected the Penguins didn't make any changes from the night before, once again scratching Ian Cole and rolling with the following:
https://twitter.com/penguins/status/952694371450793984
The Penguins looked a little lost to start the game and NBCSN realized this as well, making the comment 30 seconds in that the Rangers already looked better than the previous night (lol). After the Pens found their legs they started driving to the net, and Carl Hagelin remembered his answer to this one:
https://twitter.com/PensInsideScoop/status/952704230187520000
A puck goes to Henny who jumps out to smother it, but Hagelin gets there just in time to knock the puck away to his Swedish Fish Brother:
PATRIC HORNQVIST (13) Assisted by HAGELIN (7) & LETANG (25) @ 3:14
https://twitter.com/penguins/status/952705189882089472
Lundqvist immediately complained about the goal but since he was out of the crease he had nothing to stand on, and the goal stood.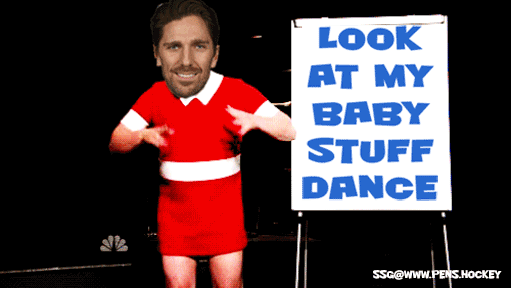 Someone asked if Carl Hagelin was starting to play better due to this three game point streak, and the answer is no, he's still doing the same things he's been doing but now they are closer to the goal and therefore resulting in assists. To be fair, to beee faaairrrrr, tooo beeeee faaaaahhhhhhrrrrrrr… Hagelin doesn't get paid to score and he has been pretty good at his role this year. This was also his 200th career point in his 452nd career game as he assists his best bud Hornqvist, who is once again on pace for another 25 goal, 26 assist season.
The Pens tried to jump up 2-0 multiple times but it wasn't meant to be and then Micheal Grabner got his obligatory breakaway, which resulted in his obligatory goal against the Penguins.
https://twitter.com/RTaub_/status/952710841895391233
Horrible decision by Dumoulin to give a quick pass back to Malkin, it is never a good idea to make a pass backwards as a defender if you are supposed to be the last defender back.
Four minutes later the Penguins defense took a page from the Steelers and didn't show up, and after multiple cycles the puck came to some dude named Brendan Smith and he beat Jarry short side.
https://twitter.com/RTaub_/status/952712058147082242
Jarry struggled to track the puck from behind the net to the eventual goal scorer, and that resulted in him guessing the rest of the way: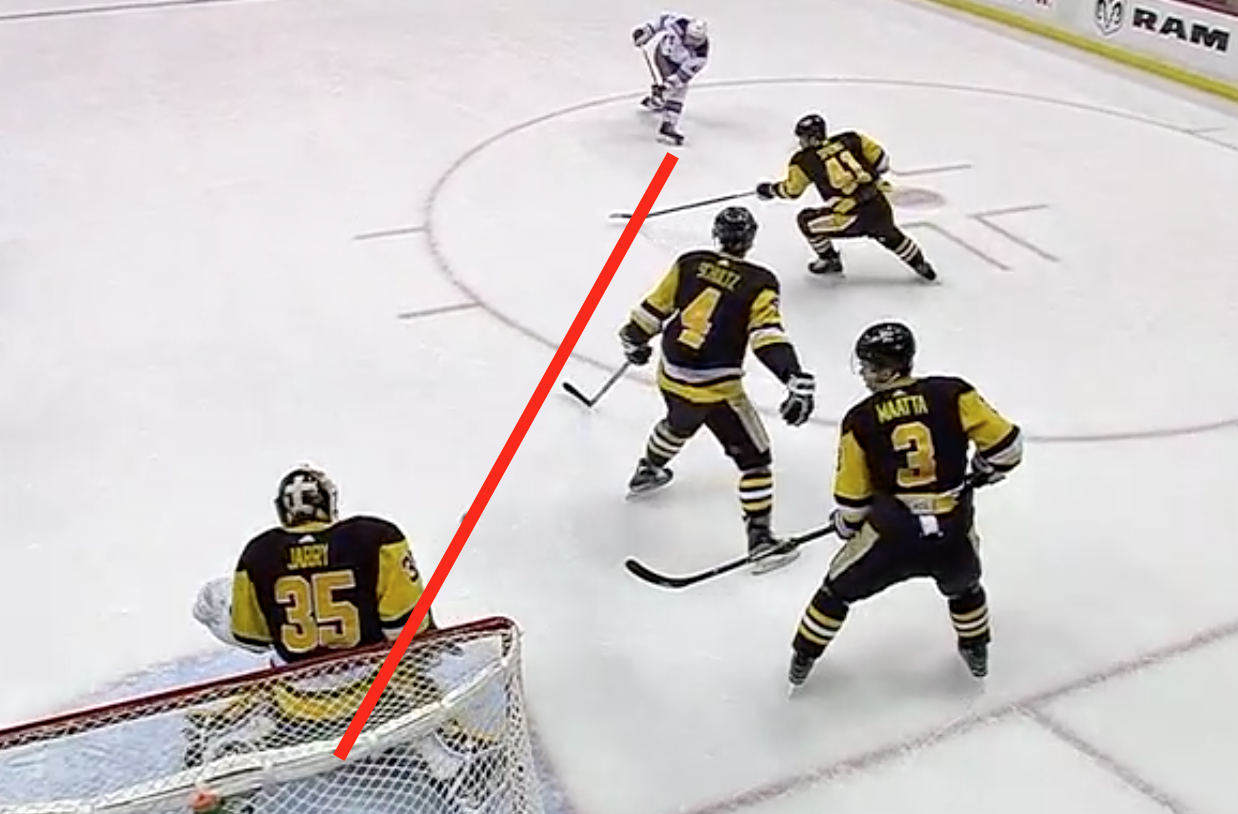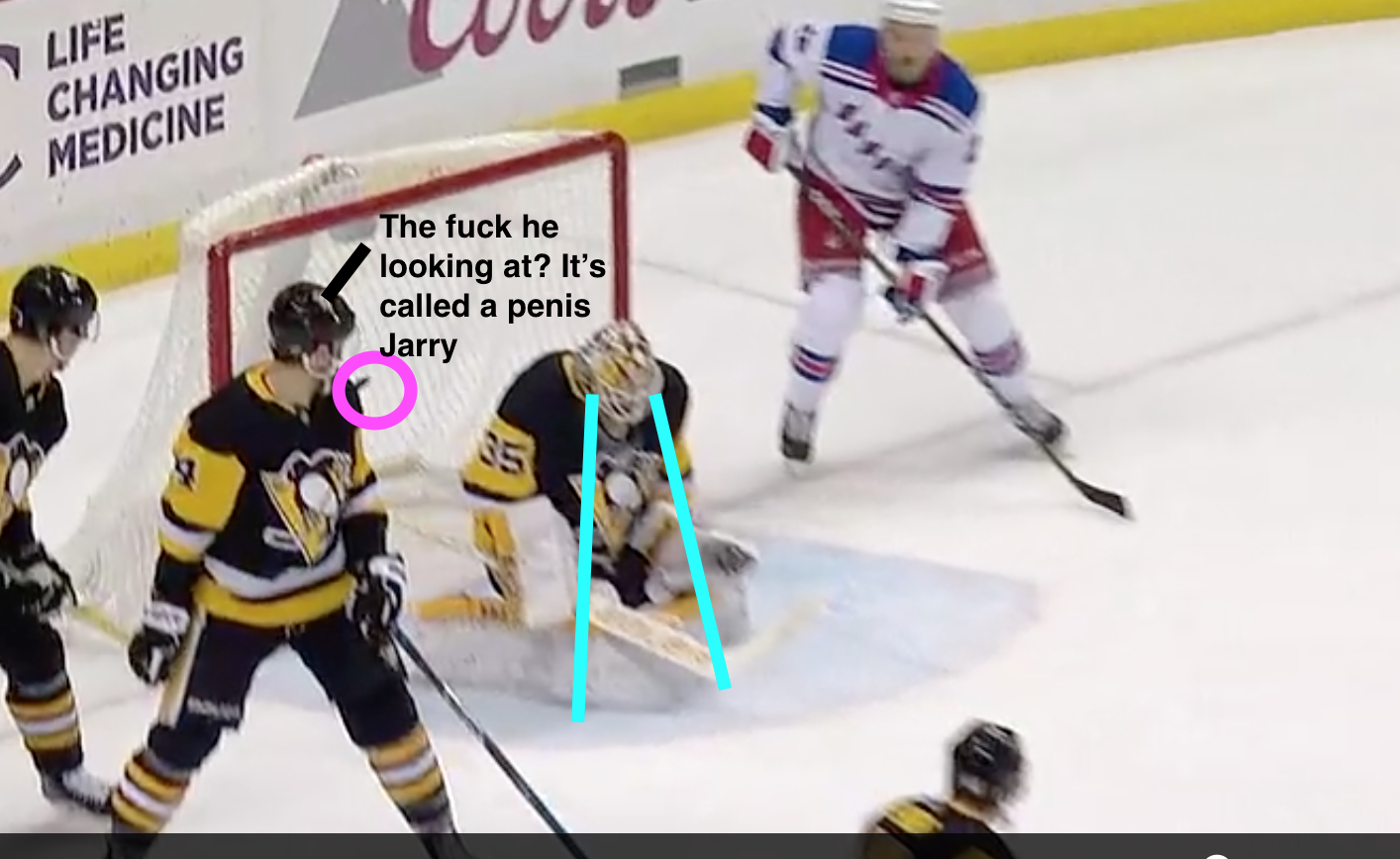 The rest of the period would finish without any other goals and the Pens would enter the room down 2-1 and there was some grumbling going on in the crowd.
https://twitter.com/penguins/status/952712752270856192
13 shots each, this game had a really fun feel to the first twenty minutes with a lot of quick transitions.

The second period started out with a great pace from the Penguins forcing the Rangers to take a penalty. The red hot powerplay couldn't cash in on their first chance, so the Rangers took a second penalty which also failed to convert. Both powerplays generated their fair share of chances, and following the conclusion of the second one the team started playing with an intensity that got you feeling all tingly down there. 6 minutes into the period the Penguins had 12 shots on goal and it was Lundqvist keeping his team in it. Then Ryan Reaves gets on the ice and starts throwing hits, until he is hit and the assassin's bodyguard Jamie Oleksiak steps in to clean up the damage.
Boom 💥
Boom 💥
BOOM 💥 pic.twitter.com/yellBHL2Vq

— Pittsburgh Penguins (@penguins) January 15, 2018
"I hate fighting," "if Reaves needs protection then what is his point," "this never swings momentum." After the conclusion of the fight the Penguins absolutely opened up a can on the Rangers, starting with Dominik Simon netting the first of his career:
DOMINIK SIMON Assisted by DUMOULIN (3) & CROSBY (30) @ 13:15
https://twitter.com/penguins/status/952724442018443265
This play all made possible due to yet another great play by Crosby who held on to the puck perfectly after entering the zone as he waited for the team to enter.

Sid enters the zone and weighs his options, and then makes this sneaky good play using his edges to buy time:
You can't teach that kids and it is yet another example of Crosby making plays that seem so simple but take so much skill. Not only does he stop, he moves his blades so the defender doesn't know where he is going and he keeps the puck moving on his stick so the defender won't get too close, and then just look at how narrow the lane is that he eventually passes through, unreal. Lundqvist didn't even have time to cry about this goal before Jake Guentzel took over and pushed the Rangers to the edge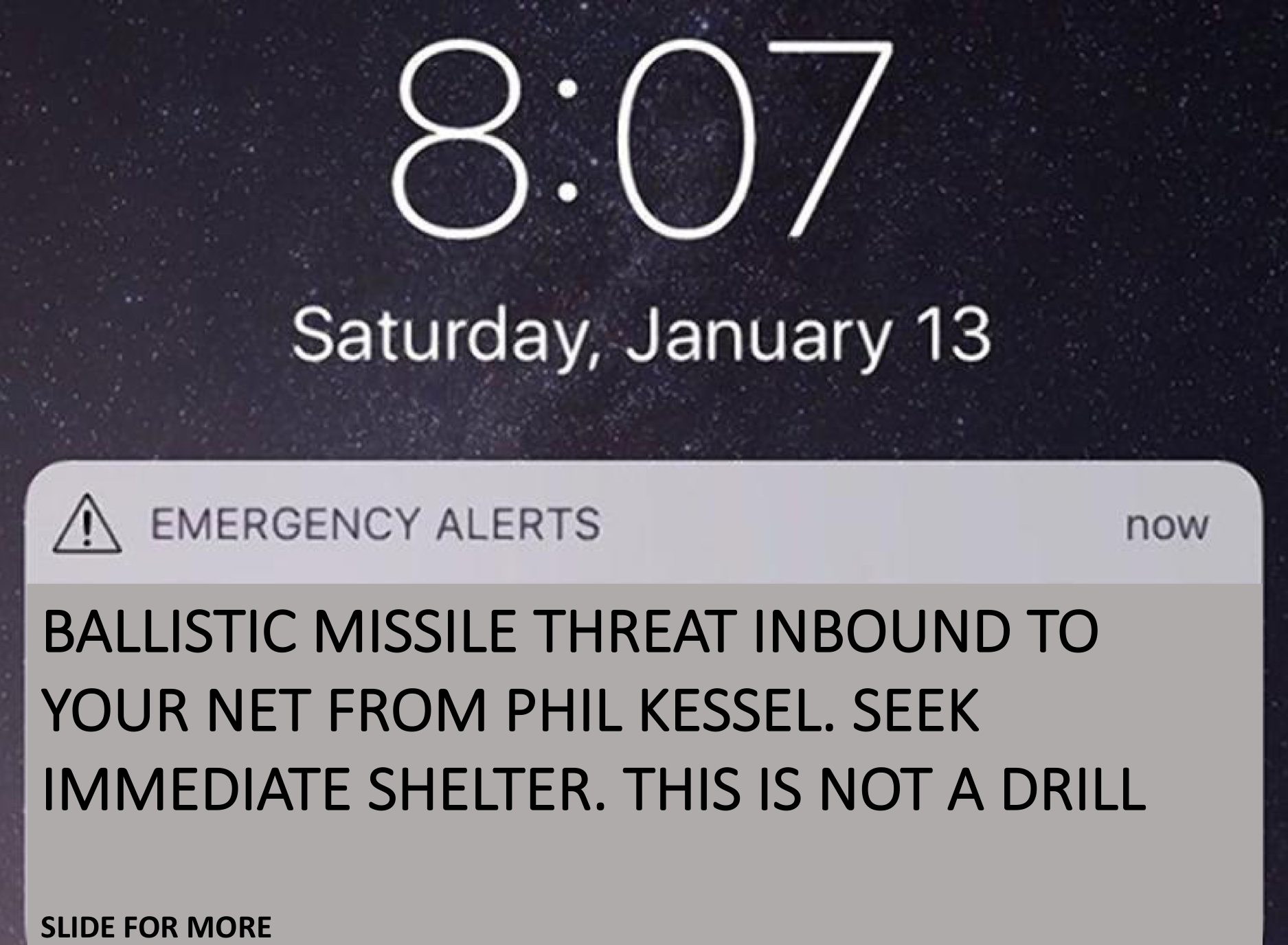 PHIL KESSEL (20) Assisted by SHEARY (6) @ 14:30
https://twitter.com/penguins/status/952726787422900224
On a casual dump in Jake Guentzel makes this entire play happen: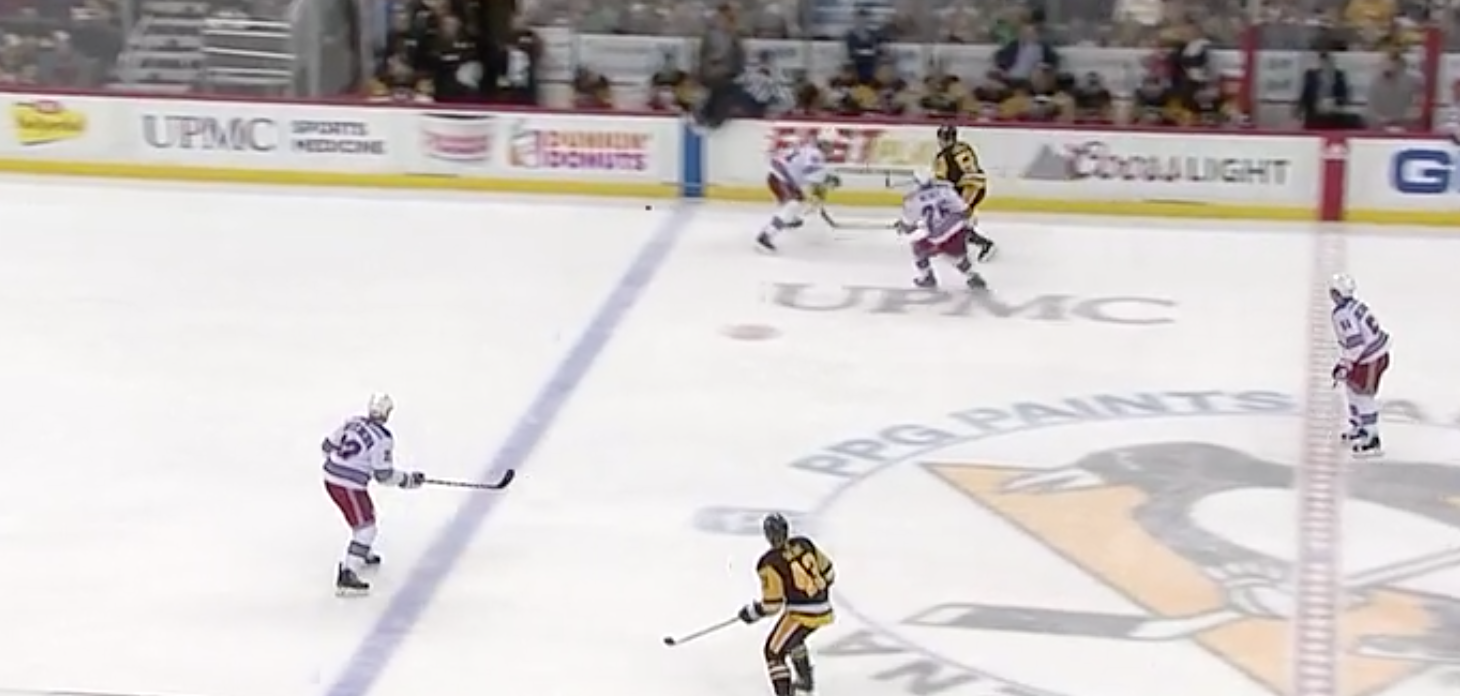 Two defenders on him, this puck should be an easy out for the Rangers.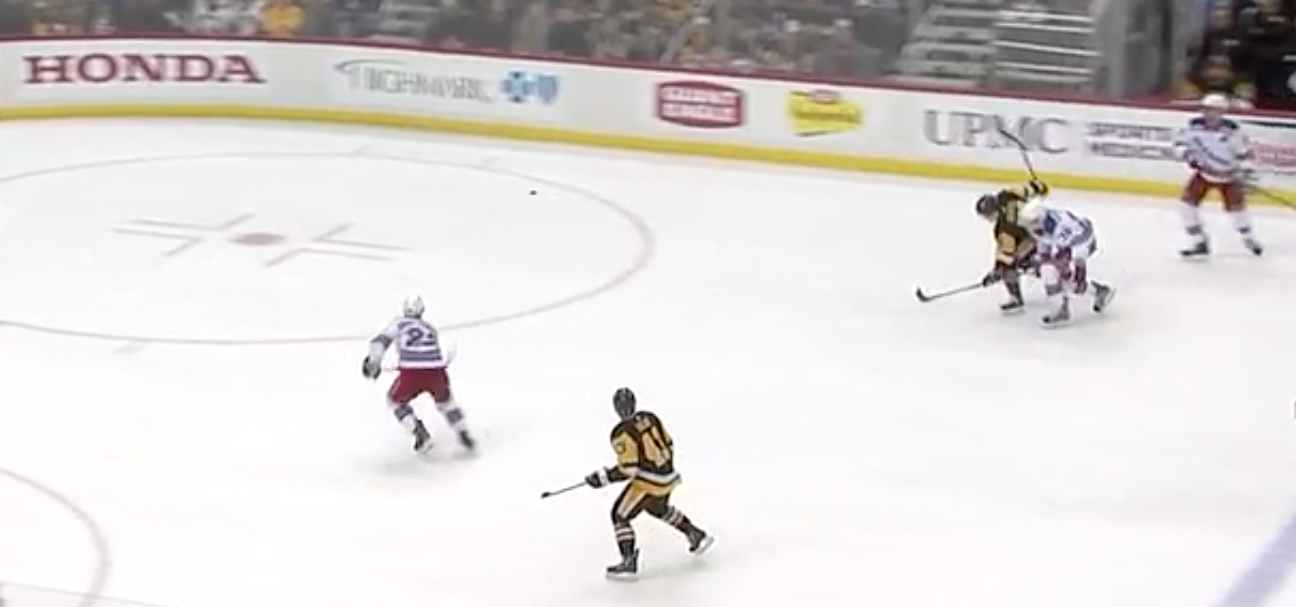 Instead Guentzel keeps his feet moving and splits through the defenders, you can already see in this image that the Rangers last defender has no choice but to abandon Sheary to cover for the puck because Guentzel is still moving. Now this is when Sheary shows his smarts, he could either stay where he is for an unlikely pass from Guentzel or…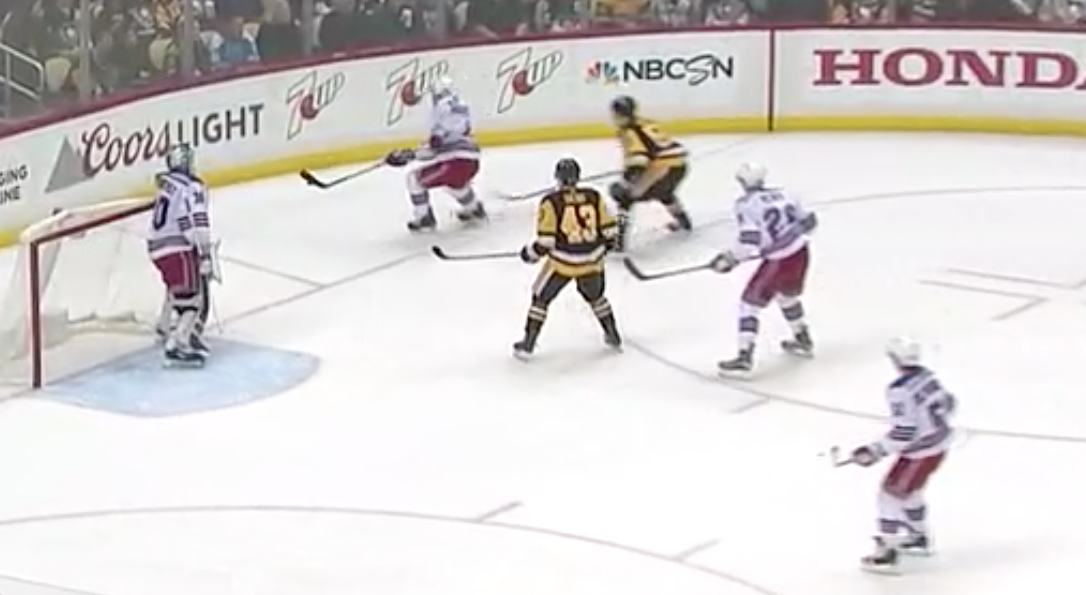 Sheary plays the odds and knows he is useless in front of the net so he coasts over, meanwhile Guentzel is still busting his ass and forces the defense to make a quick play. Now, this is a right handed defender and there are four Penguins up the wall on his weak side, so the logical thing to do would be to curl it around the boards on his forehand. The pressure felt by Guentzel and the appearance of Hunwick on the left wall leads to the decision that follows, and Sheary is right there.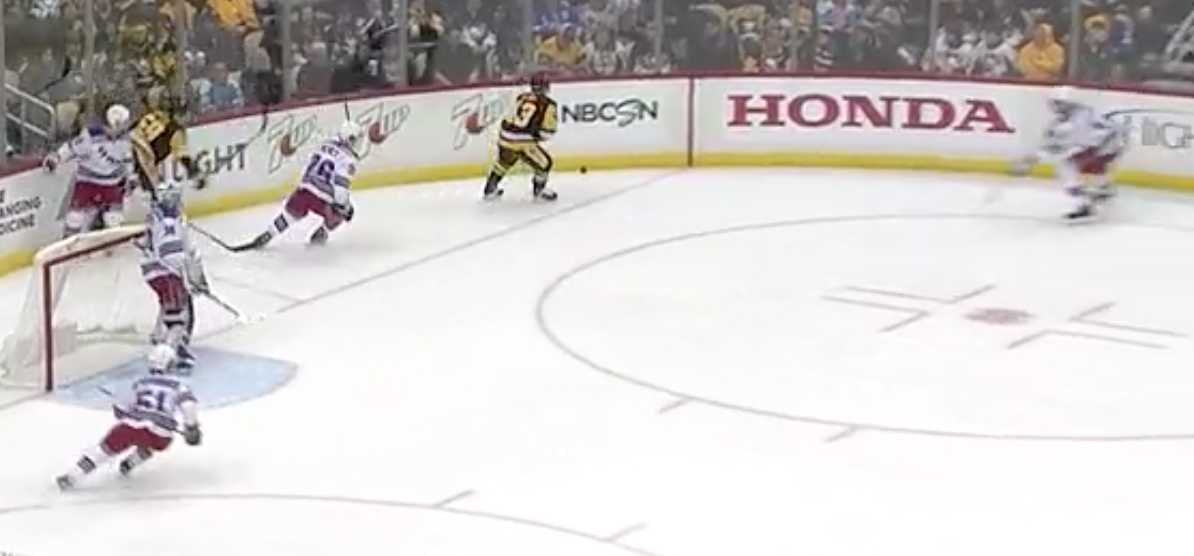 Sheary notices what Guentzel has created and takes the puck with ease, a play that should've been in and out of the zone is now on Sheary's stick, and what else do you notice about this image? There are four defensive players in it, two are behind the goal, one is to Lundqvist's right where there isn't a player, and the other is trying to stop Sheary from going up the boards. This is the benefit of having Phil Kessel on your third line, the Rangers completely forget about him all because Guentzel made the entire team panic.
Lundqvist is the first person to acknowledge Phil as he points to him in this image, but maybe he should've been working on stopping the puck. Now take all of that in mind and watch the play develop, it is unfortunate that Guentzel didn't get a point on this play, but this is a perfect play by a center:
Kessel hits the 20 goal mark for the 10th time in a row, joining some decent company:
https://twitter.com/PR_NHL/status/952736852762677248
The goal was also Kessel's 700th career point in his 878th career game.
The Penguins continued the pressure and the Rangers didn't have an answer. It looked like Penguins hockey, and unfortunately the Pens couldn't cash in one more time.
https://twitter.com/penguins/status/952725418095898624
The Pens finish the period with 18 shots while the Rangers have 20 total. This period was completely dominated by the Pens, they made it look as easy as converting a 4th and inches.
The Penguins took everything they had in the first two periods and turned the son of a bitch up to eleven in the third. The Rangers would get 8 shots on goal in a period where they were trying to tie up the game, and it isn't because they were playing poorly, it's because they never had the puck. The Penguins appeared to score a goal at one point but it was called back due to a distinct crying motion.
https://twitter.com/NHLonNBCSports/status/952732513662918658
I'm not perfect, but I have a hard time believing this puck didn't go off of Sheahan's stick after he made contact with his skate, remember the call was kicking motion and not goaltender interference. Lundqvist said it was the right call since he was pushed into the net and couldn't make the save.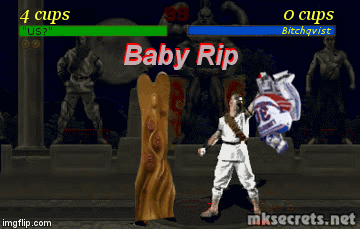 Regardless The Paint Can reacted appropriately and got fired up, and the Rangers couldn't take advantage of their good break. Instead it was a modified line of Sheary-Crosby-Kessel rolling down the boards:
SIDNEY CROSBY (17) Assisted by KESSEL (32) & OLEKSIAK (3) @ 12:33
https://twitter.com/penguins/status/952737688586805248
What a great assist by Kessel, and Sid reminds everyone that he has really good accuracy when he wants to. The Rangers defense on this play is just embarrassing: 
Three defenders below the dots and NOBODY THINKS ABOUT COVERING SIDNEY FUCKING CROSBY. Not to mention Lundqvist does nothing to help himself out as he relies on his reflexes alone to make the save instead of popping out to the top of his crease. In a tight division race the Rangers just forgot about the player they have been beaten by for 12 years. It was Sids 399th career goal and also gave him another multi-point game putting him at 47 points through 46 games, once again over the 1 point per game average.
That was pretty much the final nail in the coffin, but the Rangers still decided to pull Henny to give it the ole college try. Before he could get off the ice Carl Hagelin was there to finish the deal:
CARL HAGELIN (3) Assisted by OLEKSIAK (4) @ 18:01
Phil's wheels keep on turning, Lord Crosby keeps on burning, and we are rolling
GAME
---
THOUGHTS:
After their recent tear Kessel (8th. 52 points), Crosby (13th. 47 points), and Malkin (14th. 46 points) are all in the top 15 in the league in points.
Tristan Jarry with one hell of a weekend, playing in back-to-back games Jarry goes 55/58 for a 0.948 save percentage
Jamie Oleksiak has been another one of those Rutherford projects that is blossoming, major shout out to the Pens scouts (and Gonchar) for seeing this opportunity:
https://twitter.com/jmarshfof/status/952739074594484230
When your bottom pairing is turning out numbers like this, good things will come
Though the team has won 4 in a row and 5 of their last 6 I felt like this was the most dominant they have looked in a long time. I've always felt that you can tell when a Sullivan team is clicking or not based on the amount of confusion in the neutral zone. In the last two games the Pens spent very little time in the neutral zone because they were connecting quick passes and entering the offensive zone with ease. It took a few months, but I feel like it needs to be said, the Penguins are back and the rest of the division is going to regret not being able to pull away in the first half.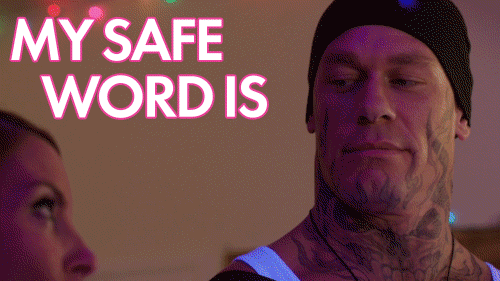 Loading ...