Two weeks ago the Penguins went to the shithole country of Detroit and played with as much heart as the lion from Wizard of Oz possesses. That was the last game of 2017, capping off a disappointing conclusion to another banner year for the Penguins. Then the calendar turned, and wouldn't you know it the players almost realized that the season was starting. Five games into the month the Pens found themselves facing Detroit again, but this time they didn't have to worry about getting mugged on the way to the arena.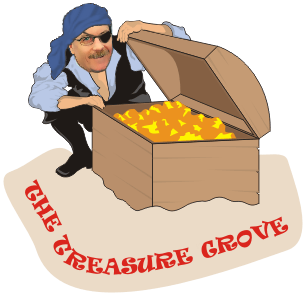 https://twitter.com/bobgrove91/status/952227492898668545
Pre-Mario is like 50 years ago!
https://twitter.com/bobgrove91/status/952226485905092608
Some Mario love, some Jagr love, I'm digging it
https://twitter.com/bobgrove91/status/952229506667851776
Not bad powerplay, let's check in on the PK…
https://twitter.com/bobgrove91/status/952234035274645504
https://twitter.com/bobgrove91/status/952234287192932352
I might be in the minority, but I love a team with a great penalty kill. It's so frustrating for the offense and can be a complete series changer in the playoffs
https://twitter.com/bobgrove91/status/952237307041591296
Niemi is dat you?!
https://twitter.com/bobgrove91/status/952284834394726400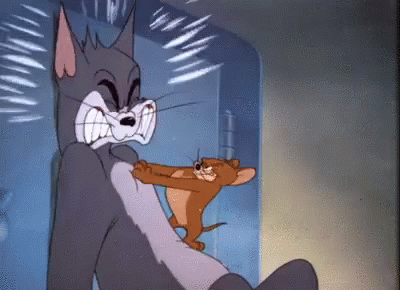 As predicted the Pens didn't make any lineup changes and rolled with the following:
https://twitter.com/penguins/status/952231855339851776
Right from the opening drop the Penguins had some hop in their step and you could tell they were ready to go. It always amuses me when the old adages that coaches rattle off when you're a kid are on display at the professional level, and be the first one to the puck is one Carl Hagelin has carried out his whole career:
EVGENI MALKIN (18) Assisted by HAGELIN (6) & MÄÄTTÄ (14) @ 3:01
Fun facts: Evgeni Malkin has 11 points (6G-5A) over his last 8 games.

He also has goals in three consecutive games (four total). 💪 pic.twitter.com/sJjhrb3xfw

— Pittsburgh Penguins (@penguins) January 13, 2018
The Penguins had held possession in the zone for awhile until Detroit eventually got to the puck and all hope seemed loss. Then speedy Hagelin puts that little extra effort into getting to a loose puck first and this is what happens. It originally looked like a Crosbyesque pass from Hagelin but turns out he was just throwing it in front of the net, where good things tend to happen, yet another adage.
The period would start to fall into a he says, she says style of hockey for the most part until the Penguins decided to start taking penalties. First it was a Simon penalty that was killed off. Then it was a Guentzel delay of game penalty that was killed off. Then a Malkin tripping penalty would prove yet again that the third time is a charm depending on the eye of the beholder.
https://twitter.com/DetroitRedWings/status/952252140508065792
Crosby taking shifts on the PK after it had been out for 6 minutes in one period. When a powerplay unit can get the defense to move around as much as Oleksiak had to in this clip it will most likely come down to the goalie making a big save. To his credit Jarry got the harder of the two shots and just missed the second.
Eventually the Penguins would get their first powerplay opportunity of the game after Hornqvist draws a crosscheck. Right after the penalty was called there was a TV timeout and this played in The Paint Can to fire everyone up
https://twitter.com/penguins/status/952249408485318656
30 seconds after that played Kessel started with the puck on his own blue line, hits Malkin in the neutral zone who dishes to Crosby at the Red Wings blue line, two simple passes and the Pens have dissected the defense and are in the zone, then Crosby does Crosby things:
PHIL KESSEL (19) Assisted by CROSBY (29) & MALKIN (26) @ 16:35 PPG
https://twitter.com/penguins/status/952250790789476352
How do you forget to track Phil as he is flying up the ice? Just beautiful execution by the Penguin stars.
https://twitter.com/EvgeniMaIkinEgo/status/952251903408263171
All this talk about Oprah 2020, but if you want to get stuff passed in congress Crosby is your man. RIP Daley.
https://twitter.com/penguins/status/952253102295519232

The last time the Penguins took a lead into the second period they let Boston score 4 goals in 14 minutes. Things wouldn't be quite the same this time however, because Evgeni Malkin is starting to heat up and that should scare the Metro division.
EVGENI MALKIN (19) Assisted by KESSEL (30) @ 2:08
https://twitter.com/penguins/status/952258003100667904
He makes this shot look so effortless that it isn't even fair. His hands seem to barely even move as they appear to push the puck forward instead of bearing down and wristing the puck, yet from this view you can appreciate the speed that was on the shot:
https://twitter.com/EvgeniMaIkinEgo/status/952257036061900803
And if that doesn't get the blood flowing into your Pens boner then take this too and while watching remember that this gif is slowed way down so normal people like you and me can process what happened:
https://twitter.com/EvgeniMaIkinEgo/status/952257493211721728
The final thing I want to mention on this goal is the 30th assist of Kessel's season and how it all started. This was Phil's view as he entered the zone with speed: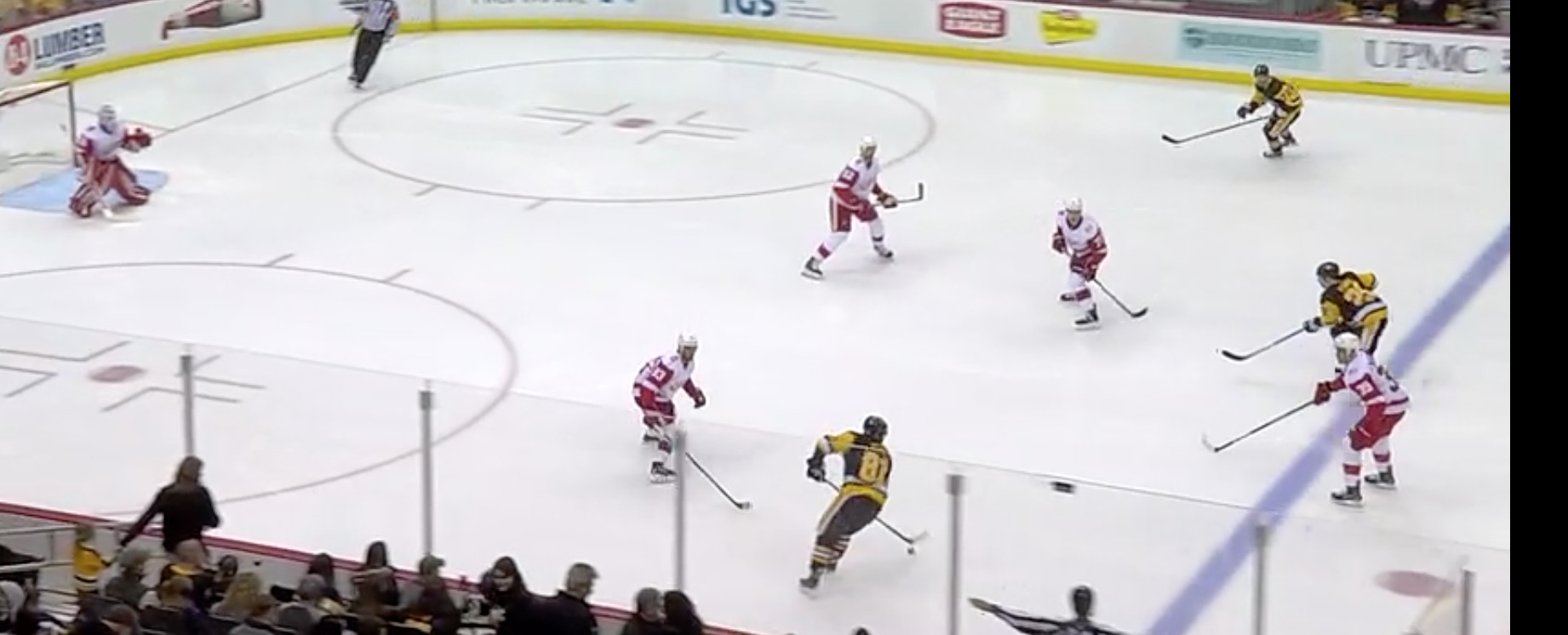 The ability to turn the above into a wide open look for Malkin is a part of Kessel's game that is criminally underrated. Look at Kessel's helmet direction in the above freeze, his eyes are on one person, and one person only: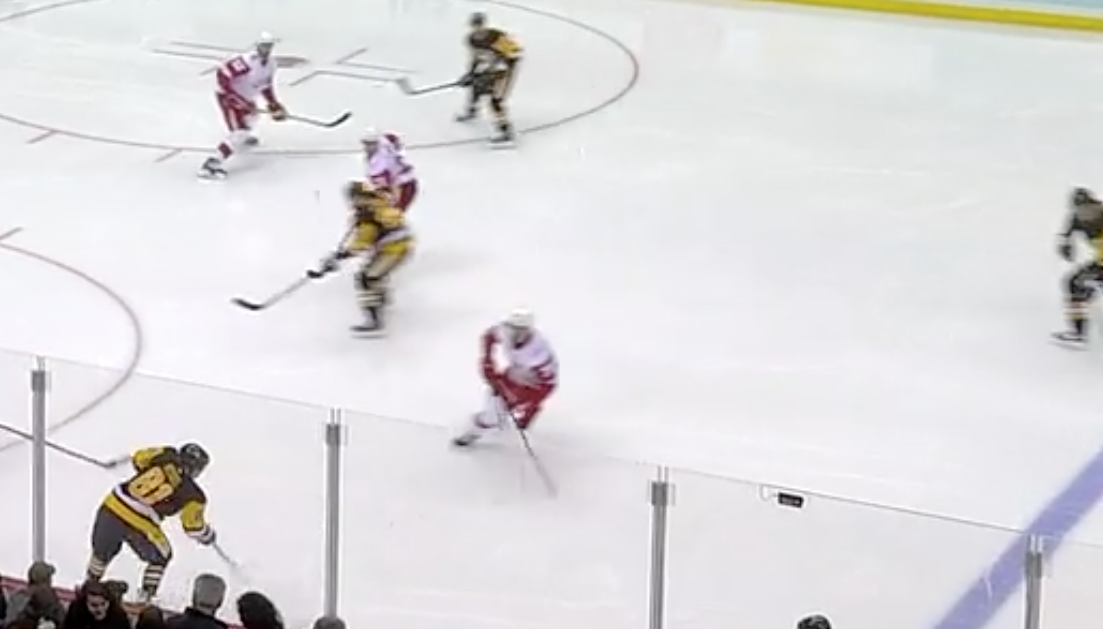 BOOM goes the dynamite.
The Penguins would get a powerplay 3 minutes later but even God needed a rest on the seventh day. Following that the Pens decided the PK unit didn't get enough work in the first, so Malkin hooked Frk at 12:21, killed. Then Oleksiak slashed Helm at 9:34, killed. Then Tatar wanted to join the club and held Matt Hunwick which is probably the dumbest thing I've ever seen, it would've been more of a detriment to the Penguins had he not held him. The Penguins wouldn't convert on that one and some how the only goal despite 8 minutes of special teams would be Geno's 5v5 goal two minutes in.
https://twitter.com/penguins/status/952265148605059072
So far the Penguins have looked like a completely different team than what we've seen over the first 40 something games just by the way they started every period in this game. Of course getting early powerplay chances doesn't hurt, but seeing the team come out and score in the first 4 minutes of each period is the type of drive you want to see. The Pens would complete this trend after they received another powerplay chance early.
SIDNEY CROSBY (16) Assisted by KESSEL (31) & MALKIN (27) @ 3:31 PPG
https://twitter.com/penguins/status/952272369866956800
They say that the best chess players think 3 moves ahead. Sidney Crosby has probably already thought about a play he is going to try to run tonight against the Rangers. This is such an innocent play that 98% of players would not turn into a goal, but man:
https://twitter.com/EvgeniMaIkinEgo/status/952271184506376193
One solid motion, stick up, puck on stick, shoot. Trevor Daley sitting there like he just saw the ugly girl he dumped sophomore year become prom queen. Speaking of Daley, the Pens showed him a tribute video naturally. It was good but this post is already long enough so look it up for yourself. The Penguins would take two more penalties to run their game total up to SEVEN because why not? The Wings would only capitalize on the one in the first period however and Jarry and the Pens would win their 4th game of 2018.
GAME
---
THOUGHTS:
Two weeks after being written off the big dogs are showing up, in their last 5 games Crosby (2G.8A), Malkin (5G.5A), and Kessel (3G.5A) are leading the way
It is rather impressive that in a game when the team gives up 7 penalties the PK rate will still be going up overall.
2/5 on the powerplay after going 2/3 against Boston puts the unit at 50% over the last 2 games.
Penguins Twitter team with some good shit on this one
https://twitter.com/penguins/status/952278350961274887
GAMEDAY 46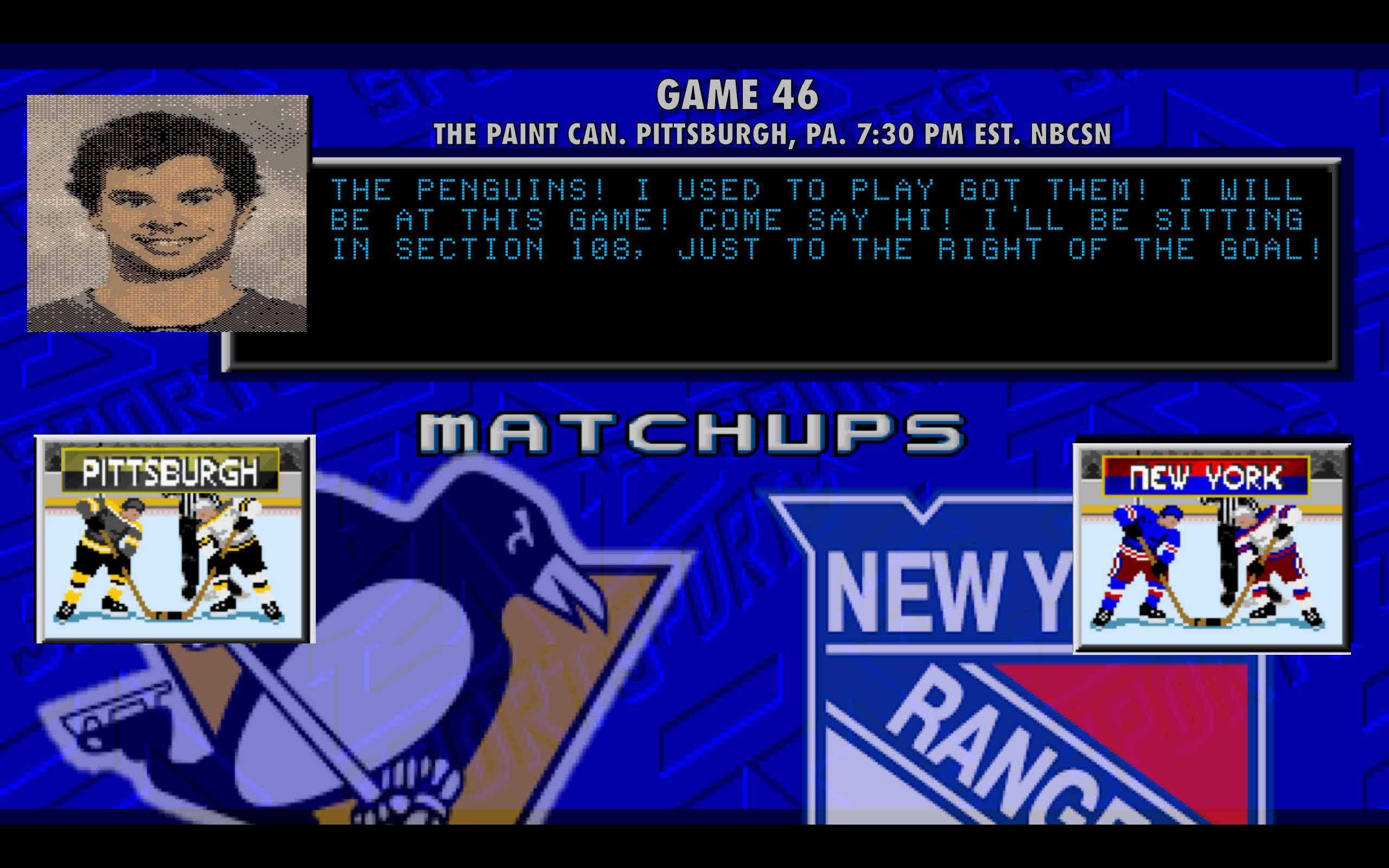 So now the Penguins welcome the Rangers into town for what will surely be the second most viewed game in Pittsburgh today. In case you didn't know, there is a big football game going on today as well, and our boy Ian (@thesteelersnat on Twitter) has everything you need to know over at Steel City Blitz. Now back to what you're here for, the Rangers.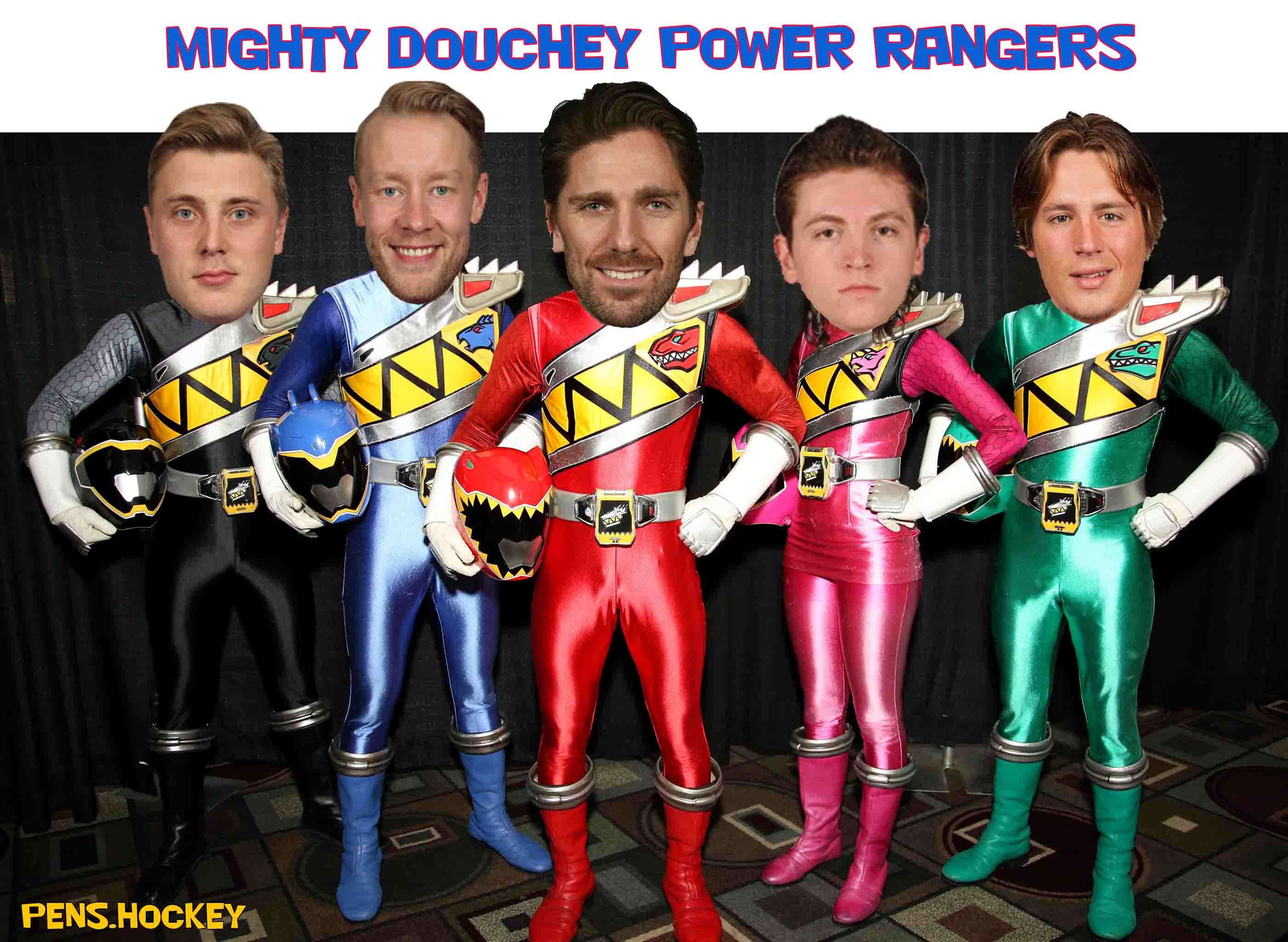 The Rangers hosted their inner city rivals last night at Madison Square Garden and things didn't go so well…
https://twitter.com/NYIslanders/status/952279207832440835
The team started Ondrej Pavalec in an attempt to save King Henny for the Pennies but that didn't go as planned. Pavalec couldn't even last a period in a half playing just 26:51 while allowing 5 goals on 19 shots. Lundqvist came in in relief for the remaining 33:07 and stopped 16 of 18 shots. Now the Rangers have two goalies that both played over a period yesterday so who knows what they plan on doing, though the smart money would be Lundqvist considering Pavalec is Czech for sucks.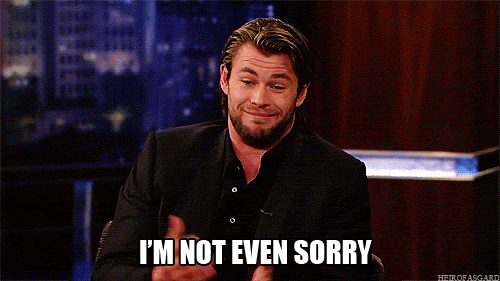 The implications of all of these Metro games in a row are illustrated nicely here: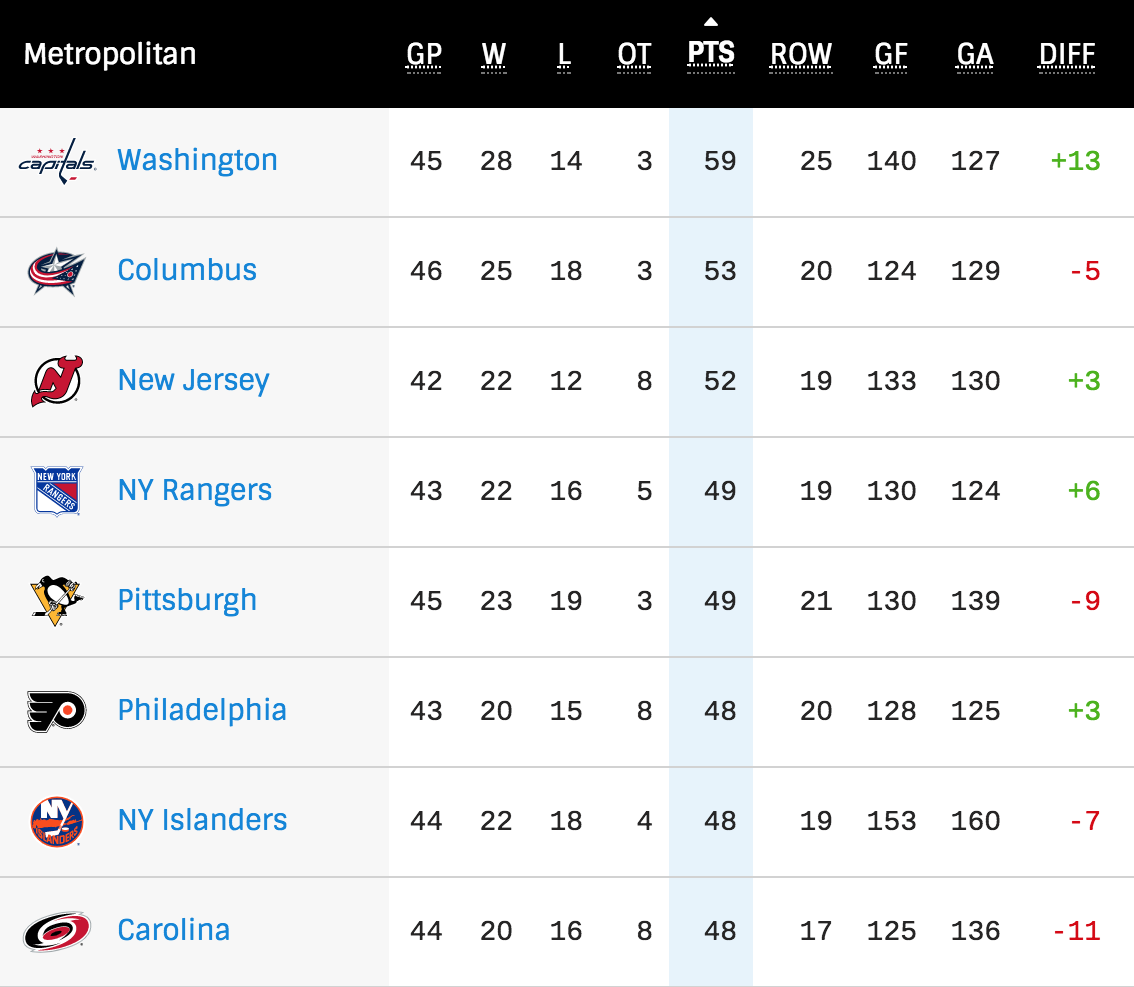 The Penguins goal differential is in single digits for the first time since the second week of the season. I have no clue how the team took a week off and has still played three more games than New Jersey, but something to consider is this means the Pens play less games in the next few months with a few more off days than these other teams. The most annoying part of the schedule is it is tough to judge the standings when you have teams with 3 games in hand, 1 game or even 2 is something to work around, but 3 in hand is too much considering those games are against Metro teams as well. Regardless the message is simple for the Penguins tonight, you've won 4 out of 5, the Rangers just got scored on like they were hookers on 8th, so go in there and get it done early.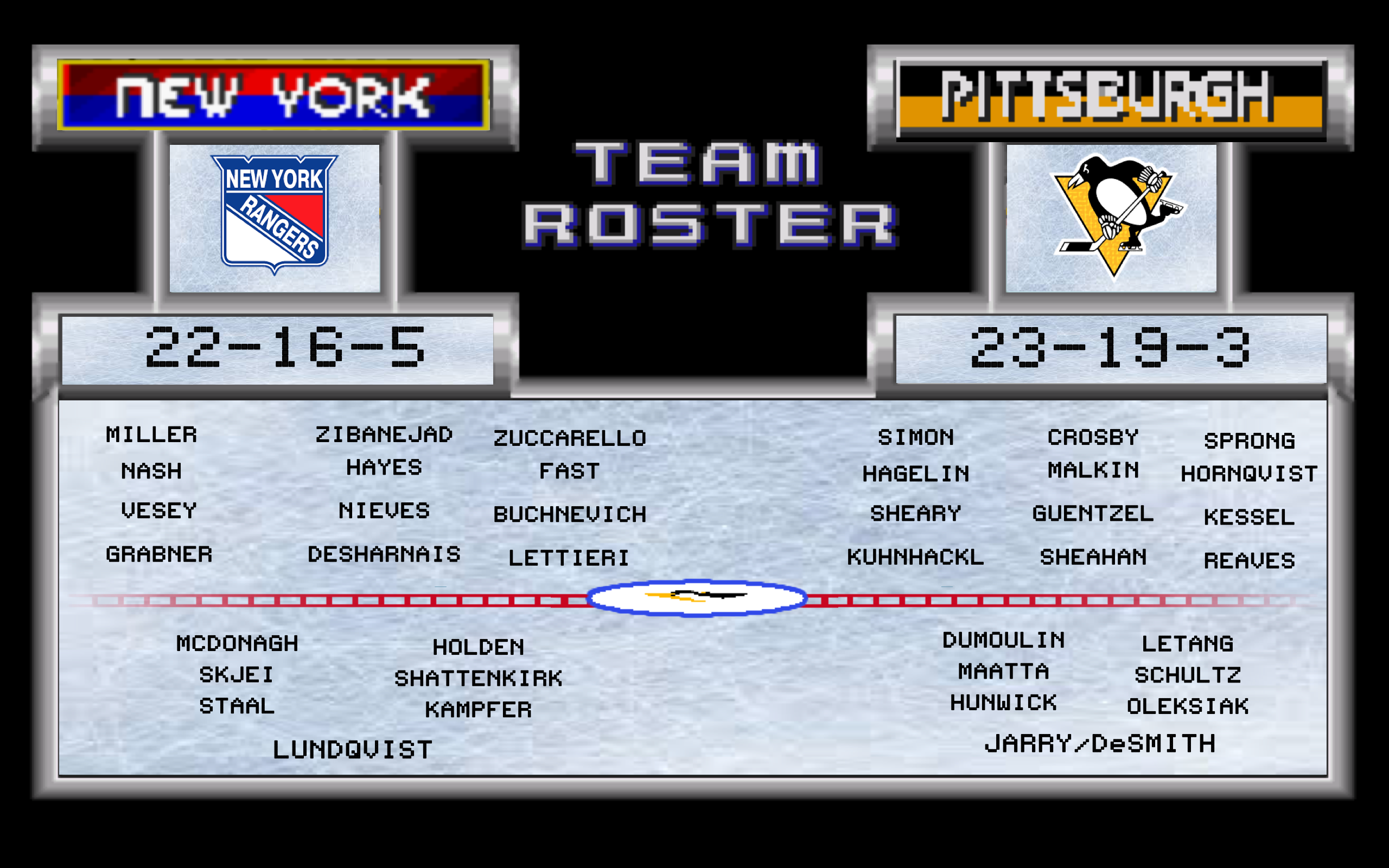 Casey DeSmith has been called up 4 times this season, has been in back-to-back situations twice, has not started either but has been called in for relief when the starter played like donkey shit. Will Casey DeSmith start tonight? Jarry stopped 29 of 30 last night, including 6 of 7 while shorthanded. On one hand a 30 shot night is a pretty good night of work for a goaltender, on the other the Rangers might come into this game firing like crazy after getting embarrassed. Tough call for Sullivan to make, but I think I roll with Jarry in the first with a finger on the trigger since the team has three days off after this game to rest. The rest of the lineup should be the same unless Ian Cole gets into the lineup, or was he traded to Houston for a bag of dirt? No sorry, that was the worthless Pittsburgh sports team that doesn't care about winning, just fireworks because they are pretty and people still pay for them!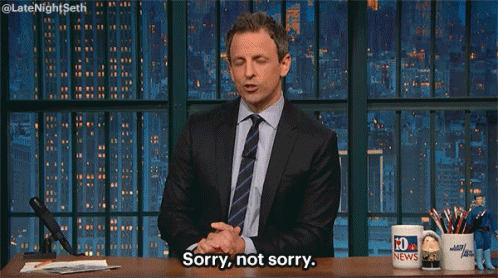 King Henny is in the house. The Penguins big dogs are rolling. Crosby loves playing against Lundqvist, so he will most likely put up 12 points tonight. The big wheel can keep on turning, proud Mary keep on burning, cause we're rolling.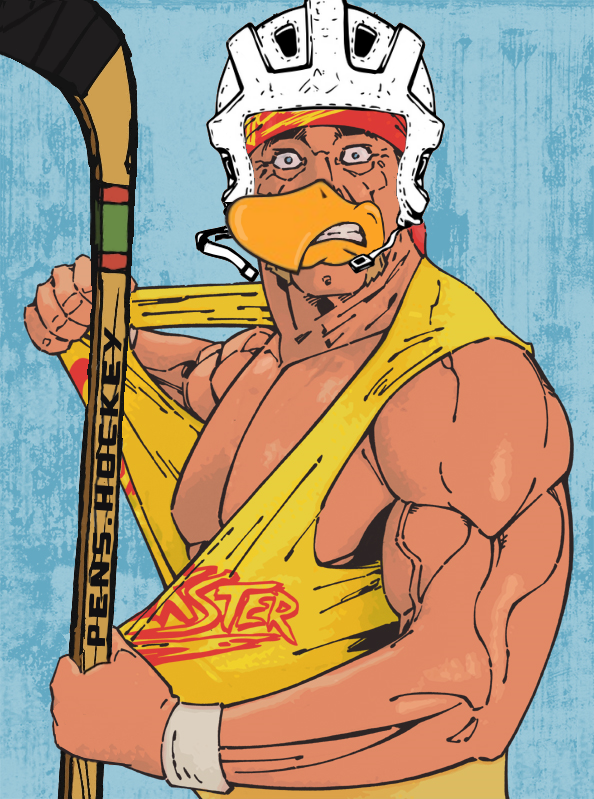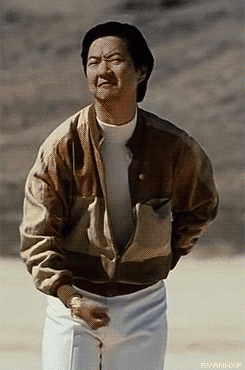 Loading ...