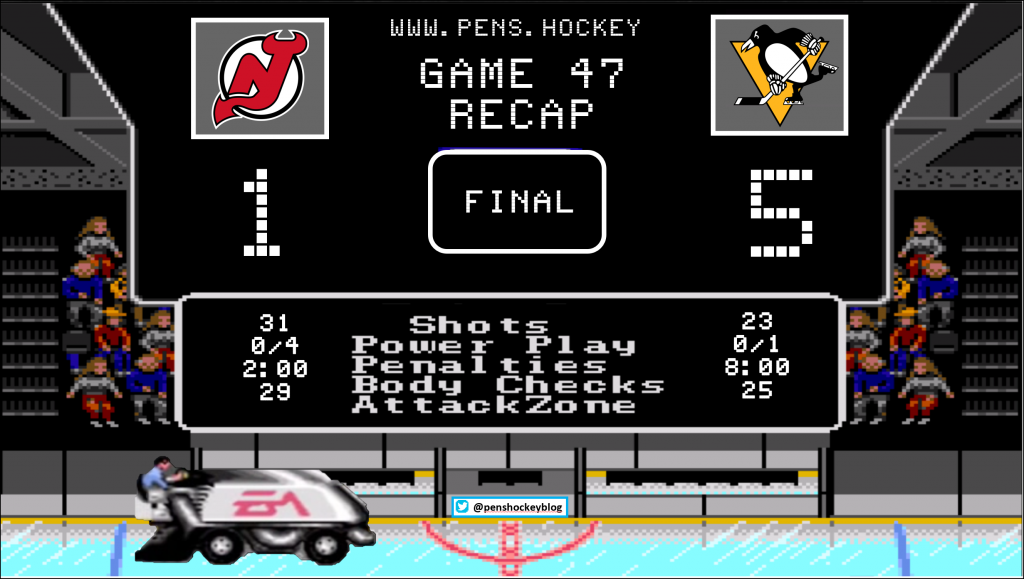 Evenin' all you fine peoples.  Ung is dealing with the side effects of his 5G chip installation and Senor Dope was kind enough to provide some notes since I lost my copy of Recapping for Dummies.  The Pens were looking to come into this one and either win convincingly or at least not play an entire period with both hands on their throats instead of their sticks.  We all know by now the infamous stat of being the only team in the history of ever to cack up 6 goals in the 3rd and still win.  Conversely I don't hear anyone anywhere saying to NJ "How the hell do you score 6 in the 3rd and LOSE?!?"…  See what I did there?  That's right.  Yer Old Unkel Zooker is a glass is half full guy..  After the last game we were all channeling our inner Coach Hortense in thinking that Sully went into the locker room and said, "Jarry.  You're riding pisshole.  All of ya! Tomorrow morning, 6 am, BAG SKATE, PUSSIES!"   But apparently Sully found some other buttons to push and as we are about to find out, it worked.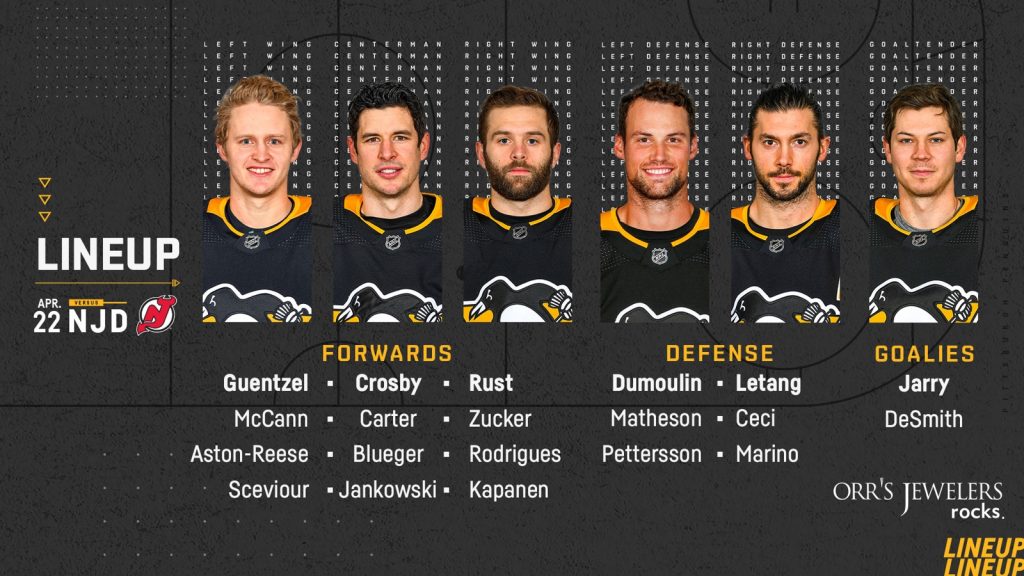 *A wild Kapanen appears* Onward.

The Captain showed the message was received right out of the gate. The first line was pressuring all over the offensive zone. After a couple decent chances that didn't quite get on net, Sid very rudely steals Zacha's lunch money and at 41 seconds in, lets Dell know he should have gone and hid in the shed with the other Woods. 1-0 Pens.
Crosby (19) from Rust (19), Letang (30) – 0:41 – EV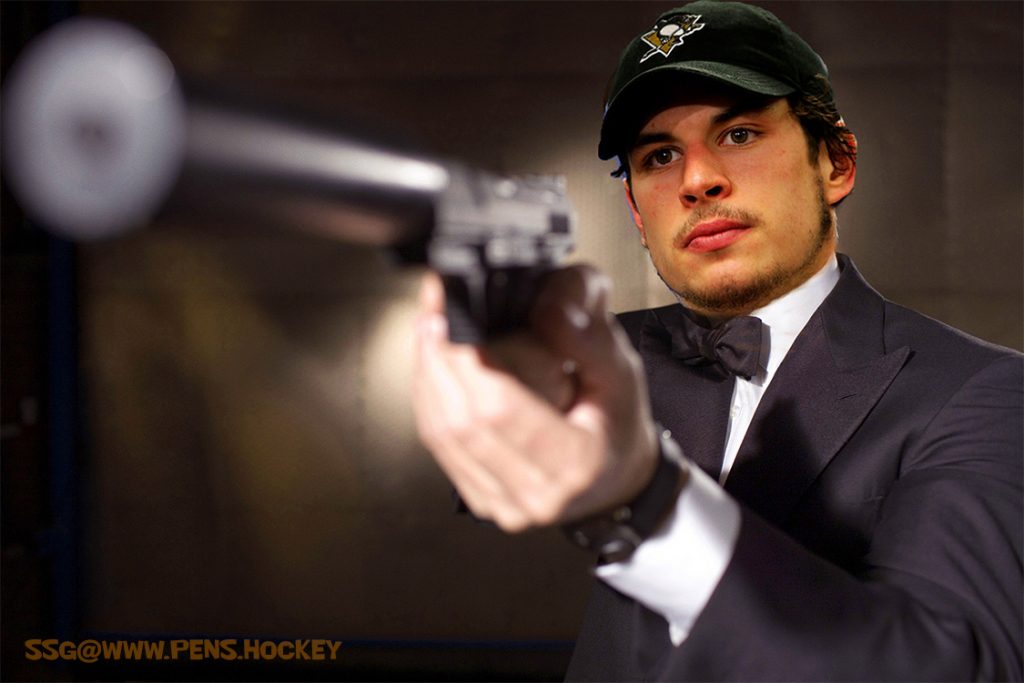 It was very nearly 2-0 15 seconds later when Ceci let fly with a laser from the blue line that caught some serious pipe. The Pens would continue to buzz around and were carrying the play when someone called Kaz-pear-ee Kapenen showed up. Apparently that was quite the news item earlier in the day, but your dumbs**t narrator was busy doing his actual job or something equally dumb. Anyway, he was skating exceptionally well and generated an excellent chance on his first shift, but couldn't quite get Dell to buy what he was selling.
The Devils would have their first real chance right after that, and also had a strong shot that hit the pipe behind Jarry. TJ then fought off a rebound chance and that ended the threat. Good to see Jarry be pretty calm there after being one of the ring leaders in a fairly epic collapse 2 nights ago.
The Pens carried the majority of the play for the next several minutes, and at just after the 9:45 mark, Carter's line had a good extended shift to earn the first penalty of the game. As has become a bit of a pattern, the 1st PP unit was only slightly more than meh, and the 2nd unit was given pretty much a full minute to do their thing. They looked better but the penalty would end with no score.
Play continued with the Pens carrying the majority of the play, including the beginning of a shift for Sid's line, but then something weird happened. Toward the end of that shift, the Pens got stuck chasing the puck in their own zone and at 12:34, Lord Tennyson let fly with a slap shot from way downtown that beat Jarry clean to the far post. There was a bit of a tussle in front of him, but he clearly lost sight of the puck and ended up down early and off his angle. Crud. 1-1
Despite the bad break, the Pens seemed undaunted and continued to skate well and create some scoring opportunities. Carter in particular consistently looked like the fastest wife banger on ice during his shifts. At the 14:45 mark Pettersson, who had been looking much better the last few games, had a moment of regression and took a tripping penalty after getting pyloned. The PK unit looked good, however, and the Devils really didn't threaten beyond a one timer by Kukkanen who got robbed by TJ. Killed.
The Pens immediately resumed tilting the ice and would be rewarded at the 17:46 mark when Ceci let one fly from the right point that Dell won't see until he watches the game film tomorrow. The Pens had been doing a good job of getting traffic in front of Dell all night and it certainly paid off there. 2-1 Pens. I LOVES me some later period daggers.
Ceci (4) from Dumoulin (9), Kapanen (15) – 17:46 – EV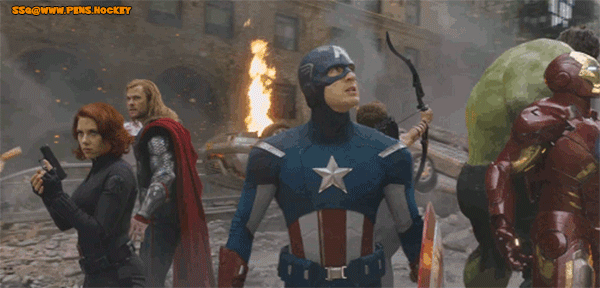 Good play continued through the end of the period, except for the part where Rusty Bawlz took a pretty clear holding penalty with 17 seconds to go. Jarry would be called on to make a tough save on Hughes a few seconds later but the horn would sound with no harm done.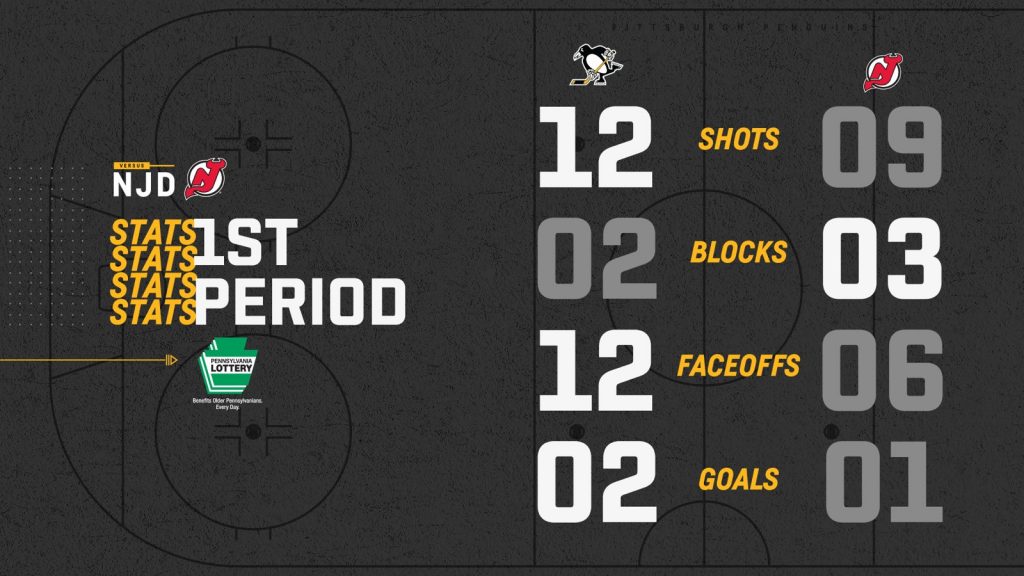 The second period would start with the PK unit on the ice and a clean sheet of ice to defend. And defend it they did. Right after the kill the Pens came down the ice on a 3 on 2 but Janko decided to feed Macho Mandalorian's hatefire and shot it about 8 feet over the net. Right after that Sid and Rust would put on a dazzling display of passing to…Pettersson(?) and, yeah right. Lots of good skating, and good zone clearances but nobody puttin' no biscuits in no baskets.
At 8:26, Sceviour realized he hadn't been waived in a couple weeks and decided to take a slashing penalty to see if GMRH was paying attention. The PK did a pretty good job of packing the house in front of Jarry, so much so that NJ's PP unit apparently took the No Vacancy sign seriously and didn't even try to check in in front of Jarry. Bold move. Killed. There was a brief scare on the next shift when Sid took a friendly fire tap to the noggin from Jake, but he ended up being even better than ok. On his next shift, he would intercept a shot and set Jake and Rusty off on a 2 on 1. They took full advantage and Rust would pay it off at 12:03. 3-1 Pens.
Rust (19) from Guentzel (29), Crosby (35) – 12:03 – EV
DO NOT go pour yourself a drink just yet my friends, because that Kasper Whatshisname dude came out on the very next shift, took a pass in stride at center ice, set both Pratt Whitneys in his ass to full throttle and blew right past the defender to rip one past Dell's ShockDoctor.
Kapanen (8) from Blueger (14), Aston-Reese (5) – 12:28 – EV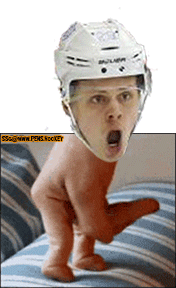 F****ing sweet display. Welcome back, Kasperi Kapenen (yeah, I know you..) 4-1 Good guys, and off to the showers for Dell to reboot. Queue Wedgewood, who could well have still been flinching his brains out after getting lit up 2 nights ago. Anyway, a couple minutes later Sid would get called for the last penalty of the night when his glove grazed Severson's stick. Not exactly a Wexford Handy, but SOMEBODY has to give NJ a chance, right? Well the Pens ended up sticking that right up the ref's ass because as the penalty was set to expire, My Boy Blue busted down the wing short handed and reminded Wedgewood why his ass got pulled after one period on Tuesday. Wooo!! 5-1.
Blueger (7) from Letang (31), Marino (8) – 15:59 – EV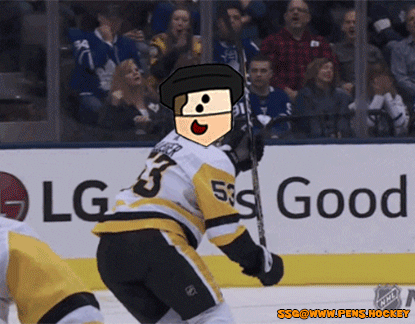 The period would end with no further scoring. Insert game for period actually, but there will be something to say about the 3rd….probably. Many props to Dope, who made a very interesting observation in his notes that to this point in the game ERod only had about 5 minutes of ice time. Strange, because he had been playing well the last several games, did not appear to be hurt, and I don't remember him having any bad plays along the way. Anyway, time to own the 3rd. No really. Do it this time, fellas.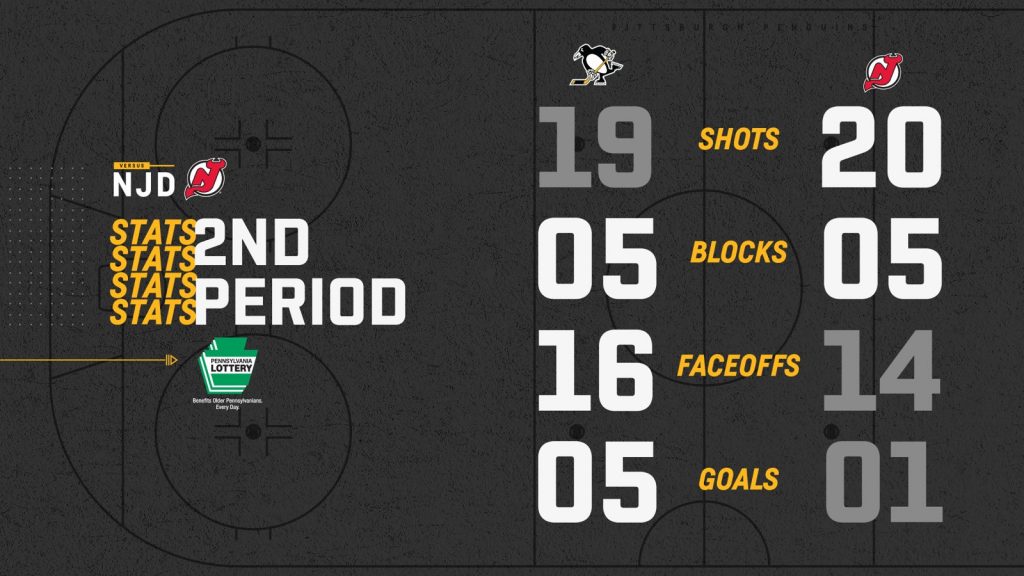 So as the 3rd period started, I'm sure SOMEbody, cough *Dillon* cough, probably just HAD to float out there that big leads in the 3rd are not the Pens' specialty or something. Well, enjoy that fresh squeezed glass of taint juice, whomever you are, because protect the lead they did.
New Jersey, armed with the knowledge that they could put up some numbers by throwing caution to the wind, started the period doing precisely that. There was a minor scare at about the 3 minute mark when Jarry misplayed a puck behind the net, but there was no magical bounce or seeing eye shot to be had for the Devils. Brings a tear to a glass eye, doesn't it?
The game got a bit choppy at this point, and if a non-fan happened to tune in, his opinion of hockey being a boring game might have been solidified. New Jersey pushed the action as best they could but Jarry was very solid, and the Devils weren't given the gift of the entire Pens squad going full retard. It never even got to the point of pulling Wedgewood for the extra attacker.
Pack up the tent and whiz on the campfire. Solid win.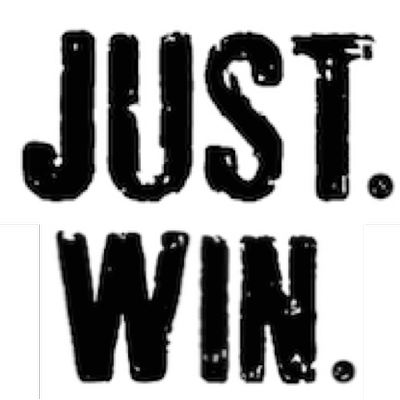 Thoughts:
Excellent first game back for Kapenen. Sully & Co judiciously managed his ice time to just over 13 minutes and it worked to perfection.
My misspelled namesake was all but invisible, while one of his two previous linemates was sparkling. Wonder/hope that when Geno returns, this line can be reunited and rekindle the success they were having pre-injury.
Neither McCann or Carter hit the scoresheet, but both played well and could well be critical pieces for a long playoff run.
Excellent bounce back (after a win?) for Jarry and the team in general. The 3rd period wasn't exactly another version of 70s era Steel Curtain defense, but it was orders of magnitude better than Tuesday night. They still generated some scoring chances too, but didn't take any bizarrely dumb risks in the process.
Sidney Crosby scored in the first minute of the game for the 13th time, tying Mark Messier for most all time in the NHL. That dude knows how to get a party started!
With the Penguins win and the Isles SO loss to the Crapitals, the Pens are officially in 2nd place in the East. With only 9 games left there's a real chance for the Penguins to solidify a top two finish. Whoda thunk it?
Speedy recovery to our leader, Ung. and many thanks again to the exalted Dopefish for providing good input. Finish your week strong kids, and we'll see you just after the crack of noon on Saturday.