If there is one thing the Mike Sullivan era has taught us it is that if the Penguins shit the bed one night they will most likely fuck shit up the next. In Game 4 the Penguins played like a bunch of spoiled white kids in high school that think everything should be given to them. In Game 5 the Penguins played like the scrappy fictional character our inferior enemies to the east are proud of. The Sullivan-era Penguins when playing right are summed up as simply as, shut up, work hard, and do your damn job. The result was as predicted, Game 4 was the final visit to Columbus this season, and damn if that isn't the best news. Good news for Columbus is they don't have to spend anymore of their budget on streamers. Rumor is they have already been in touched with the Capitals banner guy on acquiring a 16 game win streak banner. Can't wait to read about the "we won a game in the playoffs" parade they have planned for later this month. It was a fun season for the Blue Jackets fans, but like most things Ohio not associated with Lebron, they just didn't have enough talent to make it happen.
Back home and feeling good with everyone rocking the gold you knew this one had a different feel to it. The Jagoffs came firing though, they weren't messing around but the Pens weren't caving. Finally with a powerplay opportunity it was the hot dog man cashing in.
PHIL KESSEL (2) Assisted by SCHULTZ (3) & MALKIN (8) @ 9:07 PPG
Kessel has nine points (2G-7A) over his last eight playoff games dating back to last season. pic.twitter.com/6y1UNa23Ib

— Pittsburgh Penguins (@penguins) April 20, 2017
I don't know about yinz, but I am still pretty worried the Kessel wasn't scoring in March and April, he just isn't shooting the puck you know.
Also, why does the dude in the right corner also look like Kessel?
That would be the only goal of the period surprisingly for this series as Marc-Andre Fleury stopped the onslaught of a desperate Columbus team.

Most people were barely back in their seats after the intermission before Mr. Playoffs was showing up on the scoreboard once again.
BRYAN RUST (4) Assisted by KESSEL (6) & MALKIN (9) @ 1:07
Awesome goal and… interesting celebration there, @rustyyy_92! 😉 pic.twitter.com/wY8mj5eGxO

— Pittsburgh Penguins (@penguins) April 21, 2017
Running out of words here, Bryan Rust just has an instinctive ability of knowing how to score the simplest goals in the biggest moments. This was a flesh wound to the Blue Jackets. On his next shift he cut their nuts off.
BRYAN RUST (5) Assisted by HAINSEY (2) @ 3:50
In nine career elimination games, Rust has 7 goals and 1 assist. Not bad. Not bad at all. pic.twitter.com/CB5TyBO4Hn

— Pittsburgh Penguins (@penguins) April 21, 2017
His willingness to get to loose pucks is so underrated it is unreal. Bryan Rust did more in the first 3 minutes of this period than the majority of the Blackhawks have done in 4 games.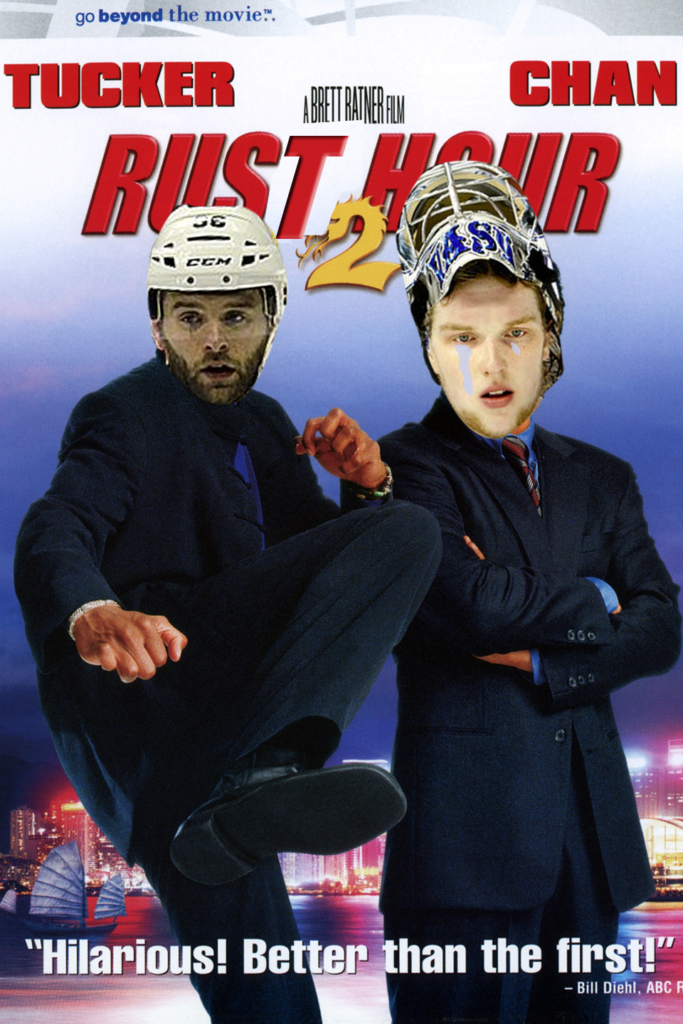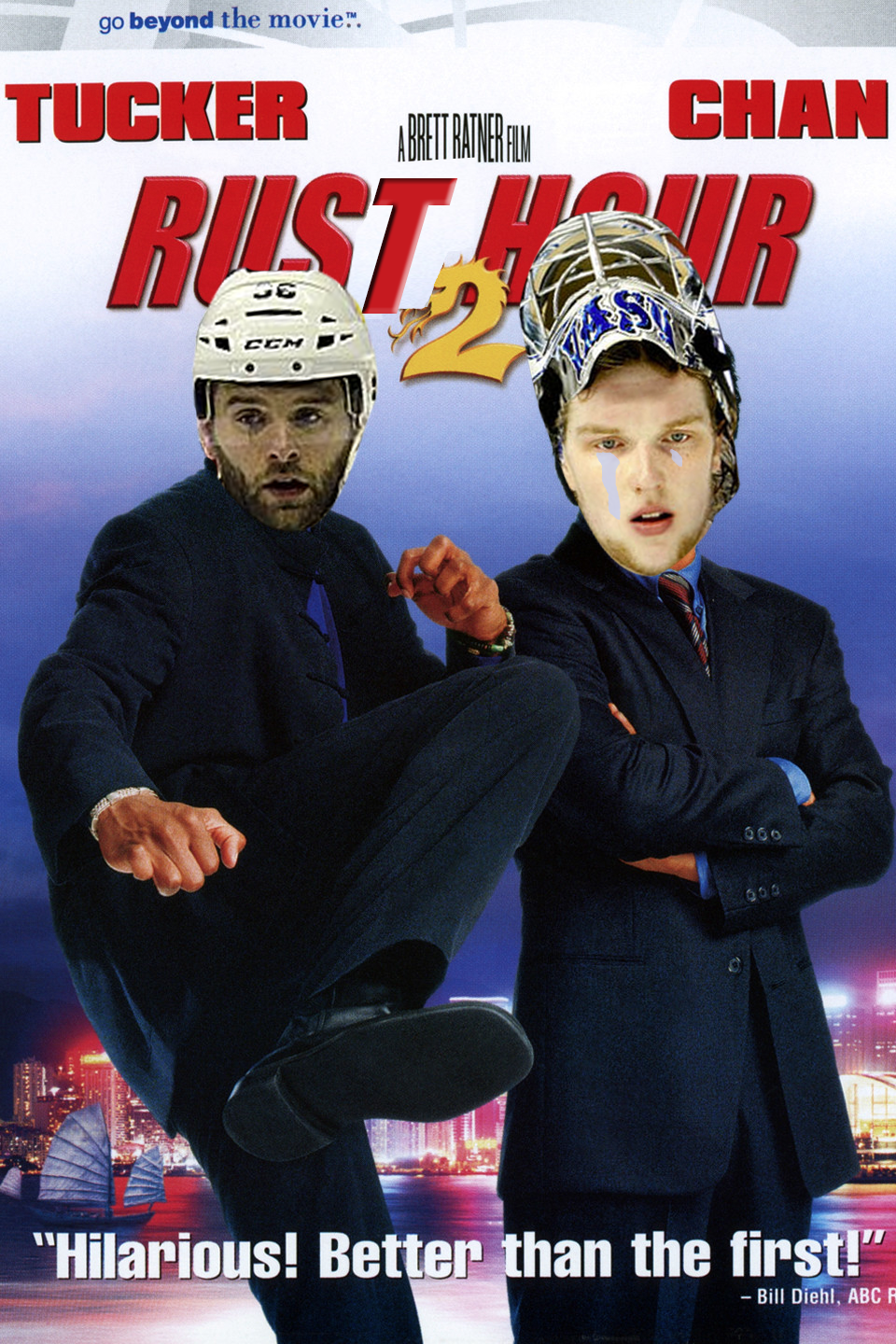 Like the hemorrhoids they are the Blue Jackets wouldn't fade away unfortunately and someone named William Karlsson scored. Then when I personally started to lose hope was when Boone tractor fucker Jenner scored, because that is usually the tell tale sign of decline. These aren't Bylsma's Pens though.
The Blue Jackets absolutely brought it offensively as the attempted ore shots than hits for the first time in this series. Perhaps had they tried that in the other games it wouldn't have ended so soon. Unfortunately for the Blue Jackets Marc-Andre Fleury was 50 Shades of Nay as he shut the door time after fucking time.
Meanwhile on the other end of the ice… pic.twitter.com/cu4Hzh8Nzy

— Pittsburgh Penguins (@penguins) April 21, 2017
5 minutes into the period the captain showed Chicago what leadership looked like as he nutted in Bobrovs mouth one last time:
SIDNEY CROSBY (2) Assisted by MALKIN (10) & KESSEL (7) @ 5:31 PPG
Just Crosby things. Unreal, spectacular Crosby things. pic.twitter.com/KlZ0RXrt23

— Pittsburgh Penguins (@penguins) April 21, 2017
Use whatever words you want to describe this and they still won't be adequate. We were all Phil Kessel's celebration on this goal. I don't know about yinz, but I am pretty worried about Malkin taking that month off for that stupid bruise he got from blocking that stupid shot. 11 points in 5 games his pretty subpar for a top 200 player.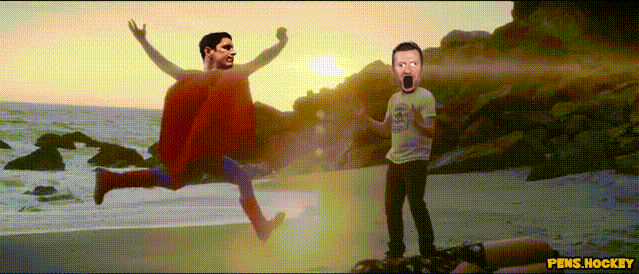 Before your pensboner could even start to fade it was Mr. Wilson dropping Harlem Globetrotter bombs on Columbus the Menace.
MR. WILSON Assisted by DALEY & SHEARY (2) @ 6:22
Umm, what?! Wilson with his first playoff goal (and a side of trickery). pic.twitter.com/SkTtLP6DTg

— Pittsburgh Penguins (@penguins) April 21, 2017
When a teams 3rd or 4th line winger is scoring goals like that, pack it up boys.
The Blue Jackets would keep trying and trying but it just wasn't meant to be. Time slowly ticked down and that was all she wrote. John Tortadildo continued to impress us with class, as he shook the Penguins coaches hands and then left without shaking the hands of any of the whiny Penguins stars.
@Allie874 proof pic.twitter.com/gWCarGBAaI

— John Tarbett (@jtarbett) April 21, 2017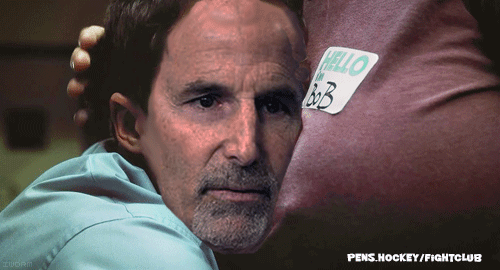 ESPN thought the Pens would win in 7. Mark Madden said the Pens "might get by" the Blue Jackets. Bob Rossi said the Penguins cannot win in the playoffs without Letang. We said don't bet against these Penguins.
Peace.
---
THOUGHTS:
MOVING ON TO ROUND TWO IS THE ONLY THOUGHT NEEDED, NOW GO SLAP YOUR MOTHER
Marc-Andre Fleury with 49 saves on 51 shots, unreal performance by him after the game 4 fiasco. No reason to give this man anything but credit right now, anyone bashing him most likely didn't just lead the Penguins to round 2
Did I mention the Blue Jackets season is over!? Congratulations on that 16 game winning streak. Good job playing Bobrovi into the ground. John Tortarello's season started with a miserable attempt leading a bullshit version of Team USA with a roster he thought could compete against the best in the world. That is what we call foreshadowing, as he then coached a roster full of bullshit talent into the playoffs to go up against the best. Different uniforms, same results, see you in October bitch.
---
Around the Stanley Cup Playoffs
NYR@MTL Game 5 – New York wins 3-2 (1OT), leads series 3-2
Mika Zibanejad's goal at 14:22 in overtime stunned the Montreal faithful and put the Rangers one game away from advancing to the second round, with a 3-2 victory in overtime and a 3-2 series lead with Game 6 in New York tomorrow.  It was a complete effort for both teams (shots: 36 apiece; faceoff% 52%-49% NYR; hits 51-49 MTL; blocked shots 29 apiece) but Zibanejad's perfect deposit of Chris Kreider's deflected pass was the difference maker.
CHI@NSH Game 4 – Nashville wins 4-1, wins series 4-0
The collapse of the Chicago Blackhawks is complete, as Chicago mustered just three goals to Nashville's 13, and the Nashville Predators put the Blackhawks away in a four-game sweep.  Mr. 100, Capt. Leadership Jonathan Toews picked the perfect time to score his first (and only) goal of these playoffs, on the power-play with 5:15 left in regulation and already behind 3-0 in the game and the series.  Nashville becomes the first team to sweep the #1 seed since at least 1994.  The Predators will now await the winner of the Blues/Wild series.
SJS@EDM Game 5 – Edmonton wins 4-3 (1OT), leads series 3-2
Oscar Klefbom scored with 2:46 left in regulation to tie the game for Edmonton, then David Desharnais won the game for Edmonton at 18:15 of the first overtime, and the Oilers are now up 3-2 on the San Jose Sharks with Game 6 in San Jose tomorrow.  Though the score doesn't show it, it was all Edmonton, with a 59%-41% faceoff advantage and 48 shots to San Jose's 30, but San Jose put on a shot-blocking clinic, allowing only ten shots through on goal.
TODAY'S GAMES
TOR@WSH Game 5 – series tied 2-2
BOS@OTT Game 5 – Ottawa leads series 3-1