We have grown used to the back-to-back situation this season, and the Penguins have too luckily. After the first 5 sets of back-to-backs the Pens were 0-4-1 and we were starting to assume they would drop all 19 second end games. Thanks to some strong play in January the team entered this game at New Jersey 5-4-2 overall on the season in the second half game. I said in the beginning of the season that if the Pens go 19-19 in these situations by at least winning the first game then it wouldn't be terrible, and if they could find a way to win half of the second half games they will be sitting pretty. Entering this game after the win over Washington the Pens were 6-5-1 in the first game of the back-to-back, and the loss to New Jersey brings their overall record to 11-10-2 in the 24 games played in back-to-back situations.
The Penguins called up Zach Aston-Reese before the game started after announcing the Hornqvist will not play. Hornqvist's injury is not expected to be long term according to Sullivan.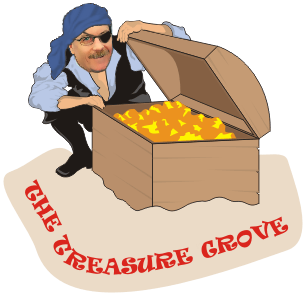 Only 2 players have made their Pens' debut on Feb. 3, and both scored in that game. Luca Caputi @ Montreal in 2009 and Steve Gatzos vs. Minnesota in 1982. ZAR?

— Bob Grove (@bobgrove91) February 3, 2018
Luca Caputi is a top 10 Penguin name, and this is an excellent use of resources by Grover.
Since Christmas break (last 16 GP), most even-strength points for Pens: Malkin (12), Crosby (11), Hagelin (10), Kessel (10), Simon (7), Sheahan (7).

— Bob Grove (@bobgrove91) February 3, 2018
Carl Hagelin should just start pulling the Mike Fisher and retire for the first half of each season
Among the league's top 19 scorers, #2 Kessel (18:36 per game) and #5 Malkin (18:46 per game) have the two lowest TOI averages.

— Bob Grove (@bobgrove91) February 3, 2018
It would be really cool to know who has won the Art Ross with the lowest TOI
Malkin's shooting percentage over these 20 games is 27.5. Among players with at least 43 GP, the NHL's top shooting percentage is Colorado's Kerfoot at 26.7.

— Bob Grove (@bobgrove91) February 3, 2018
Geno is Score
5 of the Pens dressed tonight have/will play their first game for the team vs. NJ. ZAR joins Crosby, Malkin, Schultz, Maatta.

— Bob Grove (@bobgrove91) February 3, 2018
With the addition of ZAR to the lineup and following the tradition of Sullivan starting his new call-ups in the bottom six the starting lineup got a bit of a shakeup:
Here are the lines for tonight's #PITvsNJD divisional match up. pic.twitter.com/ghAnCeoc1n

— Pittsburgh Penguins (@penguins) February 3, 2018
Tom Kuhnhackl, top 6 winger. I know it is how Sullivan likes things but I think I would've moved Rust to Malkin's line and put ZAR with Sid.
The first period looked a lot like a team that played last night and a team that hadn't played in a few days. The Penguins didn't have their legs, the Devils couldn't find theirs. The end result was a whopping 6 shot effort by the Pens despite having a powerplay in the period. The Devils got 13 through to DeSmith but he was on the case…. get it?
Here's a look at the numbers behind the 1st period for #PITvsNJD. pic.twitter.com/ufTdG68Hc1

— Pittsburgh Penguins (@penguins) February 4, 2018
8 blocks by the Pens in the period including some huge blocks on the penalty kill, especially by Kuhnhackl. Kuhnhackl is 8th on the team in blocks (41) despite being second from last in average TOI of forwards with more than 40 games played. If you're interested, Brian Dumoulin (87) and Ian Cole (82) are the current leaders in blocks, Matt Hunwick has 48 in 33 games played.

The Devils went in to the intermission, remembered they didn't play the night before and took the lead 30 seconds into the second period.
🤘 TZ Top! 🤘

Two goals and one assist, all in a night's work for Travis Zajac. #PITvsNJD pic.twitter.com/yyQNDJrscb

— New Jersey Devils (@NJDevils) February 4, 2018
Rough play by DeSmith who probably wants that poke check back, but the Penguins simply were not prepared for the Devils speed which is evident by Coleman just blowing by Letang at the blueline. Before the goal I thought Coleman was just a camping company, 3 minutes after the goal I learned that it is also a NHL player:
🥒 @BColes25 registered his first two-point game of his career last night, (1g-1a) and lit the lamp with the GWG! #PITvsNJD pic.twitter.com/Fz870uQKgj

— New Jersey Devils (@NJDevils) February 4, 2018
Tough chain of events for Maatta who turns the puck over and then gets pulled around like a rock on a string until the puck goes in. This is another example of how the Penguins blueprint is engrained in the Devils game, relentless forecheck pressure with lightning fast transition. The Penguins couldn't answer and they would go in to the locker room down 2.
The Pens looked like a team that realized they had to score more than their opponents in order to win to start the third. They were finally cycling and getting to Kinkaid with sustained pressure and eventually it was the Russian bear breaking down the door:
EVGENI MALKIN (29) Assisted by COLE (9) & KESSEL (40) @ 6:16
Right down Main Street and in the back of the net. 👍 pic.twitter.com/8BEkd6rPpm

— Pittsburgh Penguins (@penguins) February 4, 2018
That is such a good play by Ian Cole to not only recognize Geno is breaking but to also know how to put the pass to space for Geno to get to it first. It amazes me how an elite player like Malkin can manage to wind through 3 defenders undetected.
That goal reminded me of another classic Geno goal against New Jersey:
I remember listening to this goal call by Lange in my college dorm, the beginning of us all realizing how good Malkin was going to be. Now 11 years later he is still scoring goals with the same powerful moves, unreal.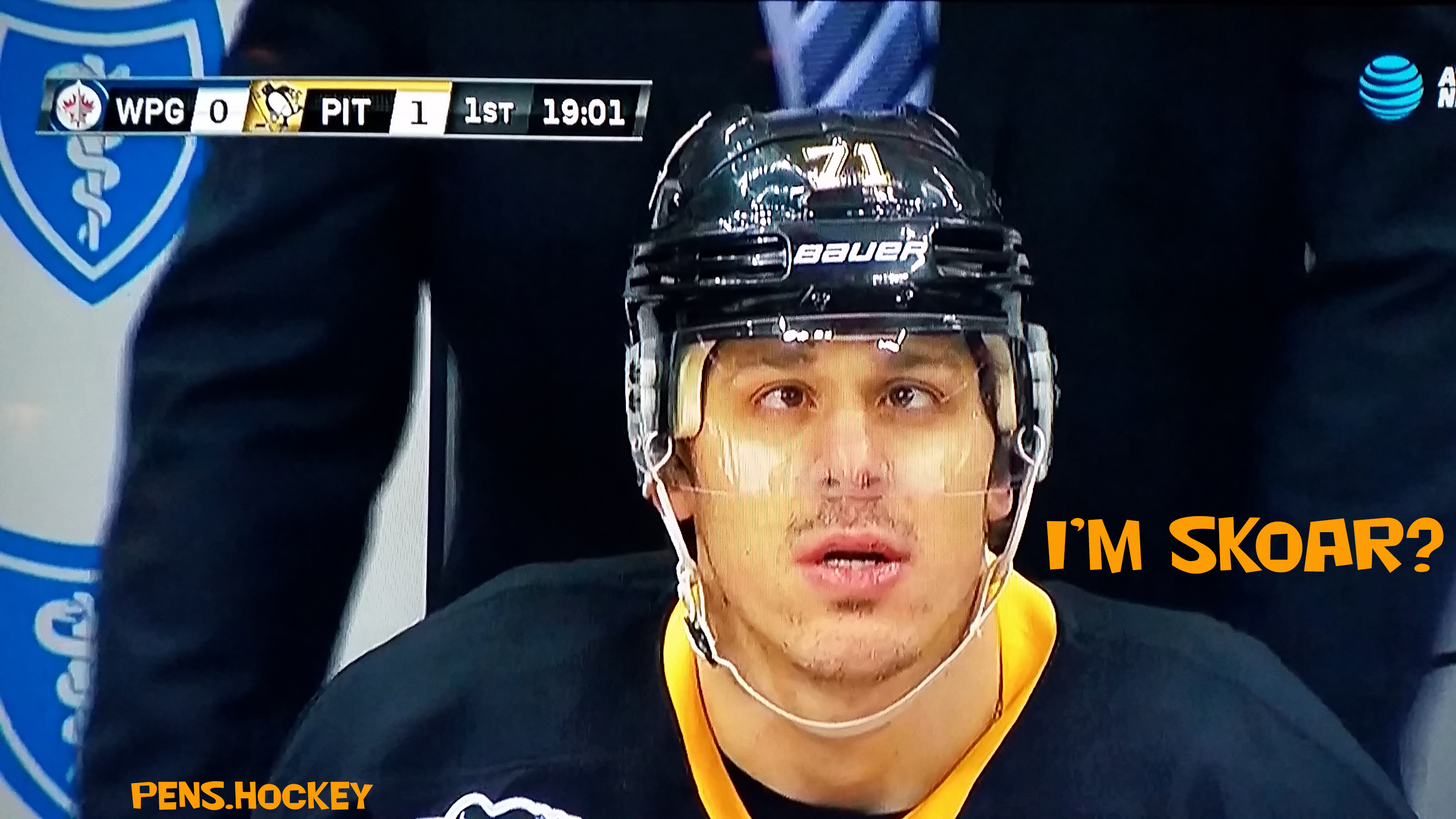 The goal brought the Pens to a new level but the Devils were there to make sure the game wouldn't go to overtime when Zajac notched his second of the game at the 9 minute mark.
–there is no gif of the goal–
The Penguins looked like they got right back into it when Crosby appeared to score his 400th, but the league said nah.
Called goalie interference on Penguins. Lovejoy's stick is lifting Rust's stick, Lovejoy's stick slashes Kinkaid's neck area. Doesn't look like Rust's stick ever hits Kinkaid. pic.twitter.com/luEXq1s8xV

— Benstonium (@Benstonium) February 4, 2018
Goalie interference or not, the league needs to start calling goaltenders for embellishment. The no goal deflated the Pens boner  and that would be that.
Game
---
Thoughts:
The decision by Sullivan to put Kuhnhackl in the top 6 was one he didn't even agree with. It resulted in a lot of double shifting as Kuhnhackl (12:04) and Simon (12:19) received 6 less minutes than the rest of the top 6.
DeSmith finished the game 35 of 38 for a .921 save percentage, giving up all 3 goals at even strength.
EXCLUSIVE CONTENT FOR PAYING READERS ONLY
Last month we decided we would reach out and ask Bob Grove some questions for our first attempt at interviewing. After polling our readers to decide which questions to ask him we finally have the answers you have all been waiting for.
P.H: Hey Bob, we are a small Pens blog with a hardcore fanbase. We feature your tweets in our recaps in a section titled the "treasure Grove" and we were hoping to ask you some questions for a Q&A style interview
BG: Thanks for doing that and sure, fire away!
P.H: What is your favorite mike Lange moment or memory?
BG: I had the incredible privilege to ride with Mike and Phil during the 2009 Cup parade, and the fan reaction to Mike along the entire route was something I will never forget. It's one thing to say Pens' fans love Mike, but it's another to see it manifested in that setting. A genuine outpouring of affection.
P.H: If you could go back and stop one trade in Penguins history which would it be and why?
BG: It would be easy to say the Jagr deal, but he wanted to go — never mind the financial realities of that time. Or dealing the No. 1 overall pick in 1983, which could have meant Turgeon, LaFontaine or Yzerman; but that would likely have prevented the team finishing last in the spring of 1984 and drafting Mario. So I will go with the Naslund deal, which was a massive miscalculation of the abilities of a player.
P.H: Which rule do you wish the league would change and why?
BG: I'll take 2. Change the icing rule and just whistle the play dead when the puck crosses the far goal line. Linesmen miss this call too often under current rule and races to a live puck are few and far between. And go back to the old rule which says only pucks deflected with the stick below the shoulder are good. Do away with using the height of the crossbar as the determining factor. Too tough a call.
P.H: Favorite place to eat in Pittsburgh?
BG: Hyde Park steakhouse.
P.H: Favorite hobbies outside of hockey?
BG: Watching film noir; following Manchester City in the Premier League; reading the works of, and bios and analysis of, Thomas Wolfe (b. 1900) and ee cummings; marveling at the bands Spotify suggests for me.
P.H: And finally, statistically speaking is a hotdog a sandwich?
BG: My data suggests Phil is 98.76 percent certain to be eating a sandwich.
P.H: One last thing because I found this from a crash the net in 2006 when preparing, did you know you once predicted that Phil Kessel could have a successful tenure with the Pens? The question was about drafting Kessel instead of a top defenseman..
BG: That is crazy, actually! I had forgotten he was a C in college. Thx so much for sending.