Following the excitement of the day before this particular Saturday was pretty boring and knowing the Penguins had to gear up for a game against the Panthers didn't make things much better.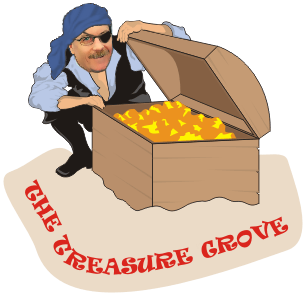 Hagelin is +15 in his last 18 games.

— Bob Grove (@bobgrove91) February 24, 2018
There isn't a player on the team that has turned their season around quite like Hagelin. Playing with Geno doesn't hurt the +/- rating, but still, dude deserves some recognition.
Pens are 4-0-2 in their last 6 GP @ Florida. Last regulation loss: Oct. 11, 2013 (3-6).

— Bob Grove (@bobgrove91) February 24, 2018
The 4th line that night was Glass-Vitale-Adams with Chuck Kobasew on the third line. Now thing about the lineup construction the team has now and try to contain your pensboner. Malkin, Dupuis and Craig Adams were the 3 goal scorers in this game, btw.
A point tonight would give Letang his third career scoring streak of 6+ games. Since the start of the 1987-88 season, the only Pens' D who had at least 3 that long were Coffey and Murphy.

— Bob Grove (@bobgrove91) February 24, 2018
Letang also tied Coffey for most points as a defender in Penguins history last game, granted Coffey only played 5 years (and only 3 full seasons) with the Pens but basically so has Letang.
Pens' PK on the road is ranked third in the NHL at 84.9% (last season they finished at 77.4%). They have killed 49 of their last 51 on the road. Spectacular.

— Bob Grove (@bobgrove91) February 24, 2018
84.9% on the road is just incredible.
Over the last 4 seasons, when playing on consecutive nights with both games on the road, Pens have lost the second game 16 of 21 times (5-12-4).

— Bob Grove (@bobgrove91) February 24, 2018
Well that isn't good.
The Pens used the same lineup in this one as the night before with the obvious substitution between the pipes:
Let's play some hockey. pic.twitter.com/JnPufxOocK

— Pittsburgh Penguins (@penguins) February 24, 2018
The Panthers jumped out with some speed early and the Penguins looked like they were still shaking off their afternoon naps. Some very sloppy exchanges and defense gave the Panthers a lot of early chances and it took less than 5 minutes for them to cash in on one when Vincent Trocheck scored at 3:44.
This Pittsburgh native's got some pretty clutch goals in back-to-back games. #PITvsFLA pic.twitter.com/QuCnaXhoW8

— Florida Panthers (@FlaPanthers) February 25, 2018
Hunwick played this about as well as he could by taking away the early pass and then committing to the puck carrier, it was just perfectly timed by the Panthers. The goal actually woke the Penguins up a bit and they finally started pressuring Luongo in net. After a few minutes of back and forth Evgeni Malkin got the puck below the net and saw the glorious locks of Thor gliding into the front
CARL HAGELIN (8) Assisted by MALKIN (40) & OLEKSIAK (7) @ 12:40
How good has @CarlHagelin been lately? 🔥 pic.twitter.com/M6ukyVxlRD

— Pittsburgh Penguins (@penguins) February 25, 2018
This is a really nice play by Oleksiak who first uses his frame to shield the puck and then uses one hand to chip the puck to Malkin, really good work by the big man down low. Evgeni Malkin gets his 40th assist and now has his highest point total since he put up 109 in 2011-12.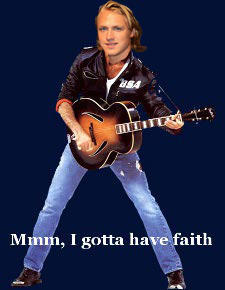 The Penguins kept up the pressure during the remaining 6 minutes and looked like they would take the lead multiple times. Instead in the final minute the puck squirts to the neutral zone and the Panthers pick it up while Letang decides to give up chase. Dadonov catches Dumoulin flat footed and throws it right by Jarry's glove to make it 2-1 with 38 seconds left in the period.
Dadonov's late first period goal gives the @FlaPanthers a 2-1 lead. pic.twitter.com/KiQLlmUWqR

— NHL GIFs (@NHLGIFs) February 25, 2018
The period would end 2-1.
Here's a look at your #PITvsFLA stats after the 1st period. pic.twitter.com/jicMQndLwp

— Pittsburgh Penguins (@penguins) February 25, 2018

The second period started a lot like the first period as the Panthers score an early goal as Jamie McGinn taps in a nice pass from McCann that Jarry should've had.
McGinn goal, nice no-look feed by McCann: pic.twitter.com/sccfGmdqEZ

— Cats On The Prowl (@Cats0ntheprowl) February 25, 2018
You can see perfectly in this gif that Jarry simply missed planting his foot against the post and instead caught the inside of the net which then moved in as his momentum carried him. It's a game of inches, and had his foot been a half an inch further up this puck stays out.
The Penguins started to pressure a little bit but couldn't get anything done and then Phil Kessel tripped over an official and landed awkwardly on the wrist he hurt the night before. Thanks ref. We barely had time to care for Kessel before the Panthers were firing a casual shot on net that Jarry deflected right to MacKenzie which went right into the net.
GOAL!!! The Captain, Derek MacKenzie scores to give the @FlaPanthers a 4-1 lead over the Penguins! #FlaPanthers #NHL #OneTerritory pic.twitter.com/W83JSb6048

— FOX Sports Florida (@FOXSportsFL) February 25, 2018
lol forgot MacKenzie was the captain. Horrible rebound control by Jarry and it would be the last shot he would face as Sullivan had seen enough and replaced him with Murray. Jarry finishes the night with 13 saves on 17 shots. Immediately following the replacement the Panthers get a great look on goal that would've been a complete backbreaker but Murray was there to tell the team it was okay now. Huge save by Murray.
Two minutes after that save it is Hagelin, Malkin and Rust picking the puck up and going the other way in a 3 on 2, Geno drops the puck to Rust and he sent some rustry ballz ale right back to Geno
EVGENI MALKIN (35) Assisted by RUST (23) & HUNWICK (5) @ 13:10
So, @emalkin71geno has 21 goals and 37 points in his last 21 games.

Impressed yet? pic.twitter.com/f3az7cgzVd

— Pittsburgh Penguins (@penguins) February 25, 2018
Malkin started this play in his defensive zone and goes the entire 200 feet to earn this goal and yes, that is a one handed deflection that he elevated. With the goal Malkin gets to within one of Ovechkin and the lead league for goals scored. This is just the 4th 35+ goal season of Geno's career, his last was during the 50 goal campaign of 2011-12.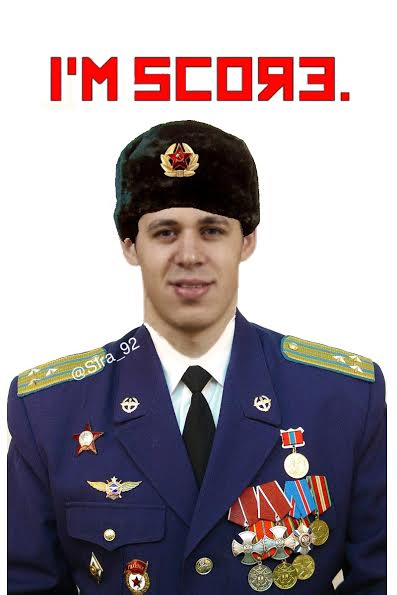 The Penguins turned up the notch a bit and following a nice drop pass by Malkin Patric Hornqvist jammed the puck into Luongo's pad and continued whacking at it until it went it. The goal was originally not called on the ice but was then determined to be a goal following video review. The Panthers challenged for goaltender interference and the officials in Toronto decided that "the goaltender and the puck were pushed in together" so it was no goal.
A closer look 👀 pic.twitter.com/Ygm4K3VZ0v

— Pittsburgh Penguins (@penguins) February 25, 2018
I understand the call while not understanding it at all. The problem everyone is having is there isn't consistency.
Malkin on the waved off goal: "We have idea what's going on. We have no idea on the rules right now. Not just our team, everyone, coaches, goalies. There's no whistle. Hornqvist sees the puck and is trying to score. Maybe he touched the goalie, but it's hockey." -SK

— Pens Inside Scoop (@PensInsideScoop) February 25, 2018
A similar goal was scored in LA that was overturned also and I think the league needs to learn the difference between a goaltender not having a chance because of interference and a goaltender not having a chance because of shitty defense (go to about 1:20 in the clip below):
"It goes from one extreme to the other" – Dustin Brown on his game-tying goal being called back pic.twitter.com/0skxtlNavm

— LA Kings (@LAKings) February 25, 2018
Neither team would score in the remaining minutes and it would be 4-2 after 2.
Meanwhile on Derick Brassard's Instagram story… #LetsGoPens pic.twitter.com/uo7tHoGGJ7

— Pittsburgh Penguins (@penguins) February 25, 2018
Ohhhhhh baby
Unlike the first two periods the third started with the Penguins having all of the jump. Less than one minute into the frame Evgeni Malkin was bringing the house down after roofing one from the goalline
EVGENI MALKIN (36) Assisted by HAGELIN (15) @ 0:46
Evgeni Malkin is…
1. Scoring all the goals
2. An incredible hockey player
3. Tied for the NHL-lead in goals (36) pic.twitter.com/ZHChu5cPOb

— Pittsburgh Penguins (@penguins) February 25, 2018
What an unreal shot by Malkin here, I mean… he has less space than a guy dating a stage 5 clinger here and still puts it home. Just unreal.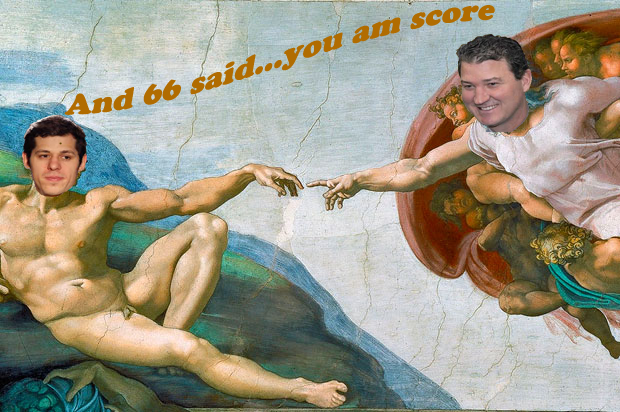 Unfortunately the good vibes would last for 1 minutes before the Panthers stormed the Oleksiak-Hunwick pairing and that duo gives up its third goal of the night.
Dadonov's second goal of the game: pic.twitter.com/W7GShTGlhA

— Cats On The Prowl (@Cats0ntheprowl) February 25, 2018
The play all started when Hunwick made an aggressive jump up on a run of the mill cross-ice pass, this isn't a pick on Hunwick play. It is a little too aggressive by the defender but Sidney Crosby is back heading towards Hunwick's side so everything in this image looks good (Hunwick is circled):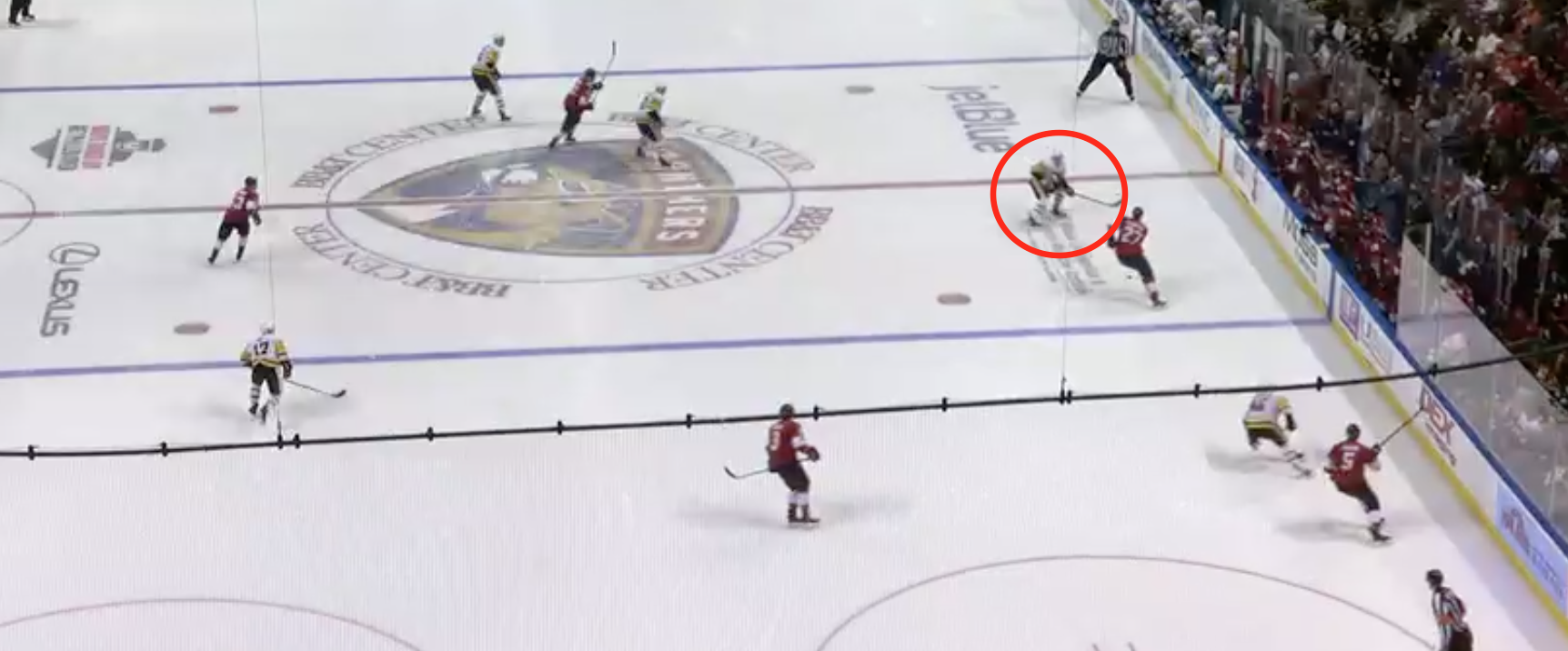 Hunwick was able to get a stick on the puck but it went right to a Panther who wisely sent it up ice and suddenly the Pens go from decent positioning to uhhhhhhhhhhh all because Crosby makes a giant circle and is now at the red line. As soon as Hunwick touched the puck Sid assumed the Pens would transition and left his post covering for Hunwick which allowed the Panthers to get the 2 on 1.

What happens next is a combination of not knowing your defensive partner and not wanting to be responsible for a mistake knowing there is a spotlight on you. Hunwick does a nice job of getting himself back into the play and has this quick interaction with Oleksiak, this is where familiarity with your defensive partner changes everything.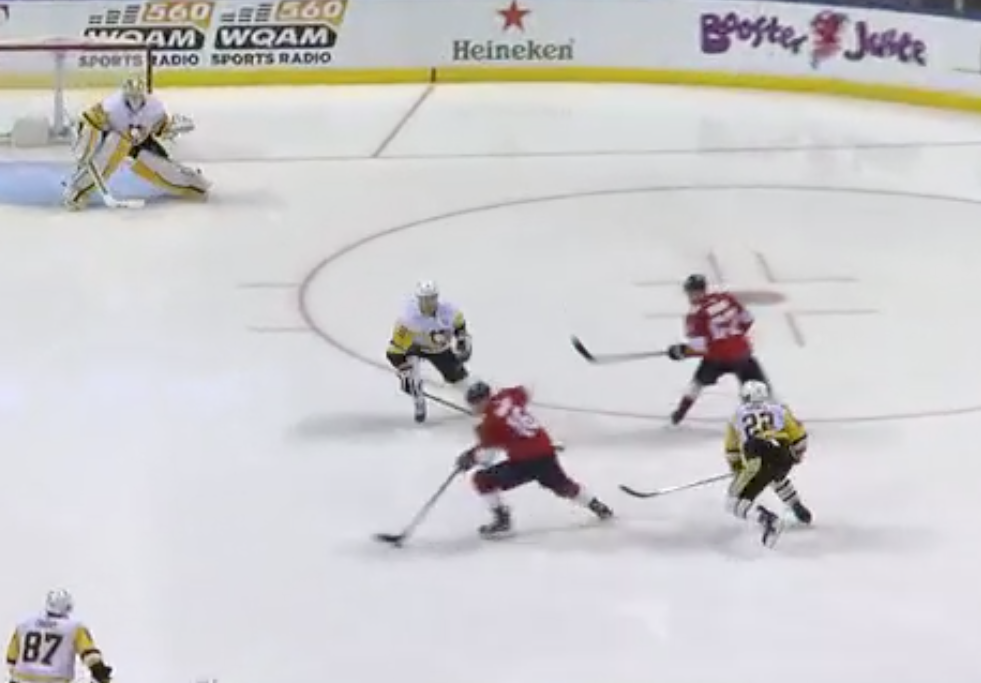 It's obvious from this still that Oleksiak is going to pursue the puck carrier as his entire body language is showing us this. Hunwick doesn't make the read and instead heads to his left, and the forwards are looking like they would rather be on the beach.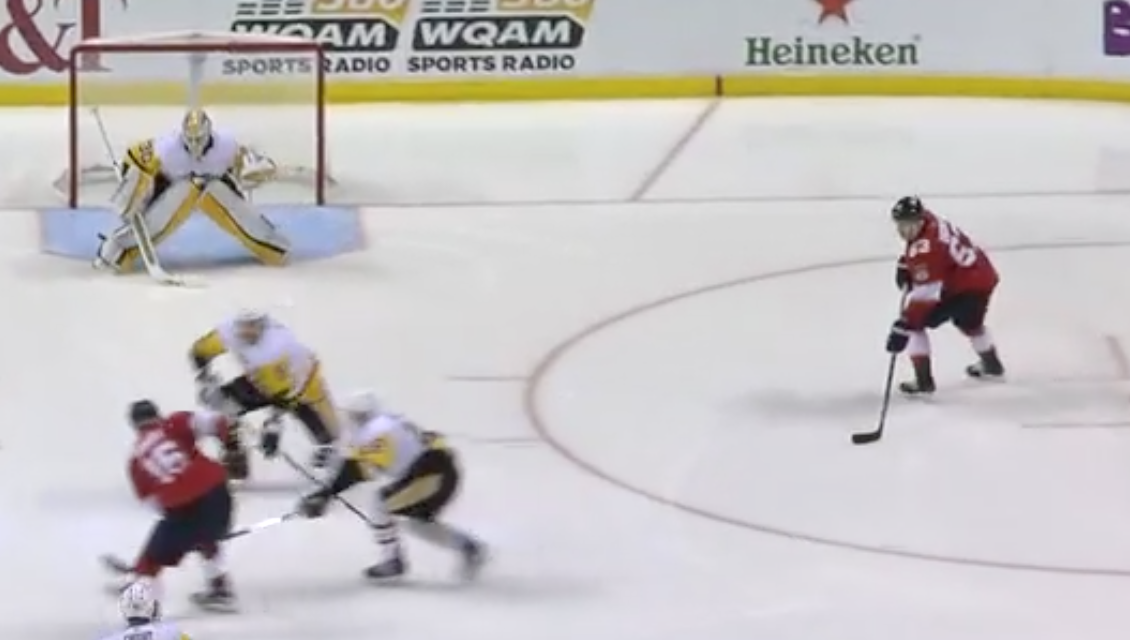 At this point you can probably hear Murray say "oh fuck" because the Panthers are one pass away from a great scoring chance and the puck is still on Barkov's forehand so Murray can't prepare for the pass.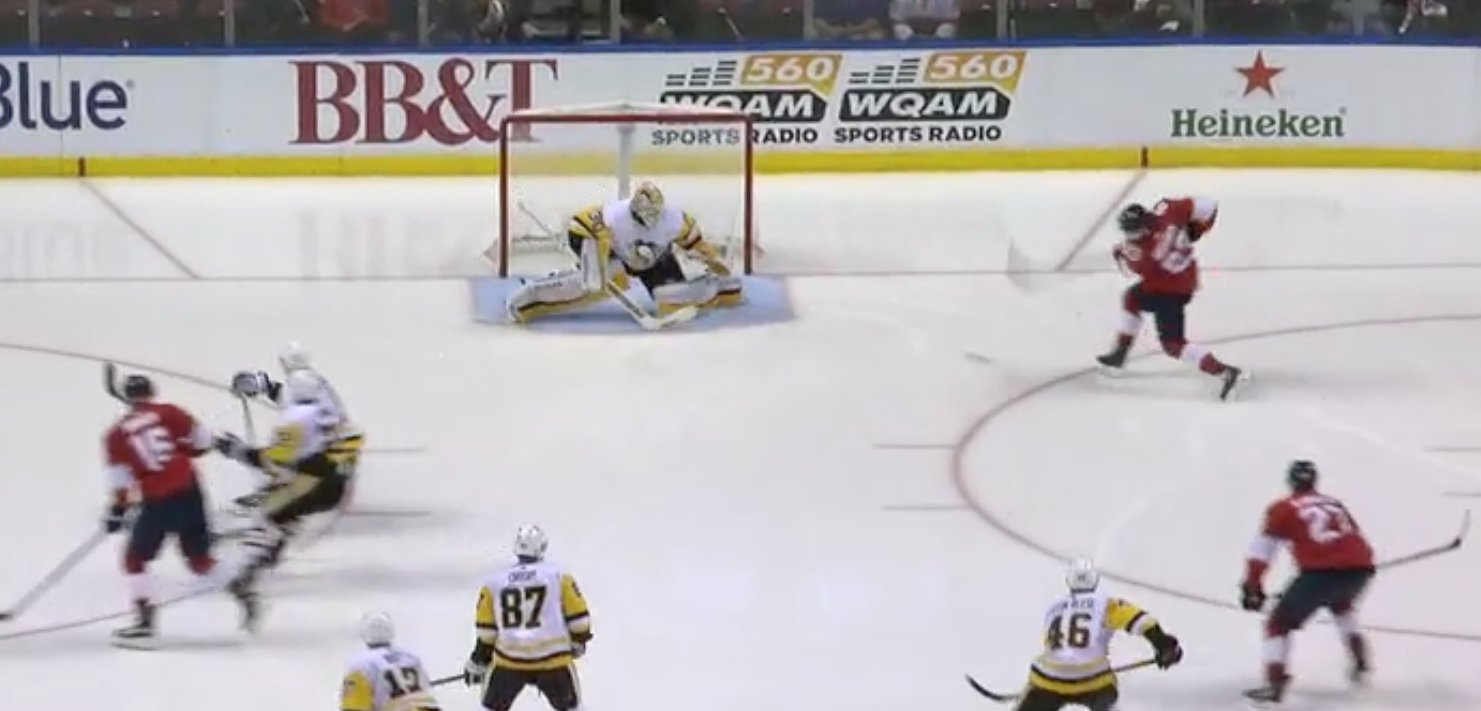 Barkov carries the puck and sells shot just long enough for Murray to get out of position for the upcoming one-timer which was a really smart play by #16 in red.
The Pens would try to answer the quick response and got some impressive zone time that ended in a weakkkkkk offensive zone penalty. 20 seconds into the powerplay Oleksiak gets called for something and the Pens were going down 2 men, these were the first two penalties of the game. Sheahan and co killed the first portion of the two man advantage and Murray stayed tall on the second half to get everything back to even strength.
The Penguins got a little bit of energy from the kills and then Oleksiak got in a fight and absolutely pummeled the man. The Panthers get away with too many men and the Penguins get called for too many because why not, Malkin was outraged on the bench and you could feel this fire burning. Following another successful kill the Penguins were finally awarded a powerplay. Fired up from the fight and pissed off at the refs the Penguins opened the flood gates and it was Patric Hornqvist going right to Luongo's house, making dinner, sleeping with his wife and leaving a $2 tip:
PATRIC HORNQVIST (17) Assisted by KESSEL (44) & CROSBY (48) @ 14:21 PPG
Malkin to Kessel to Crosby all behind the goal line against Yandle and Ekblad is some serious cycling skill. Hornqvist celebrates by staring the ref down and telling him to take that one back. Rookie mistake by Ekblad who tries to tie Malkin up behind the net by pulling the old "I'm not holding his stick he's hooking me card." This results in Ekblad not being able to perform his defensive duties in front of the net.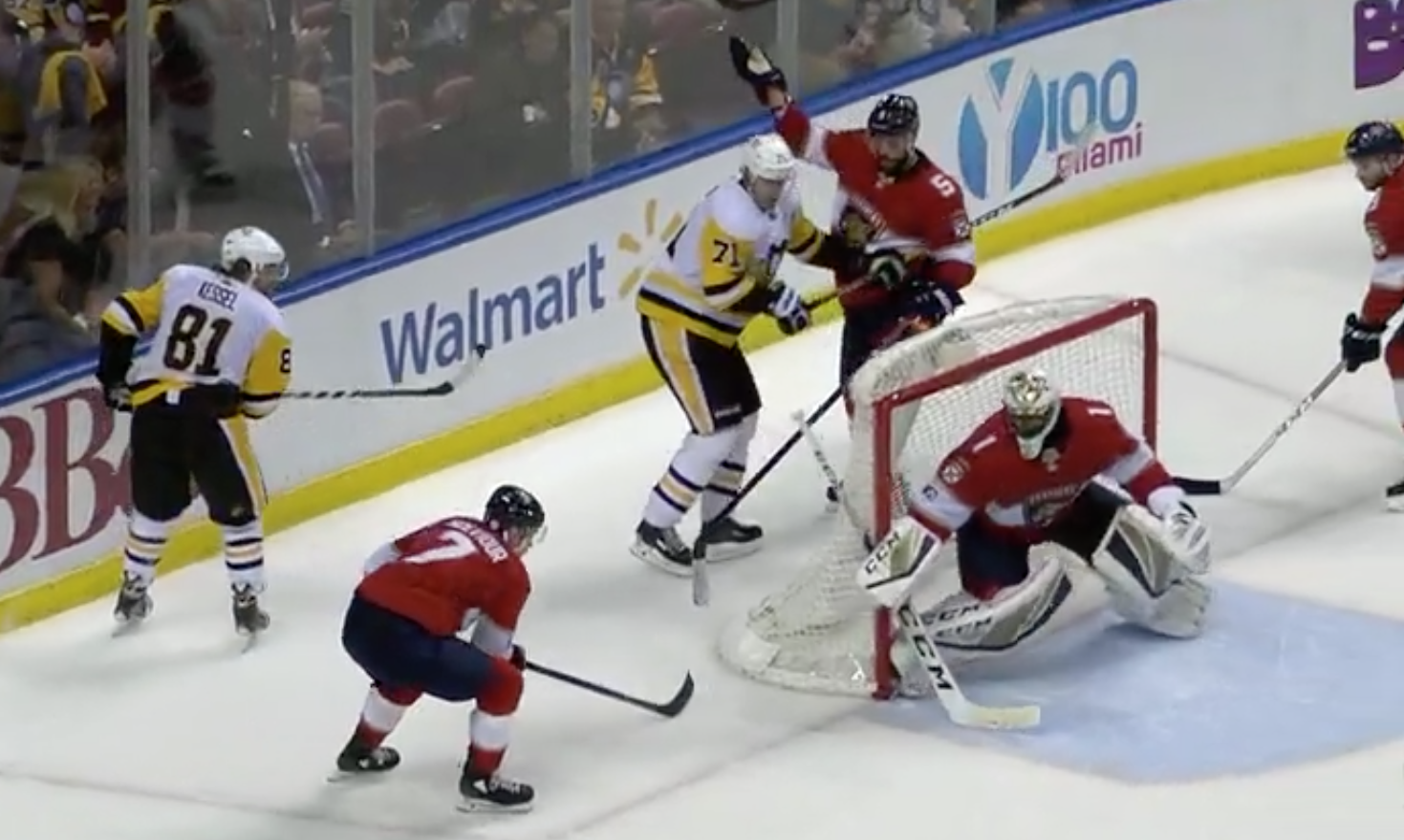 Trying to get a call while the most dangerous powerplay in the league is on the ice…good try.
The Penguins were completely fired up and off of the next faceoff they stormed the gates like demons from hell. It all started when Dumoulin makes a nice cross feed to Crosby for a one-timer which is saved and a mad scramble ensues. Brian Dumoulin sneaks in and literally steals the puck out from under 79 bodies before dishing it Rust.
BRYAN RUST (10) Assisted by DUMOULIN (8) @ 15:10
Just a great amount of effort by Dumoulin to go in here and dig this puck out. Really surprised they didn't challenge for some type of interference but regardless we were all this man in our living rooms following the goal:
The Panthers didn't give up after the Penguins stormed back and the Penguins looked content with an overtime point. It was at this time that Evgenii Dadonov completed his hattrick putting the Cats up 6-5 with less than 2 minutes to play:
Dadonov hat-trick goal: pic.twitter.com/unaLYW0p8z

— Cats On The Prowl (@Cats0ntheprowl) February 25, 2018
Now unlike the last time this will be a pick on Hunwick rant. Hunwick defends behind his own net nicely and then Schultz swoops in to cover the right side of the ice which he is assigned to. At this time Hunwick should go back towards the middle but instead sees that Sheahan is there so he stays put. The absolute killer for me is what you see in this gif:
Hunwick literally does a double take to see the eventual goal scorer is wide open and his attempt at problem solving was to angle himself away from the passing lane and to get in a horrible shot blocking position. Riley Sheahan also with a confusing play by jumping up on the puck carrier and leaving Dadonov wide open. It was rumored that Ottawa is asking for a 3rd round pick for Ian Cole, if I'm GMJR I'm calling.
The Penguins would pull their goalie and had several good looks at one last heroic tying goal but it wasn't meant to be and that would be it. The winning streak ends at six but this game was more than a loss because here's the deal Jack; it took 6 goals, a 0.864 save percentage and poor play from their backup to beat a Penguins team that played and traveled the night before. This is a scary good group of players on this team and I'm not sure I have ever been this pumped up following a loss. There are good offenses in the East no doubt, but how many times are Tampa, Washington, etc going to put up 5+ goals on Murray in a 7 game series?
---
Thoughts:
The Penguins had to adjust after losing Cole on the PK. They did so by giving every defender except for Schultz PK time (Maatta only had 0:35 seconds also). Dumoulin and Oleksiak received the most PK TOI
Oleksiak (13:24) and Hunwick (14:22) played the fewest minutes of the defenders (next closest was Maatta with 19:42) and were the only defenders to post a negative +/-. Oleksiak finished -2 and Hunwick -3, wouldn't be surprised to see a defender come to Pittsburgh via trade this weekend.
It's going to be interesting once Brassard gets in as Sullivan trusts everyone on the 4th line except for the center as witnessed by their TOI: ZAR (9:25)-Rowney (5:23)-Sheary (9:20). Dominik Simon only played 9:01 in the game as he continues to regress and find himself in the doghouse. It wouldn't surprise me to see Simon and Sprong switched out here soon
Matt Murray credited with the loss even though he didn't start
Hornqvist had a team high 9 shots on goal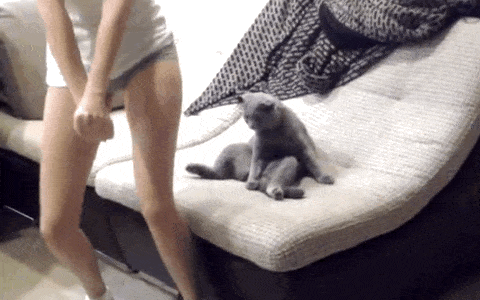 Loading ...
---

A Twitter List by PensHockeyBlog