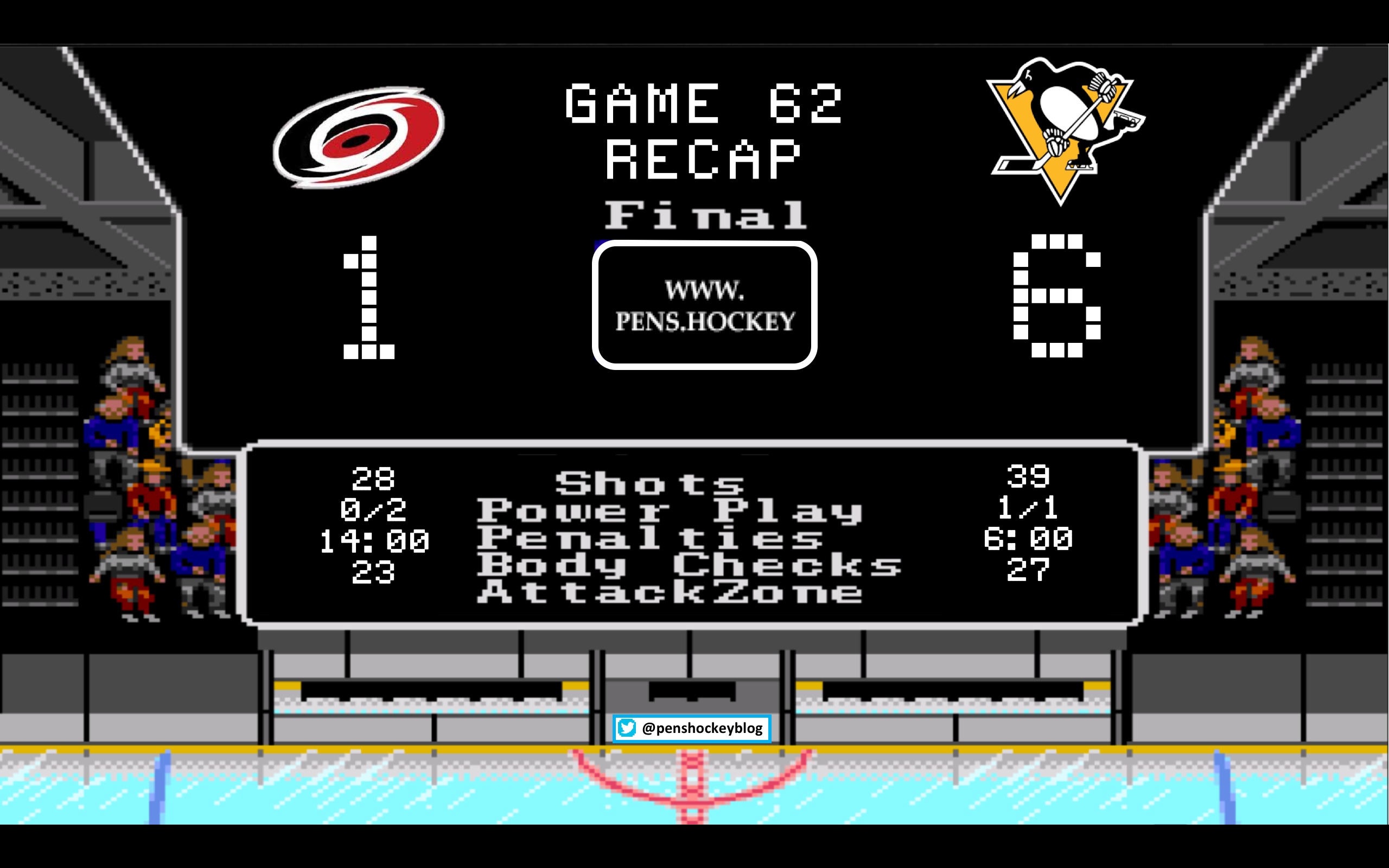 The Penguins hadn't played since Sunday and the Hurricanes were one win out of a Wild Card position so we kind of already made up our minds on how this game should go. The fact that it didn't go that way once again proves how committed this team is to winning. This is going to be a long post so no more chit chat:
Welcome back to the lineup, Hornqvist! pic.twitter.com/SUg7nQ1up4

— Pittsburgh Penguins (@penguins) February 24, 2018
Patric Hornqvist makes his return to the lineup while Ryan Reaves is left off for just the third time this year. There was that whole Derick Brassard trade that wasn't finalized at this point so we could only speculate that any player starting this game was not involved.
The Hurricanes came to play in the first period and really caught the Penguins on their heels early. Something the Hurricanes were very successful at was shutting down the neutral zone making it impossible for the Pens to get their smooth North-South game rolling. It is almost unfair to be honest, but every time I see a team play the neutral zone so aggressively so early I just say "okay, you only have to do this for 50 more minutes." That's the beauty of playing the same style of hockey with every line on every shift. Seven minutes into the game the Pens found a hole in the coverage and Phil Kessel send Guentzel a gift.
JAKE GUENTZEL (20) Assisted by KESSEL (43) @ 13:36
JAKE GUENTZ-GOAL!@jakenbake20 tallies goals in back-to-back games (2G-2A). He also has 4 goals in his last 5 games. pic.twitter.com/Q2m8t8zwJK

— Pittsburgh Penguins (@penguins) February 24, 2018
Phil is looking right at Ward the entire time and even has his wrists in a shooting position. What else is Cam Ward supposed to do by clamp down the 5-hole while committing to the Kessel shot? Unfortunately for Camcam his defense doesn't know who Guentzel is apparently and this is way too easy. Who is Jake Guentzel? He is a 20 goal scorer in the national hockey league.
The Hurricanes continued their impressive start but Matt Murray was busy making some really good saves. Nothing else to report in the first period as we were all checking Twitter every 10 seconds to see if the trade had been finalized.
Here's a look at your #PITvsCAR stats after the 1st period. pic.twitter.com/AIfZkNqZ4k

— Pittsburgh Penguins (@penguins) February 24, 2018
Carolina had a lot of pressure but only managed 6 shots, this would kind of be their story of the night.

The second period started with a quick whistle in the Penguins zone, off the ensuing faceoff Geno wins it back to the Finnish renaissance and he slammed it home.
OLLI MÄÄTTÄ (5) Assisted by MALKIN (38) @ 0:46
Get the puck. Shoot the puck. Score. Simple as that.

Maatta's goal extends his point streak to four games (2G-2A). pic.twitter.com/snCn37aRQx

— Pittsburgh Penguins (@penguins) February 24, 2018
Maatta is enjoying his best season since his rookie year as he has finally been able to find is form and you can't help but feel good for the guy. Also, the dude is still only 23 which is crazy because I'm pretty sure he's been 23 for 5 years. 5 goals and 18 assists through 62 games for Olli as he continues to close in on his monstrous 9 goal 20 assist rookie season.
A few minutes later the Hurricanes sent the puck down for what looked like an icing but was waived off. Due to the hesitation Murray didn't go behind to play the puck and it resulted in a bang bang play with 3 Hurricanes, 1 Penguin and a tied game.
Supreme puck movement. 👌 #Redvolution pic.twitter.com/rWWnpGeu7c

— Carolina Hurricanes (@NHLCanes) February 24, 2018
Following the goal the Canes put on an absolute clinic as they pinned the Pens in their defensive zone for over 2 minutes without allowing the team to change. Finally they got the puck out, changed half their men and Maatta had no choice but to ice the puck because he was in the middle of a 2+ minute shift. The Canes continued the pressure for the next 4 minutes and it wasn't looking good for the Penguins but Matt Murray cooly and calmly sent shot after shot away. Eventually the Penguins got the puck out of the zone, and just like great teams do, they wasted no time in responding.
PHIL KESSEL (25) Assisted by GUENTZEL (15) & DUMOULIN (7) @ 6:11
Two minutes later the same third line was out there and the same result was happening:
PHIL KESSEL (26) Assisted by SHEAHAN (16) & GUENTZEL (16) @ 8:25
Back-to-back goals vs. Carolina for the back-to-back Stanley Cup champion.

Phil Kessel is the best. pic.twitter.com/Mou94pAN3A

— Pittsburgh Penguins (@penguins) February 24, 2018
Such a slick steal and quick transition on the second goal by Sheahan. Within two minutes the Pens went from looking like they were for sure facing a tied game to having a 3 goal lead. What a team.
The period would end 4-1 Pittsburgh. The Pens Twitter team didn't have time to put up a graphic because they were busy with something else.
Finally at the start of the third period the team made it official. The Pittsburgh Penguins acquired Derick Brassard from the Senators. There will be more on this in the gameday below but holy fucking shit boys lets goooooooooooooooooooooooooooooooOOOooOooOOOOOoOooooOoOOOoooOooOooOoooOoooooOOOooooooooooooooooooooooooooooooooooOOOooOooOOOOOoOooooOoOOOoooOooOooOoooOoooooOOOooooooooooooooooooooooooooooooooooOOOooOooOOOOOoOooooOoOOOoooOooOooOoooOoooooOOOooooooooooooooooooooooooooooooooooOOOooOooOOOOOoOooooOoOOOoooOooOooOoooOoooooOOOooooooooooooooooooooooooooooooooooOOOooOooOOOOOoOooooOoOOOoooOooOooOoooOoooooOOOooooooooooooooooooooooooooooooooooOOOooOooOOOOOoOooooOoOOOoooOooOooOoooOoooooOOOooooooooooooooooooooooooooooooooooOOOooOooOOOOOoOooooOoOOOoooOooOooOoooOoooooOOOooooooooooooooooooooooooooooooooooOOOooOooOOOOOoOooooOoOOOoooOooOooOoooOoooooOOOooo
The third period was basically the Canes throwing a little effort here and there and the Penguins trying to save legs for the following night. The Pens appeared to score early and Cam Ward started to lose his cool, the goal was overturned due to a kicking motion but everyone knew Ward was done. 8 and a half minutes in the Pens were rewarded their first powerplay of the night when Letang made his signature "my head was just chopped off" whipping of the head after a stick came up high on him. Patric Hornqvist was back on the top unit, the top unit was back to being deadly AF.
SIDNEY CROSBY (20) Assisted by LETANG (33) & MALKIN (39) @ 9:12 PPG
The #1 power play in the NHL strikes again. pic.twitter.com/LlpNaysPqg

— Pittsburgh Penguins (@penguins) February 24, 2018
Oh Slavin you poor lad. He's only been the greatest player on the planet for 13 years but sure, leave him wide open in front. 11th 20+ goal season for Crosby in his 13 year career (two seasons with less than 20 goals both had less than 40 games played).
The Hurricanes were done, but the Penguins were teaching them a lesson. One time I was on this really good team that was ranked 3rd in the state with the best defense in the state, and we were getting completely destroyed 5-0 because of perfectly executed offensive attacks. The coach at the second intermission had one of his famous 10 second pep talks, "take notes boys, because they are putting on a fucking clinic." I have a feeling a similar message was said on the Carolina bench last night. This team came out needing a win, and the Penguins showed them what it takes to get on top of the Metro. Malkin put the exclamation mark on this one because 5 goals in a game just isn't as exciting anymore:
EVGENI MALKIN (34) Assisted by ASTON-REESE (2) @ 12:42
TOUCHDOWN! pic.twitter.com/TVgiFmbxRi

— Pittsburgh Penguins (@penguins) February 24, 2018
Not many teams have that much passion to score when already winning by 4 with less than 7 minutes left. Not many teams have this group of believers looking for the impossible. Cam Ward completely lost his shit following the goal nearly decapitating his own player:
Here is what Cam Ward thinks about his teammate's effort tonight against the Penguins. 6-1 @penguins pic.twitter.com/V1LJrdZ5cF

— Bucci Mane (@Buccigross) February 24, 2018
The clock would tick down and the buzzer would sound, the Penguins would be rolling down the street, smoking goalies, sipping on gin and
DEUCE
---
Thoughts:
The team played a game that completely surprised me, I have no more thoughts about this game because it was everything I could've hoped for following a 4 day break.
GAMEDAY 63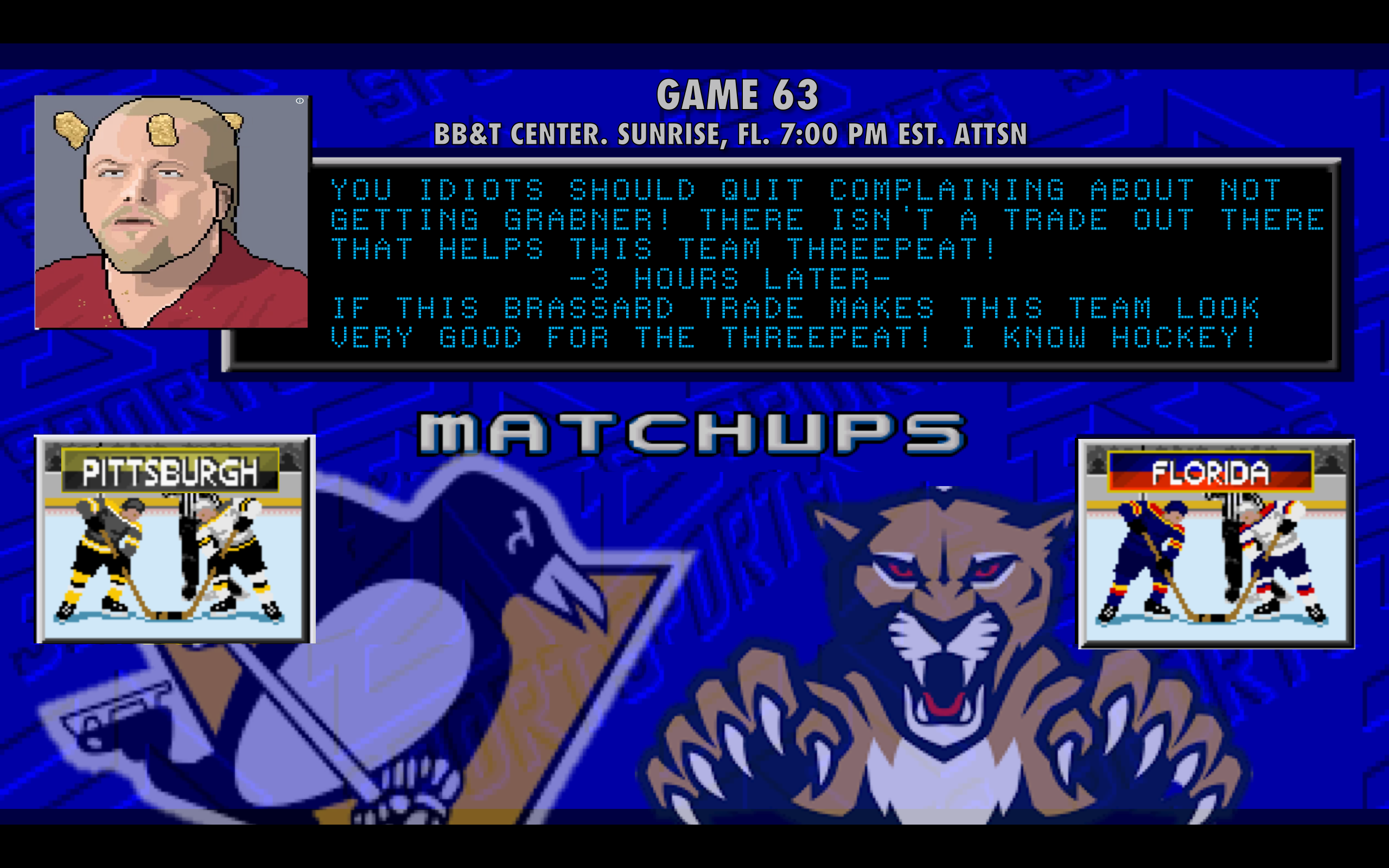 So the Penguins travel to Sunrise tonight and boy do we have something to discuss.
The #Pens have acquired forward Derick Brassard in a three-team trade with Ottawa & Vegas.

PIT also received a 2018 3rd-round draft pick and prospect forward Vincent Dunn from the Sens and prospect forward Tobias Lindberg from the Golden Knights.

Info: https://t.co/Rpdk3eWxw3 pic.twitter.com/OUjBBc3Znq

— Pittsburgh Penguins (@penguins) February 24, 2018
This is a complicated trade because of the salary retention and it was handled in three steps, and yes the first one actually sent Brassard to Vegas: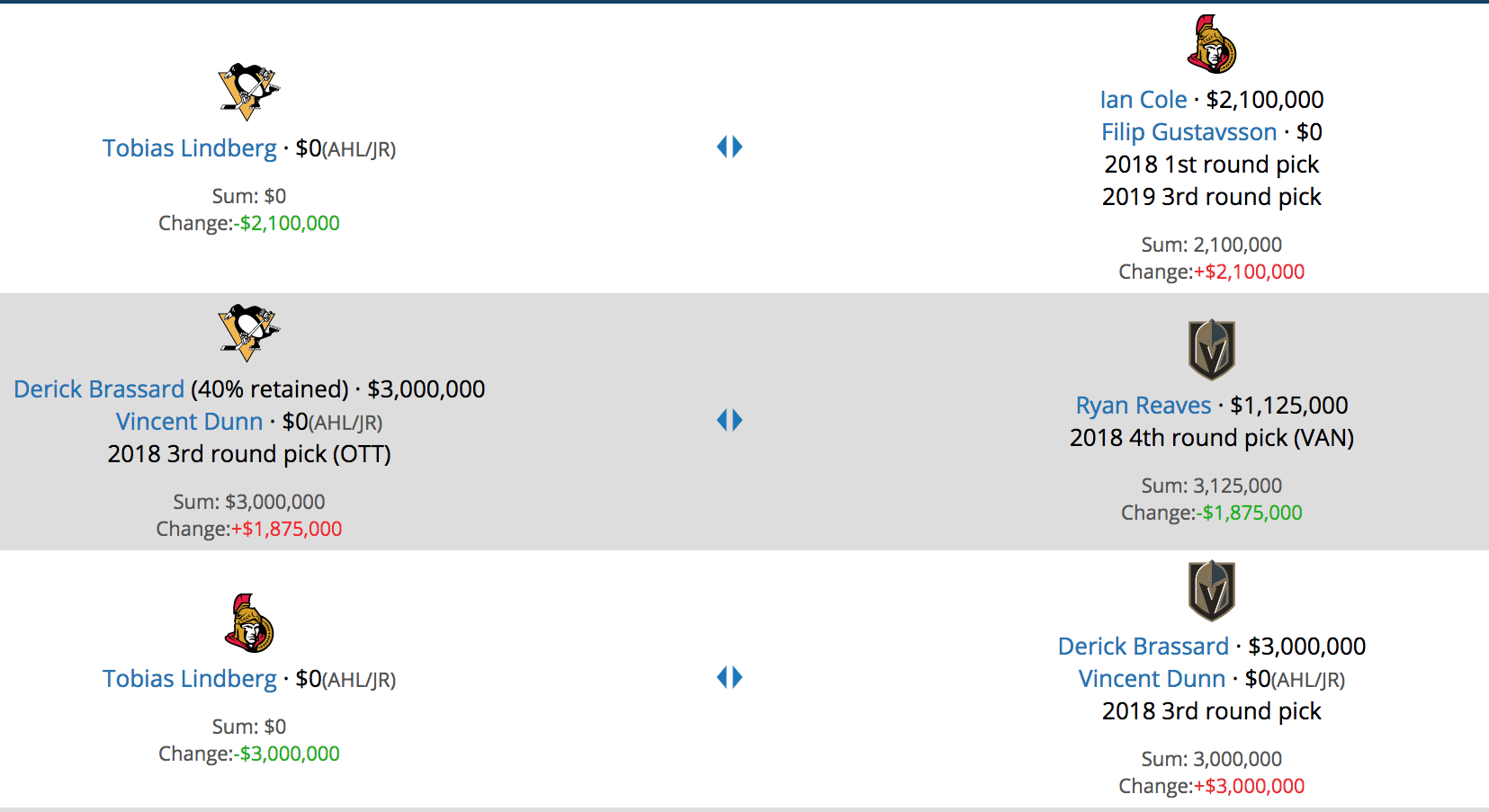 So Vegas helped the Penguins construct their most lethal offense the team has had in years and they received Ryan Reaves as a thank you. Why would Vegas help the Pens? The rumor coming out of their camp is that several Western Conference teams were all in on Brassard and  Vegas decided they would rather face him in the 4th round instead of the 2nd. The Golden Knights also retain salary so the Pens get Brassard for $3 million this year and next which happens to give them a third line center AND cap space to resign Hornqvist?! Fucking aye Jimmie
Jim Rutherford, Penguins GM… and trade wizard.

Rutherford gets his man in Brassard: https://t.co/d7OagKDzU1 pic.twitter.com/IUFcPghsIP

— Pittsburgh Penguins (@penguins) February 24, 2018
That's the smile of a grandpa that just successfully used the "pull my finger" joke, Ottawa pulled, Jimmie delivered.
Also, in case you were wondering if Brassard is all he is cracked up to be in the playoffs:
Most Points in Playoffs Since 2013
Eastern Conference

Malkin (PIT) – 76
Crosby (PIT) – 74
Brassard (PIT) – 55
Kessel (PIT) – 51

— Penguins Jesus (@PenguinsJesus) February 24, 2018
Alright I have to stop because this can go on forever but damn what a move by Rutherford. To those worried about the Pens not getting a first round pick again, they've been pretty successful with their recent higher picks Murray, Jarry, Guentzel, Rust, Sprong, etc. The cupboard is just fine and you don't get a chance to win three in a row often. This feels oddly similar to the 93-94 team which was the best team on paper out of the two Stanley Cup teams of 91 and 92, hopefully we get a different result, eh?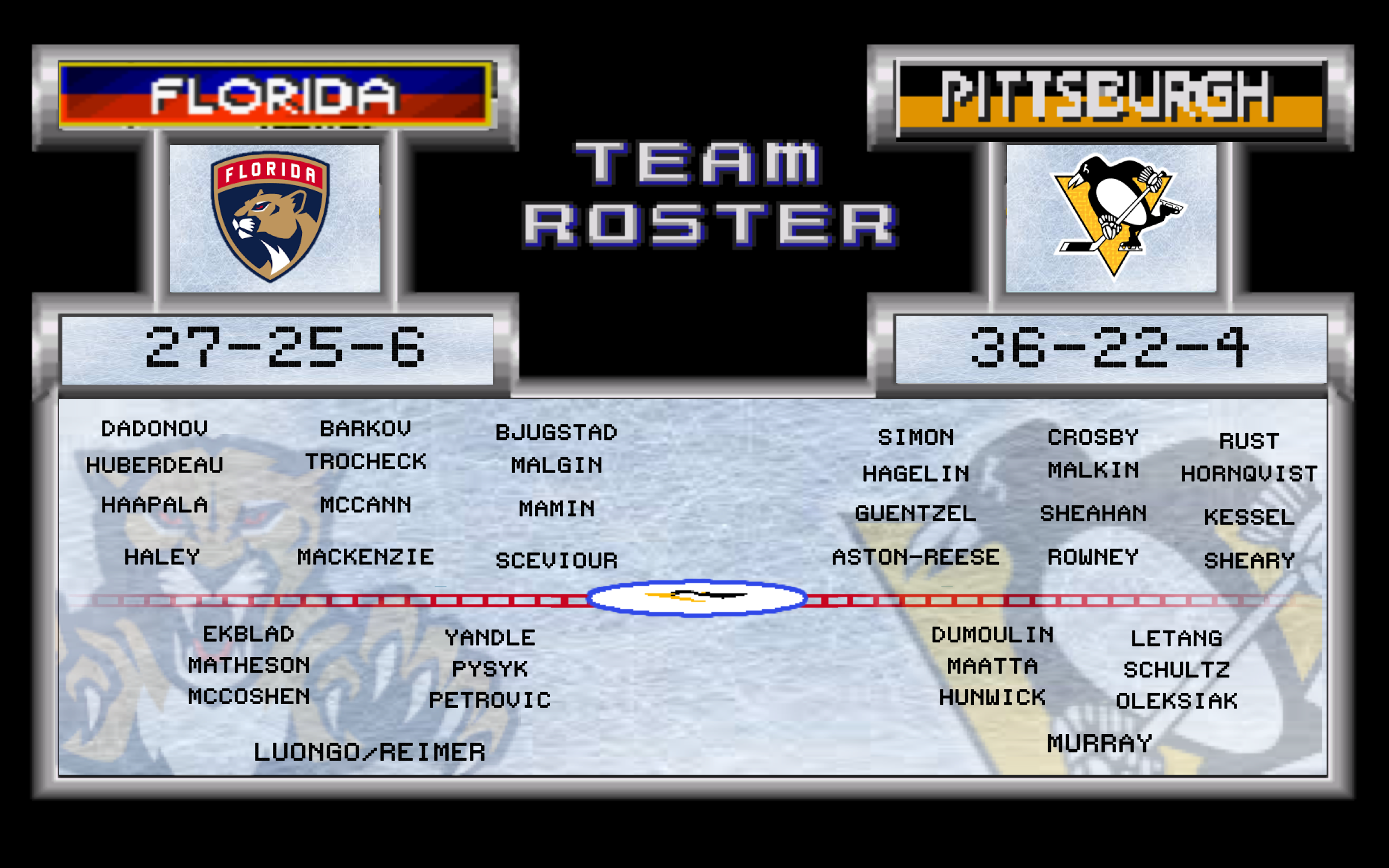 Oh yeah, there is a game tonight. Don't expect Brassard to join the team tonight due to passports and customs and such, it may take the weekend for all of that to get processed. The Pens are riding high right now and the Panthers are trying to play their hearts out for Parkland. This might be a sleeper of a game for the Pens, which wouldn't be the worst thing in the world. Should be Jarry in net, everyone else should be the same. There are points to be had, brother, the top 3 in the metro play tonight, brother, pull up the pants, dig in, and get the W, brother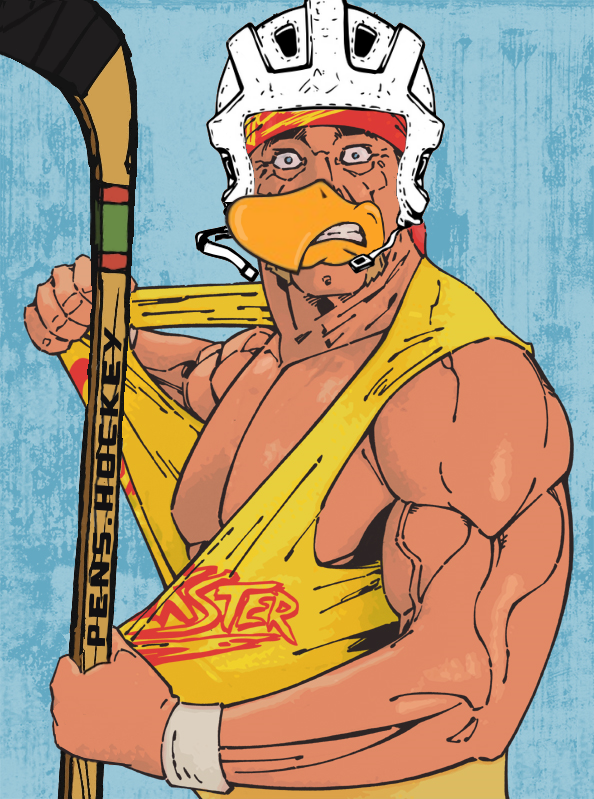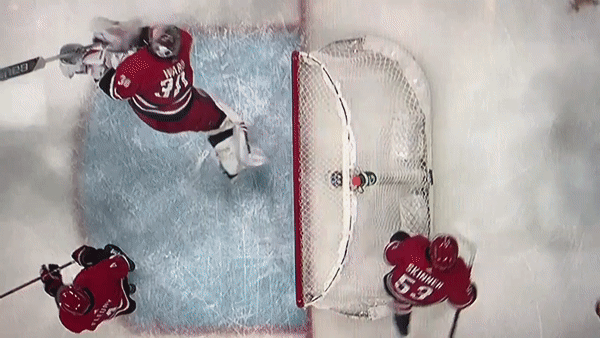 Loading ...