The Penguins played their 72nd game of the year last night which is both incredible and awful in a few ways, though it seems like the season just started it always feels like I've been saying "10 games left" for the last month. I feel like this anticipation of meaningful hockey isn't lost on the players either based on their third period in New York on Wednesday night.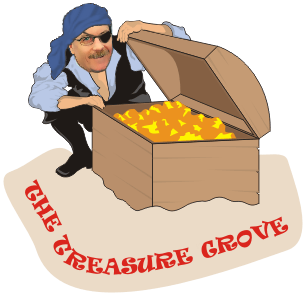 Pittsburgh won 38 games against Montreal over its first 37 seasons; it has won 26 over the Canadiens in the last 12 seasons.

— Bob Grove (@bobgrove91) March 15, 2018
Somewhere in Canada a Canadiens fan is in a Tim Horton's taking a bite out of a jelly talking about the good ole days of Habs hockey
After last night, Malkin is 0-for-6 in his career on penalty shots. Crosby is 0-for-4. Counterintuitive.

— Bob Grove (@bobgrove91) March 15, 2018
Bunch of bums.
Does faceoff workload affect efficiency? In the 8 GP before the Brassard trade, Sheahan was averaging 15.5 draws a night and winning 52.4%.In the 8 GP since the trade, he's averaging 8.0 draws a night and winning 45.3%.

— Bob Grove (@bobgrove91) March 15, 2018
This is an interesting question. If he was still getting those extra 7 draws would he win more? A 4th line center winning 45.3% is better than most teams, but 52.4% is a huge help late in the game come playoff time.
Meanwhile, PK is 15-for-24 (62.5%) over the last 8 games. That is atrocious.

— Bob Grove (@bobgrove91) March 15, 2018
Atrocious is putting it lightly. I have a feeling the remaining practices will be focused on the PK defenders as they attempt to get used to each other. Since trading Cole the go to pairings have been Maatta-Dumoulin, Oleksiak-Ruhwedel with Letang next if it is a defender in the box. Schultz doesn't kill penalties. Oleksiak, Ruhwedel and Letang are all in a desperate need of a penalty killing crash course.
Pens, like most teams, get fewer PP chances in third period than any other. But here's their efficiency by period: first (15/77, 19.4%); second (17/87, 19.5); third (26/63, 41.2%). That last number is crazy.

— Bob Grove (@bobgrove91) March 15, 2018
This actually makes sense if you think about the Pens powerplay chances. If they get an opportunity in the first they go into complete globetrotter mode, in the second they do half globetrotter have frustration, in the third they just shoot the puck. There is a lesson to be learned here but I can't put my finger on it.
On this date in 1975, Pens beat Capitals at home, 12-1. Pens with 65 shots. Washington D Greg Joly was -9, which scarcely seems believable.

— Bob Grove (@bobgrove91) March 15, 2018
A -9 in one game… I guess we can't complain about Hunwick anymore
Malkin has not been held off the scoresheet in consecutive GP since Jan. 20+23 @ SJ and vs. Carolina.

— Bob Grove (@bobgrove91) March 15, 2018
Yeah he be good.
With the back-to-back schedule and no healthy scratches in the press box  the Pens didn't have any options with their forwards and therefore used the same lineup as the night before with Jarry replacing of Smith:
Here are tonight's line combos for #PITvsMTL. pic.twitter.com/SyYoJaVXBF

— Pittsburgh Penguins (@penguins) March 15, 2018
If there was any hope that the Penguins would come out flying after shitting the bed in the third period the night before they were quickly erased as the Canadiens had the early jump. Just 3 minutes into the game Montreal was taking the lead when some dude named Artturi Lehkonen scored
When you're hot you're hot, Artturi Lehkonen makes it 1-0 Habs with this redirection. pic.twitter.com/CpuiWOZOJa

— Scott Matla (@scottmatla) March 15, 2018
You might think that goal mixed with the events of the night before would serve as a wake up call for the Penguins, you would be wrong. The team continued looking like they despised being in Montreal and Montreal continued looking like they wanted to add "beating the champs" to an otherwise wasted season. 6 minutes into the period Jamie Oleksiak took a holding penalty and the Penguins were forced with the tough task of trying to kill a penalty while having zero momentum. That effort went about as well as you can imagine and suddenly it was 2-0 Habs less than 10 minutes into the period. It all started when Brian Dumoulin makes an uncharacteristic mistake in gap coverage:
Even after this the puck gets sent to the front, deflected by Hagelin and popped up into the air. This is definitely an "oh shit" moment but doesn't result in a goal if everyone plays it correctly, however: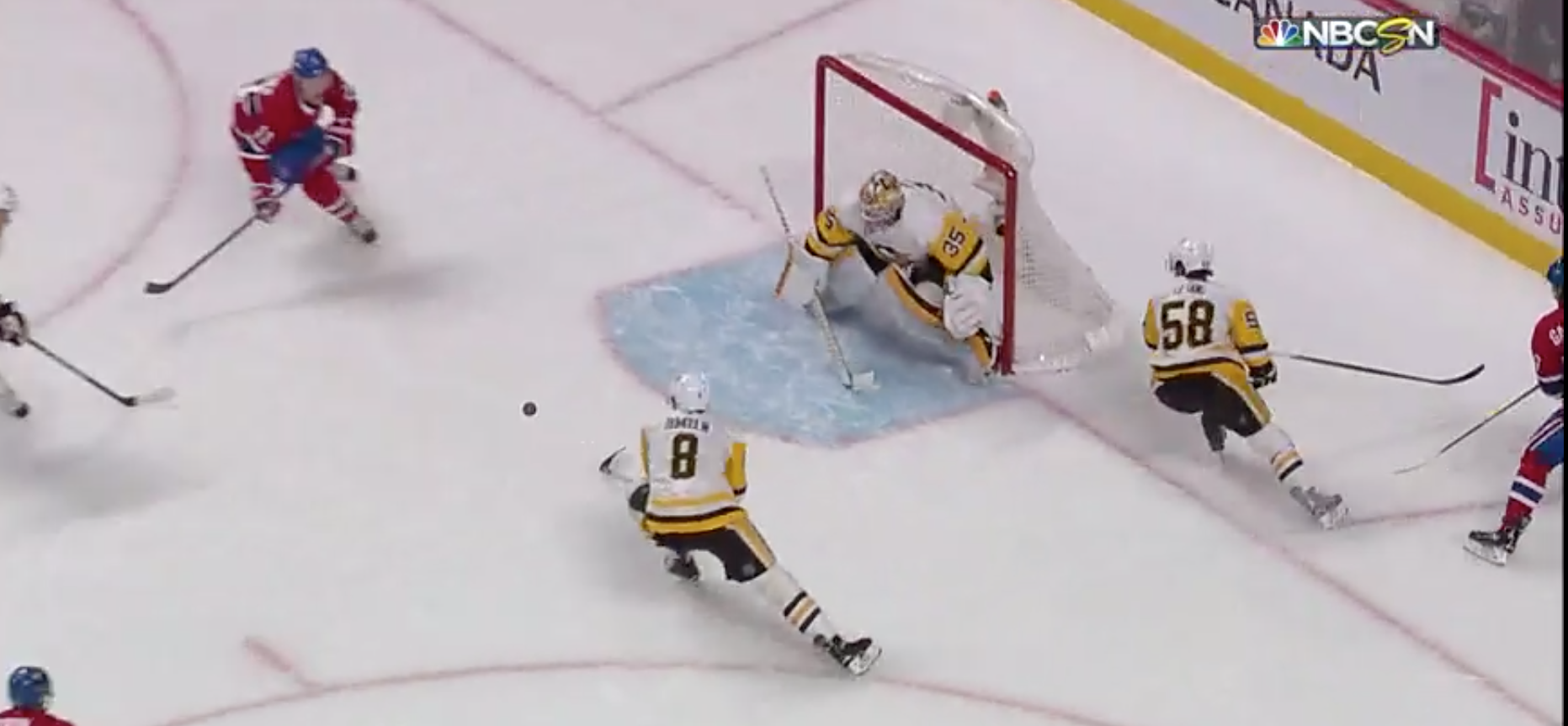 Letang skates over to cover for Dumoulin and because he isn't comfortable killing penalties he over commits leaving the center of the ice without a Penguins defender. Galchenyuk wisely throws it to center and Letang continues skating behind the net instead of putting on the brakes to stay in front. From here the puck is deflected up by Hagelin and here is the aerial view while the puck is in the air: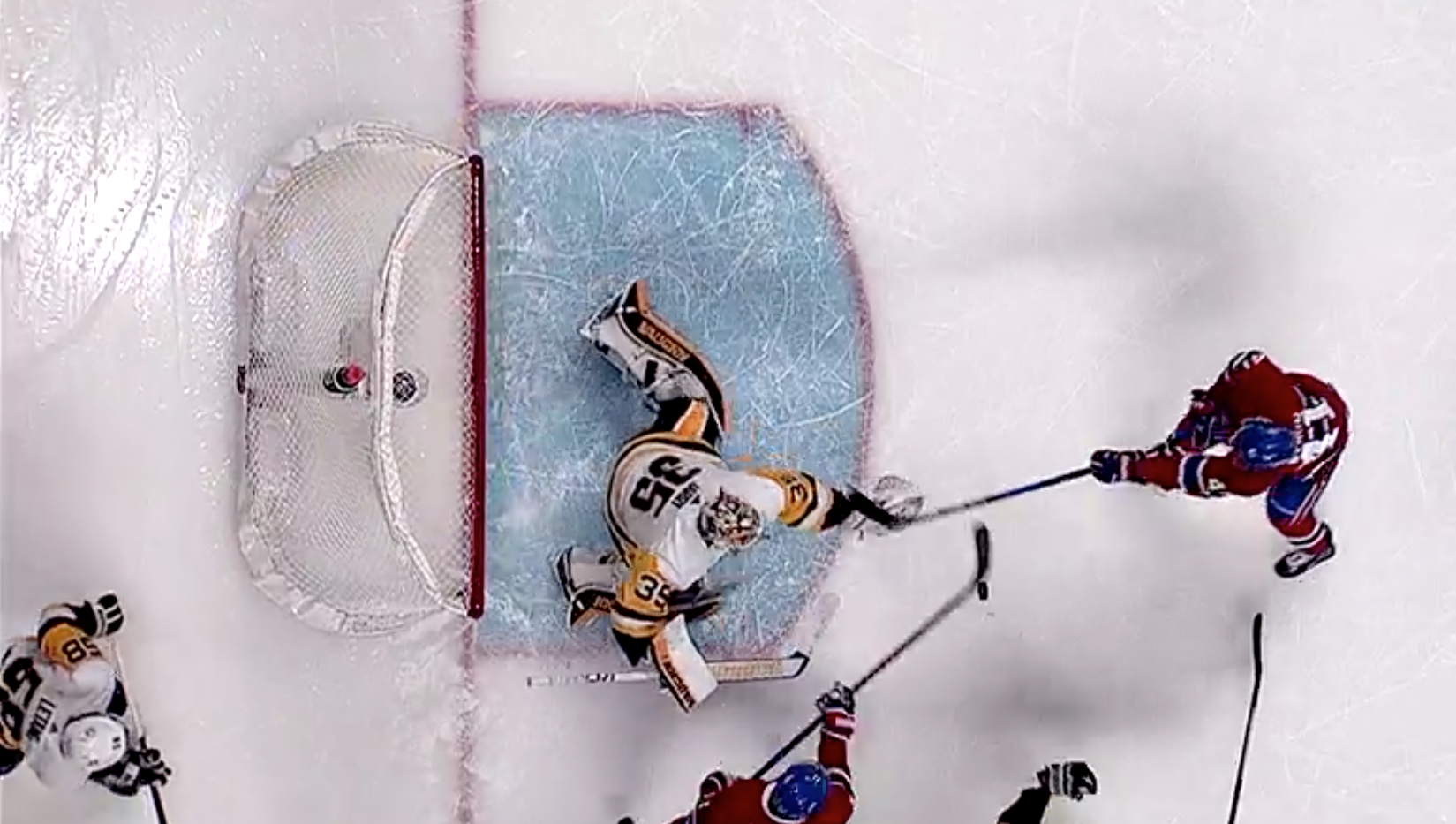 Letang is behind the net, Sheahan is just out of this image to the right side of your screen. Dumoulin is the glove reaching in from the bottom, Hagelin is out of the shot. It doesn't take a high IQ to tell you this is not a good penalty kill situation to be in. As the puck lands: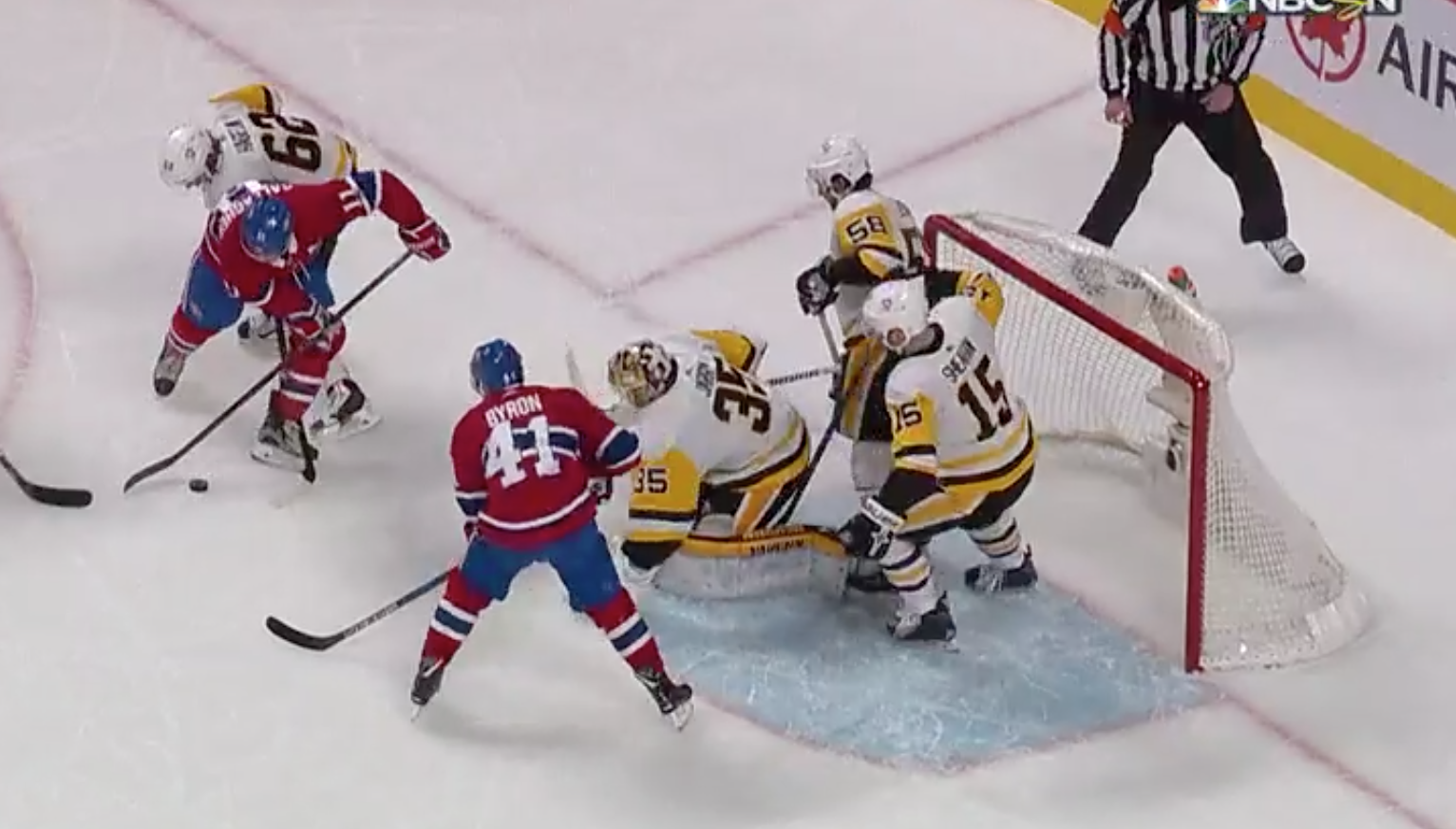 Sheahan skates right by the eventual goal scorer to play goal. Letang decides Carl Hagelin has things under control and also decides to play goal. I don't know if this is two players entering desperation mode because of the struggling penalty kill as of late but this is just  poor decision making by both players. Not only do they take themselves out of the play they also confuse the fuck out of Jarry, who doesn't know what he is feeling as he shifts over to cover Byron. This image should be burned into Letang and Sheahans minds throughout the entire playoffs.
Following the goal the Penguins got a quick 2 on 1 with Kessel and Rust that Kessel played perfectly, hitting Rust at the right moment but he rang it off the pipe. Apparently that ding was loud enough to rattle the Penguins and they started looking a lot like the Penguins. It wasn't long after that the third line got on the ice, Brassard makes a nifty play to Rust and Rust makes sure everyone on the line touches the puck:
PHIL KESSEL (29) Assisted by RUST (24) & BRASSARD (23) @ 10:05
Good pass, great goal. pic.twitter.com/koVpNfF9jB

— Pittsburgh Penguins (@penguins) March 16, 2018
These three are starting to click and that should be very scary for the rest of the league. Brassard is looking more and more comfortable in the Pens system and adding Bryan Rust to this line makes it better than most teams second line. This whole play starts with a forced turnover by Brassard which is shown in the following video, and then the heads up play by both Rust and Kessel to rush the zone:
Rust ➡ Kessel ➡ Goal pic.twitter.com/lalySv7Z0d

— Sportsnet (@Sportsnet) March 16, 2018
It's funny how both the Penguins Twitter and Sportsnet don't mention Brassard making the play that truly resulted in the goal. Regardless, plays like this by the third line are very reminiscent of HBK, except this version is RBK, waiting to lose their position to an outside bid from Adidas.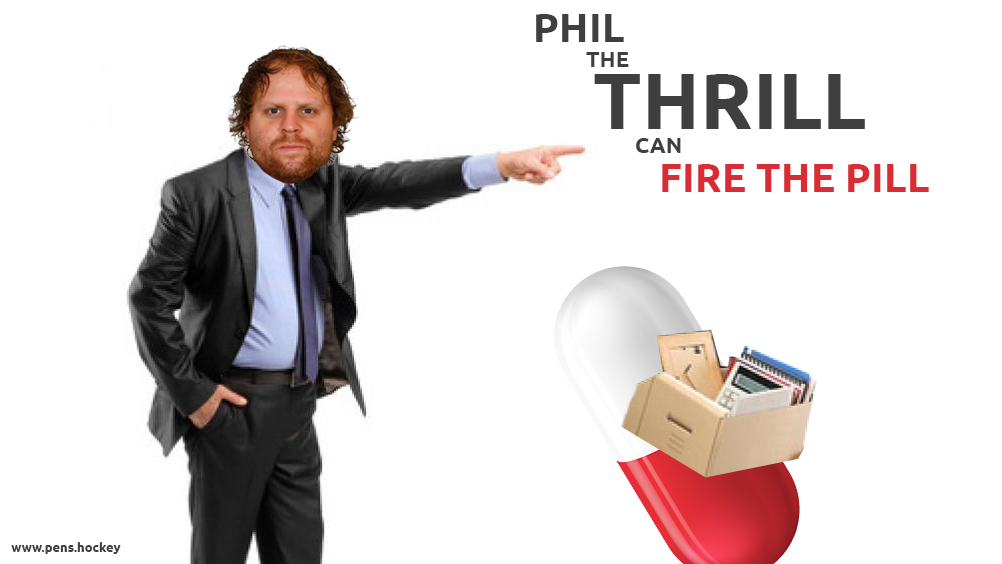 Following the goal the Pens continued looking like the better team or a change and less than 5 minutes later Antti Niemi acted like he was still a Penguin
PATRIC HORNQVIST (21) Assisted by MALKIN (49) & LETANG (37) @ 14:33
The lone assist on Hornqvist's tally was credited to Letang. Now THAT'S what we call driving to the net! pic.twitter.com/H3DXvgiBJt

— Pittsburgh Penguins (@penguins) March 16, 2018
Not to give Niemi all the credit this is a tremendous amount of effort from Hornqvist which we've come to expect and probably take for granted.
After fighting back to tie the game the Penguins had earned a clean slate and the rest of the period played out with both teams looking stunned.
All tied up in goals, but leading in shots. pic.twitter.com/GrHpyqFueo

— Pittsburgh Penguins (@penguins) March 16, 2018

The second period started out with about 40 seconds of the Penguins looking in control of things and then started looking exactly like the beginning of the first as Montreal started dominating the scoring chances. Luckily for the Pens Tristan Jarry was standing tall after a sketchy start. Ten minutes into the period the Canadiens were called for an interference call that doesn't get called often enough as Carl Hagelin tried to work his way around Petry. The Pens powerplay had been balls recently but this time after gaining the zone Malkin continued skating to get in position to release the Russian rocket
EVGENI MALKIN (40) Assisted by LETANG (38) & KESSEL (51) @ 10:30 PPG
Malkin put all of his strength into his 40th goal this season. pic.twitter.com/TIjKBwni2N

— Pittsburgh Penguins (@penguins) March 16, 2018
What a laser by Geno as he hits the 40 goal mark for the third time in his career and the first time since 2011-12. This is a look on the powerplay that in my opinion doesn't happen enough as the team is always looking for the sweet cross-ice feed to an open net…
rt if evgeni malkin is your mvp pic.twitter.com/QJwuhh3Fj7

— ego (@EvgeniMaIkinEgo) March 16, 2018
When you can fire a one-timer like that you make your own open net.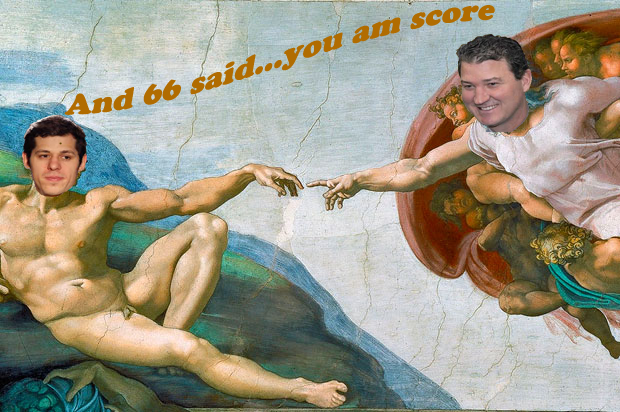 The Canadiens picked up right where they left off before the goal was scored with some consistent pressure on Jarry. The puck eventually comes to Letang behind the net and he has all day to skate it out of the zone but he decided otherwise, which creates a turnover. Letang makes a spin move once to open up time and space, and then either got dizzy or forgot that he already made the spin move as he tries a second one:
This is Letangs view after the first move:

There isn't anything more you could want here. A quick outlet to Oleksiak if needed or just skate forward with the vast space allowed by the Canadiens. Mind boggling decision by Letang to spin around again here. Unfortunately he isn't the only one to blame, as Oleksiak makes an equally bizarre decision in where he skates while Letang turns it over: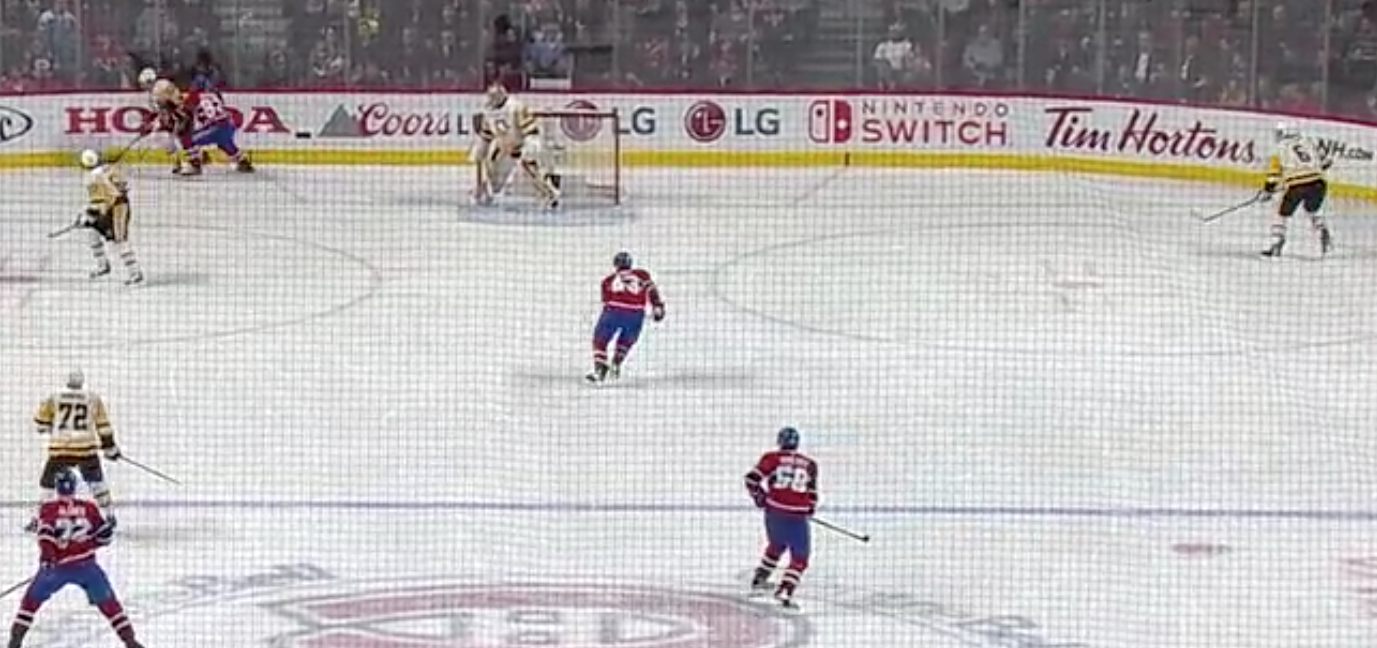 I understand the logic behind this decision even if it is wrong. Oleksiak was heading to the boards for a reversal by Letang. When that doesn't happen though he absolutely has to recognize the center of the ice: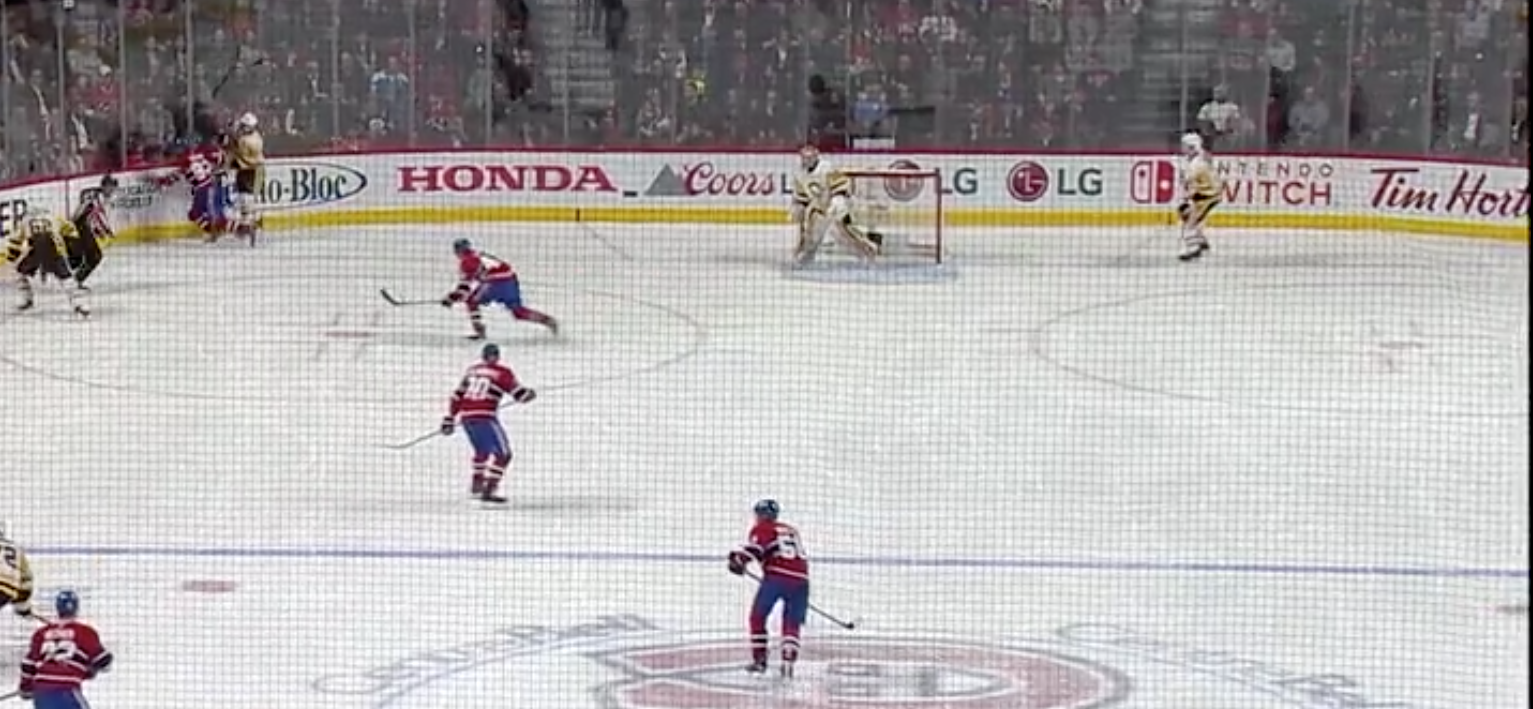 He doesn't, and right now the Canadiens have a 2 on 0 if they win the battle along the boards. This cannot happen in the playoffs. There is still time for Oleksiak to head out front right now and prevent the eventual goal but what does he do next?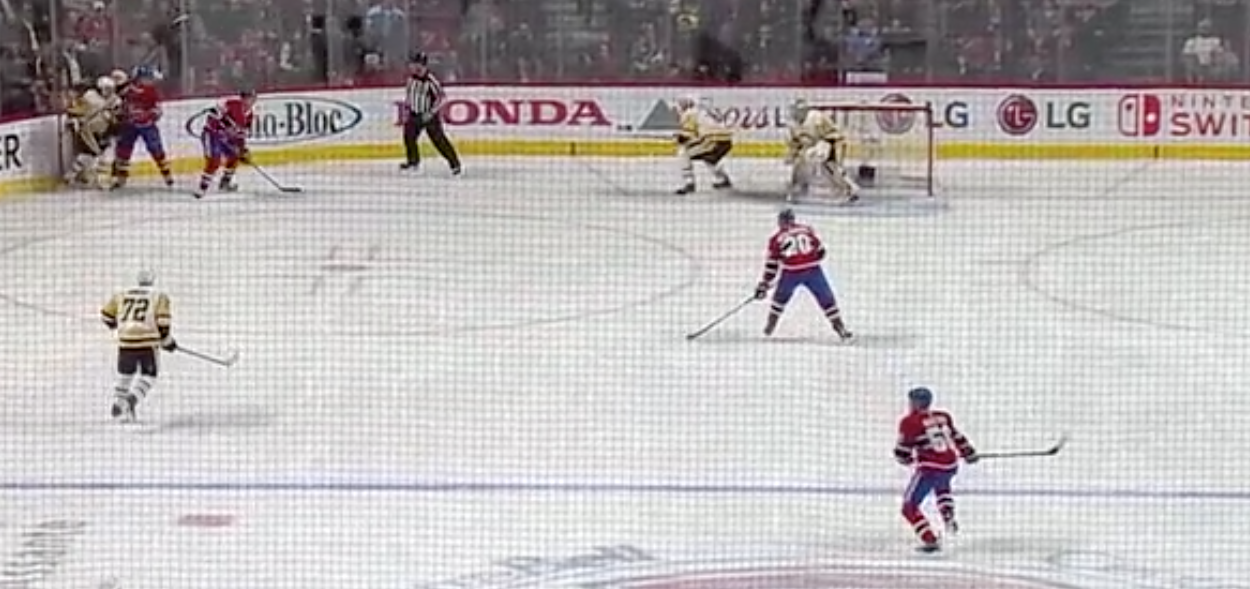 Skates right by Jarry and over to the wrong side of the ice and just look at his defensive posture in this image, stick in the air and not in the passing lane, watching the puck, oblivious to everything behind him. The decisions by Letang and Oleksiak on this goal are slightly troubling by a team that will be playing elimination style games in 3 weeks.
The Pens were able to to regain their form for the rest of the period and made the game at least seem more even. Neither team would find the twine again in the period and we were heading to the third tied at 3.
Here are your stats through two periods of play. pic.twitter.com/9RuBN85M8q

— Pittsburgh Penguins (@penguins) March 16, 2018
The Pens outshoot Montreal 18-4 in the period as Niemi made more saves in this period against Pittsburgh than he did in his three games for Pittsburgh.
The third period looked like the Penguins were actively trying to see how little effort they could give while still trying to take the lead. The team would start cycling but seemed to refuse to go that extra step to get to loose pucks or board battles. Both teams were getting chances though the Penguins seemed to be getting the better of the scoring chances but both goaltenders stood their ground. Around the 10 minute mark there was a Sidney Crosby sighting so that was exciting. Two minutes later the real MVP got to the dirty areas as Malkin out-battled two Canadiens along the boards to maintain possession, the puck eventually came out to the point and sent back in looking for a deflection. When Hornqvist and Malkin are in front of the net the odds of a deflection increase significantly:
PATRIC HORNQVIST (22) Assisted by HAGELIN (18) & DUMOULIN (10) @ 12:24
His 400th point appropriately comes from his favorite spot on the ice: right in front of the opposing goaltender.

Box score: https://t.co/yRGbqqDXYg pic.twitter.com/iA45SOKeon

— Pittsburgh Penguins (@penguins) March 16, 2018
This is such a good play by Hornqvist to get his stick on this. If you want to know what good athletic positioning looks like to set yourself up for a deflection in front, this is it: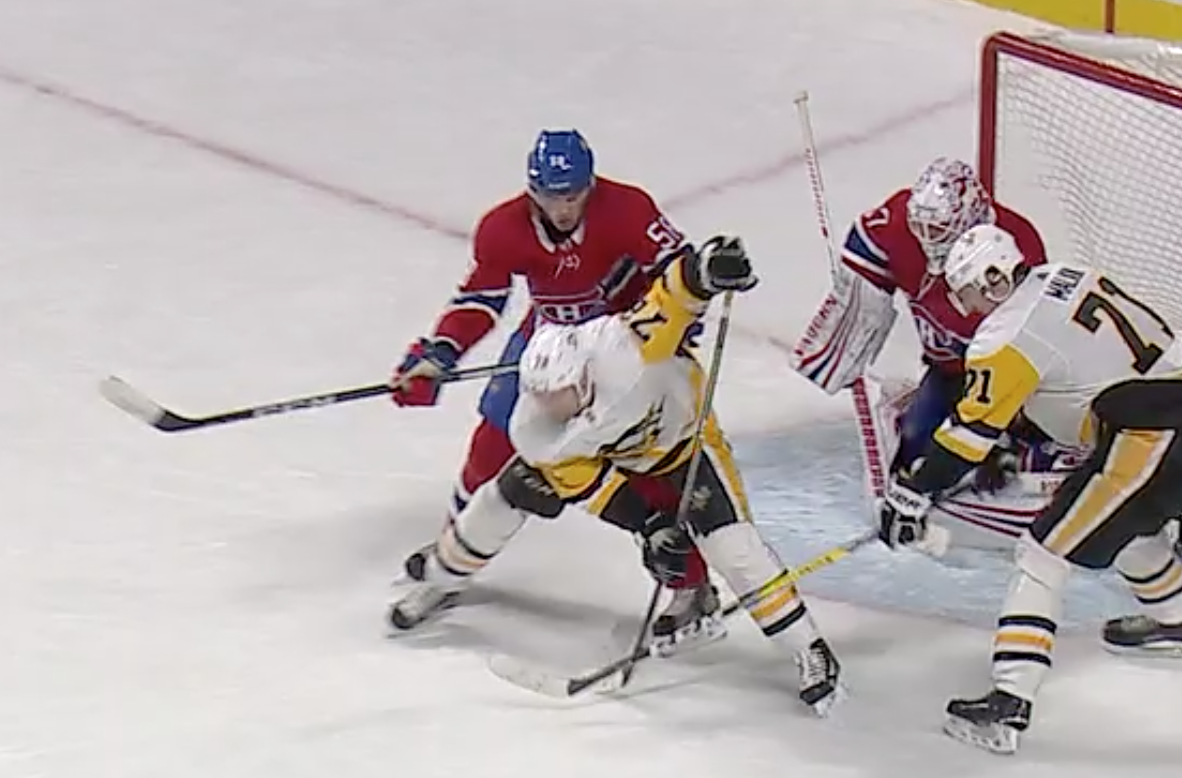 A strong stance that only an illegal crosscheck crosscheck in the playoffs could knock Hornqvist out of, his stick is on the ice and positioned between the skates making his body taking up as much of Niemi's view as possible while giving the shooter a clear target. Textbook. Speaking of textbook, Hornqvist gets his 400th career point on the goal and if you want to know the definition of consistent:
It came as a shock to a lot of the Facebook Penguins fans that they were able to hold the lead for the next 5 minutes as Tristan Jarry started to really lock things down as he eliminated rebound opportunities. With 3 minutes left the Habs pulled Niemi and Bryan Rust managed to miss all three posts with his shot
BRYAN RUST (12) Assisted by HORNQVIST (17) & OLEKSIAK (9) @ 18:07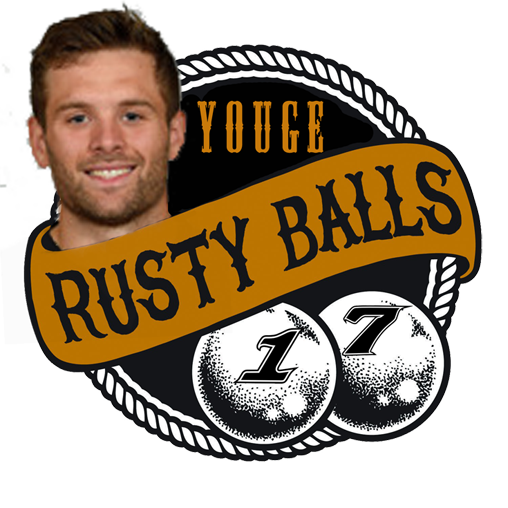 Of course he is a bastard for not doing a spin-o-rama drop pass to Hornqvist to give him a chance for the hattrick but whatever. Montreal would pull Niemi again and tried really really hard to get one in but Jarry decided enough was enough. It wasn't pretty, it didn't have to be, it was enough for the
deuce.
---
Thoughts:
The team looks completely uninterested in playing these games at times, usually I would be concerned because I like the team clicking heading into the playoffs but this team has shown us that they not only know when to turn it on they also know when they aren't playing right. My biggest concern heading to the playoffs is the defense on the penalty kill
There hasn't been much news on Zach Aston-Reese but I think it is safe to say he has a roster spot when he comes back as Carter Rowney finished this game with 4:11. His linemates received significantly more as Sheahan finished with over 10 and Kuhnhackl over 7 (though I feel Kuhnhackl's recent blocking earned him a few less minutes in this one)
The first line is either threatening to score or completely invisible. The reuniting of the line has settled the second and third lines into lethal form but hasn't had the same effect for Crosby which is a concern. Sullivan recognizes this too based on his trying Sheahan with Sid. 10 games left, I'm not sure there is a better time to maybe give Sprong one more chance at things
Hornqvist finished the game with 10 shots. 10! The rest of the Penguins forwards had 17 combined, and Sid made up 5 of those. Sheary (1), Crosby (5) and Gunetzel (4) combined for 1/4th of the shots on goal so it wouldn't surprise me to see the line stay together the rest of the way.
The win is matched by the Caps winning and Columbus beating Philly. Due to the ROW tie breaker however the Flyers hold the third spot despite having 3 fewer wins than Columbus:
The Pens are getting comfy in the 2 spot which is a perfect place to be. 3 months ago we were praying for a Wild Card bid, now they have a 6 point lead with 10 to play.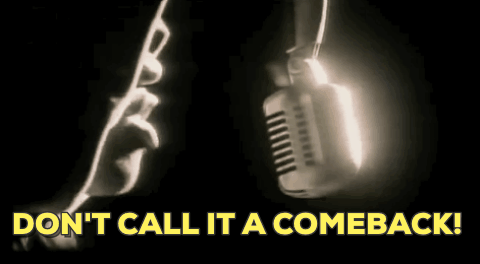 Loading ...