The Pens were in the Big Apple last night for a casual Wednesday night "rivalry night" game against the Rangers. I'm not sure these teams ever had a rivalry but whatever.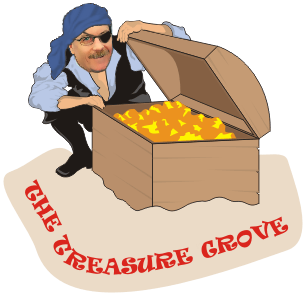 Pens have scored first in 6 consecutive games vs. NYR and 8 of the last 10.

— Bob Grove (@bobgrove91) March 14, 2018
Spoiler alert, 7 after last night.
Pens have won 8 of their last 11 GP vs. Rangers.

— Bob Grove (@bobgrove91) March 14, 2018
I'm liking the dominance
Sid also has points in 15 of his last 17 GP @ MSG (8-17-25). Pens' record in those games is 13-3-1.

— Bob Grove (@bobgrove91) March 14, 2018
Not sure if this is because Sid is good or because he owns Henny
Eight of the Pens' last 12 GP will be played as part of back-to-back situations. Four back-to-backs in the final 24 days of the season.

— Bob Grove (@bobgrove91) March 14, 2018
Crazy to think about really, the Pens have 19 back-to-backs this season and this is just number 16. After the completion of tonights game at Montreal the team still has three back-to-back scenarios remaining.
Malkin has put together 3 six-game scoring streaks over the last 20 games. He has 4 six-game streaks this season, during which he has produced 20 of his 39 goals and 45 of his 87 points.

— Bob Grove (@bobgrove91) March 14, 2018
It wouldn't be a post without some Geno loving
Pens have won 13 of their last 17 games inside the Metro.

— Bob Grove (@bobgrove91) March 14, 2018
Is this good? Asking for the playoffs.
The Penguins lines were pretty much what we expected following the news that Bryan Rust didn't have any setbacks following his full-contact practice.
Bryan Rust, welcome back to the lineup! #PITvsNYR pic.twitter.com/2YRL5Gj21M

— Pittsburgh Penguins (@penguins) March 14, 2018
Sullivan going for DeSmith in net and honestly he may choose his starter by having them play rock, paper, scissors at this point. Both are playing similarly and getting the same results, he can't make a bad decision at this point.
The first period consisted mostly of Susan Sarandon having orgasms during play while simultaneously unloading some of the porniest hockey porn entries we've ever had. I'm not sure when NBCSN decided it would be cool to have these extra people between the glass with Pierre but the most troubling part is multiple people in a meeting somewhere agreed to the idea, then saw the reviews following last weeks disaster and decided it would be cool to do again.
To be honest I can't recall one significant play in the first period because of the commentary between Sarandon and McGuire. There was a highlight when they asked Susan if she remembered when Milbury went after a fan with a shoe… only at NBCSN would that be something honorable, nobody is hanging out at your office party saying "hey remember that time Dan punched that clients mom?" Nobody scored in the period, though Sarandon may have hooked up with Lundqvist afterwards.
We like the shot totals, but we'd also enjoy seeing a little more gold on the other end of this graphic. pic.twitter.com/g1kRyqIikY

— Pittsburgh Penguins (@penguins) March 15, 2018

The second period had a different feel right from the opening faceoff and no, it wasn't just because Susan was gone. The Penguins were getting great pressure with all of their lines and then the newly formed third line gave the Rangers an absolute fit, resulting in Brassard dishing the puck to Rust.
BRYAN RUST (11) Assisted by BRASSARD (22) @ 1:53
He doesn't look rusty one bit 😉 pic.twitter.com/5iNJZU3e0Y

— Pittsburgh Penguins (@penguins) March 15, 2018
Brassard to Rust, and Kessel was open as well. This third line is going to be one hell of a line to match up against in the playoffs and man I cannot wait. Perfect shot by Rust as he reaches a new career high in games played with 58. Last season Rust had 15 goals and 13 assists in those 57 games while this year he sits with 11 goals and 23 assists so far this year.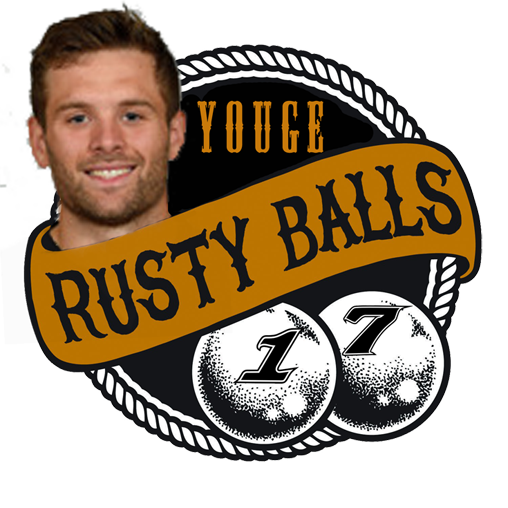 The Rangers defense figured they were getting a break but the Penguins showed what a 4 line scheme truly looks like when Kuhnhackl, Sheahan and Rowney went to work, forced some turnovers and eventually got the puck to the point…
RILEY SHEAHAN (10) Assisted by LETANG (36) & ROWNEY (3) @ 2:48
Letang with the shot, Sheahan with the tip-in. pic.twitter.com/MHHKxsGFYn

— Pittsburgh Penguins (@penguins) March 15, 2018
The whole play started with Sheahan forcing the turnover against the wall so it is only fitting that he gets the tip on Letang's shot. Suddenly the Penguins have 4 threatening lines and would you look at that, it's happening in the last 3 weeks of the season.
The Rangers started to get some looks on net but the defense and DeSmith were there to say no. At one point Tom Kuhnhackl made a block that put him in the fetal position, after the puck failed to clear he got to his knees and attempted to block the next two shots as well before being helped off the ice by his teammates. What a fucking warrior. He didn't miss a shift.
Niiiiiiiiice. #PITvsNYR pic.twitter.com/oQ7d7vJsO1

— Pittsburgh Penguins (@penguins) March 15, 2018
With the lead I assumed the Penguins would continue practicing their "hold the lead playoff style" thing we've been seeing lately but instead they attempted the "what if we don't play the third" method. After about 6 minutes it was evident that the Rangers were not going to go down easily and DeSmith was the only reason the Pens were still ahead. An interesting development was the demotion of Conor Sheary to the fourth line for the 17th time this season as Riley Sheahan slid up to Sids wing. 8 minutes into the period Hornqvist takes a slashing penalty that won't be called under any circumstances in a couple of weeks and the Rangers were going on their second powerplay. It took the Rangers less than 30 seconds to find Chris Kreider alone on the doorstep as he made it a one goal game.
Replays of Chris Kreider's power-play goal. Good pass by Pionk to set up the one-timer. Simply can't do anything with that Buchnevich guy #NYR pic.twitter.com/TJjxdr7qvf

— Fitz (@FitzGSN_) March 15, 2018
Following the goal the Rangers turned it up and the Penguins started getting more and more sloppy as DeSmith had to bail the team out multiple times including this beauty
Couple more looks at that DeSmith save on Fast. Not great for my brand #NYR pic.twitter.com/CmtpVyPsGf

— Fitz (@FitzGSN_) March 15, 2018
The save didn't change any momentum for the Pens however as they continued to look like the November version of themselves and the Rangers kept pressing, eventually tying the goal up after a defensive meltdown
Another look at that deflection from Jesper Fast. Good job by Marc Staal to throw the puck into an open area #NYR pic.twitter.com/a7dpMmfdta

— Fitz (@FitzGSN_) March 15, 2018
Game tied up while the 4th line featuring Conor Sheary was on the ice. I understand Sullivan switching the lines around and trying things, but when the team is looking flat I couldn't help but think about Dan Bylsma's unwillingness to adapt when Sullivan left Sheahan on the first line. He doesn't trust Rowney (evident by his playing time) and he doesn't trust Sheary (again, evident by constant demotions), so why have Rowney center a line with Sheary when down by 1?
Following the tying goal the Rangers had a golden opportunity to take the lead after a Penguin turnover but DeSmith made a huge save. We see it all the time but after a big save comes a big play and this time it was Carl Hagelin wrapping around to surprise Georgiowhatever it is
CARL HAGELIN (9) Assisted by MAATTA (19) @ 15:41
Here's a look at Hagelin taking the puck all the way around and tucking it in. pic.twitter.com/F0sUuv2m6W

— Pittsburgh Penguins (@penguins) March 15, 2018
This is an attempt that Hagelin doesn't make in the first half of the season but now that he has more confidence he has no second thoughts and delivers a perfect no fucks given celebration. The Penguins didn't get to enjoy things long as Chad Ruhwedel was quickly heading to the sin bin for tripping (thus evening up the powerplay opportunities, playoff style) and the Rangers were back on the powerplay. Sullivan sent out Letang and Dumoulin to kill the penalty and that resulted in a tie game quickly.
Here's another look at that Zibanejad goal. This is what you want to see from Chris Kreider every single night #NYR pic.twitter.com/SlteXaY2bP

— Fitz (@FitzGSN_) March 15, 2018
Last recap I mentioned that Letang has too much speed to kill penalties and this is what I am talking about, he is not used to staying in one select area and as the Rangers bring the puck up the ice Letang is cheating wayyyyy to far from where he should be. Here is where Letang starts, which is perfect.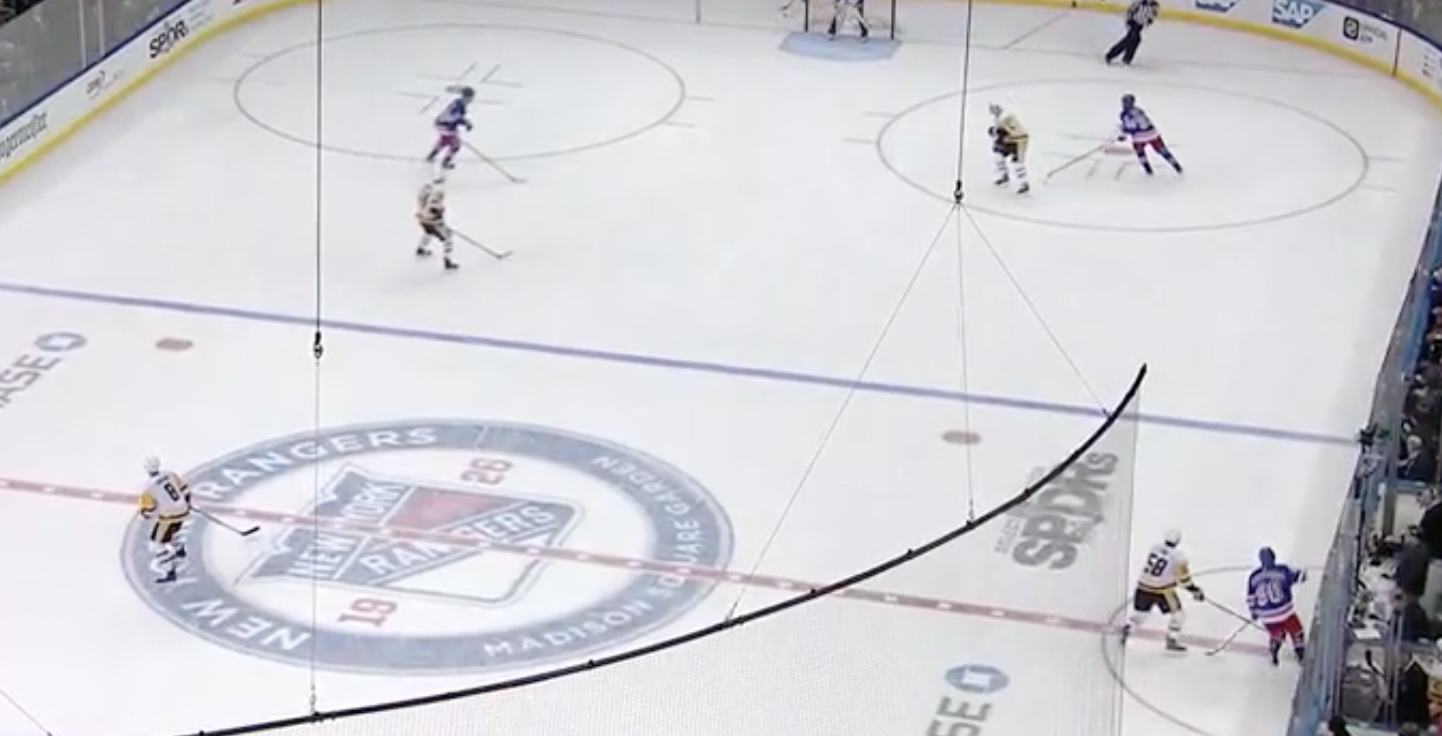 Letang then follows his man as they skate side by side to center ice and then all the way to the Penguins blue line, leaving this entire side of the rink without a Penguin jersey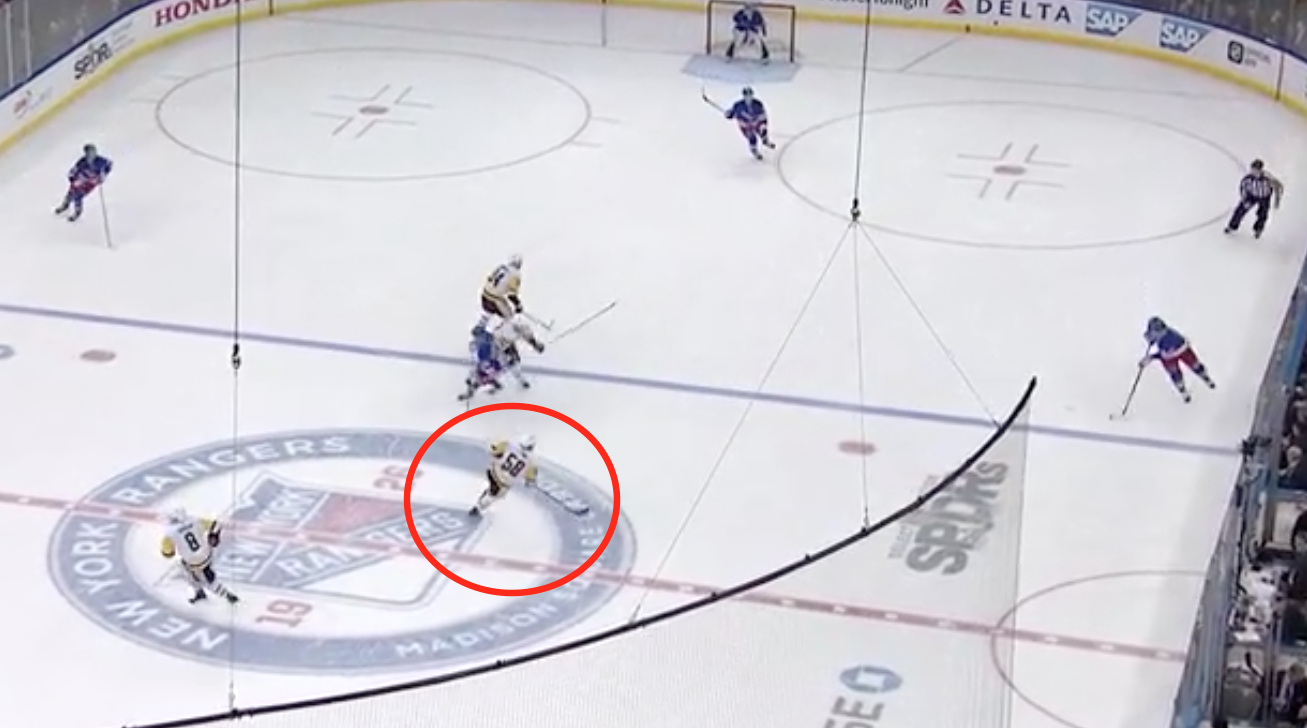 If Letang is mirrored with Dumoulin right here, which is where he should be, he is in perfect position to stope Kreider. By the time Kreider gets the puck Letang is out of position and even with his speed he cannot accelerate fast enough to completely make up for the amount of speed Kreider has: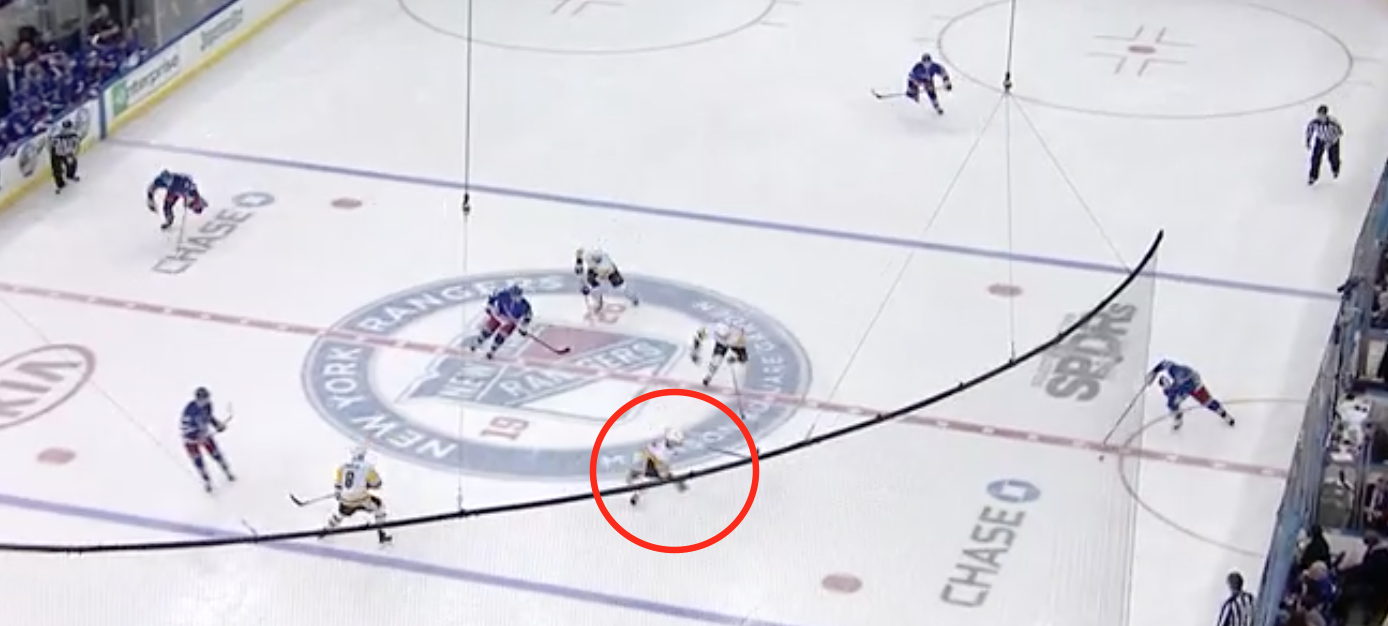 Because he is Kris Letang he actually manages to catch up with Kreider at an early enough position to make a difference, but because he is Kris Letang he decides to go for a weak poke check here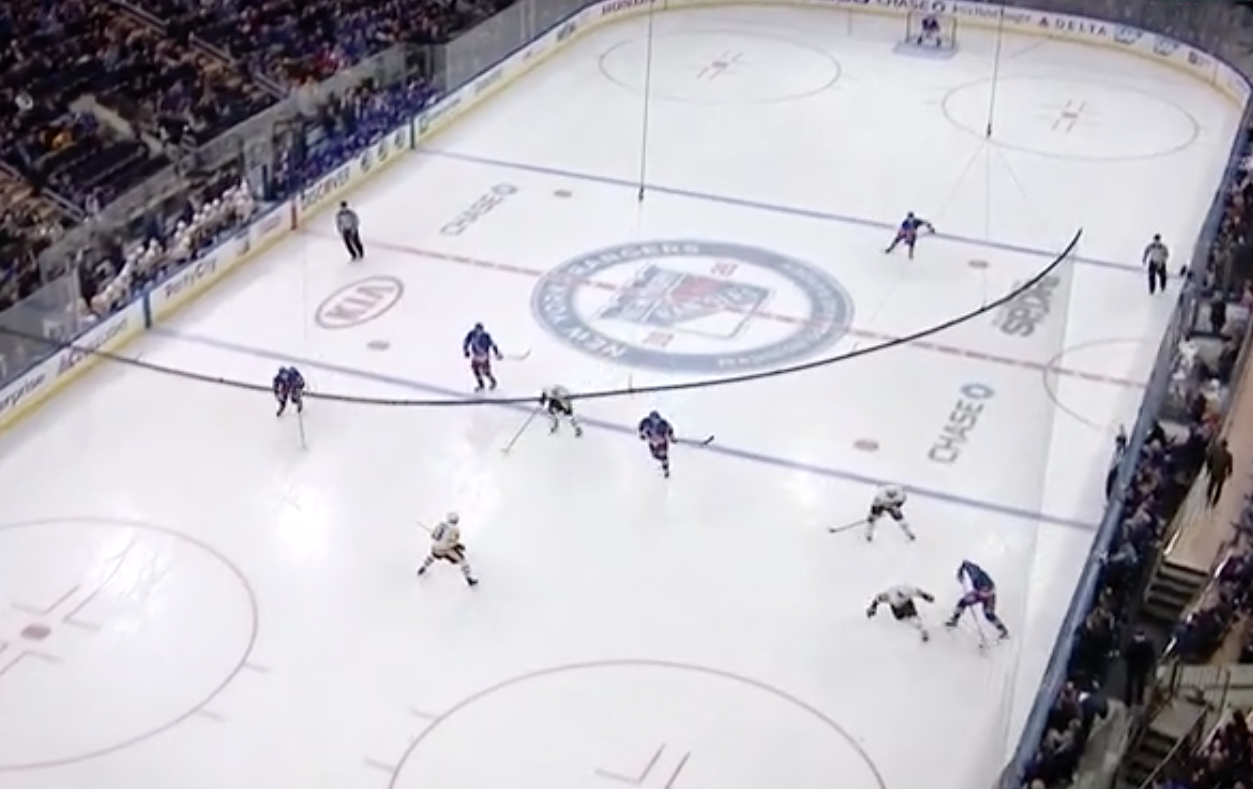 In this situation you have no choice but to put the body on the forward in any form you can. If you take a penalty you take a penalty, but with 3 minutes left a poke check attempt on a guy with any skill isn't going to cut it. Again, look where Dumoulin is and imagine what this attack looks like if Letang is doing the same thing ( excuse my laziness for not trying to make this pretty):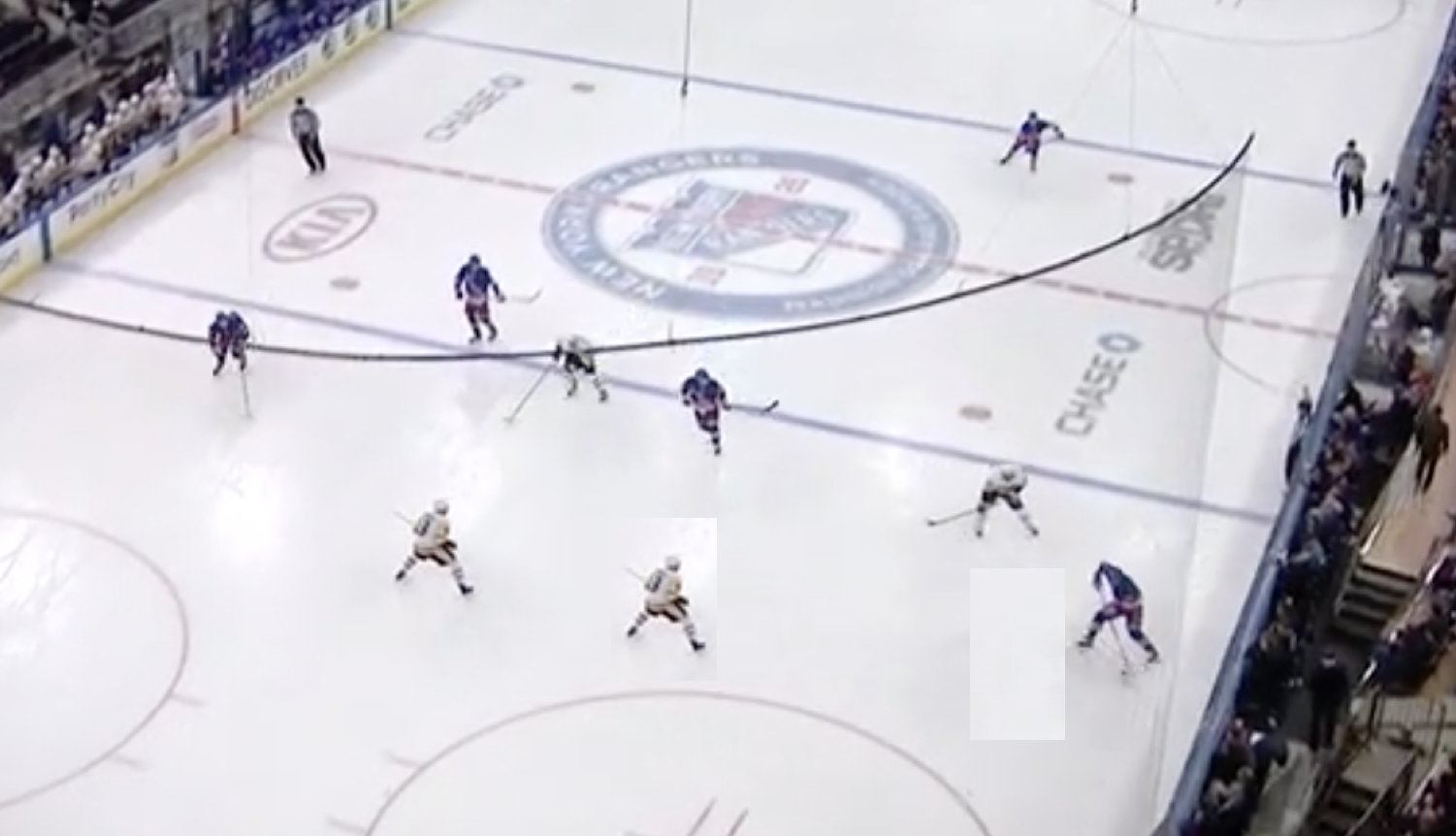 Suddenly the attack looks like a generic powerplay attack.
The only option left for the Pens was to pray they could get to overtime and earn a point in a game they had completely thrown away. The Penguins would get a penalty shot with 10 seconds left as the ref called the goaltender for delay of game. Malkin tried to open the 5 hole but it wasn't there which sent the game to overtime. To be fair it was a super weak penalty call and probably a bit of justice that Geno didn't score.
The Penguins had their chances in overtime but the Rangers were thriving on a chance to have a highlight during an otherwise grim season. After 2 and a half minutes of heart pounding chances for both sides it was an off angle shot that beat DeSmith, securing the comeback win for the Rangers.
Chris Kreider with a nifty pass to Mika Zibanejad, who sneaks a shot past Casey DeSmith for his 100th career goal and the OT winner. Rangers win 4-3 #NYR pic.twitter.com/0Usv8QvQGi

— Fitz (@FitzGSN_) March 15, 2018
---
Thoughts:
Unfortunately for the Penguins they have too much skill to stop playing without it being completely obvious. Everyone in that building felt the Penguins let up in the third period, and the difference between on and off is rather large
Crosby held under 20 minutes for the first time in awhile as Malkin paced all forwards with 20:33. With these low TOI totals there are no excuses of tired legs in tonights game
Casey DeSmith had a fantastic game going 29 of 33 and 23 of 25 at even strength though one of those is the OT goal which should be in a different category in my opinion. Without DeSmith the Pens don't get a point in this game
Mark Recchi is starting to feel the pressure while operating the powerplay, if the Pens convert on any of their 3 chances while having a 2 goal lead this game is over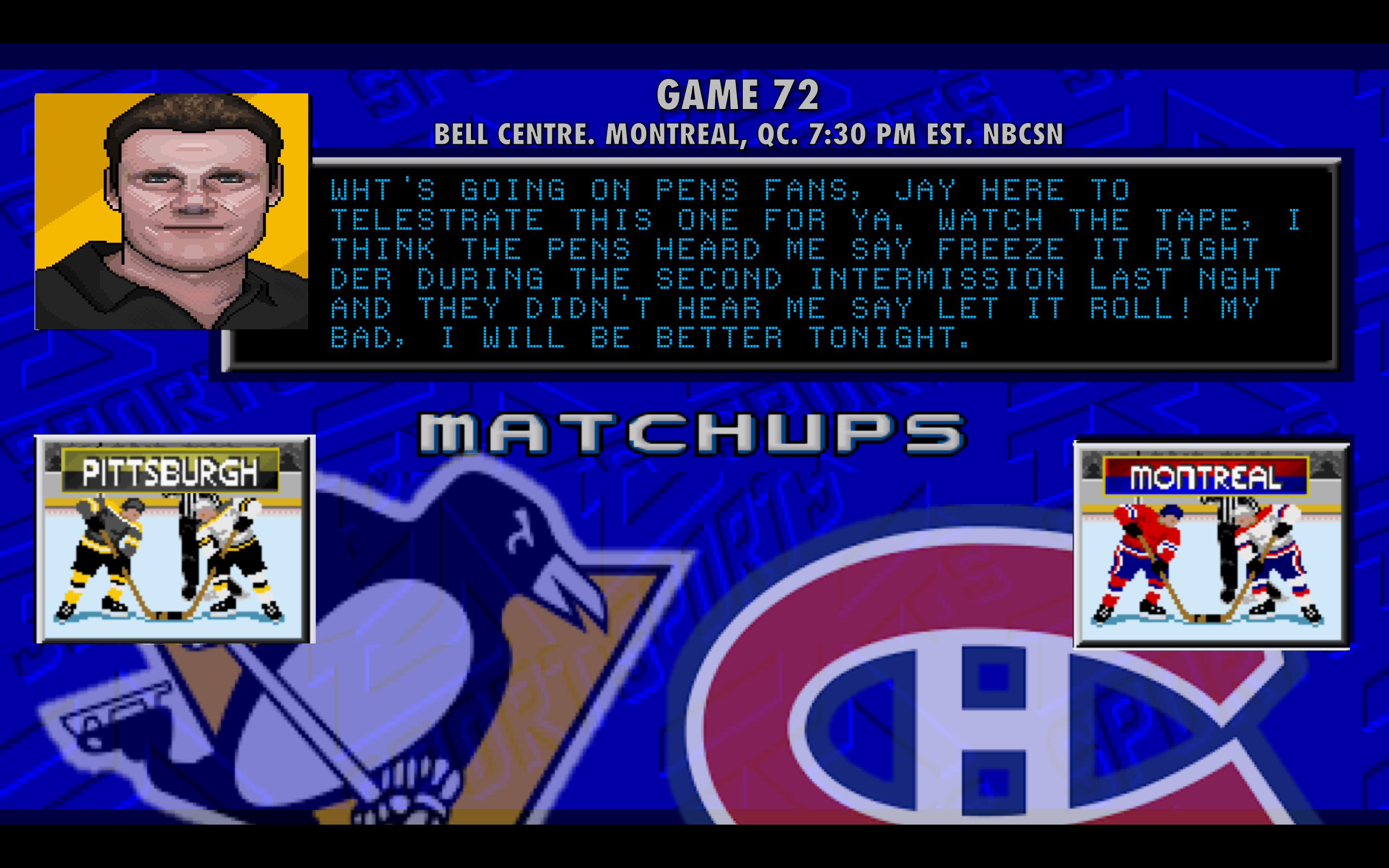 So following the action at Madison Square Garden the Penguins packed up and made the 372 mile trek to Montreal for another game tonight against the Canadiens. This is somehow the first time this year that the Pens are meeting Montreal as they will finish the series next Wednesday back in Pittsburgh. What have the Canadiens been up to this year?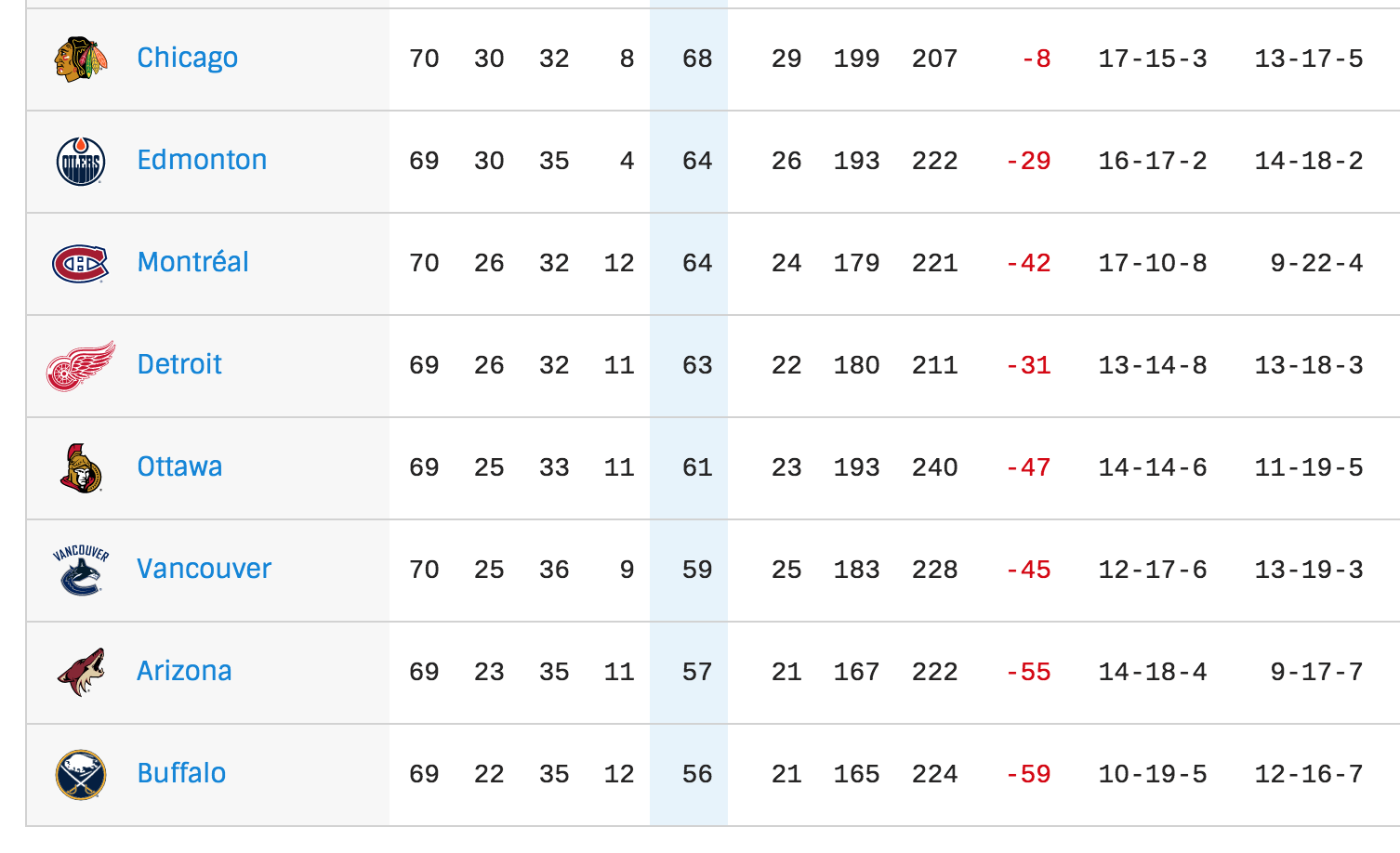 When talking about standings it is not a good thing to be less than 10 points ahead of last. Also, nice leadership Toews. Luckily for Montreal this is the last year of Carey Price at $6.5 million dollars, unfortunately starting next year they will start paying him $10.5 million for the next 8 years… he will be 31 at the beginning of the deal and 39 at the end, so I'm sure this will be a good deal from 2021 on. The Canadiens are also fortunate to have top defender Shea Weber locked up along with Price until 2025-26 as they continue paying Weber $7.85 million for each of the next 8 years, when he will be 40.
Statistically speaking the Canadiens individually are as pathetic as their salary situation. The team is paced by Brendan Gallagher's 26 goals and 43 points as he is their only 20+ goal scorer with the next closest being Max Pacioretty with 17. When it comes to the goalies the one that makes the most isn't leading by example:

Price is currently out with a concussion so it doesn't look like he will be able to change the tides on a down year for him as his .904 is well below is .918 career average save percentage. I just realized that this gameday is completely pointless because if Niemi plays the Penguins will not score, absolutely no way in hell go find the devil right now and sell your soul if you wish but that's it, we're done here.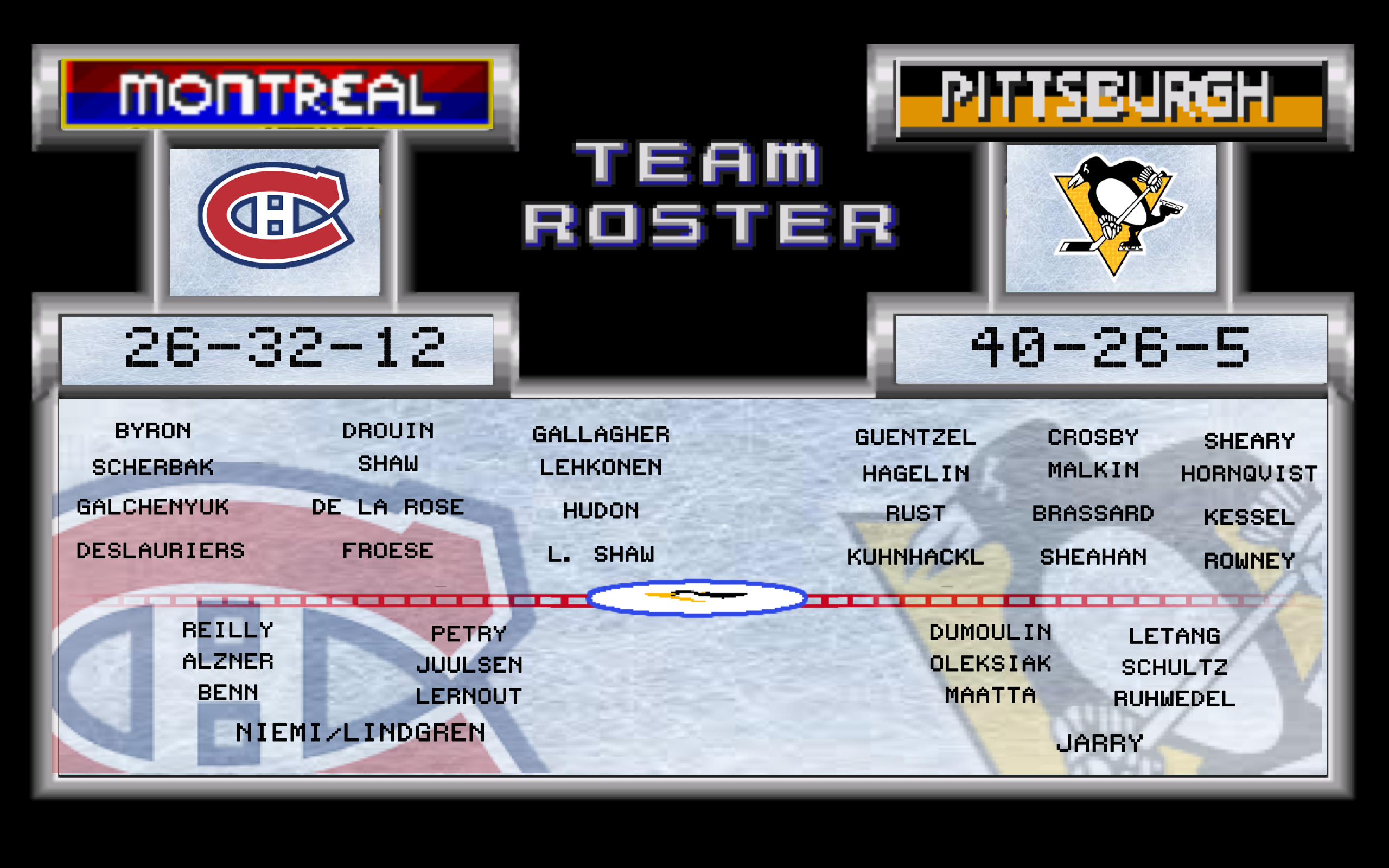 The Penguins don't have much room to make many changes from last nights roster with the exception of Matt Hunwick. Mr. Jooris was sent back to Wilkes-Barre once Bryan Rust was declared healthy enough to play because Jooris was only up on an emergency basis. This means we can talk about the Canadiens I guess, but just look at them, their forwards look worse than the Rangers and they didn't go into full rebuild mode at the deadline.
It's the Canadiens the night after the Rangers. These are points the Penguins will hate leaving on the table even if it means digging a little deep in the later stages of the year to pull out some good old fashioned grit. If they do that and get up early they should be able to secure 2 more points, which will go a long way with the Capitals, Flyers and Blue Jackets all playing tonight as well. The current look at the standings: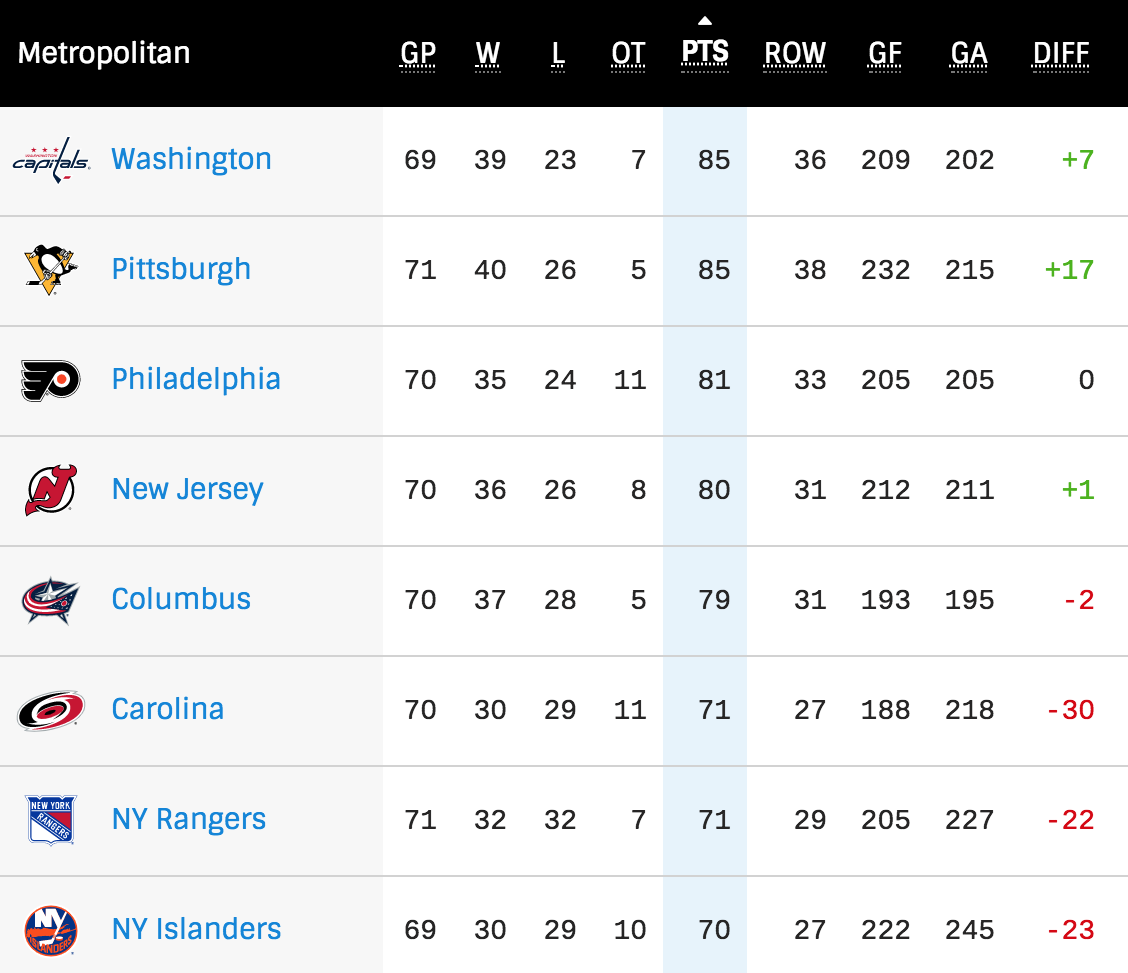 Big game tonight as Columbus heads to Philadelphia, someone might actually die in that game. The Capitals play the Islanders tonight as well so it is safe to assume the Penguins will still be in second tomorrow morning.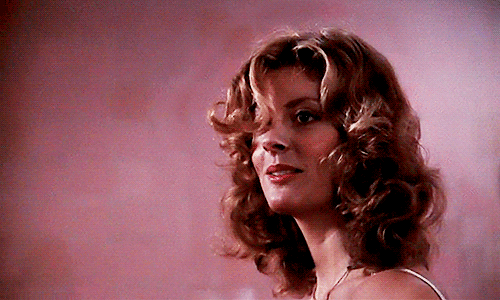 Loading ...