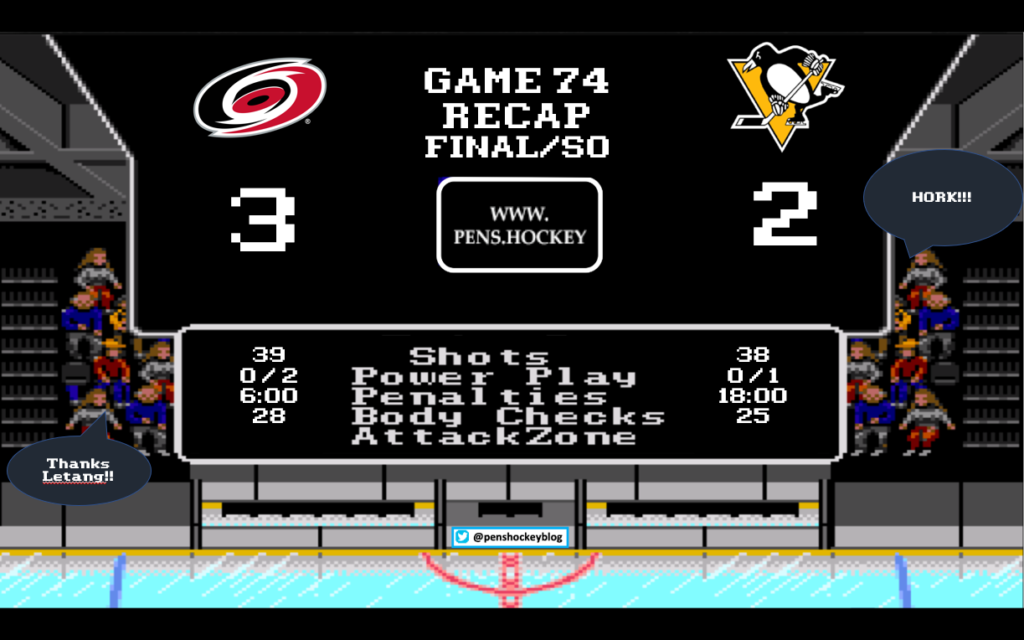 The Pens are coming off a really shitty weekend only grabbing 1 out of a possible 4 points in a back to back home situation. The only good news was that the team that WE scraped a point away from was a team in the Metro and that are ol' buddy Letang would be making his grand return to the ice.
The Hurricanes are a pretty young team who are a good mix of talent and really having alot of fun. They kinda remind me of OUR 2006-07 team that had young talent and energy mixed with a few oldheads, but just really weren't ready to make alot of noise in the playoffs.
Through the first 3 minutes the Pens were just trying to figure out how in the hell to get some offensive zone possessions. Every one of there attempts were failing thought neutral zone. 5 minutes in McCann fought for the puck the boards and then created some havoc infront front of the net . That sequence got a little something started because the 4th line jumped on and stirred some shit up with physical play and were creating chances. Blandisi made his presence known by getting thrown to the ice.
Simon got a one time shot from the blueline but it was foul tipped. There was a lot of back and forth play but not much to write home about.
Some guy named Not MAF almost got a shot on MMX, but he didn't. Then all of a sudden B-Jugs got a shot from the top of the circle that nearly went underneath Mr. Azeks pads but then this happened
About a minute later B-Jugs would get another prime opportunity, only to be followed up by Simon setting him up 1 more time while streaking infront of the crease. Soon after Wal-Mart almost got one in the vicinity of Murrays soft spot. Phil and Blue said, Screw that, we'll miss an opportunity with more style and grace. Long story short, they did. End of 1: 0-0

Starting out the 2nd, JJ makes a nice play to break up a 3 on 2. Sid decided to take a penalty on Aho, but he evened it up to taking a high stick before the whistle even blew to make it a 4 on 4. The 4 on 4 was pretty unproductive and both men were released after after their 2 minute lashings.
Sid out of the box plays catch with SNEK who fed the puck back to Sid for the shot but Mr. Azek stood tall like the annoying shit that he is. Oh yeah, just incase you missed it. A couple of Pens Gaelic names from Saturday are:
SNEK: "Battle Army"
Kessel: "Dwells In A Castle"
Hornqvist: "Dwells On A Horn-Curved Tract Of Land"
Petterson: "Hard Like Stone"
Anyways, The top line would set their best established zone presence and throw it all away when they gave the puck back CAR who charged back into the zone. Murray made a good save on Ferland but McGinn would not be stopped.
SNEK would have nothing to do with that losing shit and ties the game up 38 seconds later, assisted by Sid and Rust.
Rust and Joe Pesci for the 2nd 4 on 4 because, well, why not. CAR would get the first shot on it and then play went back and forth with quality chances coming on each end but both goaltenders were shutting everything dahn. Ferland laid a big hit into Horny and then Gudbranson returned the favor on our ol' pal Staal. The energy on the ice would continue to heat up in the final 2 minutes. CAR ends up getting some good OZone pressure in the last minute. Nothing would come of it. 1-1
Superstar Jordan Staal would get the first shot of the period but it was deflected wide. Penguins get a faceoff win after and Dumo takes a shot from the blueline but no redirects to drive it home.
Crosby would leave the ice for a broken shoe lace or something and had to go down the runway. All the Pens fans in CAR made their voices heard with a standing ovation when he made his triumphant return. Rust and SNEK would fly into the zone causing Rust to draw the 1st powerplay of the game. The top Power play unit came out with Schultz at the helm. The whole powerplay was disorganized, and at one point they almost took a Too Much Man penalty. Long story short, CAR got the kill.
CAR would start to get some zone time and managed to get a shot off but Murray got in the way of their hopes and dreams, he can be such an asshole like that. Pens 4th line smoked some meth and started creating a bunch of mayhem infront of Mr. Azerk, Cullen did some big things but someones stick had to go and block the shot on the way to an open net,
McCann tried to sit Not MAF down in the second row but those damn boards at PNC just wouldn't accommodate him. After that B-Jugs got his 4th quality shot of the game but it just seemed like 2nite would not be his nite. Not even before I could think about what I was going to write next. THANKS LETANG, WELCOME BACK (he luvs Rusts' ass).
It wouldn't be too long until CAR fans would get mad over a non call for an interference on Aho that didn't get called. Pretty soon CAR pulls Mr. Azerk with about 2:30 left in regulation. CAR calls a time out. CAR wins the ensuing faceoff, passes to Williams……
After they tie it up, JJ decides to take a penalty for roughing, because there's no better time to shoot yourself in the foot. Cullen got shorthanded chance but nothing came of it. End of reg. 2-2
Carolina starts out with a 4 on 3 for the first 16 seconds of OT which the Pens killed and gets JJ back on the ice to make it 4 on 4 for the next 1:26 till something happened that finally drew a whistle to start 3 on 3. In that time Murray came up with a couple very large saves that may have been mentioned alot more if Letang didn't have to take a slashing penalty on (player) and get tossed from the game. This could be an important if the game makes it to the Shoot Out. So, CAR goes on the PP, Pens call a time out with 1:33 of extreme clenching time lift. After the faceoff Dumo plays aggressive as Hell off the face off and fights it out along the boards and allows Cullen to clear the zone. The CARS come roaring back and JJ decides to forfeit his ankle to make a save when Murray was out of position. Pens penalty killers came up huge again in another desperate situation. 2-2

First up on the Canes roster was Hamilton who rolls on up to Murray and scores.
Kessel was first for the Pens fails
Aho stepped up for the Canes and was stopped
Crosby tries to make too many moves and then goes forehand and failed
Slavin was stopped by MMX
Snek pretty much just tried the same thing as Sid
(Sid and Phil are da only 2 people to score on the SO this season tied 1 each)
Game Over, See you in Nashville


Loading ...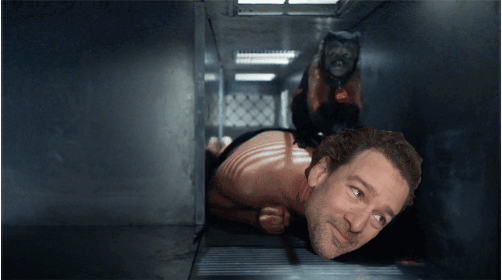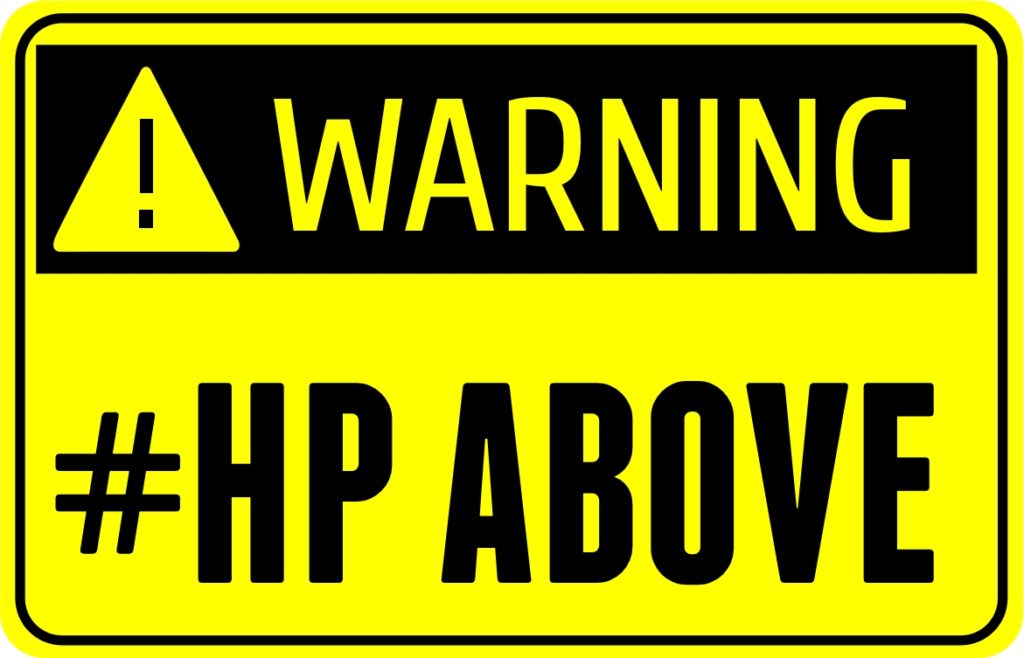 SCOREBOARD WATCHING
The good news for the Penguins is that, despite losing 3-2 in the shootout to the Hurricanes last night, they were able to inch closer to the second-in-the-Metro Islanders, who were shellacked by the Boston Bruins 5-0. Pittsburgh now sits two points behind the Islanders, but for New York the loss also set them back in the standings as the Capitals beat the Devils 4-1 and Washington now sits as the sole leader of first in the division. Pittsburgh now sits two points ahead of the Hurricanes for third in the division while Carolina maintains its hold on the first Wild Card seed.
The Montreal Canadiens were able to keep the heat on the Columbus Blue Jackets while knocking the Flyers back in a 3-1 victory for Les Bleus. Columbus' 4-2 loss against the Flames means they sit just one point ahead of the Canadiens and three points behind the Hurricanes. The Flyers now sit five points behind the Canadiens and six behind Columbus for the second Wild Card seed.
The only game of note tonight for we Penguins fans features the Washington Capitals hosting the Tampa Bay Lightning. Washington will like a win in consecutive nights to get four points ahead of the Islanders in the Metropolitan Division.