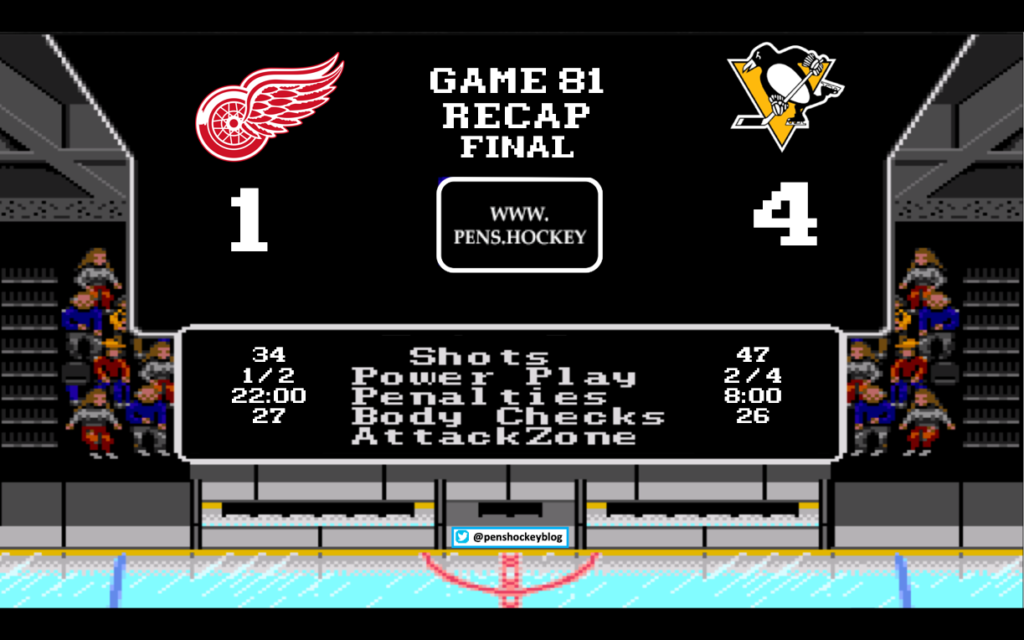 Our ol' pals from "the D" headed to the Taint for the back end of the home and home. The Pens were looking to cleanse their palates with a playoff berth after the gawd awful performance that they displayed in Detroit. This game couldn't end our season by any means, but it could show what type of team they were going to be when they made it to the playoffs. Would they limp in with back to back losses to a team who's shining up the clubs while talking about the par they almost made on the 12th hole or would they show what WE know they are capable of with a nearly healthy roster? Let's go to the tape to find out.
Btw, Jimerson absolutely killed with one of his most powerful renditions OUR National Anthem.

Sid took the opening faceoff by pushing the puck forward and charging ahead with it instead of all the back pass nonsense, a move that he clearly learned from me while playing NHL 94. They entered the O-zone and right off the bat you could tell that the Pens were not going to take the Wangs as lightly as they had on Tuesday. They came out with a more aggressive look and Geno and Letang looked to be skating as if they never missed a beat. About 2 minutes in Pens got a powerplay when some stupid FRK decided to go out slashing. There were some good looks and in general the powerplay looked a lot better with a complete top unit but Howard was seeing the pucks that were getting through. Larkin nearly created a shorthanded breakaway but Letang was there to put a stop to it. Thanks. SNEK decided to take a penalty of his own right after for some interference on Mantha.
During the penalty kill Blueger makes a wicked awesome steal at the blueline and charges down ice for a shorthanded attempt of his own but was dragged down from behind because apparently that's all good now. The Wings took the puck back and got set up in the Ozone and as time ran down Puempel would get a stick on a shot from the blueline and tipped it in past Murray. It looked something like this.
Pens got their shit together after the goal and started to get some decent possessions in their Ozone. Schultz breaks his stick on a slapper from the blueline, the puck was gathered by the Wangs and found FRKface streaking up ice with only a stickless Schultz between him and Murray. FRK gets by Schultz, goes to the backhand and would be DENIED by Murray.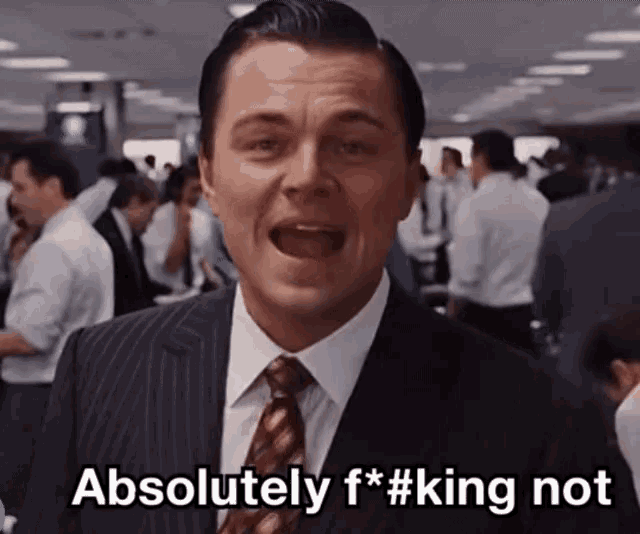 Now there are timely saves and then there was that glorious save by Murray. If that puck gets by him then people would be shitting diamonds all over the Taint. If that puck gets by, the who knows. Who knows if Mattaa would stroll around the boards and find SNEK sitting all by his lonesome like so..
Not that long after, Howard would have to make an pretty nice save of his own on a B-Jugs shot. Play continued and the Wings tried to make some moves of their own. Eventually Mantha takes a penalty for a high stick to McCann. During the first minute of the powerplay the top unit looked like they were getting their groove back and Sid puts the puck on net from his favorite spot, pokes it out of Howards grasp and Philthy Phil was there to clean up the rest. 2-1 Good Guys
After the goal the entire Taint chanted "Thank you Phil" because dinner would be on him. (hotdogs not included)

Not sure what went on during the first few minutes because we had to listen to Errey proclaim his love for Chris Chelios and I drifted off for the duration of it. But when I came to I noticed that the Pens were putting on a clinic of ill advised passes that led to a few rectum clenching chances for the Wangs but Murray would stand up to all who would challenge. Play really picked up with both teams getting some decent shots, most notably for the Pens, a hard shot that Schultz fired from the slot but was denied by Howard. JJ nearly made it 3-1 but the puck bounced wide of Howard off of Rusts' chest.
Wings rushed down ice and established some zone time of there own, fired some shots towards Murray who brushed them off like they ain't no thang. Sid created a 3 on 2 going the other way that led to a few chances for McCann and co. Highhose went down and challenged Murray but once again MMX was just doing work in net.
Then something happened that I can't recall ever seeing before, coincidental double minors. Jack Johnson and Bertuzzi smacked each other in the face with sticks drawing blood and both got called for it even though JJ clearly did it first and he only got hit as Bertuzzi reacted to it. But shit happens. Oh, and then right after they both went to the box and 5 on 5 play resumed, this happened.
Pens continued play with Phil and Geno running around like madmen. Horny made a play and created a breakaway but Howard put an end to it. Gudbranson got checked into the boards and didn't seem like he enjoyed it very much. Afterwards he went over to the bench and sat down one of the refs and explained to him what a complete idiot he is. Period ends 3-1 Good Guys.
Wangs came out in the turd not looking to roll over in it. They were basically playing for pride and were throwing some weight around. At one point Simon gets plowed into the boards pretty hard. Larkin goes to the box for tripping. The Pens top unit stays on the ice for the entire 2 minutes, but nothing would come out of it.
It wouldn't be very long till AssholeIseeu would lose it and get a game misconduct and the Pens went back to work on the powerplay. After they get set up in the zone, Kessel fires the puck at Howard, puck lands behind him in the crease and Sid is there to clean it up. 4-1 Good Guys
Shortly after Rust would take a slashing penalty for the hell of it. McCann nearly made it 5-1 when he rang one off the post on a shorthanded attempt. Detroit refused to go quietly into the night, but Murray continued to swallow up the puck like it was his job or something. With a 4-1 lead the Pens finished out the game with the same intensity as if they were looking for a go ahead goal. The End
Ps.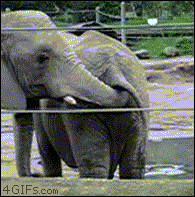 Loading ...

Loading ...