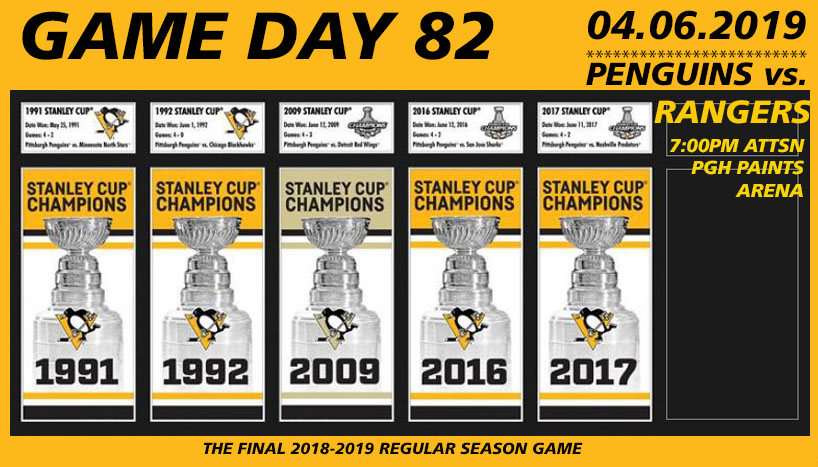 The BIG DANCE is finally here. It's been an 'interesting' season to say the least. We had our up's and down's for sure. Now the REAL season begins. I was trying to decide how much effort to put into this final GameDay when I conveniently received an interesting email form a very good friend who's been MIA for a while. It gives me great pleasure to share his words with you now…

With their impressive, clutch win over the Red Wings on Thursday the Pittsburgh Penguins clinched their spot in the 2018-2019 Stanley Cup playoffs. Most of the Pittsburgh fan-base take this situation lightly, almost like the playoffs are guaranteed each year. We have become so used to the playoffs at this point that earlier this year in November, when only 20 games had been played and 62 remained, many fans were arguing with each other about how the playoffs wouldn't happen this season and the team was doomed. I have never endorsed the "you're a new fan and don't understand true struggle" attitude some members of the fan base seem to dish out to the younger generation of fans. Though it may make some people feel cooler inside, I have yet to hear about the person responsible for delivering medals to people based on how long they've been a fan.
With that being said, I do feel like there is a bit more level-headedness that comes from those of us that did watch the Penguins in the times after Jagr and before Crosby. We aren't better fans for doing so, if anything we are probably the fools who wasted precious moments that could've been spent wearing JNCOs, listening to NuMetal, and mastering walk-the-dog on the latest Duncan reissue. So what does this playoff berth mean to the franchise? Why am I writing a post on an event that has become an annual experience?
Words can be used to tell truth as well as lies,
numbers only lie if they are used by a liar.
30 Losses:
The 2018-19 Penguins will once again finish this season with fewer than 30 regulation losses. This means the team earned at least one point in ~64% of its games. SO what? Well to be fair, I originally chose 30 losses arbitrarily, until I started digging into franchise stats and realized this is not normal. This season was the 13th consecutive year the Penguins have finished with fewer than 30 regulation losses (this includes the shortened 2012-13 season because 30 losses was possible in a 48-game season even though no team hit that number). Surprisingly, only a few teams can boast similar reports when it comes to consistently putting up good regular seasons, and believe it or not the Capitals aren't one of them. The only two teams that come close to the Penguins currently are the Bruins, who have only suffered 3 30+ loss seasons since 2008-09 and Nashville, who have only had 3 since 2003-04.
The Chicago Blackhawks rattled off 8 straight such seasons between 2008-09 and 2016-17 before their luck ran out, leaving the Penguins on an island of their own. Going back just a little bit we see the Detroit Red Wings pulled this off 15 straight years between 1999-00 and 2014-15, and the New Jersey Devils did it 13 consecutive years as well between 1996-97 and 2009-10. Late 90's early 2000's Devils and Red Wings are pretty good company to keep.
Full disclosure, I did not look into the stats from pre-1994, so take that into consideration though I suspect similar results considering some teams (looking at you '91 Pens) were winning cups despite winning less than half of their games. The amount of time Pens fans spend debating single events after a regular season loss is comical when you consider how rare this team has performed since Crosby first put on the sweater. "The coach gets some credit," this is true, but during those 13 years 4 different coaches have stood behind that bench, only one player has worn the "C" which is a perfect segue into the next part of this post.
Oh Captain, our Captain:
Sidney Crosby played his first game as a Penguin on October 5, 2005, a 5-1 loss to the New Jersey Devils that saw Crosby collect his first NHL point as he assisted on the loan Penguin goal. On the same date two years later the Penguins opened their season against Carolina, and Crosby played his first game as the team's Captain. This year marks the 12th season Crosby has been the team's captain, and the 12th straight season Crosby has captained the Pens to the postseason, which may be a remarkable sounding sentence on its own but just wait for the context. In terms of modern team captains nobody is even close to this number, so it isn't worth putting it down. In terms of history, well there are only two other captains since the league expanded that are in this realm.
With the berth this year Crosby passes Joe Sakic on the list, Sakic captained the Nordiques/Avalanche to 11 straight playoff appearances between 1994-95 and 2005-06, a streak that saw him lift 3 Stanley Cups. The only other player left for Crosby to catch is Steve Yzerman, who captained the Red Wings to 15 consecutive playoff berths between 1990-91 and 2005-06, a run that also resulted in the captain lifting 3 Cups. Getting the team to the playoffs is one thing, but continuing to perform and leading in the playoffs is another and something these three men did, and in Crosby's case continue to do.
There is an old adage about similarities between good leaders, if you doubt any truth to that saying chew on these stats. During their streaks Yzerman captained 164 playoff games, finishing those with 54 goals, 90 assists for 144 points (0.878 points/game) and 3 Stanley Cups. Sakic captained 156 playoff games, finishing with 79 goals and 93 assists for 172 points (1.10 points/game) and 3 Stanley Cups. Crosby has now captained 155 playoff games producing 63 goals and 117 assists for 180 playoff points (1.16 points/game) and 3 Stanley Cups. Damn.
Other Stats:
This is the Penguins 13th consecutive playoff berth, something many people couldn't have dreamed about when Kris Beach was the best prospect in the organization. The 13 straight berths is the longest in franchise history, and this year will be the 34th time the Penguins will be in the postseason in their 51 year existence (66% of the time, hi Mario).
The team begins this playoff season with an all-time postseason record of 206-171, which is kind of cool.
Mike Sullivan will coach the team in the playoffs for the fourth time, Sullivan has been behind the bench for 61 playoff games which is good for the 2nd most in team history. Sullivan is chasing Dan Bylsma, who coached the team in 78 playoff games. Sullivan also enters this postseason 5 wins shy of tying Bylsma for most postseason wins, Bylsma finished his 6 year tenure with a postseason record of 43-35, while Sullivan sits at 38-23 with two fewer attempts.
Jack Johnson scores a huge goal late in a game in the first round, book it.
My hiatus is hopefully coming to a close soon, thanks to everyone for their well wishes and for those of you keeping this place in working order. If all goes to plan I will hopefully be spending the Eastern Conference Finals with you! See you soon, take care!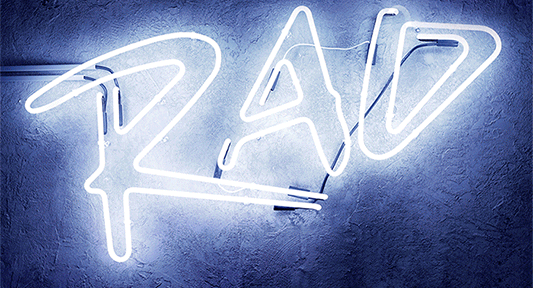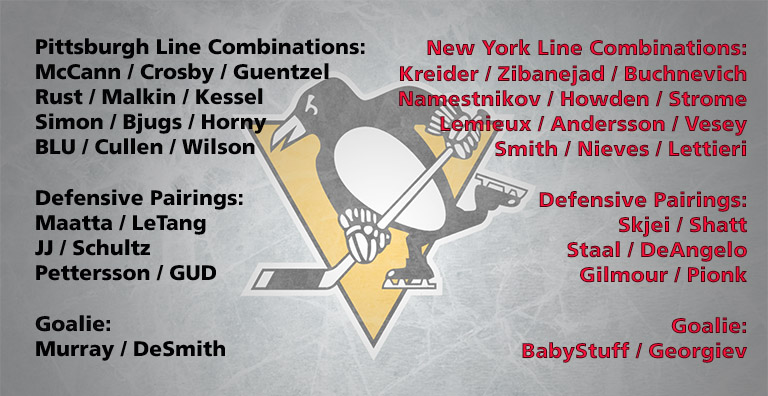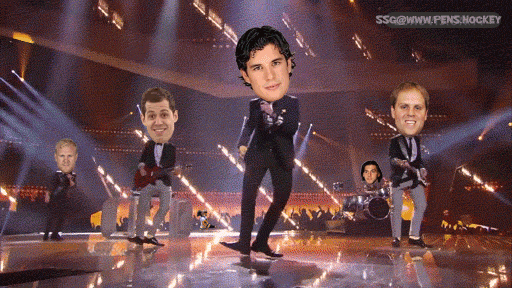 GOT THE BAND BACK TOGETHER… TIME TO DO THIS… DO IT!